Are you looking for more freedom in your life, and at the same time, love challenges and responsibilities?
Being a country manager at Financer.com, you'll have location independence, freedom of work hours, and ability to earn passive income from profit share. You'll become part of a team of digital experts and learn everything there is to know about online marketing and taking a project from 1 to 100.
Executive Country Managers
An executive country manager is in charge of their market as a whole, including all of its operations. The tasks are a combination of those of a digital marketer, a web administrator, a project leader and writer.
To give you a better overlook on the role as an executive country manager, we'll explain your responsibilities and tasks.
Responsibilities
The executive country manager is in charge of building their market and making it grow, with guidance from their team leader. Together, you'll work out a strategy to become the number one in your market.
Overlooking the site and being in charge of everything working.
Recruiting more people to your market.
Helping us to create a powerful brand.
Keeping up to date with latest data and information in the industry.
Consistently learning and improving in digital marketing areas.
Create affiliate relations and pursue new partnerships.
Help us further develop Financer.com with ideas and feedback.
Responsibilities are many in the beginning. Later on when the market reaches a certain revenue level, an assisting country manager is added to the team.
An executive country manager later evolves into a COO and eventually a CEO as they hire their own people, and their job mostly becomes about leading a team.
In other words, your role is evolving, and your responsibilities will change with time.
Tasks
To give you a brief idea of what tasks all those responsibilities consists of, we'll list some of them below.
Content writing & editing (being your own editor).
Application of On-Page and Off-Page SEO.
Managing social media campaigns.
Adding product data and information (data entry).
Configure the website and adapt to new updates.
Managing affiliate campaigns and negotiating deals.
Building up our social media presence.
Email support to visitors.
Assisting Country Manager
The role of an assisting country manager is similar to the one of an executive country manager, but with less absolute responsibilities.
An assisting country manager role can vary from market to market, but usually includes a broad range of tasks, similarly to the ones mentioned above.
By the guidance and support from the executive country manager, you'll be helping Financer.com to become the number one financial comparison in your market.
Who we are looking for
We are not looking for any specific person, yet, we're also looking for quite special type of individuals.
The requirements of hard skills are low and we do not necessarily require previous job experience or formal education.
We usually look for a set of intangibles, and we value your mindset, work morals and dedication much higher.
We will teach you everything you need to do except for the below requirements.
Requirements
Great at content writing. We will teach you formatting and packaging, but you'll need to be a person who got a thing for writing. This is not something we can teach you.
Being driven by responsibility, and thrives being in charge. You may not be an entrepreneur, but also not an employee.
Passionate about learning marketing and finance.
Beneficial
Previous work experience in financial topics. Especially topics within personal finance, such as loans, credit cards, savings and investing.
Understanding of SEO, as this is our main source of customers.
Knowing how to use WordPress and basic HTML.
Experience working as an independent contractor.
Why you'll love working with us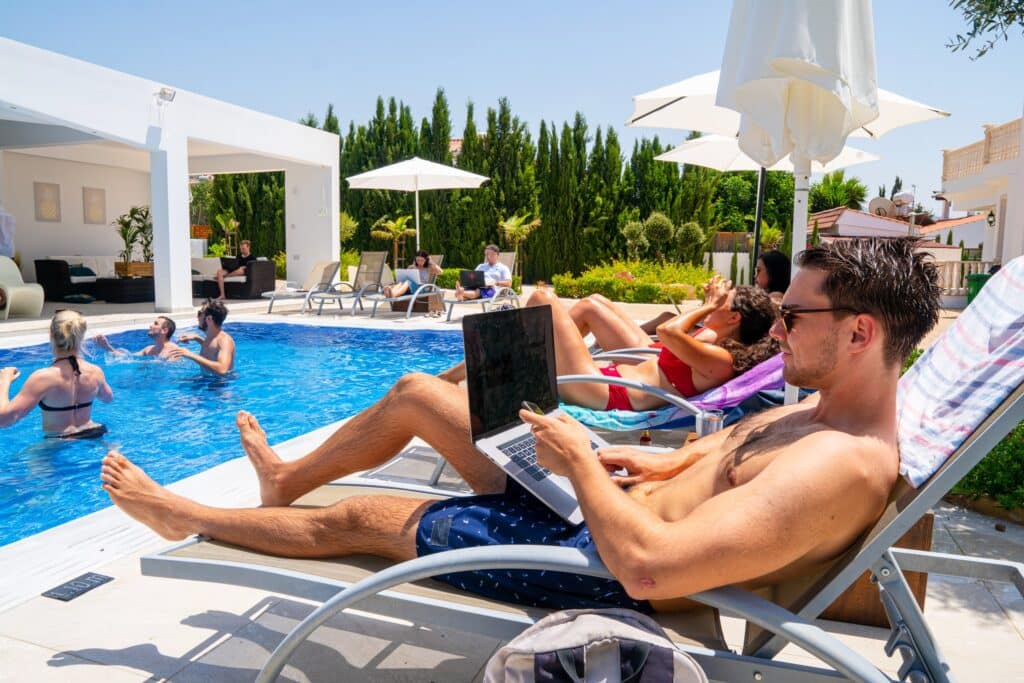 Not everyone likes our style. But the ones who do, seems to really dig it.
Flexible hours and work freedom – very few deadlines. You choose when and how.
No offices – complete location independence. You choose where.
Profit share released as passive monthly income based on your markets revenue.
Become part of a team filled with experts in the digital marketing world.
Pay per hour and performance bonuses.
Work retreats and regular team meetups in different parts of the world.
Read more about how it's like to work with us.
Apply for this role
See our currently available positions.
If you feel like a strong match, consider to send us your application even there's no relevant position open for you.
We are always accepting applications for this role, as we're continuously expanding into new markets.
Click below to start the application process.