Best Travel Cards of 2019
October 17, 2018
17 min read
399 reads
Your travel card's value is determined by your current travel needs. Because of that, everyone's priorities are unique, so this review serves as an unbiased opinion to help you determine which cards are the best fit for your current situation, with the focus of helping you rack up your frequent flyer points, as well as your card points that can be used for other lucrative bonuses. Enjoy an expert analysis of what cards are the best fit in order of the best value overall for you as a consumer in 2019, and possibly many more years to come!
Best Travel Cards of 2019
That said before we dive in, please understand there is a strategy for applying to Credit Cards that will benefit your overall credit report. As you may know, most credit cards do a hard inquiry of your credit history to determine eligibility for new lines of credit, but when applying for credit cards it is recommended that you do what is called "tactical applications"; in laymen's terms, tactical applications are when you apply for 2 cards of interests from the same creditor on the same day.
So for example, if you wanted the AMEX Platinum® and the Hilton Aspire® card, it is recommended that you apply for both cards simultaneously because it will only do one single hard inquiry on your credit report opposed to two, and this is even more critical with Chase cards that have the 2/30 rule only allowing you to get approved of 2 credit cards within 30 days.
Finally what you'll also want to consider is the premium rates for these credit cards only because the last thing you would want is to get blindsided by a $1,000 annual fee in the example of AMEX Platinum® and Hilton Aspire®.
Chase Sapphire Reserve® (Credit Score Recommended: 700-850**)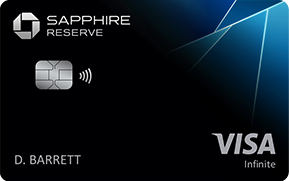 Topping off the list is a Credit Card made famous by a lot of millennials for all the benefits that really make it too hard to refuse. That card is the Chase Sapphire Reserve® from Chase- a JP Morgan Company.
Aside from JP Morgan holding the title of the "Largest Bank in America (2018)", Chase in its race to become a superior creditor in the growing arms race for best credit cards with the most benefits, takes the gold medal for having notoriously lavish rewards when it comes to travel despite its $450 annual membership fee. But before delving into the perks, please be aware of the following:
Explaining the 5/24 Rule and 2/30 Rule
Chase is well aware of how good the benefits actually are of having multiple Chase cards. Because of that, Chase has created what is called the 5/24 Rule as well as the 2/30 Rule to prevent overly advantageous consumers from causing Chase to lose money with their Ultimate Rewards (UR Points) system.
But what is this 5/24 & 2/30 Rule? If it sounds confusing, I promise you it isn't. The 5/24 rule is a hard house rule Chase has that simply only permits 5 new credit cards within the last 24 months before you're able to get approved for another Chase Card.
Which means if you look in the last 2 years of your credit history and have more than 5 new credit cards open you aren't actually eligible to get access to most Chase Cards, including the Sapphire Reserve®, although there have been reports of people having work around loopholes such as: calling the reconsideration hotline, visiting in branch locations, or looking at the "Your Offers" tabs on your online Chase accounts.
What this also means is any credit card approved within the last 5 years is counted on that score, so if you opened 3 new cards within the last 2 years, you only are eligible for 2 new credit cards from Chase.
The less well known 2/30 rule is a straightforward rule permitting no more than 2 credit cards approved within 30 days.
So for example, if you're open to applying for the "Chase Sapphire Reserve®", "Chase Freedom Unlimited", "Southwest Rapid Rewards Premier" by Chase, and the "Marriot Rewards Premier" card, do realize that if you aren't over the 5/24 rule that you will only get approved for 2 of these credits cards assuming you have the appropriate credit score to get approved, although some consumers report approval with a score as low as 630.
The same workarounds for approvals have been reported to work as well, but err on the safe side and apply for only 2 Chase Cards at a time with 30 days of waiting in between your next round of applications before you look to add more to your collection.
The Benefits:
With a cool $450 annual fee the Chase Sapphire Reserve® is designed to be loaded with benefits that we'd love to break down for you so you ultimately get over $1,000 worth of benefits your very first year of sign-up, and a guaranteed $300 a year afterwards.
Travel Credit:
Probably the most coveted feature of this card and why it takes top of the list is the annual $300 travel credit making it only $55 more than the Chase Sapphire Preferred® and totally worth it.
To put this into perspective most cards that offer travel credits Like SPG, the Ritz-Carlton, AMEX Platinum® Charge Card, travel credit offers apply only to a limited scope of options.
Meaning that the AMEX Platinum® travel credit can ONLY be applied to one airline of choice annually on non-ticket airline spend meaning baggage checks or inflight purchases. Whereas the $300 travel credit on the Sapphire Reserve® can be mixed and matched across a variety of "travel purchases" like campgrounds, five-star hotels, airfare, train rides, uber, tolls, cruises, parking garages, taxis, car rentals, travel agencies, ferries, limousines and more!
What makes Chase Sapphire Reserve® a pleasure to use is its ease of the travel credit feature. Upon purchase your balance is automatically covered up to $300, so in reality if you are a traveler this card is actually only $150, $55 more than its useful but watered down counterpart the Chase Sapphire Preferred®.
The Points:
Chase credit cards earn fantastic points that work very well with their UR system. Simply log onto your Chase account and redeem your points for cash back, gift cards, and most importantly, travel, where your points go 1.25X further.
The Chase Sapphire Reserve® has 3X points on travel and dining purchases and 1x point purchases on everything else that can rack up rather quickly. Both the Preferred® and Reserve® currently offer a 50,000 UR-point sign on bonus after spending $4,000 in the first three months which is worth approx. $500 in cashback and gift cards, or $650 in travel.
Travel Insurance:
Both Chase Sapphire Reserve® and Chase Sapphire Preferred® insure you up to $10,000 on your trip in the event you can no longer make the trip. It's unfortunate, sometimes things happen, somebody gets sick and you can no longer take that vacation with the 5 star hotel and first class flights you've been planning for; well no sweat! As long as you booked your travel arrangements through the Sapphire you're covered again up to $10,000 for your hotel, and airfare.
Global Pass or TSA Pre ✓ ®:
Tired of waiting in line? Travel a lot? You may be familiar with the Global Pass or TSA Pre ✓ ® program that can make your wait a bit easier with expediated lines upon landing/re-entry.
Chase Sapphire Reserve® gives members a $100 credit that covers the application for both of these programs, just choose one! You'll be put under a rigorous background check and upon approval will be able to navigate to and from the airport faster than before!
Luxury Hotel and Resort Collection:
When redeeming your UR points Chase realizes you're using the Reserve® and with their deals, you're given the ability for free room upgrades when available, free continental breakfasts, and the ability to check in early and check out later.
$100,000 Emergency Evacuation Transportation:
As of recently, the media has been more vocal of dangerous countries where tourists may be under higher levels of danger than others.
In the case of becoming injured or ill on your trip where emergency evacuation is necessary, Chase will cover you, your spouse or domestic partner, and legally dependent children under 18 (25 if enrolled as a full-time student at an accredited institution) for transportation in the form of ambulances, air ambulances, and private motor vehicles up to $100,000.
Car Rental Insurance:
Chase Sapphire also provide reimbursement for damage due to collision or theft for most rental vehicles when traveling within the US and abroad. Furthermore, Chase has relationships with AVIS, National, and Silver Cars with perks of better rates if you need to rent a car.
Priority Pass:
Priority Pass select has over 1,000 airport lounges that you're able to visit to get better rest in than you would get waiting in the terminal with everyone else.
These lounges often offer drinks and other accommodations like showers and even beds for frequent travelers to enjoy.
Baggage Claim and Flight Delays:
Chase Sapphire Reserve® will give you $100 in credit for basic supplies in the case you have not received your belongings within 6 hours and an additional $3,000 for lost luggage in general.
If you've ever been in a situation where your flight has been delayed more than 6 hours, Chase will also give you a $500 voucher for food and hotel spend while you wait on your flight to arrive.
AMEX Platinum® (Credit Score Recommended: 670-850**)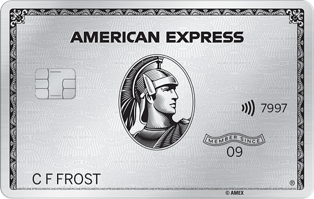 There are many cards that have high annual fees like the $550 annual fee on AMEX Platinum®, but they all have some form of credit that reimburses costs. That being said, before we break down why this card makes number 2 on the list, it is a good time to mention that the AMEX Platinum® is a CHARGE card and NOT a credit card; meaning that it's you're duty to pay off the revolving debt in full upon each statements close date.
The following are what we find to be the most exciting travel-related perks of the AMEX Platinum® card, excluding other features from our list such as the $100 annual credit to Saks Fifth, because it doesn't directly apply to this category of travel.
Travel Credit:
So, to help offset what many feel can be a lofty annual fee, AMEX Platinum® issues a $200 a year travel credit applicable to your airline of choice from available partners. You are only allowed one airline, meaning you cannot break up the travel credit among different businesses like Jet Blue and Southwest—it's one or the other.
Furthermore, their travel credit only can be used on non-airfare related purchases. So your $200 a year credit can be used for luggage checking as well as inflight drinks or meals, itinerary change fees, phone reservation fees, pet flight fees, seat assignment fees, inflight entertainment fees, airport lounge day passes and memberships, as well as seat upgrades when available.
$200 Uber Credits:
Every month AMEX® issues you $15 of credit and $35 of credit in December that you have to use within that time frame. The uber credits can be used for travel within the United States, and although the terms do mention that it isn't applicable to any other Uber Services, as of right now the credits work even towards Uber Eats should you decide to have lunch delivered to your office.
Points:
So this is where AMEX® really shines through. The AMEX Platinum® has some of the best sign-on bonuses as well as valuable points you could possibly want from a travel card.
When booking your flight or your hotel you are rewarded 5X points upon purchases, just remember to purchase travel insurance since this is one feature the card leaves out. According to consensus, AMEX® Membership Rewards Points (MR Points) are worth approx. 2c per point.
Right now the sign on bonus is 60,000 MR Points if you spend $5,000 within the first 3 months of receiving this card. That means if you were to redeem the points for the maximum value you would walk away with a redeemable $1,200 worth of points.
Taking it a step further though is if you're in the position to spend $27,500 a year on your card, you would equivocally redeem $550 worth of statement credits, meaning the entire value of your annual card.
The Centurion Lounge, Delta Sky Club, & Priority Pass:
Just like every other card that has Priority Pass membership, you're given access to more than 1,000 airport lounges across over 120 countries and counting.
Two that Stand out are the Delta Sky Club and The Centurion Lounge.
The Centurion Lounge is a lounge is complementary to American Express Platinum® and above members that include complimentary guest entry of up to 2 people. Inside the lounge, you're offered a variety of amenities to make your stay more comfortable, including free cocktails, showers, free massages, manicures, in some locations, as well as restaurants with award-winning chefs preparing your meal all included in your membership.
The Delta Sky Club is accessible with an AMEX® Card, however, conditions do apply. For instance, to gain access to the Delta Sky Club you do have to show tickets showing relevant information regarding an active flight you're waiting on or have returned from, but can use AMEX® Travel Credits to cover any entry fee you still may have to pay to gain access to a premier lounge.
Global Pass or TSA Pre ✓ ®:
Yet another card with a $100 credit towards your application towards Global Pass or TS. That being said, Global Pass is usually the superior option because TSA is included in the Global Pass.
AMEX® Fine Hotels & Resorts Program:
When booking Hotels through Platinum® Travel Service you can receive a host of unique benefits like room upgrades upon arrival, when available, daily breakfast for two people, guaranteed 4pm late check-out, Noon check-in when available, complimentary Wi-Fi and unique amenities valued at $100 US, such as a spa or food and beverage credit.
Status at Hotels and Car Rentals:
Another interesting perk is the complimentary Gold Status you receive at SPG and Hilton Hotels, as well as Gold Status for AVIS car rentals meaning exclusive membership perks and better rates when applicable.
AMEX® Concierges:
This feature is what makes AMEX Platinum® standout- their Concierge Service. In the event you might need a ticket that seems ununitable to some concert or sporting event, or even last minute reservations to high end restaurants, AMEX® goes out of their way to reserve availability so you as a consumer can buy a ticket that would've taken hours of refreshing pages online to have an opportunity to buy, or even have to find a scalper to buy from in some cases, instead you can buy the ticket at face value thanks to AMEX Platinum®, and there are some restaurants that reserve tables from AMEX® allowing you to squeeze your party right in.
Premium Roadside Assistance:
Another interesting feature that doesn't get a lot of attention is the Premium Roadside Assistance AMEX® offers. You can call 24/7 to arrange for eligible services such as towing up to ten miles, changing a flat, or jumpstarting a battery- even in your own driveway, and AMEX® will pay for eligible services up to 4 times a year (in the US, Canada, Puerto Rico)
Boingo® Unlimited Wifi:
Boingo® is a network of over 1,000,000 worldwide hotspots you typically have to pay for to become a member of, and with Boingo® Unlimited you can enjoy the network and an included membership as long as you hold onto your Platinum card®.
Baggage Insurance Plan:
Last on the list of travel-related benefits is Baggage Insurance Plan covering lost, stolen, or damaged bags. $2,000 worth of protection for checked in bags and $1,000 for carry on luggage making a total of $3,000 per trip.
Capital One® Venture® (Credit Score Recommended: 670-850)
So now that we got the heavyweights out of the way, let's discuss other cards on this list that are definitely noteworthy for their own reasons, number 3 on this list is currently the Capital One® Venture® card and for good reason. Recently, Capital One® has made a deal with Hotels.com to offer 10X points on hotels booked through their website making it stand out in ways many travel cards simply cannot.
Points:
You can currently earn 50,000 bonus miles once you spend $3,000 on purchases within the first 3 months of opening an account which is equivalent to about $500 in travel. The first year you sign up for the card your membership fee is waived but thereafter the annual fee is $95.
With the current deal with Hotels.com a 10X reward points are generated when buying through their website, making this card an extremely viable option when you look at the math behind it. With as little as $3,000 worth of travel through Hotels.com spend, you can rack up a quick 30,000 miles on the Capital One® Venture card®.
Other Benefits:
Like the premium cards, the Capital One® Venture® also offers the $100 Global Pass or TSA Pre ✓ ® which covers the cost for application when trying to get in and out of airports more quickly
Barclaycard Arrival Plus® World Elite Mastercard® (Credit Score Recommended: 680-850)
The Barclaycard Arrival Plus® is another interesting pick on this list because it's appealing to the general population who don't travel as extensively as some others may for work. With its small $89 annual fee that's waived the first year and its lucrative points system, it can quickly become a welcomed addition to your wallet for some of these reasons below.
Points:
The point system on the Barclaycard over-delivers for most people who aren't extensive travelers and here's why. The Barclaycard gives unlimited 2x miles on every purchase, making it much easier for a consumer to generate miles that don't expire.
After spending $5,000 on purchases within the first 90 days, you'll currently receive a 60,000-mile sign-on bonus that can be redeemed for $600 of qualifying travel purchases. Additionally, the point system has a 5% miles back redemption program that gives you 5% back to use towards your next redemption every time you redeem.
Easier to Redeem Points/Get the Best Deals:
When using most cards reward system, you typically have to book through the platform they want you to use, often times being a bit more expensive than actual market value. With the Barclaycard Arrival Plus® you can book your own airline, hotel stays, and redeem your miles for travel credits without restrictions. This card is a perfect fit for the average consumer whom doesn't mind missing out on the more luxurious perks but wants one solid card at a low annual fee to earn points on.
In a nutshell, this card lets you spend your points on any relevant travel site you want instead of the old way of redeeming points through your creditor's website!
Hilton Honors Aspire® Card From American Express (Credit Score Recommended: 680-850):

The newest cards from American Express are now the Hilton® Cards. There are cards that have $0 annual fee all the way up to the one we're reviewing, the Aspire® Card, which has a lofty $450 annual fee. If you understand how to use this card as leverage, and you're someone whom spends a ton of time in hotels this card may seriously be worth considering for a lot of reasons.
The Status and Status Matching:
The feature that actually makes this card unique and standout to every other card is, this card gives you complimentary Diamond Status at Hilton Hotels®, which to typically get would be 60 nights spent at Hilton Hotel® locations.
The benefits of having Diamond Status include room upgrades, bonus points, executive floor lounge access, welcome amenities, fifth night free on award stays, and more.
But the real beauty of this card is the status matching ability which can open the door for you to many more perks you may be unaware of.
Because you have Diamond Status at Hilton Hotels®, some businesses may skip the whole "getting to know you" part of the relationship and simply match you with their business's version of "Diamond Status" in order to earn your business instead; and for the most part, these businesses give you the benefit of the doubt that you probably earned the status "the old fashioned way" by spending thousands of dollars a year to attain status.
So if the idea of renting luxury vehicles at the cost of a Toyota Corolla interests you, or getting airline status is appealing, you may want to check the resource at StatusMatcher.com. Out of Hilton® Diamond you can match to IHG, Hyatt, SPG, Marriott, then President Circle at Hertz car rentals, United 1k, Delta Diamond and really leverage the benefits and perks of all of these other businesses simply by having status at one place first.
The Points:
Currently, Hilton's® welcome offer is 150,000 points for $4,000 spend within your first 3 months of Card Membership. The $150,000 points can go pretty far at some Hiltons® that charge 20,000 points a night (mind you your 5th night is free), others can go quickly depending on the resort.
Earning rewards is pretty simple as well with 14X points on eligible purchases made from your card within the Hilton's® participating hotel or resort portfolio, with 7X points for flights booked directly with amextravel.com, select car rental companies and select restaurants, with 3X points on everything else.
The Credits:
Furthermore, if you are a traveler, the credits do create a complete wash for your annual fee.
The $250 Hilton® Resort Statement Credit is an annual credit you're awarded that gives you $250 towards your rooms at Hilton®.
The $100 Property Credit gives you $100 towards expenses on the Hilton Resort®.
The $250 Airline Fee Credit combined with the previously mentioned credits already puts you ahead by $150 total for benefits, but works exactly like AMEX Platinum's® system does with one qualifying airline receiving up to $250 per calendar year in statement credits for incidental fees such as checked baggage, inflight refreshments, and flight change fees.
There is also a Two Weekend Night Rewards, which is a limited benefit that gives the Cardholder one free night the first year at a Hilton Hotel® and a second night free if they've spent $60,000 on their card the next year.
The Other Benefits:
Additionally, this card does offer some similar benefits to AMEX Platinum® with baggage insurance and a membership to Priority Pass for airport lounges.
Final Thoughts:
The most important general rule of thumb whenever you're looking into credit and personal finances is this: RESEARCH. The world of credit and personal finance is changing every day, as much as we would've loved to mention great cards like SPG or Ritz-Carlton on this list, these cards have only recently been churned out of circulation. Furthermore, it's crucial for you to understand how credit cards will affect your score, as well as to understand which card is right for you. We hope you've gotten some information necessary to aide you in making an empowered decision for finding a travel card that's a perfect fit you, and be sure to compare cards with each other to understand some advantages over the other!