Coign VISA Credit Card Launched: What You Should Know
September 26, 2022
4 min read
34528 reads
Founded by a group of high-profile conservatives hoping to attract like-minded customers, the Coign VISA credit card was announced this week.
Rob Collins, founder of Coign, says this is the first credit card for people who prefer their purchases work for the causes they believe in. The red Coign credit card is a rewards credit card that offers a cash-back benefit to cardholders.
💡 Jump to Coign's fees and interest rates below.
Here are some features of the Coign card at a glance:
Unlimited cash-back VISA card
No annual fees
Credit protection
A portion of the merchant fees are donated to conservative causes
According to Coign, the card is no different from other credit cards on the market in terms of customer service, regulations, and protections.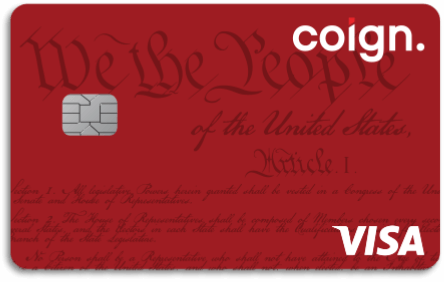 In a press release, the company said that it is pushing back against credit card companies and mainstream banks pursuing far-left agendas.
"Too many corporations are investing their customers' money in political and social priorities that align with their executives, and the media," said Coign's founder Rob Collins. "For the first time, the Coign card will allow conservatives to 'Spend Right' no matter where they shop."
The Coign advisory board includes Canvass America President and Founder Chris Hansen, former Republican Colorado Sen. Cory Gardner, and former Special Assistant to the President for Innovation Policy and Initiatives Matt Lira.
How It Works
This unlimited cash-back VISA credit card does not have an annual fee and offers credit protection.
Trademarked by Zing America, Inc., the Coign VISA card comes with all the standard perks and benefits people are used to, like fraud protection, cashback rewards, secure transactions, and VISA network coverage.
Some of the features of the Coign card include:
Spend anywhere VISA is accepted
Support conservative causes
100% protection with VISA's Zero Liability policy
World-class cyber and theft protection
Rewards
Every time a cardholder makes a purchase, they will earn a 1% cash-back reward. This cash-back reward comes in the form of a statement credit that can be used to pay off existing charges for the customer's account balance.
Charity
Coign will donate a portion of its merchant fees to charities. These charities will be announced soon and members can sign up to the waiting list to be notified when the first round of charities is announced.
Cardholders will be able to vote on which causes receive donations from transactions, according to a news release from the company.
💡 Read more about the Financer Initiative
Coign has recently signed up their third charity partner in September this year.
Fees and Interest Rates
The Coign VISA credit card comes with an annual percentage rate of 15.99 to 25.99% APR, based on your creditworthiness.
The APR for cash advances is 25.99% to 30.99% APR when you open your account. After that, your APR will vary based on your creditworthiness.
If you are charged interest, the minimum charge will be $1.00.
In terms of fees, cash advance fees are 3% of the amount, or $10,00, whichever is greater. A late payment fee of up to $35.00 can be charged.
Your balance will be calculated using a method called 'Average Daily Balance'.
If you pay your entire balance by the due date each month, you will not be charged any interest on purchases. Your due date is at least 25 days after the close of each billing cycle.
How to Get Coign
Users can visit coign.com and sign up for the Coign card by clicking on 'Join Now'.
You can also download the Coign app from the Google Play Store.
Coign's customer support team can be reached at 833-690-2471 from Monday to Friday, 8 a.m. to 5 p.m.
Keep an eye out for Coign credit card reviews from real customers.