Top 3 Credit Cards for a 600 Credit Score
April 4, 2023
7 min read
993 reads
If you have a 600 credit score, you might not qualify for prime credit cards. But if you're willing to accept a lower reward rate and smaller bonus, there are still options out there.
You just need to know what kind of card will give you the best deal.
Here are our top credit cards for a 600 credit score (fair credit). Choose one of these and manage your card responsibly, to see a boost in your credit score.
1. Destiny® Mastercard®
The Destiny® Mastercard® is worth considering if you're looking to build your credit score with a credit card that has low foreign transaction fees.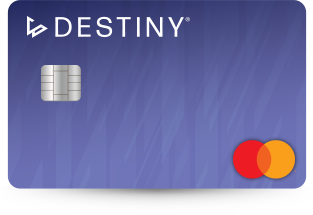 This card has an annual fee of $75, with a 25-day interest-free period.
Although this card doesn't have a rewards program, it's a good option if you have less-than-perfect credit and want to improve your score.
Pre-qualification requires only a soft credit check so your credit won't be impacted.
2. OpenSky® Secured Visa® Credit Card
If you're just starting out on the journey to building credit and improving your credit score, the OpenSky® Secured Visa® Credit Card is a great place to start.
You can get approved for this card even if you have no previous credit history whatsoever—and even if you don't have an income.
The OpenSky® Secured Visa® Credit Card has an annual fee of $35. The APR ranges from 17.64% variable APR (on purchases) to 24.74% variable APR (if paid late).
There is a 5% cash advance fee and the card reports to all three credit bureaus, so it can really help you build your credit.
There's a minimum security deposit of $200 required to open the account, but after that, customers are eligible for a credit limit ranging from $250-$3,000, depending on your security deposit.
This makes it easy for individuals with a limited budget. They can still get into debt but keep their spending manageable by keeping that initial amount low enough so as not to overwhelm themselves with too much at once.
3. Milestone® Gold Mastercard®
This Milestone® Gold Mastercard® is a good choice for those with a 600 credit score looking to increase their profile, as it reports to all three major credit bureaus.
It also has a $75 annual fee, which you should take into account since the Milestone® Gold Mastercard® has a starting credit limit of $300.
The card has a regular purchase APR of 24.90% and a cash advance APR of 29.90%.
This card charges a 1% foreign transaction fee and has a late payment fee of up to $40 per statement period.
Choosing the Best Credit Cards for a 600 Credit Score
Here are some of the important factors you should look at when applying for credit cards if you have a credit score of around 600.
APRs
Credit card companies are notorious for charging high interest rates on balances transferred and purchases.
Many issuers charge an annual percentage rate (APR) of 25% or higher on both transactions. If you need help paying down your debt, we recommend trying to pay off your balance in its entirety every month.
You may also consider using a personal loan instead of a credit card if you're struggling to pay off your debt.
Fees
Credit card companies offer low interest rates and other perks to entice customers to sign up for their services.
However, there are also hidden fees that you may not realize until after you've signed up. These fees include annual membership, balance transfers, cash advances, foreign transactions, late payments, and returned payments.
You should always check your statement before paying anything. If you notice something suspicious, contact customer service immediately.
Pre-Qualified Offers
One way to get a good idea of the type of credit cards you qualify for is to compare pre-qualified offers online. This will help you compare options and benefits of different cards without a hard pull on your credit.
Rewards
Most credit cards offer rewards programs, but if you have bad credit, you may not qualify for many of them. If you're looking for a card that will help you rebuild your credit history, you may find rewards credit cards that are ideal for those with fair credit scores.
Conclusion
Having a high credit score is crucial to getting approved for credit cards, and that means it can be hard to get started building your credit.
But with the right card, you can build your credit up and get access to better cards in the future. Choosing the right card is important for building credit — make sure you understand what cards work best for your situation.
Can I get a credit card with a 600 credit score?
Yes, you can get a credit card with a 600 credit score.
What credit limit can I get with a 600 score?
In most cases, you won't know the exact credit limit you'd get until after you apply. Card issuers usually use the information you submit in your application as well as data in your credit report to determine your credit limit.
Can I get an Amex with a 600 credit score?
While there's no official cut-off point requirement, it is unlikely you will get an Amex card with a credit score of 600. You will need at least good credit to increase your chances of getting approved for an Amex card.
Can you get a Discover card with 600 score?
It depends on the Discover card you are applying for. If you are applying for the Discover it® Secured Credit Card or Discover it Student Cards then you can get approved with a credit score of 600. As a matter of fact, you don't need a credit score to qualify for these cards.