Barclays Online Savings Review 2022
The best savings accounts available today have low fees and high yields, along with a range of account management features.
This is exactly what you can get with an online savings account from Barclays. We look at the features of the account and how to open an account online.
Here's what we'll cover in our Barclays review:
What is Barclays US Savings?
The Barclays US Online Savings Account offers all this and more, making it the perfect choice for anyone looking for a high APY.
In this Barclays Online Savings review, we'll examine all its features and benefits, including its branch locations, robust mobile apps, and more.
You can earn up to 3.40% APY with the high-yield Barclays Online Savings account. Open an account now.
How It Works
This Online Savings account from Barclays is a great high-yield savings account that earns you a very competitive 3.40% APY.
This high-yield savings account has no minimum deposit requirement, and there are no monthly maintenance costs.
You'll get up to six free withdrawals per month and although it doesn't come with an ATM card you can withdraw your money via electronic transfer.
Other features include support for external bank transfers and direct deposits, as well as 24-hour online banking access.
All online Barclays savings accounts are FDIC insured, which means that you are covered for up to $250,000 in the event of a bank failure.
Barclays US does not have any physical branches in the U.S. The Barclays Savings account does not provide ATM cards, so clients must withdraw money via an electronic transfer to other bank accounts.
Barclays Savings Account Rates
The online bank offers only one savings account, with the same rate regardless of balance.
| | | |
| --- | --- | --- |
| Account name | APY | Minimum deposit |
| Online Savings account | 3.40% | No minimum deposit |
Note: The annual percentage yield (APY) shown is as of Nov. 4, 2022.
Account Features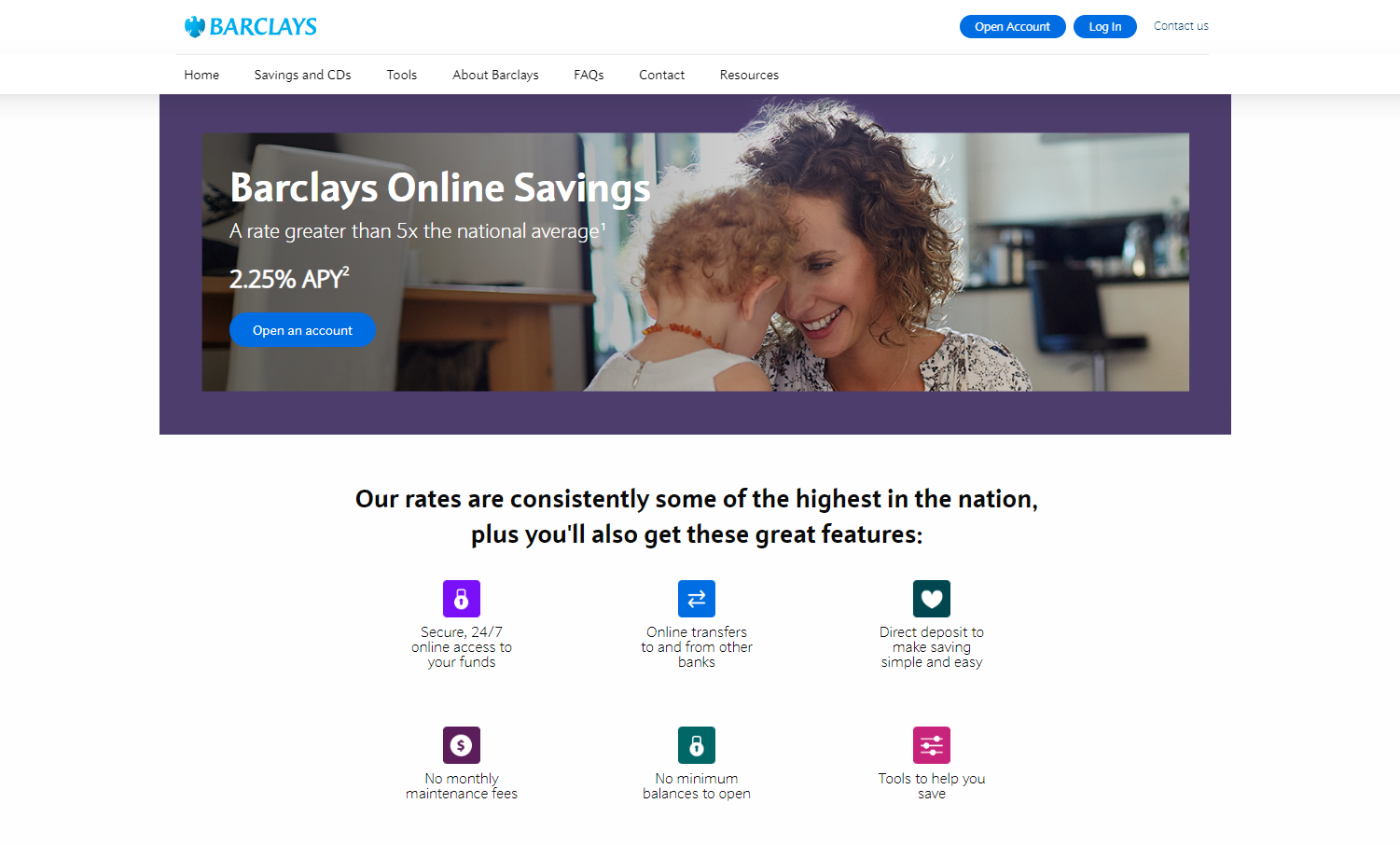 High APY
The Barclays Online Savings Account offers a high APY of 3.40% on all balances. It's a nice feature to have since most competitors provide tiered rates that increase as balances go up. Or they have a promotional rate that expires after a specific time period.
No Minimum Deposit
With the Barclays Online Savings account, there are no minimum balance requirements and a $0 minimum deposit, making it ideal for those who are just starting to build their savings.
Even experienced savers will enjoy the fact that there are no penalties for withdrawing your savings early and leaving your account with a low balance.
Savings Assistant
Barclays has a Savings Assistant that can help you choose your savings goal and show you how much you'll need to save to reach your goals.
Accessing Your Money
You have a variety of options for withdrawing or depositing money from your Barclays US Savings account. Here's a closer look at all of them.
Withdrawal Options
You can withdraw money from your account via electronic funds transfer or a mailed check from Barclays.
Note that it can take up to three business days for money from your Barclays account to get to an external bank account via online transfer.
Deposit Options
Here's how you can deposit money into your Barclays Online Savings account:
Electronic funds transfer
Mobile deposit
Mailed check
Direct deposit
Barclays doesn't accept cash deposits, money orders, third-party checks, or wire transfers.
Fees
In addition to having no monthly maintenance fees, the Barclays Online Savings account also comes with no minimum balance requirements.
Mobile App
With the Barclays app, you can access your account 24 hours a day.
You can pay people, check your account balance, change your ATM limit, view your PIN and freeze your card.
Making payments is easy and you can link accounts from other banks.
How to Open an Account
Step 1
Step 2
Fill in your details
Fill in your personal information and choose the type of account you want – single or joint. You'll need your Social Security number as well as the amount for your opening deposit. 
Step 3
Accept the terms
After you've added all your details, you need to accept the terms. This includes an electronic consent agreement and a W-9 certification. 
Step 4
You're done
That's it! Submit your details and you're done. 
Bottom Line
| Pros | Cons |
| --- | --- |
| Competitive savings account APYs | No physical branch locations in the U.S. |
| No account minimums | No ATM access |
| No fees | No chat support |
| Mobile check deposit | No checking or money market accounts to meet broader banking needs |
| 24/7 online access | |
The Barclays Online Savings is a good option if you want to get the best from your savings from an established bank while having access to more innovative, newer tools to help you reach your savings goals.
Barclays doesn't have any physical branches or ATMs because it is an online-only bank in the US. As a result, clients have fewer options for withdrawing money.
Barclays' customer service is accessible 24/7 by phone. This might not be a problem if you're accustomed to banking online, but Barclays is probably not the greatest option if you desire the convenience of a nearby bank location.
If you're searching for a full-service bank that provides a wide range of banking options, such as checking accounts and money market accounts, Barclays is probably not the greatest option. These accounts from Barclays are not available right now.
Customers also need to have an existing bank account at another bank to be able to fund their Barclays accounts. These extra processes may detract from Barclays' appeal even if the rates are worthwhile.
However, customers should think about Barclays US Savings if they want an online bank that offers competitive APYs on savings and CDs.
FAQs
Is Barclays Online Savings good?
Yes. Barclays is an established financial institution and this account has no minimum opening requirements and no monthly fees. It also comes with a 2.25% APY, one of the best on the market. Barclays Online Savings is a great way to boost your savings. 
What is Barclays online savings interest rate?
Barclays offers 2.25% APY for its Online Savings account. 
Can I open a Barclays account in the US?
Yes. Customers in the US can open a Barclays account online. 
What is the minimum amount to open a Barclays online savings account?
There is no minimum amount required to open an online savings account. 
Can you have the Barclays app with just a savings account?
Yes. You can download the app if you have a Barclays US Savings account.