Review of CashUSA
Summary

Loans between $500 – $10,000

Up to 72 months to repay

Interest rates 5.99 – 35.99%

Funds direct deposited into a designated account

Accessible 24/7

All credit types considered
What is CashUSA?
CashUSA is an online loan broker that connects borrowers with suitable lenders.
Through its network of lenders, CashUSA offers borrowers loans between $500 and $10,000. The maximum loan amount available to a borrower will depend on their creditworthiness.
However, according to CashUSA's website, consumers with low credit scores will unlikely receive a loan greater than $1,000.
Borrowers can repay their loans in 90 days or stretch the payment terms to up to 72 months on approved credit.
Read more Cash USA reviews below or submit your own.
Loans between $500 – $10,000
Up to 72 months to repay
Interest rates 5.99 – 35.99%
All credit types considered
How CashUSA Works
With more than a million users every month, CashUSA offers a simple and straightforward online loan platform.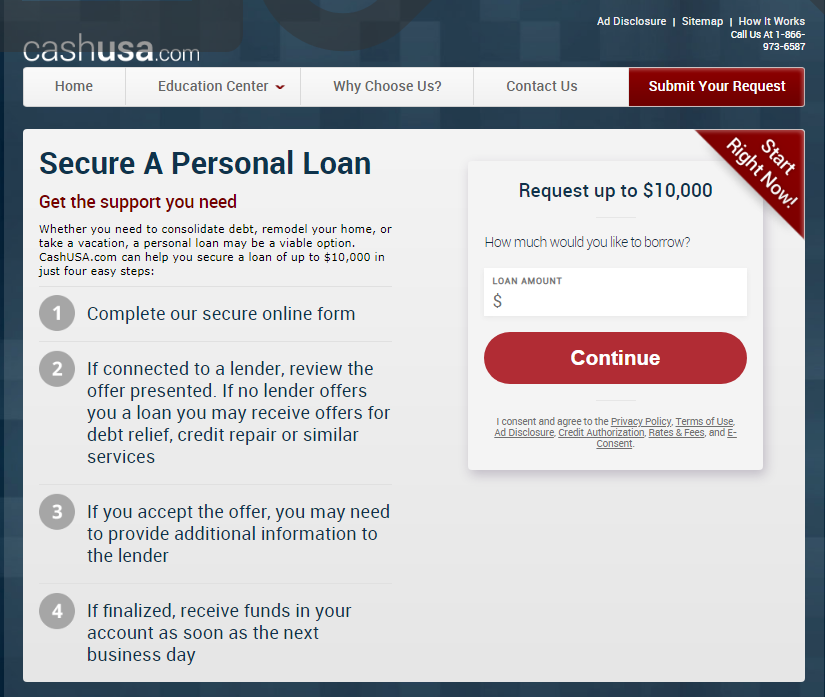 Borrowers simply need to enter their details online and they will receive offers from reputable lenders. CashUSA sends your submitted form to multiple lenders at the same time, so that you can compare multiple offers.
You can also read more CashUSA.com reviews at the bottom of this page.
Loan Requirements
Here are the loan requirements when applying for a CashUSA loan:
Be at least 18 years of age (older dependant of state)
U.S Citizen or permanent resident
Have a minimum post-tax income of $1000 per month
Provide a current email and phone number
Have an active checking account
Applications usually take only a few minutes and once you receive your offers, you can review and accept the loan terms immediately.
Rates & Fees
CashUSA loans come with APR rates of between 5.99% and 35.99%.
Example: A loan of $5,000 over 36 months with an APR of 18% will equal monthly payments of $179.35 with a total loan amount of $6,456.68.
Payment Terms
Repayment terms on a CashUSA loan are from 3 months to 72 months.
Loan offers from Cash USA may come with an origination fee, depending on the lender. Different offers may also have unique interest rates and payment terms.
How To Apply for a CashUSA Loan
Step 1
Apply Online
Visit CashUSA.com and submit your loan request. This will require some basic information like the loan amount, what you need it for, your date of birth, and zip code. This will also trigger a soft credit inquiry.
Step 2
Receive Loan Offers
Once you've submitted your details you'll be presented with suitable loan offers. Review the offers to see if one suits you needs, before you proceed to apply. Once you do, it will trigger a full credit check. 
Step 3
Loan Approval
Once your application has been submitted and reviewed, you'll be notified of the outcome. Since the terms differ from one lender to the next, you may receive your loan as soon as the next day.
Our CashUSA Review
CashUSA Pros

Fast loan application process

Cash deposits directly into your account

All credit types accepted

Available online 24/7

Secure site
CashUSA Cons

Small loan amounts up to $10,000

High APRs possible

Not a direct lender
CashUSA has a simple and straightforward online loan application process and can connect you with many well-known U.S. lenders in just a few minutes.
CashUSA loans are a good option if you are looking for a bad credit loan or have a credit history that needs some work.
At Financer.com we always recommend that you shop around to find a lender that suits your personal needs.
Customer Service
CashUSA.com offers support via email, phone, and online. There is no CashUSA login available but you can apply for a loan online in minutes.
Want to leave feedback? Add your CashUSA.com review below.
FAQs
How much can I borrow?
You can borrow up to $10,000 with a Cash USA loan.
What happens if I pay late?
When you accept the loan agreement you agree to pay back to loan principle and charges in a specific time. If you are late with payments, late fees may apply. CashUSA can't determine the specific penalty or late fee as this depends on the lender you take out your loan from. 
Is CashUSA.com secure?
Yes. CashUSA.com uses industry-standard encryption to process your personal information. Read more about their privacy policy here.