Fortuna Credit Review (2023)
Fortuna Credit is an online lending marketplace that offers personal loans up to $25,000 from a wide range of approved lenders.  
With Fortuna Credit, you can apply for a personal loan online in minutes and get loan offers from various lenders. These online loans start at $500 and loans can be repaid for up to 60 months.
Founded in 2020, Fortuna Credit is available in all states and they use their technology to match borrowers with the best lenders in the U.S.
How We Rate Fortuna Credit
At Financer.com, all lenders go through a thorough research and review process. Here's how we rate Fortuna Credit:
| Category | Rating |
| --- | --- |
| Affordability | ⭐⭐⭐ |
| Application process | ⭐⭐⭐⭐ |
| Loan terms | ⭐⭐⭐⭐⭐ |
| Transparency | ⭐⭐⭐⭐ |
| Customer support | ⭐⭐⭐ |
| Overall | ⭐⭐⭐⭐ |
Do We Recommend Fortuna Credit?
Yes, we recommend Fortuna Credit as a trustworthy online lender marketplace. Skip to our full review below and see how we rate Fortuna Credit.
Here's what we'll cover in this review:
Want to skip the details? Jump to our final verdict here.
Fortuna Credit Overview
Fortuna Credit offers loans from $500 to $25,000 with APRs starting at 4.99%. They are not a direct lender but use their technology to match borrowers with loan offers from the most suitable lenders.
Fortuna Credit accepts loan applications from borrowers with bad credit.
Borrowers have up to 60 months to pay and the approval process is very fast.
Here's a quick summary of Fortuna Credit:
Overview
Features
Loan type:
Personal loans
Loan amount:
$500 – $32,000
Loan term:
24 to 60 months
APR:
From 4.99%
Min. credit score:
None
Monthly fees:
None
Payout time:
One business day
Weekend payout:
No
Requirements:
At least 18 years old
U.S. citizen
Active bank account
Regular income
Valid phone number and email

Fortuna Credit is committed to providing loan options regardless of credit score – this is one of the great benefits of this lending marketplace.
Fortuna Credit also offers a range of financial tools for borrowers free of charge.
Want to find out more about the full range of offerings? Read our Fortuna Credit review below or view Fortuna Credit reviews from customers.
Fortuna Credit Pros and Cons
Here are some of the pros and cons of Fortuna Credit as a lender:
Pros

A lending marketplace operating in all U.S. states.

All credit types are acceptable.

No collateral is required for unsecured personal loans.

A streamlined and straightforward application process.

Simple and 100% free application process with a quick turnaround.

Qualify within minutes and receive your funds the next business day.

No credit check is required and the initial Fortuna Credit application won't affect your credit score.
Fortuna Credit is seen as one of the top lending marketplaces for U.S. borrowers as it has an extensive range of approved lenders onboard.
With the Fortuna Credit platform, borrowers can get fast payouts from lenders as soon as the next day on approved loans. This means borrowers can apply online without visiting a lender's office in person.
As Fortuna Credit specializes in unsecured loans, you don't need collateral to apply.
One of the best features of Fortuna Credit is its 100% free application process.
Borrowers with bad credit can also apply as there are no minimum credit score requirements, making Fortuna Credit a good option for people with lower credit scores.
Cons

APRs can be high

No phone support
One drawback of Fortuna Credit is that they don't offer support via phone.
They do have an online contact form available and borrowers are encouraged to contact their lenders directly with any questions.
Since they work with a range of U.S. lenders, some APRs on loan offers may be high, so we recommend you always compare the rates and terms first.
Who Is Fortuna Credit For?
Fortuna Credit is ideal for borrowers who are looking for a fast online loan application process. It's also ideal for borrowers with bad credit.
By comparing multiple lenders, Fortuna Credit can give you personalized loan offers from leading U.S. lenders and there are no application fees.
If you're looking for the best loan rates and you have an excellent credit score, you may want to consider other lenders that can offer you competitive rates.
Eligibility Requirements
Here are the loan requirements when applying for a Fortuna Credit loan:
Be at least 18 years old.
Be a U.S. citizen.
Have an active bank account that accepts direct deposits.
Have a regular stream of income.
Have a valid contact number and an active email address.
No minimum credit score is required.
Who It's For
Fortuna Credit is for you if:
You have a less-than-perfect credit history
You want to get multiple loan offers
Need funds fast
Don't have collateral
Want to complete an online application
Who It's Not For
Fortuna Credit may not be a good option for you if:
You want the lowest APR rates
Need a loan of more than $25,000
Want to take out a secure loan
How To Apply for a Fortuna Credit Loan
Applying for a Fortuna Credit loan is fast and easy. Here are the steps:
Step 1
Visit the Website
Go to the Fortuna Credit website and start by entering your email address.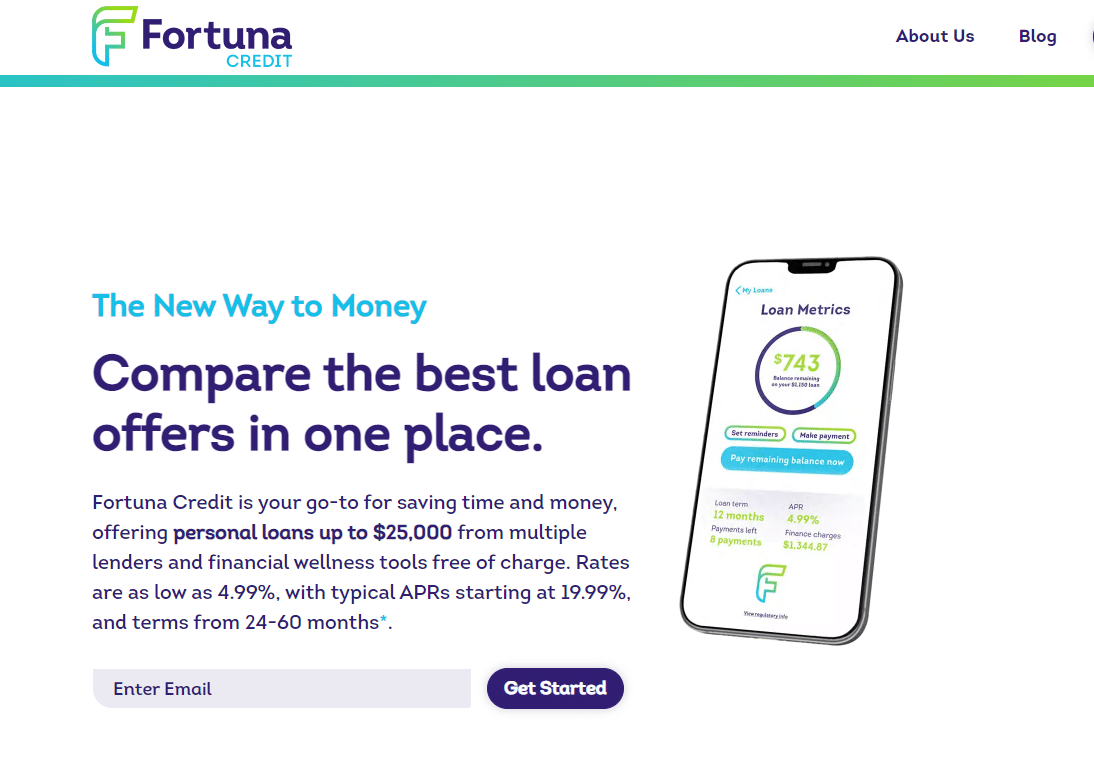 Step 2
Set up your profile
Set up your profile and choose the amount you would like to borrow. You'll need your personal information, contact details, and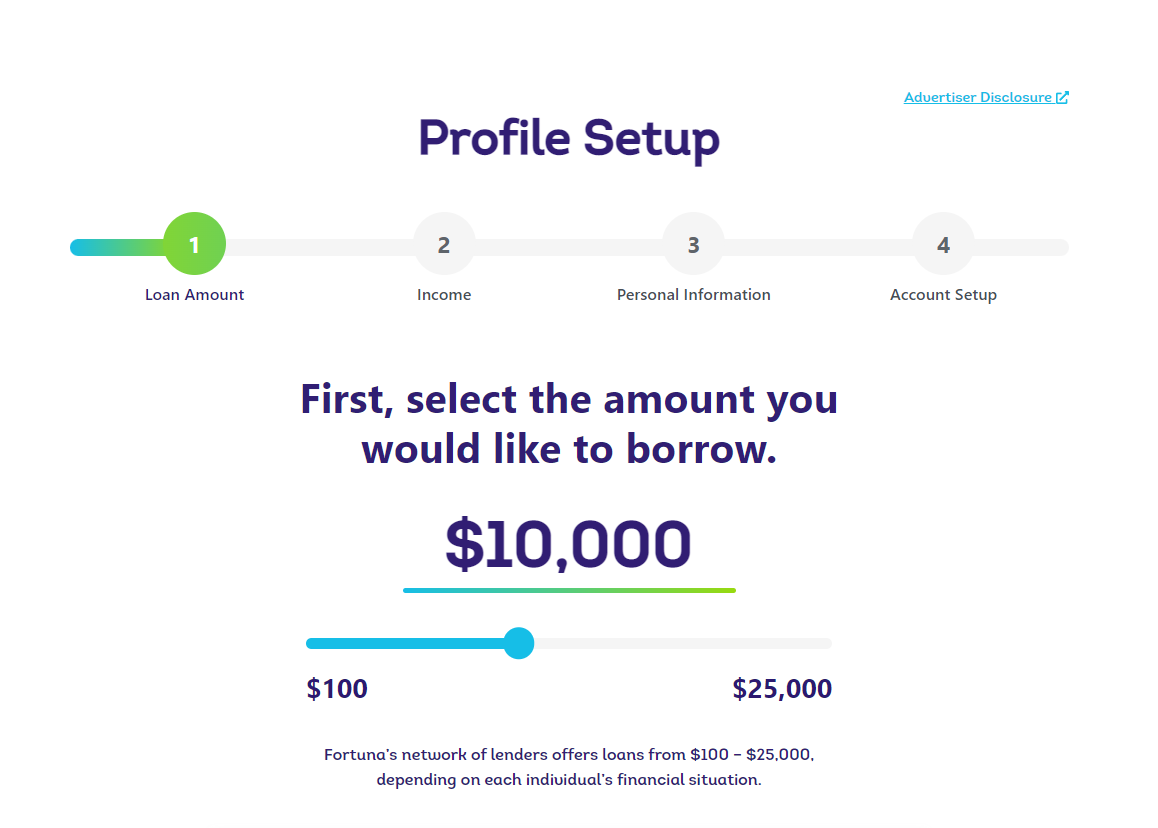 Step 3
Connect your bank account (optional)
You may connect your bank account with your profile to qualify for more offers.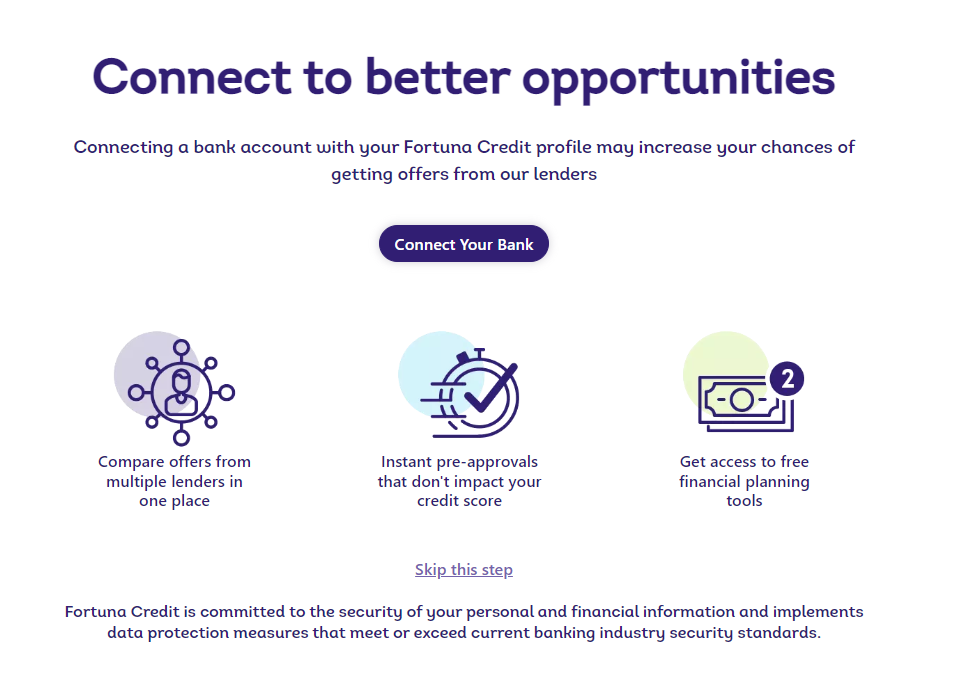 Step 4
Receive Offers
A list of loan offers that best suit your needs will appear, making it easy to compare multiple offers in one place, within minutes.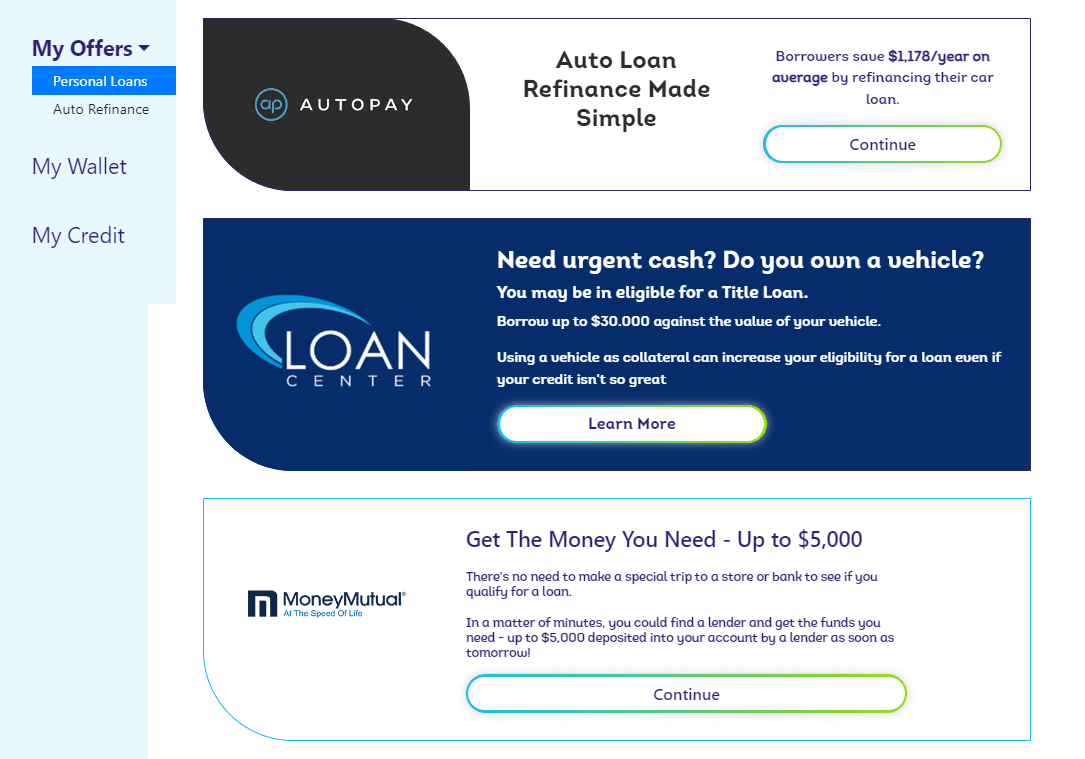 Once a loan is approved, customers can communicate directly with their individual lenders to get personalized information.
Loan amounts range from $500 to $25,000 depending on the lender.
Each loan contract contains different requirements. It is essential that you thoroughly read your agreement before committing.
What To Consider Before Applying
To make sure you understand the costs involved in any loan, always research the offers from lenders and look for origination fees, prepayment penalties, late fees, and more.
We suggest you always double-check any policies and terms before agreeing to a loan from a lender as Fortuna Credit just operates the marketplace and does not guarantee terms.
Although there is no minimum credit score required based on our Fortuna Credit review, keep in mind that the lender might do a hard credit check to determine your eligibility when you complete your loan application.
Fortuna Credit Fees
APRs differ between lenders and typically start from 4.99%. There are NO fees associated with using the Fortuna Credit site, though many lenders may have their own fees. Fees are dependent on the lender, not Fortuna Credit.
There are no prepayment penalties or hidden fees. Contact your lender directly If you are unsure whether you'll be able to afford the repayments.
Fortuna Credit Payment Terms
The repayment terms range from 24 to 60 months. Fortuna Credit does not determine the rates and terms, as these are decided by the lending partners.
Some lenders allow payments to be debited automatically from your account to help you avoid late or missed payments. Payment schedules and late payments are worked out directly with the lender.
Be sure to read the terms of your loan offer before you agree and accept.
How Financer.com Rates Fortuna Credit
Is Fortuna Credit legit? Yes, at Financer.com we recommend Fortuna Credit.
At Financer.com, all lenders go through a thorough research and review process. We don't make recommendations lightly.
All loan applications are done through their online platform with a simple process that takes a few minutes to complete. Borrowers can log into their dashboard to see new loan offers and the status of their existing applications. 
Application Process
The application process with Fortuna Credit is very quick and easy. It takes only a few minutes to complete the steps and get your loan offers.
Costs
There are no fees associated with using the Fortuna Credit platform. Note that lenders charge their own fees and APRs vary by lender.
With loan APRs typically starting at 4.99%, this is quite standard compared to other short-term lenders in the U.S.
Payments
Most lenders on the Fortuna Credit platform allow for loans to be repaid over up to 60 months, which aligns with most other lenders.
Customer Service
Fortuna Credit lacks a bit in terms of customer service as they only offer support via email. They don't offer phone support.
We tested out Fortuna Credit's customer service by requesting information via email. We received a confirmation of our inquiry immediately and received a formal reply a few hours later.
Privacy and Security
Not much is available about how they handle customer information, except for their standard Privacy Policy.
Similar to other loan marketplaces and online lenders, Fortuna Credit collects and shares user information with partners in their network.
5KFunds FAQs
How much can I borrow with a 5K Funds loan?
You can borrow up to $35,000.
What is the cost to use 5KFund?
5KFunds does NOT charge any fee, however individual lenders may have their own origination and application fees.
Is my personal information secure?
5KFunds takes your privacy seriously, and the personal information you enter protected with 256-bit bank-level SSL encryption.
Who do I contact about late payments?
Contact the lender directly if you have any issues repaying your loan. Late Payment penalties differ from lender to lender. Some lenders may automatically add a fee if it is in their agreement.
Why is 5KFunds a unique loan comparison service?
5KFunds partners with over 100 unique lenders and offers unsecured of up to $35,000. Once approved, money is directly deposited into  the borrower's bank account as soon as the next business day.
How much does a 5KFunds loan cost?
The 5KFunds marketplace is 100% free to use. However, the APRs from lenders vary from 5.99% to 35.99%.
What can I use the loan for?
You can use your 5KFunds personal loan for anything you want. 
When do I repay my loan?
Loan repayment terms differ by lender but repayment periods vary from 61 days to 72 months.
What can I use a personal loan for?
You can use your personal loan from 5KFunds for almost anything – home improvements, a holiday, medical expenses, shopping, or more. 
Fortuna Credit Alternatives
Here's a list of alternatives to Fortuna Credit and how they compare:
Should you take a loan with Fortuna Credit?
Fortuna Credit is a legitimate lending marketplace that works with reputable lenders throughout the U.S.
If you're looking for a loan offer from multiple lenders, Fortuna Credit may be a good option. Their application process is fast and easy.
They are not extremely transparent about all the fees and loan terms, but this can be confirmed with the specific lender before you accept a loan offer.
Read more Fortuna Credit reviews from customers below or add your own.
More Fortuna Credit Personal Loan Reviews
What Users On the Web Are Saying
Fortuna Credit gets 3.9 out of 5 stars on TrustPilot. Reviews are generally positive and they are very responsive when it comes to negative reviews.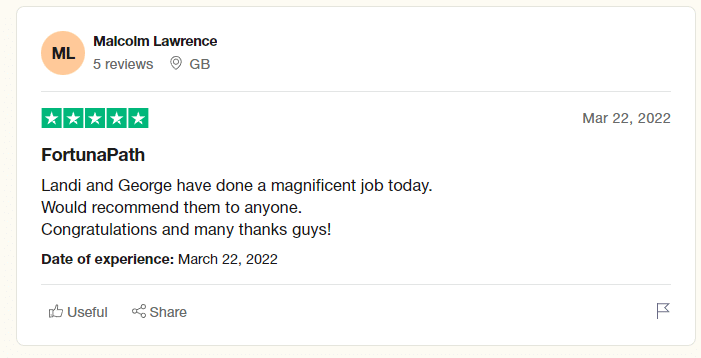 They have a five-star rating with 36 reviews on Facebook although most reviews don't seem to come from legitimate customers.
More User Reviews – Add Your Rating
Read more reviews on Financer.com from verified users below.
Have you used Fortuna Credit before? Leave your review now.