Review of Fundera
Summary

Small business loans of up to $5 million

Compare multiple lenders for business funding

Easy online application with fast payouts

More than $2.5 billion in loans secured

No hard credit pull needed to compare loans
What is Fundera?
Fundera is a business loan marketplace where borrowers can compare offers to find the best business loan for their needs.
Founded in 2014, Fundera has helped thousands of businesses find funding and has secured more than $2.5 billion in loans to date.
Fundera is based in New York and offers borrowers the ability to secure a business loan of up to $5 million with an easy online application process.
It offers a wide range of loans, including Fundera SBA loans, lines of credit, merchant cash advances, and personal loans for businesses.
Products Offered
Fundera offers the following loan products:
Business term loans
Business lines of credit
Startup business loans
Short-term business loans
Personal loans for businesses
Merchant cash advances
Fundera PPP Loans
With Fundera PPP loans, borrowers can learn more about Paycheck Protection Program loans from the Small Business Administration (SBA).
It aims to help businesses affected by the coronavirus pandemic with loans that are 100% guaranteed by the Federal government.
The SBA made a copy of its PPP application form available as this will likely form part of the application process with most lenders.
Other financing options for businesses impacted by the coronavirus pandemic include the following:
SBA disaster relief loans
SBA 7(a) loans
Business credit cards
How Fundera Works
With Fundera business loans, small businesses can get loans of up to $5 million without having to undergo a hard credit pull. Comparing business loans is easy on Fundera.com, with fast payouts available for approved loans.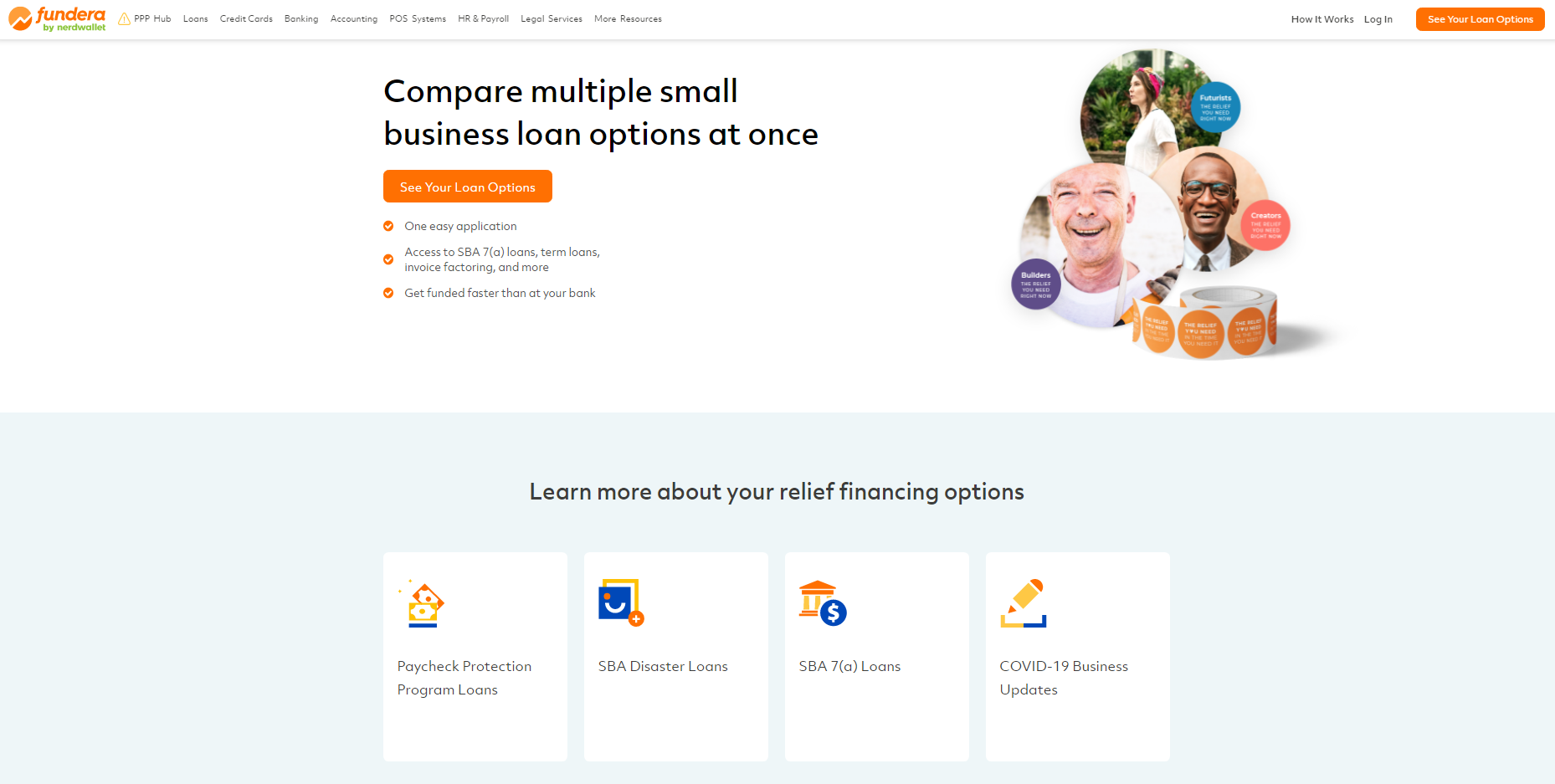 Fundera works with more than 25 online lenders and it will pair you with the most suitable lenders and loan offers for your business.
It also does not promote one lender over another, ensuring that you are always presented with the best offers.
Loan Requirements
Although lending requirements can differ between lenders, here are the basic loan requirements when applying for Fundera business loans:
A personal credit score of 600 or higher
More than one year in business
At least four months of bank statements
Details on your annual revenue and profit
Rates & Fees
Fundera does not offer loans directly but rather works with a network of lenders that offer different loan rates.
Business term loans from Fundera offer APRs between 7% and 30%.and funds can be available as soon as the next business day.
Fundera does not charge any origination fees.
Payment Terms
Payment terms vary between lenders but in general, Fundera business loans come with repayment terms of from one to 25 years.
Repayment terms will vary based on the type of business loan, the amount being borrowed, and the lender's terms.
How To Apply for a Loan with Fundera
Step 1
Apply online
Complete a simple online application by answering a few questions about your business. This is to assist Fundera to find the best loan options for your business.
Step 2
Connect with a specialist
Fundera will pair you with a lending expert who will contact you to learn more about your business and find a product that is tailored to your business' needs.
Step 3
Compare loan options
Your specialist will walk you through your specific offers and help you compare and find the best loan option.
Step 4
Choose the best offer
Once you've compared business loan offers from Fundera, choose the offer tha best suits your needs. You can also get better loan options as your business grows.
With the help of a loan specialist, you can review your personalized loan offers and compare options for your business. Your specialist will also assist in growing your business to find better loan offers in the future.
Our Fundera Review
Pros

More than 25 lenders are available

Easy online application process

Great customer support and resources

Lending specialists are available to help you choose the best loan offer

Loans are available of up to $5 million
Cons

Fundera is not a direct lender

Limited number of lenders available
Fundera offers an easy way for businesses to get access to a variety of loans online, including term loans and SBA loans.
The application process for Fundera loans is easy, with a dedicated lending specialist to walk you through your loan options and unique loan offers.
Their website is easy to use, and there is a lot of great resources and guides available to help borrowers understand the different loan options, how they work, and how to choose the best offer from top lenders.
You can read more Fundera reviews below and add your own.
Customer Support
Fundera offers reliable customer support with step-by-step guides to help first-time borrowers navigate the lending process.
Customers can get in touch with customer support via phone at 1 (800) 386-3372 or email at support@fundera.com.
Fundera FAQs
Does a Fundera loan application require a hard credit pull?
No. Applying for a Fundera business loan only requires a soft credit inquiry that won't impact your credit score. Once you choose an offer and submit a formal application, the lender may do a hard credit inquiry to process your application.
Can I apply for a loan to start a new business?
No. Due to the risk involved, Fundera's network of lenders do not offer loans that can help you start a new business.
How do I submit my documents?
You can upload loan documents like tax returns and bank statements online with Fundera. You will be notified if any documentation is required.
How fast can I get a loan?
Most short-term business loans and lines of credit can be funded as soon as the next business day. Other loans may take around 3 to 7 days. You can apply for a business credit card that can be approved the same day.
Can I get a Fundera business loan if I am not based in the US?
No. Fundera only work with lenders that provide funding to businesses in the United States.
How do I apply for a loan?
Visit the Fundera website and click on 'See Your Loan Options'. You'll need to anser a few questions to be matched with suitable offers.