Kraken Review (2023)
Kraken is one of the oldest and largest crypto exchanges in the industry, with a reputation for being secure and reliable.
It allows users to buy, sell, and trade a variety of cryptocurrencies, including Bitcoin, Ethereum, Litecoin, and others.
Kraken offers a range of trading pairs, including fiat-to-crypto and crypto-to-crypto, and supports several fiat currencies, such as USD, EUR, and GBP.
How We Rate Kraken
At Financer.com, all lenders go through a thorough research and review process. Here's how we rate Kraken:
| Category | Rating |
| --- | --- |
| Trading features | ⭐⭐⭐⭐⭐ |
| Fees | ⭐⭐⭐⭐ |
| Security | ⭐⭐⭐⭐ |
| Transparency | ⭐⭐⭐⭐⭐ |
| Customer support | ⭐⭐⭐⭐⭐ |
| Overall | ⭐⭐⭐⭐⭐ |
Do We Recommend Kraken?
Yes, we recommend Kraken as a reliable crypto trading platform. Skip to our full review below and see how we rate Kraken.
Here's what we'll cover in this review:
Want to skip the details? Jump to our final verdict here.
Kraken Overview
Kraken is a cryptocurrency exchange that was founded in 2011 by Jesse Powell and is now one of the most popular exchanges in the industry.
It supports customers in 190 countries and offers competitive crypto trading.
One of the unique features of Kraken is its advanced trading interface, which offers a variety of trading tools and charts for experienced traders.
Beginners will find the main Kraken crypto exchange sufficient, while advanced traders may find more value in Kraken Pro with its advanced features like margin trading, staking, and OTC trading services for institutional clients.
Kraken has a strong focus on security and has implemented several measures to protect user funds, such as cold storage and two-factor authentication.
The exchange is also regulated in several jurisdictions, including the United States, Canada, and Europe.
Here's a quick summary of Kraken:
| Overview | Features |
| --- | --- |
| Cryptocurrencies: | 185+ |
| Trading experience: | Beginner and advanced traders |
| Fees: | 0.9% – 1.5% for instant purchases, 0.5% – 3.75% to fund; Kraken Pro offers lower fees |
| Security: | Excellent; ranks second on CER |
| Ease of use: | Opening an account is fast and easy |
| Fiat support: | USD, EUR, CAD, JPY, GBP, CHF, AUD, AED |

Kraken supports more than 185 cryptocurrencies, including:
Bitcoin (BTC)
Cardano (ADA)
Dogecoin (DOGE)
Ethereum (ETH)
Litecoin (LTC)
Polkadot (DOT)
Polygon (MATIC)
Stellar Lumens (XLM)
Solana (SOL)
Sushi (SUSHI)
Uniswap (UNI)
Kraken also supports some stablecoins, including Dai, USD Coin, and Tether USD.
Note that not all currencies are available in all currencies, but you can convert USD into some other currencies like Japanese yes, or Canadian dollars.
Kraken Pros and Cons
Here are some of the pros and cons of Kraken as a trading platform:
Pros

Supports more than 185 cryptocurrencies

Has a user-friendly interface

Is a high liquidity exchange 

Offers sophisticated trading features

Offers great customer service

Training materials to assist traders

Takes security seriously
The Kraken crypto exchange supports all popular crypto coins like Solana, Cardano, Bitcoin, and Dogecoin. It has a very simple yet intuitive trading platform that's easy to use even for beginner crypto traders.
Kraken makes it easy to buy and sell crypto at market rates.
Their fees are relatively competitive, with low fee options on Bitcoin withdrawals.
In terms of security, Kraken does quite well with securing transactions and user accounts and has received the CSO50 Award for its security features.
Overall, Kraken is ideal for sophisticated traders with features like margin trading, which is available on Kraken Pro.
Cons

Kraken is not available in all US states

US-based customers can no longer take part in crypto staking

Only supports a small number of fiat currencies

Higher fees for traders not using Kraken Pro
Kraken Pro offers lower trading fees than the main Kraken platform, so beginner traders will pay higher fees than advanced traders using Kraken Pro.
Crypto staking is no longer available to residents in the US, however, staking is still available to customers in other approved locations.
Note: Kraken is not available in New York and Washington.
Who Is Kraken For?
Beginner and advanced traders can benefit from Kraken and Kraken pro, although keep in mind that Kraken crypto only supports a few fiat currencies.
Kraken is available to traders worldwide, including the United States (although it's not available to residents of New York or Washington).
Traders in the US don't need to worry too much as US dollars are accepted.
How To Open a Kraken Account
Opening an account with Kraken is quite easy. Here are the steps:
Step 1
Visit the website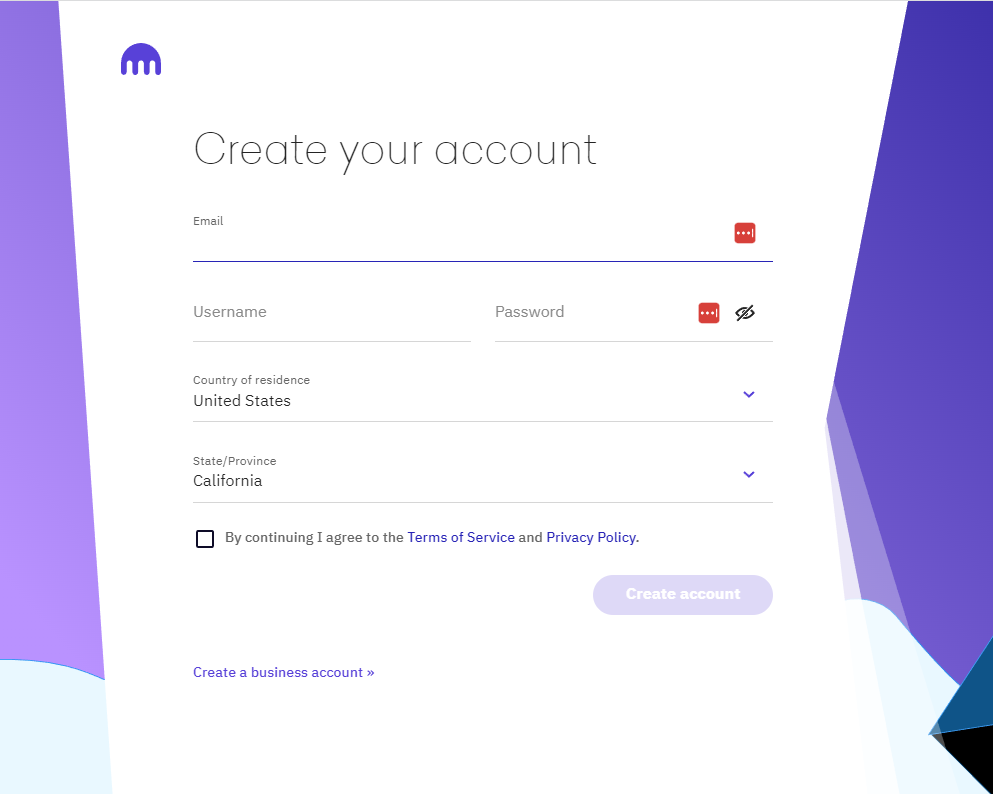 Visit Kraken's website and click on 'Create Account'.
Step 2
Verify your identity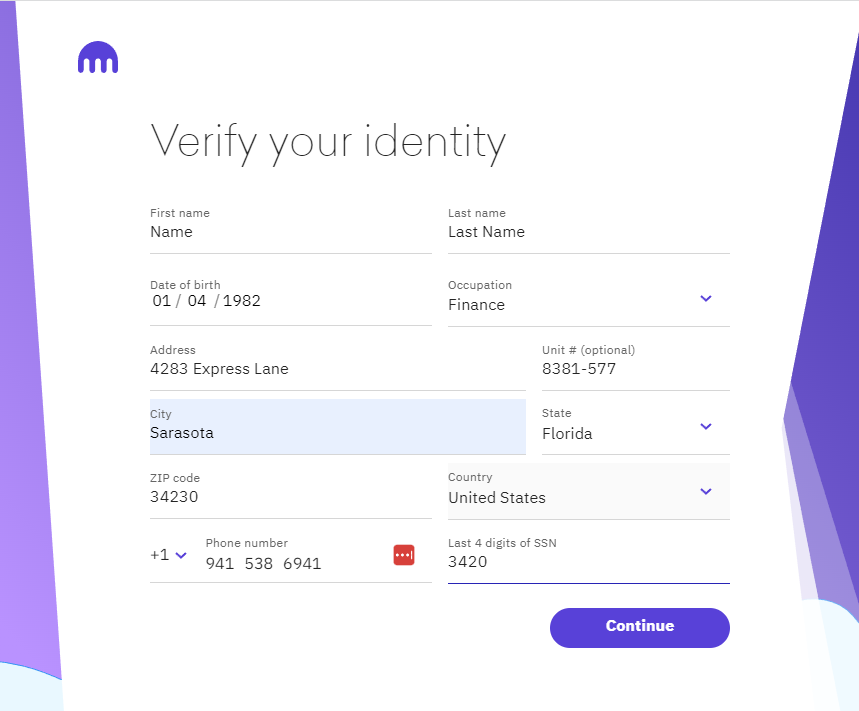 Verify your identity by entering your full name, date of birth, address, and the last four digits of your Social Security Number (SSN). You'll also need to upload a supporting document: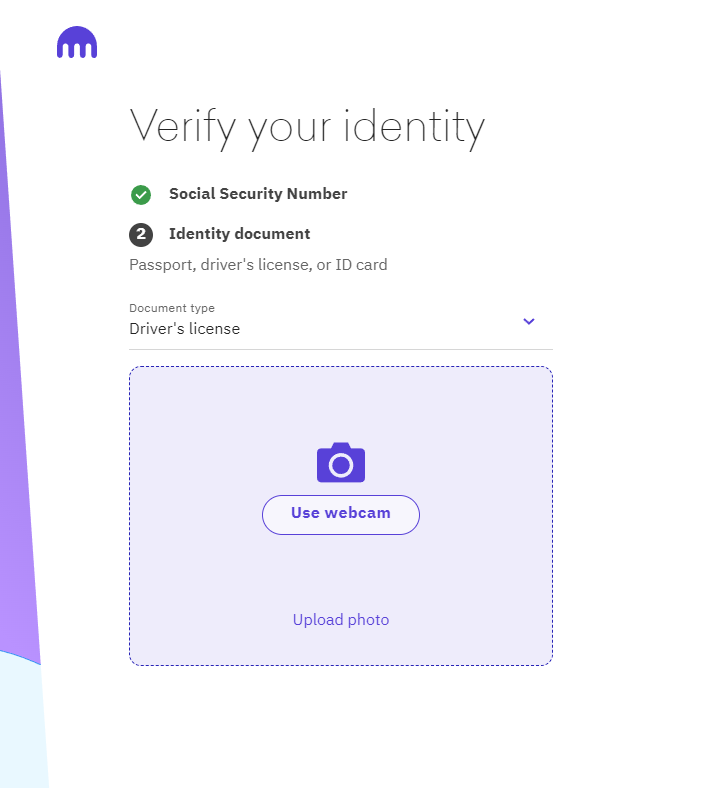 Step 3
Access your account
Once you've successfully verified your account, you can start trading. 
paragraph
Account Management
Most account maintenance is done through the Kraken website and mobile apps, which are primarily self-service.
Whether you use a laptop or desktop computer, you might discover that managing your account is simpler due to the large screen.
You may update settings, adjust your approval level, add 2FA, manage API credentials, and lock down your account through the Kraken dashboard.
Kraken Fees
Fees depend on the platform you're using – the main platform or Kraken Pro.
For the main Kraken platform:
Instant purchases: 1.5% for most cryptos, 0.9% for stablecoins.
Funding: 0.5% when funding with a bank account, 3.75% + 0.25 EUR with a debit card, credit card, or digital wallet.
For Kraken Pro:
Pricing is based on your total trading volume over the past 30 days.
Most trades have either a taker fee between 0.10% and 0.26% or a maker fee of between 0.00% and 0.16%.
Kraken Pro
Kraken Pro offers advanced trading features with multiple order book layouts and charting tools, along with margin trading with a 5X leverage.
Users can benefit from multiple order types like limit, take-profit, and stop-loss.
Kraken Pro is undoubtedly best for experienced traders who want the additional perks and the extra buying power that margin trading offers.
How Financer.com Rates Kraken
Is Kraken safe? Yes, at Financer.com we recommend Kraken.
At Financer.com, all crypto exchanges go through a thorough research and review process. We don't make recommendations lightly.
Overall, Kraken is a well-established and reputable exchange that is popular among traders and investors due to its range of cryptocurrencies, advanced trading features, and strong security measures.
Account Opening
We found that it's extremely easy to open an account with Kraken.
The process takes only a few minutes and you can verify your identity online.
Fees
Kraken's fees are competitive, however, the Kraken Pro platform offers the best fees for advanced traders.
Compared to Coinbase Kraken's fees are quite low.
Coinbase charges 0.50% per trade and 3.99% for credit card purchases, whereas Kraken charges 0.26% per trade and 3.75% for credit card purchases.
Advanced Features
This is probably one of Kraken's most popular benefits. Advanced traders benefit from plenty of trading features including lower fees than the main platform.
Customer Service
Kraken offers 24/7 customer support via live chat, phone, and a ticket system.
They have extremely helpful support agents and issues typically get sorted out within 24 hours. They also have a robust support library.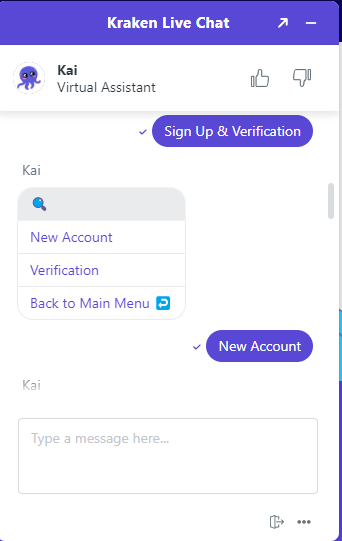 We've tested their live chat option and responses are immediately and accurately handled by their chatbot, Kai, after which you have the option to chat with a human support agent as well.
Privacy and Security
When it comes to security, Kraken ranks among the very best.
Kraken is ranked second on CER, a popular crypto exchange security review site.
Kraken stores more than 95% of deposits offline in cold storage units worldwide. They also keep their servers in secure cages with 24/7 security surveillance, video monitors, and armed guards.
In terms of users' private data, Kraken encrypts sensitive data and regularly performs vulnerability testing.
Note: They haven't had any major security incidents or hacking events, although there are some individual reports online about hacked accounts.
Kraken FAQs
Is Kraken legitimate?
Is Kraken legal in US?
Yes, Kraken is legal and available to US customers (except for residents of New York and Washington).
Kraken Alternatives
Here's a list of alternatives to Kraken and how they compare:
Should you use Kraken?
If you're a beginner trader who wants a trustworthy platform with excellent security and plenty of guidance, then Kraken is a great crypto platform.
Read more reviews from customers below or add your own Kraken review.
More Kraken Reviews
What Users On the Web Are Saying
Kraken gets 4 out of 5 stars on G2, with users feeling generally positive: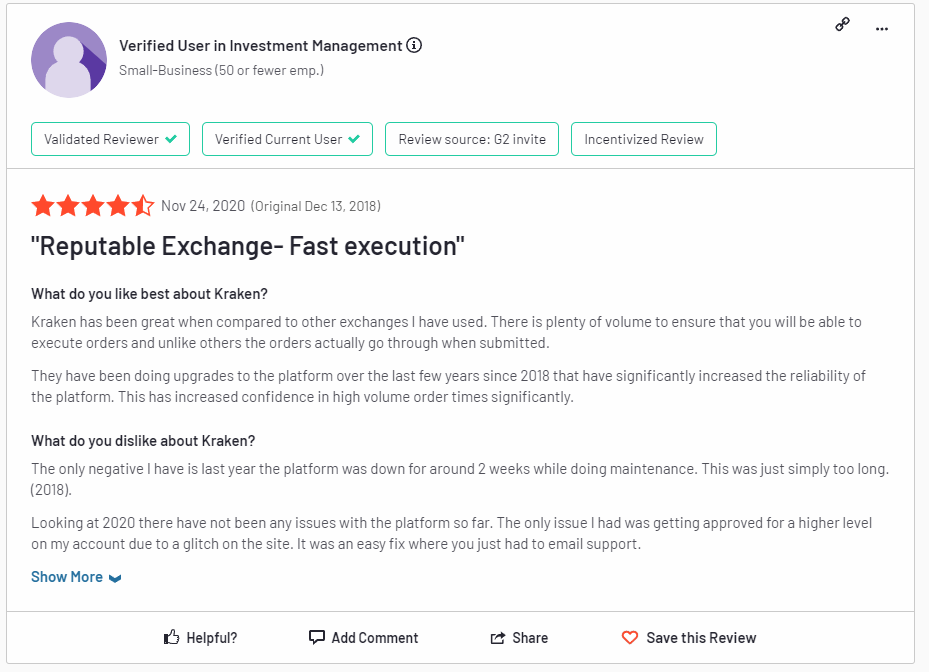 Kraken gets a lower rating on Trustpilot, with a rating of 2.1 out of 5 stars, with most complaints being about accounts closed. Considering their high level of security, it might make sense.
However, Kraken makes an effort to reply to complaints: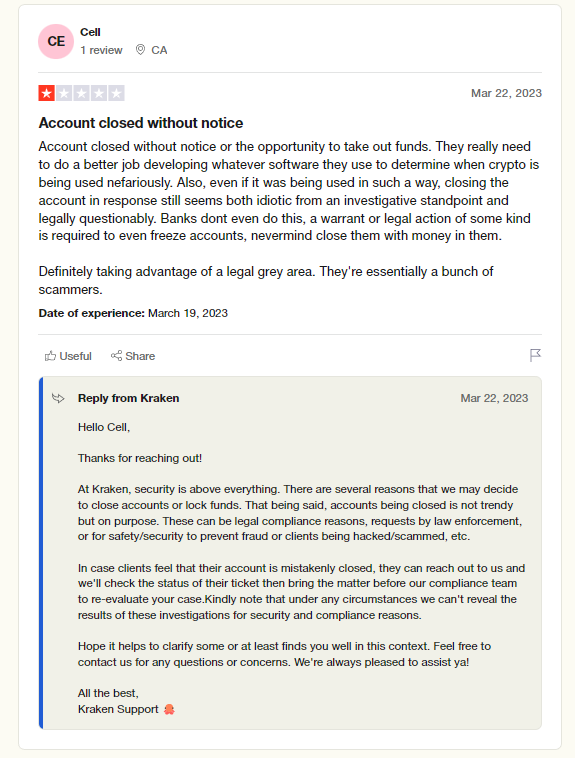 More User Reviews – Add Your Rating
Read more reviews on Financer.com from verified users below.
Have you used Kraken before? Leave your review now.