Kubera Review 2023
Tracking your net worth is one of the most important aspects of effectively managing your finances. Knowing where your money goes and how it works for you can help you see your financial situation clearly and make better decisions in the future.
But finding a good program to track your investment returns, net worth, and assets, including alternative investments such as cryptocurrencies, can sometimes be difficult.
Here's where Kubera comes into play.
Kubera is a tool that helps you keep track of all of your assets – including traditional investments and crypto – side by side so that you can get a picture of your net worth in one location.
In this Kubera review, we'll look at what it has to offer and how it compares to other platforms.
How We Rate Kubera
At Financer.com, all investment apps go through a thorough research and review process. Here's how we rate Kubera:
| Category | Rating |
| --- | --- |
| Fees | ⭐⭐⭐⭐ |
| Platform | ⭐⭐⭐⭐ |
| Features | ⭐⭐⭐⭐ |
| Transparency | ⭐⭐⭐⭐⭐ |
| Customer support | ⭐⭐⭐⭐ |
| Overall | ⭐⭐⭐⭐ |
Do We Recommend Kubera?
Yes, we recommend Kubera as a reliable investment app. Skip to our full review below and see how we rate Kubera.
Want to skip the details: Jump to our final verdict here.
What is Kubera?
Kubera describes its service as a modern financial tracking application that lets you track all your investments in one place.
These include alternative investments you won't normally see with traditional software products. Assets you can track with Kubera include cryptocurrencies, stocks, precious metals, and assets like your house and car. 
Here's a quick summary of Kubera:
| Overview | Features |
| --- | --- |
| Fees: | $15 per month or $150 per year |
| Setup Fees: | Up to 72 months |
| Available Assets: | Crypto, global currencies, stocks, precious metals, physical assets like cars and houses, URL value, and private equity. |
| Customizable Portfolio: | Yes |
| Platform: | Web |
| Best For: | Users who like to use a spreadsheet-like" interface and those with an extensive crypto or DeFi portfolio |
By giving users access to their total financial picture in just one place, Kubera ensures that users understand their finances. It also acts as a storage vault for important information like passwords and other critical data.
If you don't log into your account for some period of time, and you don't respond to email inquiries, then your assets will be passed to your "trusted angel" (usually a spouse or a trusted family member).
This will ensure that your assets go to someone who needs them, instead of being locked away forever in a cryptocurrency wallet.
At launch, Kuvera was only available for desktop computers, but it's now also available on mobile devices as a progressive web app (PWA). PWAs don't require you to install anything on your device yet delivers an app-like experience.
How Kubera Works
Kubera's spreadsheet-like interface is easy to use for most users who need manual entry of data. It also offers cool graphs and tracking tools for user dashboards.
What's great is Kubera uses multiple backend connection tools so that you'll be able to connect to pretty much any online account – from your bank to API connections on your crypto wallet.
Kubera lets you connect to popular crypto wallets, including Coinbase, Gemini, Ledger, Kraken, Binance, Binance.US, Polygon, Bittrex, and more. You can also connect investment accounts like Robinhood, Vanguard, Wealthfront, and more.
Kubera stands out for the range of investments they let you track, which includes:
Stocks that you can import directly from your broker;
Cryptocurrencies and NFTs that are imported from the most popular crypto exchanges;
Your home value and other real estate;
Your car value;
Domain names and other digital assets;
Forex;
Precious metals;
and more.
They make it easy to connect your banking and investment accounts using Plaid, and import your data in real-time right into the app.
Features
Kubera has a wealth of features to offer and privacy is one of its top priorities. 
Automated Net Worth Tracking
Connect your online brokerage account, or add tickers for nearly any stock, ETF, or mutual fund on the planet. We support all major US stock exchanges, including NASDAQ, NYSE, AMEX, BATS, CQG, OTCBB, Pink Sheets, and TSX.
You can also track your crypto assets. Track the prices of the different cryptocurrencies using the latest balances from all the major crypto wallets and cryptocurrency exchange platforms.
Kubera supports DeFi assets on multiple chains like Ethereum, Polygon, Arbitrum, Optimism, Solana, BSC, Avalanche, and Cosmos. Also your Apes, Robots, Punks, and Kittens.
Kubera is a modern net worth tracker that can track bank and investment accounts, savings accounts, and retirement accounts. It offers some of the best and most stable connectivity in the industry – you can track almost any financial account with Kubera. 
Kubera gives you the most reliable connectivity and the widest coverage of over 20,000 fintechs and banks around the world.
Modern Tracking Tools
Kubera calculates an accurate rate of returns (IRR) for all your investments and benchmarks it with the returns from popular indices and tickers (Dow Jones, S&P 500, BTC, etc.). Simply add your assets in Kubera to see their latest value. 
Performance Snapshot
Easily see a snapshot of how your portfolio performs and how it changed over time. View by day, week, month, quarter, and year. It shows you the straightforward data you want to see.
Documents and Notes
Kubera lets users upload account-specific documents and notes. This means you can save documents like contracts and title deeds conveniently in one place.
Layout and Customization
One of Kubera's biggest appeals is that in many ways it resembles the structure of Excel. Assets and debts are listed in tables. You can either use Kubera's presets or create a new entry and enter an asset manually if you want to add a new entry.
You can organize your assets and debts into sheets – by default there are sheets on the Assets page for Investments, Real Estate, and Other.
You can create sections within each sheet to groups like assets or similar assets from one account. To move rows around, just click and drag them.
Importantly, all financial data in Kubera can be exported to Excel by clicking a button. If you want to dig deeper into your finances with custom charts and graphs, you can.
Kubera Pros and Cons
Pros

Track a wide variety of assets, including stocks, retirement accounts, and crypto

Connects to more than 20,000 financial institutions including major crypto wallets and banks

Easily pass information to beneficiaries

Highly secure and prioritizes privacy
Cons

Somewhat expensive compared to other platforms

No budgeting tools, portfolio analysis, or credit score monitoring
Why You Should Choose Kubera
Kubera's "spreadsheet" interface is intuitive to most users who need to enter data manually. It also drives cool graphs and tracker widgets for user dashboards.
Automated options to value cryptocurrencies, cars, houses, gold, and even digital assets like domain names, also offer promise for investors who diversify their portfolios. You can't currently add the value of art or collectibles using Kubera, but you can add them manually.
One of the perks of using Kubera is that they convert your cryptocurrency into your local currency, so you can easily see how one Bitcoin or £1,000 GBP affects your net wealth in US dollars.
Where Kubera Can Improve
Kubera only focuses on being a modern financial portfolio tracker – and it does a good job. But you won't find any budgeting tools or the ability to monitor your credit score.
It offers you great insights into your investment portfolio but doesn't give you suggestions on how you can improve your net worth, get help with financial planning, or save more. It's not necessarily a shortcoming, but it's important to know. 
How Much Does Kubera Cost?
Kubera is available as a subscription service for $15 per month or $150 per year. It also comes with an optional 14-day trial for $1.
Other Kubera competitors range from completely free – stock trading apps like M1, TradeStation, and Webull – to as much as $299 for the Pro version of Seeking Alpha.
Unlike other services Empower or Mint, Kubera focuses exclusively on privacy. They don't sell or share your information. So, your fee helps cover all the costs associated with developing and connecting to the banks.
It's a small fee to pay if you value privacy.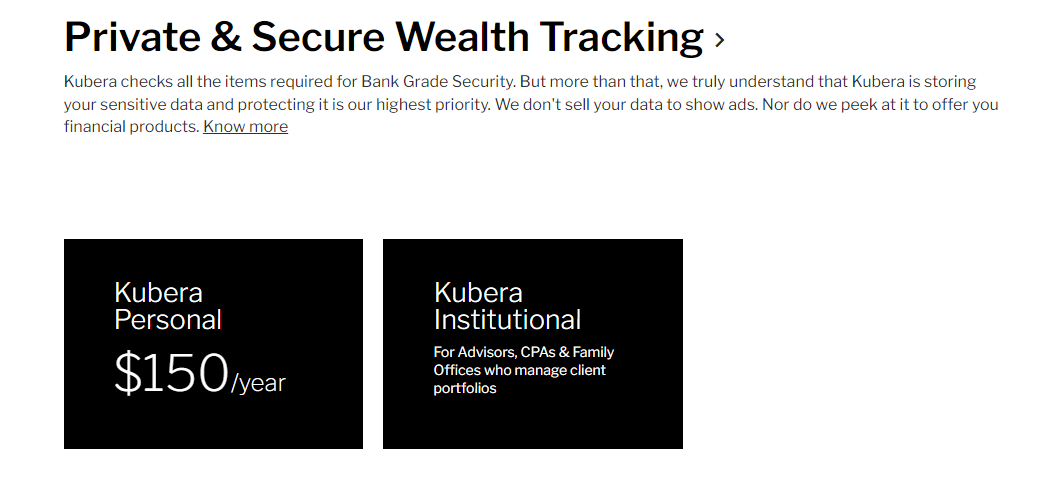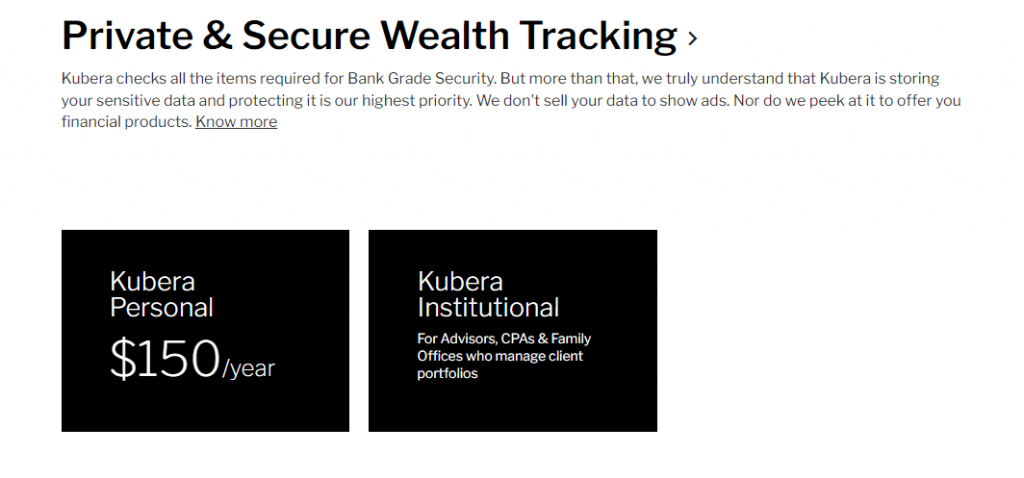 As can be seen from the screenshot above, Kubera also advertises that its financial advisors can pay subscription fees on behalf of their clients.
However, you'll need to work with your financial adviser on an individual basis to determine whether that's something they recommend for you.
This is ideal for a financial advisor, estate planner, or bank that wants their own clients to use Kubera's modern technology, intuitive interface, and future-proof fintech features.
Who is Kubera For?
Kubera may be useful for people who have a lot of different assets to keep track of. There are a number of apps that let you connect to a bank account, but Kubera can help you automatically update the value of your home and connect to major cryptocurrency wallets, so you can see your current value of these other assets too.
Furthermore, Kubera can help someone who has a variety of important documents they want to pass on to others. It's an app designed for people with more complicated financial situations, and who might need help tracking their assets.
Kubera can help you easily share information with your money manager or someone who has your power of attor­ney.
How Kubera Compares
Kubera vs Personal Capital
Along with a number of other features, Personal Capital allows users to track their investments and see how much they're worth. Personal Capital allows you to see your cash, investments, and mortgages, along with tracking cash flows into and out of your bank account.
It also helps you break down your spending into useful groups so you can see where your money goes and plan accordingly.
It includes a retirement calculator and an education planner, which offer projections for your future finances so you can see whether you're on target to meet your goals.
How to Sign Up
Opening an account with Kubera is fairly straightforward. You can sign up for the service using your Google account or using an email address and a password.
You'll connect the financial accounts you want to be monitored, including your bank and brokerage accounts, and connect your cryptocurrency wallets.
Make sure you have all your information ready so you can easily connect all your accounts. You can also enter asset information manually if it's not comfortable for you to connect accounts.
Kubera offers an initial 14-day free trial period for $1, but if you want to continue using the app, you'll be charged $150 per year.
How Financer.com Rates Kubera
Kubera is impressive for its ability to track investments across a wide range of asset classes, but the cost can be on the high side. However, it still solves a problem that modern-day investors face.
And that makes it our favorite portfolio and net worth tracker right now.
It's difficult and takes a lot of time to track your net worth if you have crypto, real estate, and stocks. It would be even harder to transfer those assets to your beneficiaries if your private keys were stored on a hard drive somewhere else.
For investors who see potential value in Kubera's offerings, the $15 monthly (or $150 per year) price tag may be worth it.
But most people might prefer to track their net worth using an app that also offers financial planning tools, or portfolio analysis as well.
Sign Up Process
Signing up online is quite straightforward and takes a few minutes.
You'll need your credit card info to sign up but you aren't charged automatically at the end of your $1 trial. Once inside the Kubera, building your portfolio is very easy and quick thanks to the number of banks, brokers, and exchanges it integrates with.
Fees
Fees are a bit high when compared to other apps but the benefits seem to outweigh the higher price tag.
Ease of Use
Connecting assets to your portfolio is very easy and you can get started quickly by using the banks and brokers already connected to Kubera online.
Customer Service
You can reach Kubera by email or live chat, which you can use when logged in. Kubera typically responds within a few hours.
Is Kubera safe?
Yes. Kubera doesn't store any of your credentials. Third-party services help you connect your accounts together. For many crypto wallets, Kubera will ask only for your wallet address or read-only permission.
Kubera cannot make any transactions and uses both in-transit and in-rest encryption to help secure your data. If you use your Gmail account to sign up with Kube­ra, you can ensure it's protected with two-factor authentication.
FAQs
What are the benefits of Kubera?
You can keep track of all assets, including non-traditional assets like crypto, in one place. It tracks different currencies and also allows you to manually add assets like arts and NFTs. You can give others secure access to your information when needed and it's a great estate planning tool.
Does Kubera have an app?
No, Kubera doesn't have a mobile app but instead uses what's known as a progressive web app (PWA). Rather than downloading an app from the app store, you use your mobile to go to a special version of the website. You share it with your device and it shows up on the home screen, just like an app.
How much does Kubera cost?
Kubera is available as a subscription at $15 per month, or $150 per year. 
Kubera Alternatives
Here's a list of alternatives to Kubera and how they compare:
| App | Reviews | Pricing | Portfolio Analysis | Budgeting | Crypto Asset Tracking |
| --- | --- | --- | --- | --- | --- |
| Empower | View | Free | Yes | Yes | No |
| Mint | View | Free or $4.99/mo for premium | Yes | Yes | Yes |
| YNAB | View | $11.99/mo or $84/yr | No | Yes | No |
More Kubera Reviews
What Users On the Web Are Saying
Kubera gets 4.7 out of 5 stars on Review.io, with users generally recommending the app:

More User Reviews – Add Your Rating
Read more reviews on Financer.com from verified users below.
Have you used Kubera before? Leave your review now.