M1 Finance Review (2023)
Along with borrowing and spending options, M1 Finance offers an exciting combination of automatic investing and extensive portfolio customization.
You can either create your own strategy or choose from 60+ pre-built portfolios referred to as "pies" (a play on pie charts).
Experienced investors who want to automate their investment strategy while matching unique preferences, diversification goals, and risk tolerance, should use this adaptable portfolio platform.
How We Rate M1 Finance
At Financer.com, all investment apps go through a thorough research and review process. Here's how we rate M1 Finance:
| Category | Rating |
| --- | --- |
| Fees | ⭐⭐⭐ |
| Platform | ⭐⭐⭐⭐ |
| Features | ⭐⭐⭐⭐ |
| Transparency | ⭐⭐⭐⭐⭐ |
| Customer support | ⭐⭐⭐⭐ |
| Overall | ⭐⭐⭐⭐ |
Do We Recommend M1 Finance?
Yes, we recommend M1 Finance as a reliable investment app. Skip to our full review below and see how we rate M1 Finance.
Want to skip the details: Jump to our final verdict here.
What is M1 Finance?
M1 receives high marks for the platform's overall low cost as it charges no fees for trading or investment management, putting more of your money to work for you.
To assist you in determining whether M1 Finance's robo-advisor is the best fit for your portfolio's needs, we'll take a closer look at it.
Here's a quick summary of M1 Finance:
| Overview | Features |
| --- | --- |
| Fees: | $0 management fee, 0.06%–0.20% fund expense ratio |
| Account minimum: | $100 |
| Available Assets: | Individual stocks, ETFs, REITs |
| Customizable Portfolio: | Yes |
| Platform: | Web, iOS, Android |
| Best For: | Seasoned investors |
Products Offered
M1 Finance offers the following financial products:
Brokerage accounts
Crypto accounts
Retirement accounts
Margin loans
How M1 Finance Works
The low-cost customizable portfolio solution offered by M1 Finance is ideal for seasoned investors. Customization is mainly done by screening and selecting from 60 pre-built portfolios or building your own.
The borrow and spend alternatives from M1 Finance are attractive for investors looking for more features in a platform.
M1 Finance's goal monitoring lacks the option to merge external accounts even though it offers customizations beyond other robo-advisors.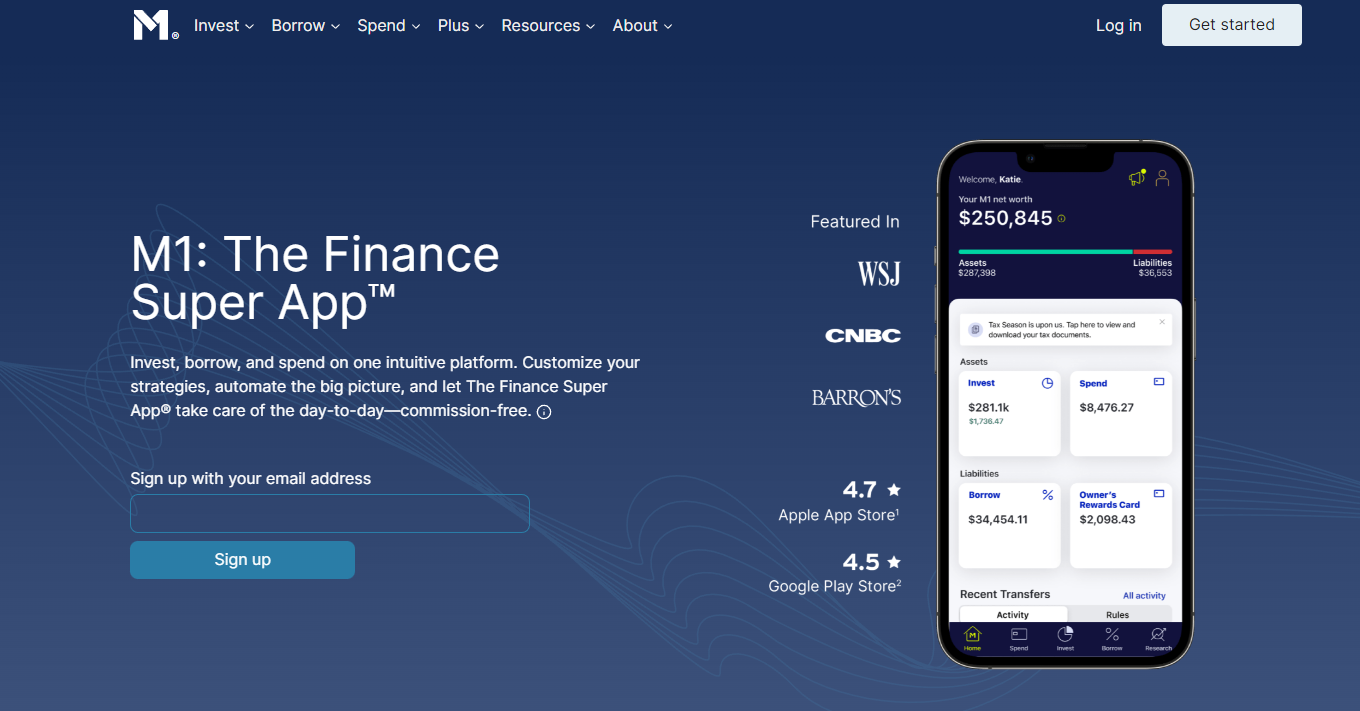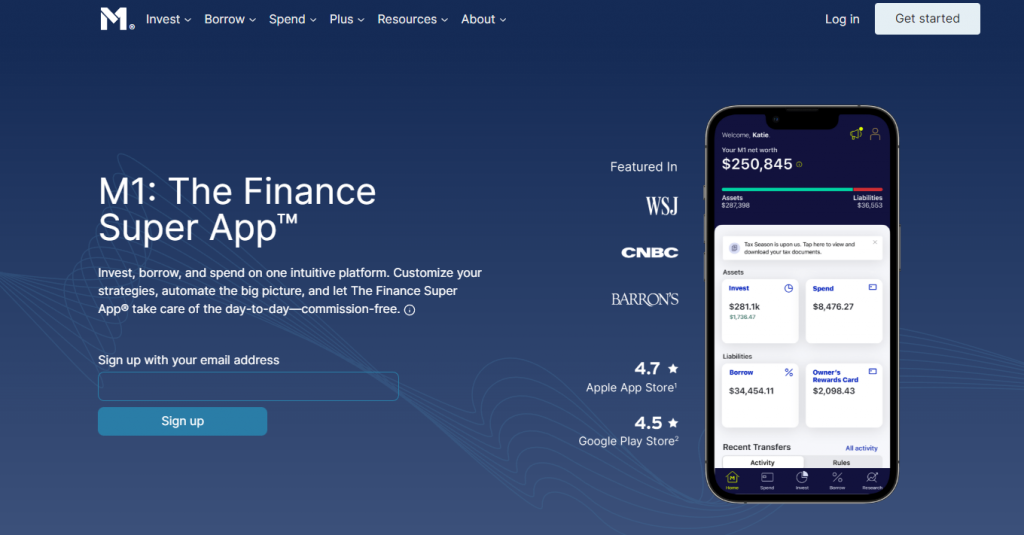 Account Setup
Starting out with M1 Finance is easy. You'll be prompted to create a username and password when starting your onboarding, while also learning how the platform functions answering some basic questions about your investment experience.
You can choose from the pre-built pies or create a portfolio that meets your exact requirements during the portfolio development phase of the procedure.
To get started, you will be prompted to choose an account. M1 supports trust accounts, custodial accounts (M1 Plus only), brokerage accounts, traditional IRAs, Roth IRAs, and SEP IRAs.
You'll need a minimum of $100 (or $500 for IRAs) to open an account, so keep that in mind. You are prepared to begin investing once your portfolio has been completed, your account has been chosen, and your banking information has been added.
Goal Planning
Goal planning and financial calculators are purposefully left out of M1 because it automates portfolio management for seasoned investors.
The platform does not offer advisory services, so you won't have access to any human financial consultants. On M1's blog, there is a large collection of articles that provide high-level coverage of several investing and general financial themes.
Investors looking for goal-planning tools or those who desire personal guidance may find the absence of hand-holding to be unsettling.
For experienced investors, the emphasis on portfolio management results in a more streamlined investing process focused on increasing your wealth.
It's crucial to keep in mind that M1 is not attempting to act as a robo-advisor that gathers basic goal and risk information and generates a portfolio that complies with Modern Portfolio Theory and your timeline.
M1 Finance looks for investors who want to reduce the effort in managing their portfolios without compromising investment options, flexibility, and automation.
M1 Finance Fees
M1 Finance charges no fees for trading or portfolio management.
M1 earns money instead by charging interest, leasing securities, selling Plus memberships, and getting paid for order flow.
ETFs acquired through the platform have their own fee, which is paid to the fund manager directly rather than through M1, as is customary in the market.
Members of the M1 Plus tier must pay a $125 yearly subscription fee.
For extra account operations, there is also a schedule of other fees. Investors are drawn to the platform's affordable price point overall.
However, there are $100 termination and outward transfer costs for IRAs, as well as a $20 fee for accounts up to $20 if there hasn't been any trading activity for 90 days.
Here's a summary of M1 Finance's fees and commissions:
Management fees: $0
Termination fees: $100 for outgoing transfers & IRA closures
Expense ratios: 0.06% – 0.20%
Mutual funds: N/A
M1 Finance Accounts
A range of account options from M1 Finance allows you greater control over your finances. It is easy to move money in and out of the platform, and you have the choice of setting up automatic deposits into your portfolio on a monthly, weekly, or biweekly basis.
Additionally, individual trade orders can be made, giving you greater freedom. You can combine your interests in a single broker by transferring from external brokerage or retirement accounts into M1.
In addition to these choices, investors can use margin accounts if the amount exceeds $10,000 to borrow up to 35% of the account value.
Depending on whether you're an M1 Basic or M1 Plus member ($125 annual charge), several features change. M1 Basic members pay an interest rate of 3.75% on margin loans, while M1 Plus members pay an interest rate of 2.25%.
Both tiers provide a checking account, however, M1 Plus members have more options for cash back and ATM reimbursements, and a wider range of payment alternatives.
The M1 Plus tier is the only one where the credit card product is offered. The credit card waives the annual fee and provides enticing cash back alternatives.
Cash Management
M1 Finance offers other features like a credit card, digital banking, and a cash flow allocation feature. Here's a recap of the features:
M1 Spend
Your investments and checking account are effortlessly combined via M1 Spend. You can use a debit card to make purchases, set up direct deposits, and transfer money.
There is no minimum balance requirement, and the FDIC insures all deposits up to $250,000. M1 Plus members can also submit checks and receive 1% cash back and interest.
M1 Finance Credit Card
For M1 Plus members, there is an M1 Finance credit card option called the Owners Rewards Card. Members who make purchases tied to companies they have invested in through the platform receive up to 10% cash back with no annual fee.

You can also reinvest your rewards back into your portfolio to help your returns grow. The card has a $95 annual fee that is waived with an M1 Plus membership.
Cardholders get all the benefits of a Visa Signature card including Zero Liability.
Smart Transfers
Customers with Plus accounts have access to M1's Smart Transfers, which let you create a rules-based approach to divide up your extra funds between investing through any of your brokerage accounts, paying down debt, maxing out annual IRA contributions, and spending.
Layers of rules can be used to automatically manage your cash flow in a way that best suits your requirements.
M1 Finance Roth IRA
Investors based in the United States have access to a range of savings plans, including individual retirement accounts (IRAs) and Roth IRAs.
Roth IRAs are tax-advantaged retirement plans that offer federally tax-free growth once it's been open for five years and you are at least 59½ years of age.
M1 Finance Crypto
With M1 Finance Crypto investors can focus on a long-term strategy. M1 has a unique interface that allows for automated investing, commission-free.
You can open an M1 Crypto account in minutes and create custom Pies, or use the default ones on the platform. You set a target percentage for each Pie and you can turn on automated trading to help you reach your targets.
With M1 Crypto trading you can use advanced automation that allows you to trade seven days a week. With every deposit, M1 can automatically invest in the holdings that help you reach your goal faster.
Portfolio Setup
Portfolio construction is one of M1's platform's key differentiators. Investors can select from more than 60 pre-built Expert Pies that fit a range of strategies, like passive investing, that resemble hedge funds and socially responsible choices.
As an illustration, the passive portfolio may be created by utilizing just two ETFs—one bond and one equity—that track the global market and allow you to divide your investments between the two funds in accordance with your risk tolerance.
Additionally, you can make Custom Pies to completely select your own holdings or mix them with an already-existing Expert Pie.
You can take advantage of a variety of asset allocation alternatives by using the Expert Pies. This includes technical and fundamental analysis, buy-and-hold, value investing, income investing, growth investing, dividend reinvestment, and small-cap investing.
| Available Assets | Available |
| --- | --- |
| Individual Stocks | Yes |
| Mutual Funds | No |
| Fixed Income | No |
| REITs | Yes |
| Socially Responsible Options or ESG | Yes |
| ETFs | Yes |
| Non-Proprietary ETFs | Yes |
| Private Equity | No |
| Crypto, Forex | No |
Portfolio Management
Once your pies are configured, M1 keeps track of your portfolio and adjusts it when fresh money is placed to make sure you don't stray too far from your initial goal allocation.
The main way to do this is to allocate new funds to the areas of your portfolio that are underweight in comparison to the initial strategy you've established.
Another special feature of the platform is the ability to click once and instantly compel a whole portfolio to be rebalanced.
M1 Plus users can place transactions in two daily trading windows if their account balance is over $25,000. M1 only allows trading once per day.
Additionally, you can place separate buy and sell orders that aren't tied to the pie you've chosen. Due to the availability of fractional shares, you won't need to hold a significant amount of your portfolio in cash in order to be completely invested.
The tax optimization in your account, however, can be limited by the lack of true tax-loss harvesting abilities. Also, there isn't an aggregation tool that allows you to connect your external investment accounts to learn more about how well-diversified your portfolios are.
In order to provide you with an accurate view of your net worth and progress toward goals, several other robo-advisors offer this option.
Key Portfolio Features
Automatic rebalancing: Auto-deposit allocation or manually triggered.
Reporting features: Statements and tax information.
Tax-loss harvesting: No
External accounts: Allows for transfers and rollovers, no account syncing support.
M1 Finance Pros and Cons
Pros

Extensive customization and portfolio management options

Margin loans accessible with $5,000 invested

No trading fees

Spending and borrowing options to complement your portfolio
Cons

No tax-loss harvesting

No advisors or financial planning available

Limited financial tools and calculators

No aggregating of external accounts
How Financer.com Rates M1 Finance
User Experience
The website is clear and uncomplicated, with simple sign-up instructions, understandable performance indicators, and is easy to explore.
There are tabs for your portfolio activity and holdings, buttons for buying, selling, and rebalancing, and graphs that show a detailed breakdown of your allocation.
Many Robo Advisors aim to enhance user experiences in comparison to conventional financial websites, and M1 Finance surely succeeds in this regard.
Customer Service
You can reach M1 Finance via phone, online live chat, and email. Their phone support is available from Monday to Friday 9 am to 5 pm while email support offers a 24-hour turnaround time.
There are no human financial advisors available, but they have a robust help center with a lot of articles available.
Security
Is M1 Finance safe? Yes. M1 uses two-factor authentication and Military Grade 4096-encryption. They are SIPC insured for investments and FDIC insured for deposits.
Conclusion
For seasoned investors who demand comprehensive customization possibilities, M1 Finance is a fantastic solution.
Is M1 Finance good? Yes. The M1 platform clearly excels in customization, which distinguishes it from competitors in the robo-advisor market. Unlike other robo-advisors, M1 is more similar to self-directed investing, but it also has the option to automate portfolio management.
Individual investors can do away with some of the more tedious activities, including rebalancing, if they are comfortable using screeners and methods.
The spending and borrowing functions in M1 give you access to your money as well, and the cash management guidelines make it simple to automate more of your personal affairs.
M1 Finance FAQs
Is M1 Finance legitimate?
Yes M1 Finance is legit and also a FINRA Regulated broker-dealer.
What are the cons of M1 Finance?
M1 Finance don't have advisors available, and they also have limited customer service options.
Is M1 Finance better than Robinhood?
M1 Finance is better aimed at new investors who want to do long-term investments, whereas Robinhood focuses on want to focus on making trades with individual positions or trade cryptos. 
Is M1 Finance better than Vanguard?
One of the advances of Vanguard over M1 is that it has investment methods and more account types to keep your money in. Vanguard also lets you invest in mutual funds, in addition to stocks and ETFs.
M1 Finance Alternatives
Here's a list of alternatives to M1 Finance and how they compare:
More M1 Finance Reviews
What Users On the Web Are Saying
M1 Finance gets 2.7 out of 5 stars on Trustpilot, with users mainly not happy about the service they received: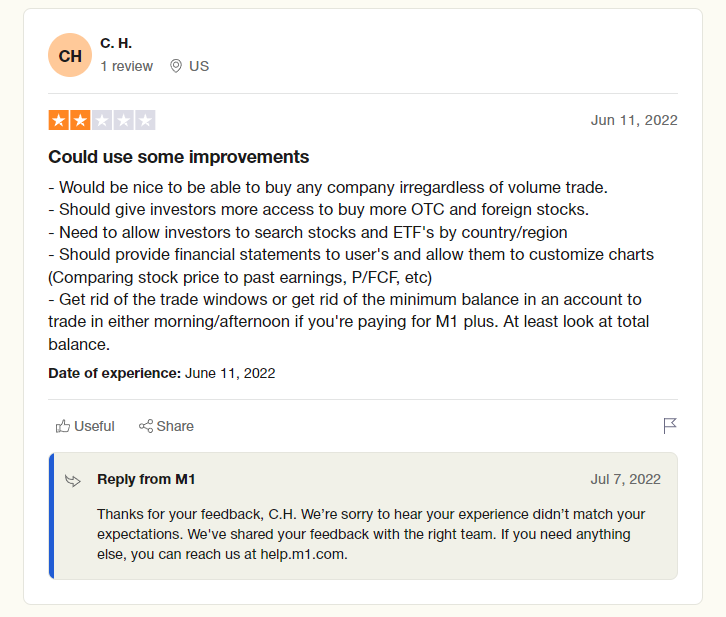 M1 Finance seemed to have replied to reviews up until July 2022 but haven't replied to these reviews since.
More User Reviews – Add Your Rating
Read more reviews on Financer.com from verified users below.
Have you used M1 Finance before? Leave your review now.