Sofi Relay Review (2023)
SoFi Relay tracks all your money in one place. You get free credit score monitoring, detailed spending breakdowns, financial insights, and more.
With SoFi Relay you can get your credit score at no cost with weekly updates to help you stay on top of when your credit score changes.
You can also get financial advice from a SoFi specialist and understand how certain financial decisions can impact your credit score.
SoFi Relay makes it easy to know where you stand and how much you spend. It makes it easy to reach your financial goals – all in one app.
Using SoFi Relay won't hurt your credit score and you can check your credit score as often as you want. Best of all, it's free.
How We Rate SoFi Relay
At Financer.com, all financial apps go through a thorough research and review process. Here's how we rate SoFi Relay:
| Category | Rating |
| --- | --- |
| Affordability | ⭐⭐⭐⭐⭐ |
| Safety | ⭐⭐⭐⭐ |
| Tools and features | ⭐⭐⭐⭐ |
| Transparency | ⭐⭐⭐⭐ |
| Customer support | ⭐⭐⭐⭐⭐ |
| Overall | ⭐⭐⭐⭐⭐ |
Do We Recommend SoFi Relay?
Yes, we recommend SoFi Relay as a reliable personal finance tool. Skip to our full review below and see how we rate SoFi Relay.
Here's what we'll cover in this review:
Want to skip the details? Jump to our final verdict here.
SoFi Relay Overview
SoFi Relay is a free money management app. It allows you to see information about your assets, liabilities, and financial goals in one place.
SoFi Relay is powered by TransUnion's VantageScore® 3.0 credit score. This model is used by all three credit reporting companies.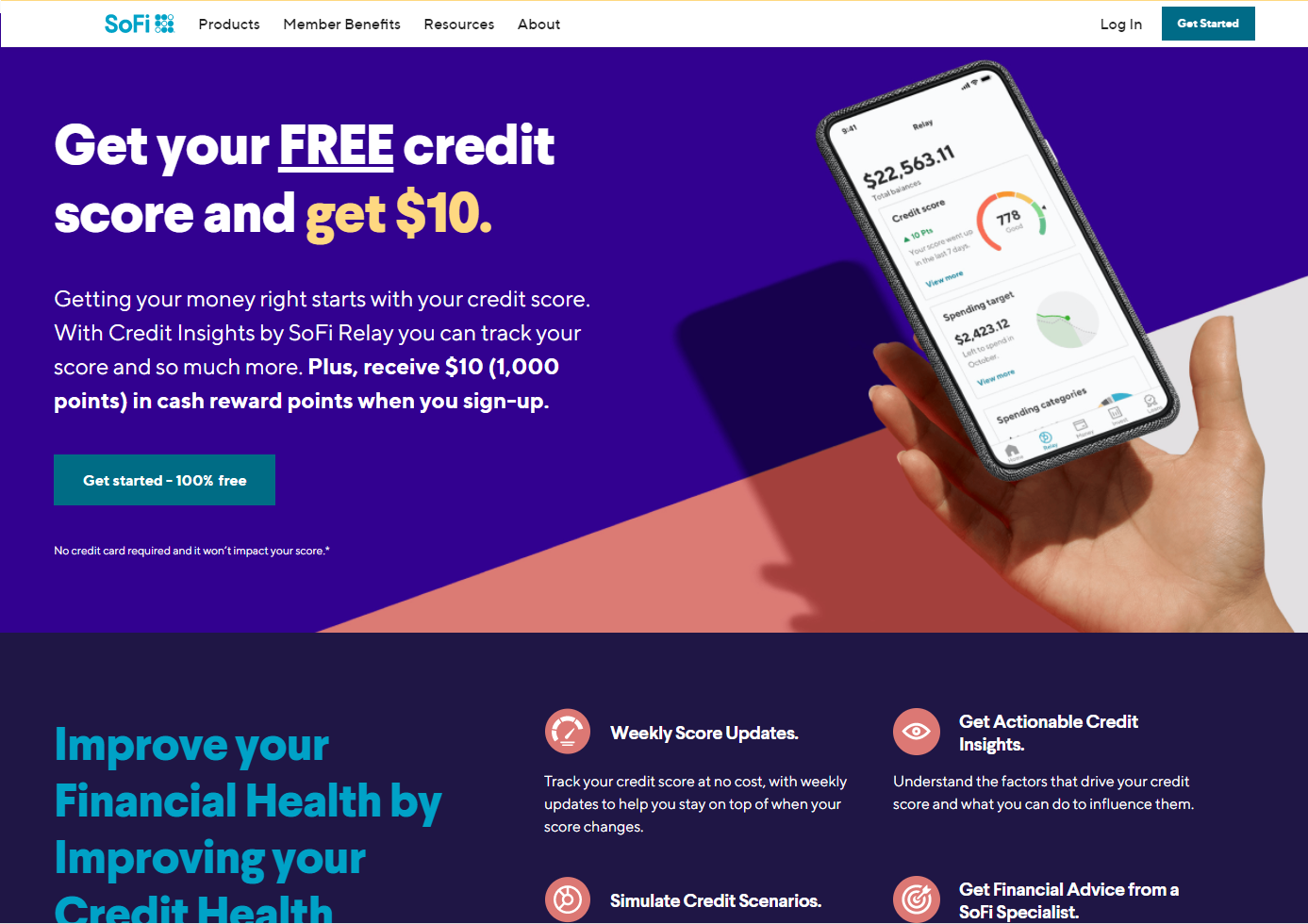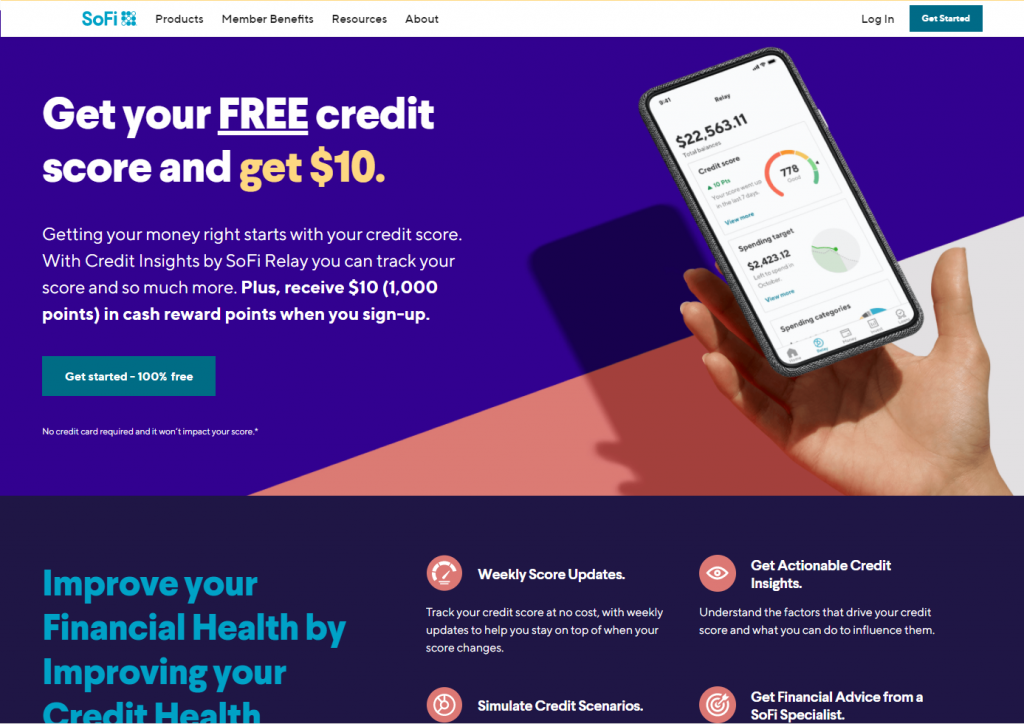 You can link checking, savings, investment, and retirement accounts to Relay, as well as student loans, mortgages, credit cards, and other debts.
Checking your own credit score doesn't hurt your credit as it is considered a soft credit inquiry. The VantageScore® 3.0 credit score model uses the following components to determine your score:
Payment history
Credit utilization
Credit type and age
Balances
Available credit
Inquiries
Your credit score is used by lenders to review your credit applications and determine your creditworthiness. It is used by prospective employers and landlords, so it's a good idea to keep track of your score.
SoFi Relay allows you to view charts that show your debit and credit card transactions by category. You get historical inflows and outflows of cash from accounts to help you estimate how much you earn and spend.
You can set up a monthly budget target and keep track of how you are progressing. The app tracks and displays upcoming recurring transactions to help you plan ahead for monthly expenses.
With SoFi Relay you get tips and insights to help you reach your goals, and invites you to apply for products from SoFi and its affiliates.
Security
SoFi Relay is housed in the SoFi app, which offers two-factor authentication. So, in addition to a passcode, you'll need a security code, fingerprint recognition, or Face ID to get into your account.
Pricing
SoFi Relay is free of charge.
SoFi Relay Pros and Cons
Pros

Get your credit score free of charge.

Compile and view information from multiple accounts so you can see what you own, owe, and spend.

Connected accounts are automatically refreshed.

The Relay app is free to use and you can activate it through your SoFi.com login or by downloading the SoFi mobile app.

Uses the trusted VantageScore 3.0 credit score model from TransUnion.
One of the most attractive benefits of SoFi Relay is that it's free to use. Monitoring your credit doesn't impact your credit score.
Another significant benefit of using SoFi Relay is the ability to link to things beyond just deposits, investments, or retirement accounts. You can add your credit cards, loans, and property, like a car or home you own.
For example, a car owner can put in the model and year of their car and SoFi Relay will calculate its value, which then appears on their dashboard.
Having these assets and liabilities laid out in front of users gives them a better sense of their overall net worth.
Built on the SoFi platform, SoFi Relay is a solid app that is free of charge and able to help you easily track your net worth, assets, and liabilities.
Cons

Only available for those on the SoFi network.
The only real drawback is that SoFi Relay is only available to SoFi users.
How to sign up for SoFi Relay
Step 1
Login to SoFi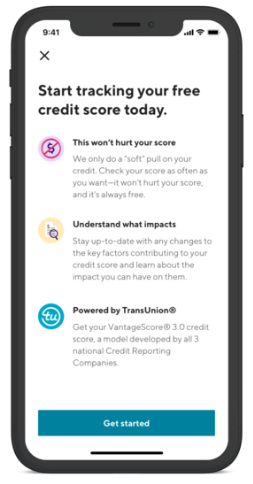 Log in to SoFi on the web or the mobile app. If you don't have an account yet you can create one here.
Step 2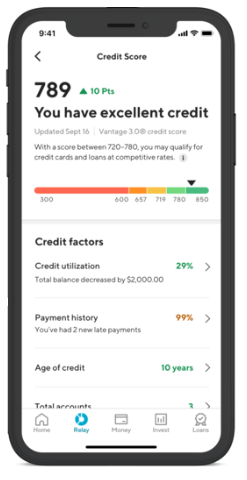 Access Relay from your SoFi account and download the app.
SoFi Relay vs Mint
If you compare SoFi Relay vs Mint you'll notice there are some similarities, like being able to track your net worth, but there are some differences too.
One of the main differences between Relay from SoFi and Mint is that Mint offers Bill Negotiation – a feature that negotiates your bills for you to save you money.
Both SoFi Relay and Mint offer a free mobile app, credit monitoring, free credit score updates, help with budgeting, and spending analysis.
How Financer.com Rates SoFi Relay
Do we recommend SoFi Relay? Yes. SoFi's free tool is a great way for users to accurately monitor their credit and keep track of all their important accounts.
The app is very user-friendly and easy to navigate, making it a great addition to the overall SoFi user experience.
Privacy and security
In terms of privacy, SoFi explains why they need personal information at every step and they are quite transparent about how they use users' info.
Housed in the SoFi app, Relay is protected with two-factor authenticity. So in addition to your password, you'll need a Face ID, fingerprint, or security code to access the feature.
Your personal data is secure as it's stored on both SoFi's servers and their partner Plaid, hosted by Amazon Web Services (AWS). SoFi itself does not have access to your personal account credentials.
SoFi Relay Alternatives
If you are not on the SoFi app you can consider these alternatives:
App Name
Fees
Features
myFICO
$19.95 – $39.95 per month
FICO scores
Credit reports
$1 million identity theft protection
24×7 identity restoration
Identity monitoring
Monthly updates
PocketGuard
Free or $7.99 per month
Budgeting and insights
Bill tracking
Accounts aggregation
Savings goals
Income and net worth tracking
Mint
Free
Free credit score monitoring
Free credit monitoring
Helps to improve credit score
Credit monitoring alerts
Do you have experience with SoFi Relay? Share your review below.
What credit score does SoFi require?
SoFi requires a minimum credit score of 680.
What is the difference between Mint and SoFi relay?
While both offer a free app, one of the main differences between Relay from SoFi and Mint is that Mint offers Bill Negotiation to help you save money. Both offer free credit score updates, credit monitoring, spending analyses and help with budgeting.
Is SoFi a legitimate bank?
Yes, SoFi is a real bank.
What is SoFi relay?
With SoFi Relay you can link all your bank accounts and investment accounts in one dashboard, while keeping track of your finances and monitoring your credit score – free or charge.