Tally Review
Summary

All your cards in one place

Customized payoff plan

Sign up and instantly see how much you can save

Late fee protection
What is Tally App?
Tally is a credit card payoff app that helps you consolidate your credit card debts into one low-interest line of credit.
Tally has helped thousands of people consolidate their high-interest credit card payments into one lower interest monthly payment.
Tally offers different membership levels with no upfront payments. Read our Tally reviews below and learn how Tally works.
In an emergency, credit cards can be a helpful tool for making purchases, but if you frequently carry a balance, you might be paying hundreds or even thousands of dollars in interest.
According to Experian, the average American has four credit cards. But this can make it confusing to keep up with credit card due dates, and varying APRs.
This is where the Tally app comes in.
How Tally Works
Tally gives individuals a loan, and then it settles their credit card debt. After that, users are then responsible for repaying their Tally loan.
Similar to a credit card, a Tally loan is an open line of revolving credit.
You can download the Tally app to add your credit cards and see if you qualify for a low-interest line of credit.
Tally has different membership levels with no upfront fees. It's a credit card payoff app that offers you a smart credit card manager, late fee protection, and a customized payoff plan specifically for you.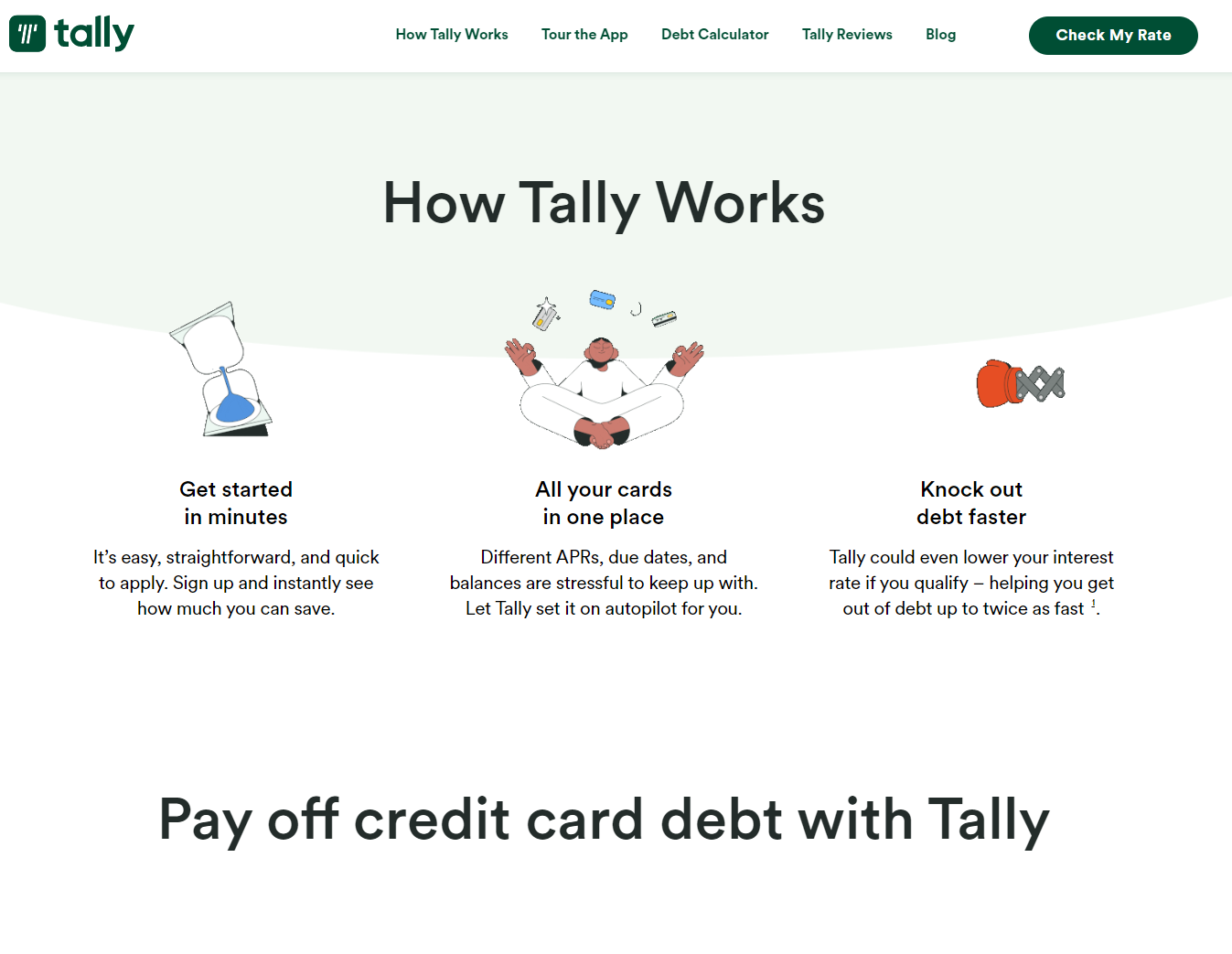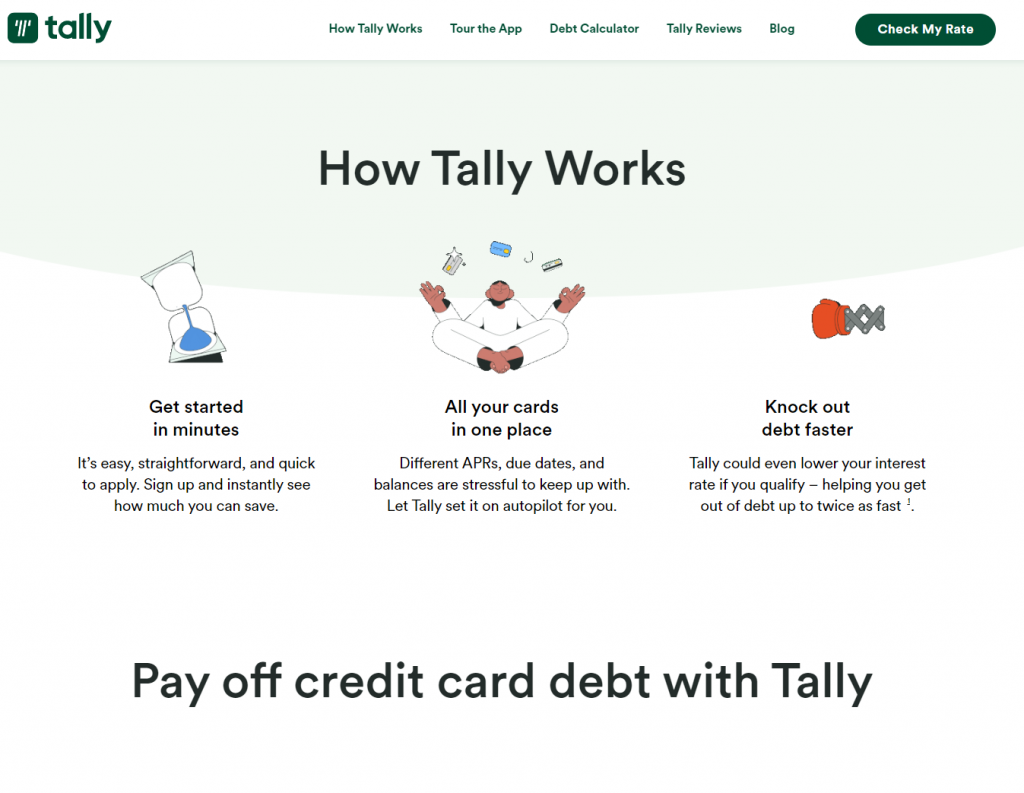 Tally functions as a debt consolidation service even if it does not regard itself as being one. With Tally, users can link all of their credit cards, and Tally will then pay off more than the minimum amount due on each of the cards each month.
Your monthly payments will increase from the minimum on your credit cards if the value of your Tally revolving line of credit is greater than your debt.
Tally will pay off the whole balance on all of your credit cards if you are approved for a line of credit that is greater than the total of all of your credit card debt.
You are then in charge of paying Tally's monthly cost, which consists of Tally fees, interest on your Tally line of credit, and 1% of your Tally principal balance.
Tally debits the associated bank account to pay off your balance.
Tally's Membership Levels
Tally has three different memberships: Tally, Tally Basic, and Tally+.
These options all have benefits to offer and you can choose what membership plan you want to have.
Tally
Your Tally membership gives you access to pay off your debt and use the app's planning features. You can link all your credit cards and Tally will help you pay them off in the best way.
Tally will set up automatic payments for you and also add payment reminders to help you reach your debt-free goals.
Tally Basic
If you qualify for a Tally credit line, you'll have the Tally Basic membership. You'll get all the benefits of the Tally app, and access to a low-interest credit line to pay off your credit card debt.
Tally Basic members can choose which cards they want to link to their credit line.
Tally+
The Tally+ membership gives you even better discounts and a higher credit line. Every month you pay your minimum amount on time, you get money back.
This effectively lowers your interest rate by an average of 4%.
My Payoff Feature
Additionally, Tally offers consumers the ability to make additional payments toward their credit card debt through its "My Payoff" function.
According to the payback plan you select, Tally will automatically allocate money to a number of credit cards when you use the "My Payoff" feature.
You can choose between the avalanche, snowball, or credit score factors payoff techniques.
The debt with the highest interest rate gets paid off first using the avalanche approach. Your cards are paid off using the snowball approach in order of the amount of their balances, beginning with the one with the smallest balance.
Last but not least, the credit score factors approach prioritizes paying off debts that have the highest effects on your credit score first.
What Tally Costs
The Tally app is free to download and has no upfront costs.
Depending on your credit score, your APR will be around 7.9% – 29.9% a year.
The Tally+ membership has an annual fee, which comes directly from your credit line, leaving you with no out-of-pocket expenses.
The annual fee for Tally+ is $300 or about $25 per month.
Users of Tally+ have a higher credit limit and a lower APR than those of Tally Basic. Users' credit limits may be set anywhere between $2,000 and $25,000.
Users often have a maximum credit limit of between $8,000 and $10,000, so if you have a significant debt load that you want to pay off with Tally, you might have to choose Tally+.
How to Get Tally
When you apply for Tally, it conducts a soft credit check, which has no effect on your credit score, to determine your eligibility.
A FICO score of 580 or higher is typically required. Tally examines your credit history and the APRs on all of your credit cards to establish the APR on your Tally line of revolving credit.
The annual percentage rate (APR) for a Tally revolving line of credit can range from 7.9%, which is much lower than the average credit card APR, to 29.9%, which is greater than the highest APRs on many credit cards.
How to Sign Up for Tally
Step 1
Get started in minutes
Download the Tally app, apply for a low-interest line of credit and securely add your credit cards. Tally will do a soft credit check to see if you are eligible for a low-interest line of credit. Typically, a 580 FICO score is needed.
Step 2
Access your low-interest line of credit
If you are eligible, you'll receive an offer for a low-interest line of credit. Tally finds the lowest rates and passes the savings to you.
Note: The $300 annual fee is paid directly from your credit line — nothing out of pocket!
Step 3
Tally pays off your cards, right away
If you accept the offer, Tally will immediately pay off your credit cards with your Tally line of credit, saving you money right away.
Step 4
Pay Tally back in one simple monthly bill
Tally uses your credit line to consolidate all your card payments into one monthly bill. No more different due dates, balances, and APRs.
Note: You can use your credit again and again. As you pay back Tally, you'll have more space on your line of credit to add more cards. 
Step 5
Get rewarded
If you keep up with minimum payments on time every month, you'll get access to Tally's member discount.
Our Tally Review
Tally is a credit payoff app that works. It offers good APRs and has helped thousands of users reduce their credit card debt effectively.
The app is free to download and they clearly explain the rates and costs on their website. The memberships are very reasonably priced and offer you great rewards for paying on time.
You can easily check your rate online and see if you qualify for a line of credit. On average, Tally+ members can save $4,185 in five years3.
The Tally website has plenty of information for new users and their customer support is available via email at support@meettally.com and phone by calling the customer service team at (866) 508-2559.
Tally App FAQs
How much does Tally cost?
There are no upfront fees. Tally has an annual fee of $300 or about $25 per month but it's not out-of-pocket. The annual fee is paid directly from your credit line.
Will signing up with Tally impact my credit score?
No. The eligibility check that the Tally app does is a soft credit check and has no impact on your credit score. 
What is the Tally+ membership?
By joining the Tally+ membership you can get money back if you make your monthly minimum payments on time. This will typically lower your interest rate by 4% effectively.
Tally Technologies, Inc. (NMLS # 1492782 NMLS Consumer Access). Lines of credit issued by Cross River Bank, Member FDIC, or Tally Technologies, Inc. ("Tally"), as noted in your line of credit agreement. Lines of credit not available in all states.
To get the benefits of a Tally line of credit, you must qualify for and accept a Tally line of credit. Based on your credit history, the APR (which is the same as your interest rate) will be between 7.90% – 29.99% per year. The APR will vary with the market based on the Prime Rate. Annual fees range from $0 – $300.
1Late Fee Protection – With a Tally line of credit, late fee protection is available on linked credits cards for users who are current on their account, in good standing, and have provided accurate credit card and bank account information.
2Tally+ Member Discount – With Tally+ you get discount credits applied to your Tally principal balance each month effectively lowering your annual interest. Tally+ members who pay at least the Tally minimum on time each month receive the discount.
3Can save $4,185 in 5 years with Tally+ – We calculated the savings estimates in March, 2021 based on Tally's records for borrowers who enrolled in Tally from November 2018 through October 2020. We calculated the interest users would pay if they had received and accepted a Tally+ line of credit and compared that to the interest they would pay without Tally until their credit card balances are fully repaid. For each borrower we used: (a) their average APR weighted by their initial credit card balances and APRs; (b) an average monthly payment of 3% of their credit card balance(s); (c) average monthly credit card transactions of 0.8% of their credit card balance(s). We assumed the borrower received Tally+ discount credit every month and we deducted annual fees from any potential savings. Actual savings will vary based on factors such as each user's credit card APRs, the total payments made, and additional credit card charges.