TurboTax Review
Summary

File your own taxes online for free

User-friendly, interview-style Q&A

Live, on-screen support option offers human help at extra cost.

Paid versions start at $59

Easy prep, print, and e-file
What Is TurboTax?
TurboTax is one of the most popular tax software programs available online and our top pick for the best tax software of 2023.
Founded in the 1980s and owned by Intuit, which also owns QuickBooks and Mint, TurboTax has grown to be the market leader in the tax industry.
TurboTax has a clean and easy-to-use interface for online taxes. The tax program works as an interview, walking you through a series of questions about your income to determine the most appropriate choices.
Most users end up using the TurboTax Deluxe, which is around $60. You can also choose to upgrade to TurboTax Live to get one-on-one support from a tax expert if you have questions or need guidance.
This year, TurboTax Live Full Service was introduced which allows you to upload your tax documents and have a tax pro prepare your tax returns.
Products Offered
TurboTax offers a variety of products: Free, Deluxe, Premier, and Self-Employed. This is available in three different formats:
Online
Online with live support from tax experts
CD or download
Note that with the CD/download option, the Self-Employed version is called "Home & Business".
One of TurboTax's standout features is the option to upgrade to a higher level of tax support. With the basic version, you are mainly on a DIY path, with a vast library of support resources for tax questions.
If you need more help, you can upgrade to a version where you get unlimited help from an expert online or a newer offering, including complete tax preparation by an expert.
For most people, the best option is using TurboTax online, where you do your taxes on your computer, or using the TurboTax mobile app.
Those with more complex investments may need the Premier version, while self-employed business owners will need the top Self-Employed edition.
Each version has a corresponding upgrade for online tax support and full-service tax preparation.
Read more about the different TurboTax options below.
Free Edition
Free for state and federal returns
The TurboTax Free Edition allows you to file your state and federal taxes for free and this is the perfect option if you have a simple tax return.
This would involve just your W-2 income and limited interest or dividend income reported on a 1099-DIV or 1099-INT. You can also claim standard deductions, Earned Income Tax Credit, and a Child Tax Credit.
>> For simple tax returns only. See if you qualify.
Deluxe
$59 for federal returns and $49 for state returns
TurboTax Deluxe determines which tax deductions you qualify for by searching more than 350 tax deductions and credits.
The Deluxe version is designed to ensure you get the maximum tax refund and also provides you with a credit score and access to Turbo, an online tool to help you understand your taxes.
Premier
$89 for federal returns and $49 state returns
When it comes to online taxes, TurboTax Premier has been completely revamped to deliver the best experience for investors. It helps to incorporate bonds, stocks, cryptocurrency, ESPPs, rental property income, robo-investing, and more.
This product helps you to easily report your investments transactions accurately. TurboTax Premier is the only online tax program that can import over 1,500 transactions from more than 300 financial institutions and more than 2,000 crypto transactions from major crypto platforms.
Self-Employed
$119 for federal returns and $49 for state returns
If you're a freelancer, TurboTax Self-Employed helps you uncover industry-specific deductions you may not have known about. It can help reduce your taxes and put more money back into your pocket.
It focuses on online sales, personal and professional services, ride-sharing, and other industries where people are self-employed.
TurboTax Self-Employed gives guidance on expense reporting, such as mileage, cell phone charges, and home office equipment. You can also import your 1099 form by taking a photo of it on your smartphone.
TurboTax Live Basic
$79 for federal returns and $44 for state returns
TurboTax Live Basic allows you to connect live with a one-way video link to a TurboTax Live tax expert with more than a decade of experience.
These experts can answer your tax questions and file your tax return. TurboTax Live experts can assist in English and Spanish, all year round.
TurboTax Live Deluxe
$119 for federal returns and $44 for state returns
TurboTax Live Delux is similar to TurboTax Live Basic but also allows you to talk with a tax expert about more than 350 different tax deductions, including charitable contribution deductions and mortgage tax.
TurboTax Live Premier
$169 for federal returns $44 for state returns
TurboTax Live Premier allows you to connect with a tax expert who provides personalized guidance and advice for nearly every tax investment situation.
This includes bonds, stocks, robo-investing, ESPPs, cryptocurrency, rental property income, and more. You can automatically import your investment income and account for gains and losses from cryptocurrency transactions.
TurboTax Live Self-Employed
$199 for federal returns and $44 for state returns
With TurboTax Live Self-Employed, contractors, freelancers, and small business owners can get live tax advice.
Uncover all the tax deductions you're entitled to, get a personal and small business income review, and a personalized audit assessment.
TurboTax Live Full Service
Prices vary
TurboTax introduced TurboTax Live Full Service for the 2023 tax season, as an extension of the TurboTax Live feature.
Prices vary from $99 for the Basic Full Service, to $389 for the Self-Employed Full Service options.
Upload your documents and have a TurboTax 2021 expert prepare and file your taxes for you. Prices vary depending on your tax return.
So, how much does TurboTax cost? Here is a summary of the versions and prices:
Version
Prices
Best For
Free
Federal: $0
State: $0

Simple tax returns; allows you to file a 1040 and a state return for free. See if you qualify.
Live Basic
Federal: $79
State: $44

Similar to the free version but with on-demand video access to a tax pro for help.
Deluxe
Federal: $59
State: $44
Itemizing and claiming several other tax deductions and tax credits. Note: You can't report rental income or capital gains (Schedules D and E).
Premier
Federal: $89
State: $44
The Deluxe version with the ability to report rental income and investments (Schedules D, E, and K1s).
Self-Employed
Federal: $119
State: $44
Everything in the Premier version plus it can handle business income and expenses. Also works for home office deductions. Offers extra deduction help and features for Square, Uber, Lyft, and features for freelancers and independent contractors.
How TurboTax Works
TurboTax allows you to choose from various service options from its user-friendly website and helps you easily submit tax returns by populating digital forms with the correct information based on your Q&A session.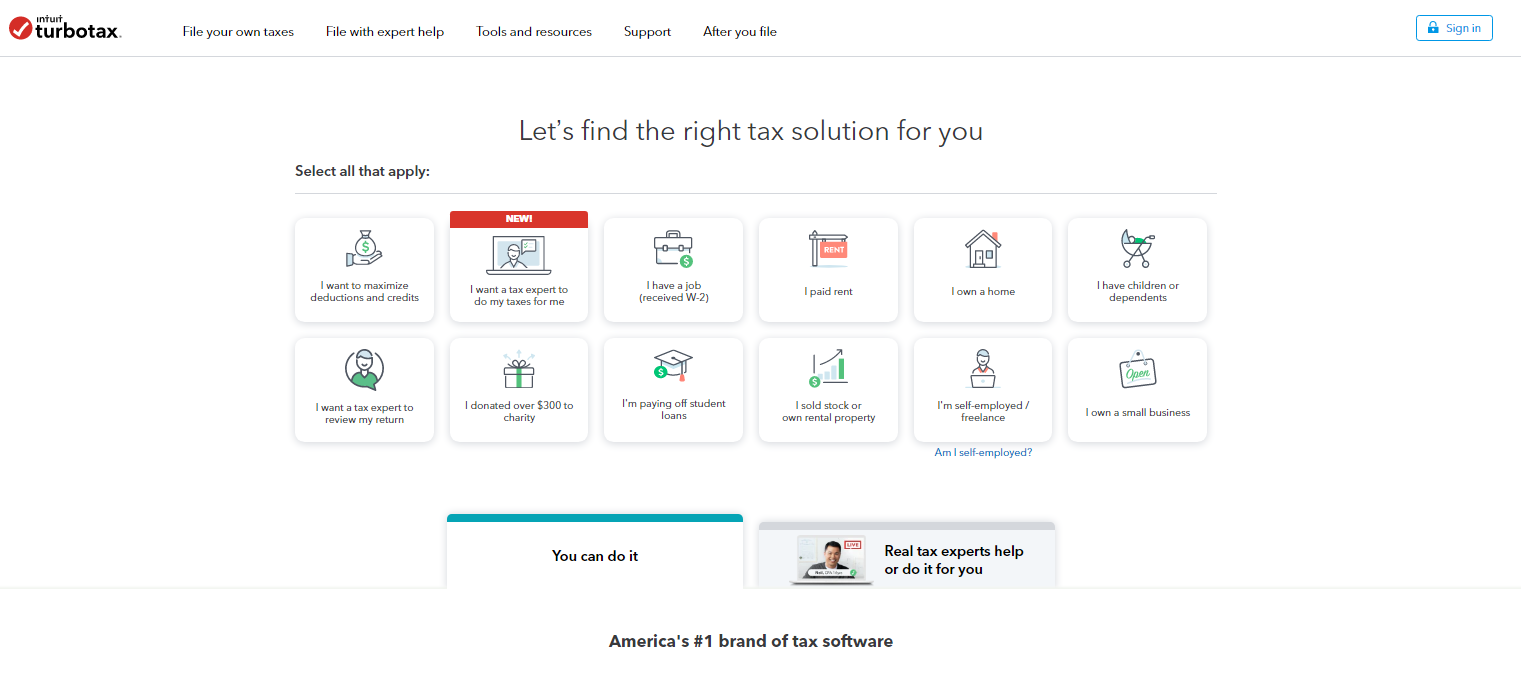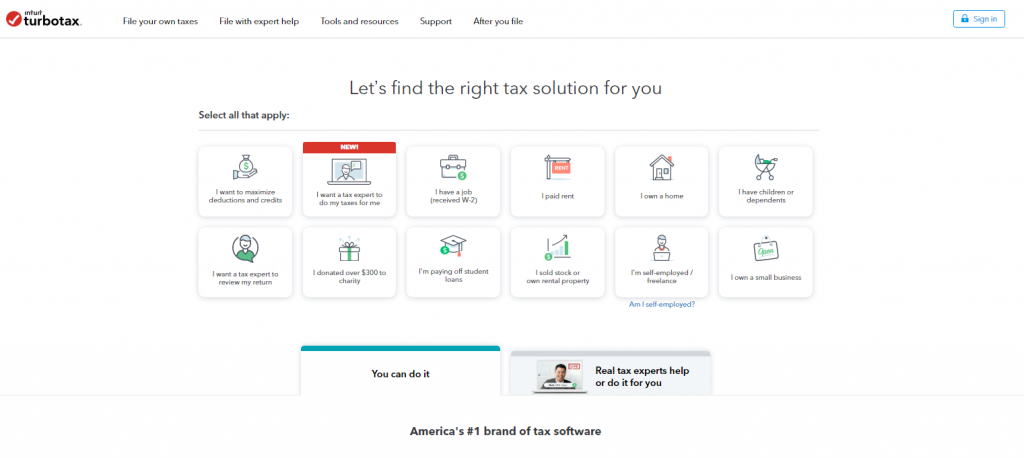 TurboTax can also easily import W-2 information. You don't have to fill out your W-2 line by line, as you can just provide your Employer Identification Number (EIN) listed in Box b of your W-2, after which the software will import your W-2 information.
If it's unable to import with just your EIN, you can manually take a photo of your W-2 and send it to Turbo Tax that way.
Helpful Features
Easily switch to another provider: TurboTax allows you to import electronic PDF tax returns from Credit Karma, Liberty Tax, H&R Block, TaxSlayer, and TaxAct.
Auto-Import Documents: Automatically import W-2 information from your employer if they are partnered with TurboTax. You can also take a picture of your W-2 and upload it so that the software can transfer the data to your tax return. The Self-Employed version allows you to upload 1099-NECs and import income and expenses from Uber, Lyft, and Square.
Tax return status: Easily find your tax return status and manage all your IRS e-file statuses with Turbo Tax.
Ease of Use
Preparing your tax return with TurboTax is very much like having a one-on-one with your tax practitioner. The software walks you through the tax preparation and filing process with a series of interview-style questions.
If you get stuck along the way, you have the option of paying an additional fee and upgrading to TurboTax Live to get on-demand help from a TurboTax expert or CPA. When you choose this option, the tax pro will do a final review of your return before you file.
You can also pay an additional fee to move to Full Service and have your tax return prepared for you. Before filing your return, a tax pro will schedule a time to review your return with you.
While the software has many tips for DIYers, you won't have hands-on customer services unless you upgrade to TurboTax Live.
You can also go for the TurboTax MAX option, an add-on that includes audit representation, identity theft resources, and priority customer support.
Rates & Fees
One of the biggest drawbacks of TurboTax is its price; compared to other tax software products it is on the expensive side, but it does offer great value.
It does offer a free edition for users with simple tax returns. Users with itemized deductions, mortgage interest credit, interest income, health savings accounts (HSAs), or other tax deductions, may want to upgrade to the Deluxe version.
If you are going to pay someone to help you with your tax submission you may find that Turbo Tax is worth the money for its user experience and simplicity.
The tax program simplifies the jargon, walks you through the tax filing process, and gives you the answers you need.
TurboTax makes the entire online tax filing process easier.
TurboTax Refunds
With every Turbo Tax return there is a guarantee:
100% Accurate Calculations Guarantee: If you need to pay an IRS or state penalty due to a TurboTax calculator error, TurboTax will pay it.
100% Accurate, Expert Approved Guarantee: If a TurboTax expert made a mistake with incorrect tax advice, Turbo Tax will pay the IRS or state penalty and amend your return for free.
Maximum Refund Guarantee or Your Money Back: If you can get a larger tax refund or owe less taxes by using another tax preparation method, TurboTax will refund the federal and/or state price paid. If you're using the TurboTax Online Free Edition, you may collect a $30 payment.
Audit Support Guarantee: This includes free audit support, year-round, through TurboTax's Audit Support Center. You can find out what you need to do and why the IRS reached out to you.
Who Should Use TurboTax?
With interview-style questions that guide you through the process and alternatives for live, on-screen support when necessary, TurboTax makes tax filing simple regardless of your level of experience or knowledge of tax law beyond the fact that you need to file.
One of the most well-known options for filing taxes is TurboTax, a product of the company Intuit, which makes financial, accounting, and tax preparation software. +
Being well-known and having been in business for close to 40 years both contribute to its appeal, as does the company's emphasis on design and abundance of features for customers.
How to Buy TurboTax
Step 1
Go to the homepage
On the TurboTax homepage, click on "Get Started." You'll be directed to an interactive guide that will recommend the ideal product based on your unique tax situation.
Step 2
Choose between the online or desktop version
The desktop version can be downloaded to your computer and the online version works with most web browsers.
Step 3
Buy your product
If you choose the online version, you can purchase directly from the website when you click "File for $0" or "Start for Free." If you prefer the desktop version, you can purchase it from an authorized retailer like Amazon or Best Buy, or buy it online. 
Our Turbo Tax Review
Pros

Taxpayers with very simple tax situations are eligible for the free edition

Live help available for those with complex returns

Perfect for freelancers and self-employed individuals

Easily check the status of your tax return

You can upload your W-2 or 1099 to fill out fields automatically
Cons

Somewhat on the expensive side

Tax expert assistance is available, but for an additional cost
Is TurboTax good? Yes. It remains one of the most popular tax software options in the U.S. It has a host of features and different pricing options.
While TurboTax is not the cheapest option around, it has the best user interface that makes it easy to manage your taxes. It is perfect for handling most households' basic requirements for investments, rental income, and more.
TurboTax vs TaxSlayer
TurboTax and TaxSlayer offer similar tax preparation services. Both include several options for taxpayers to consider depending on their tax situation.
TurboxTax has a free edition and various paid tiers up from $59 to $119.
TaxSlayer charges between $17.95 and $47.95. There is also a free version of the software that's just for active-duty military service members.
If you're looking for a tax expert to help you file, both TurboTax and TaxSlayer provide professional tax advisors along with their software, for an additional cost.
But if money savings are your main goal, TaxSlayer is more affordable. If you want the best interface, choose TurboTax.
How TurboTax Compares
TurboTax is a little more expensive than its rivals but provides an easy-to-use process with useful interview-style questions and alternatives to get help when needed.
For its most expensive DIY package, TurboTax charges up to $119 for federal tax filing ($49 per state). For a comparable bundle, other services like TaxSlayer charge up to $47.95 for federal tax filing ($36.95 for each state).
TurboTax features a user-friendly interface and top-notch customer support services. A customer support agent is reachable by phone, email, or chat. TurboTax charges up to $199 for federal tax filing and an extra $54 per state if you require a tax expert, such as a CPA or TurboTax expert, to review your tax return.
Up to $389 for federal tax filing and an additional $54 per state are required if you choose a more hands-on approach and want a tax professional to prepare, sign, and submit your taxes for you. You might be better off hiring a CPA at that cost.
Other apps, like TurboTax, provide tax expert advice. TaxAct offers free professional tax expert advice, including guidance from CPAs, Enrolled Agents (EAs), and tax lawyers to assist with filing.
While TaxSlayer Premium or the Self Employed version merely provides recommendations, they do give tax aid.
Help & Support
TurboTax offers excellent support via multiple channels. They have a searchable knowledge base, with video tutorials and forums for quick research.
All users have access to TurboTax assistant, a contact form, and a chatbot. Paid users get access to a TurboTax specialist.
Live, on-screen help is available for users who need help with filing their tax returns. Users can also submit questions that a tax pro will answer in 24 hours.
You can read more TurboTax reviews below.
FAQs
What should I do if I'm audited?
Being audited can be scary so it's important to get the right support from your tax software. There is a difference between support and defense; audit support is simply guidance on what to expect, while an audit defense gives you full representation before the IRS with the help of a tax professional.
TurboTax allows free audit support for everyone to help you understand what's going on. Whether it's a 2018, 2019, or 2020 tax return if TurboTax can't connect you with a tax pro, you'll get a refund.
How do I request a refund?
You can get a refund in several ways; the fastest option is a direct deposit to your bank account. You can also have it loaded on a Turbo Visa Debit Card or have it sent via a paper check. 
Other options include applying it to next year's taxes or directing the IRS to buy a U.S. Savings Bond with your refund. Although there is a $40 charge for it, you can pay for the software out of your refund.
Where can I find the Turbo Tax login?
The Turbo Tax login can be found at https://myturbotax.intuit.com.
How can I calculate my taxes?
How much does TurboTax cost?
TurboTax 2021 has a free edition for simple tax returns, with the Deluxe version priced at $59 and the Premier edition priced at $89. There is also a Self-Employed version for $119.
Which TurboTax is right for me?
TurboTax has different versions depending on your tax needs. If you are self-employed, the Self-Employed version would be ideal; if you need to do a simple tax return only, the free version is for you. The Deluxe version is ideal if you want to maximize your tax deductions and credits.
Why is TurboTax charging me?
The fee from TurboTax is a service charge of the third party processor who receives the IRS federal tax refund, deducts account fees, and other service charges. E.g. if you select to pay with a refund, there is a $39 processing fee charged by the third party that handles the transaction.