Upstart Auto Loans Review
Want to buy a new car with a loan that doesn't break the bank? Upstart, an online lender that specializes in loans for people who have little or no credit history, may be perfect for you.
With its quick and easy application process, high-quality customer service team, and extensive network of dealerships across the U.S., Upstart Auto Loans can help you finance your next car in just a few clicks.
In this review, we'll deep dive into Upstart's services so you can decide for yourself if it's right for you.
How We Rate Upstart Auto Loans
At Financer.com, all lenders go through a thorough research and review process. Here's how we rate Upstart:
| Category | Rating |
| --- | --- |
| Affordability | ⭐⭐⭐⭐ |
| Application process | ⭐⭐⭐⭐⭐ |
| Loan terms | ⭐⭐⭐⭐ |
| Transparency | ⭐⭐⭐⭐ |
| Customer support | ⭐⭐⭐⭐ |
| Overall | ⭐⭐⭐⭐ |
Do We Recommend Upstart?
Yes, we recommend Upstart as a reliable lender marketplace. Skip to our full review below and see how we rate Upstart.
Here's what we'll cover in this review:
Want to skip the details? Jump to our final verdict here.
Upstart Auto Loans Review
Upstart Auto Loans is a company that specializes in providing loans for people who want to buy a car. They are a subsidiary of Upstart Financial, which offers other kinds of loans – including personal loans, debt consolidation loans, and more. The company has been around since 2018, and it's based in Texas.
Here's a quick summary of Upstart:
Overview
Features
Loan type:
Auto refinancing
Loan amount:
$9,000 – $60,000
Loan term:
From 24 to 84 months
APR:
From 6.96% to 29.99%
Min. credit score:
510
Monthly fees:
None
Weekend payout:
No
Requirements:
Have a FICO credit score of 510
Have a minimum annual salary of $12,000
Have a minimum vehicle age of 10 years
Have a minimum vehicle mileage of 140,000
The services they provide include:
Auto loan financing (they offer this through their parent website)
Personal loans (through the same site)
Student loan refinancing (through another subsidiary)
In terms of loan underwriting and approval, Upstart takes a different approach. Other lenders place the greatest emphasis on a borrower's credit score, whereas Upstart takes into account over 1,000 data points for a more complete picture of a borrower's creditworthiness.
According to Upstart, this approach, along with their AI platform and predictive modeling, leads to more auto refinance loan approvals for more applicants.
Additionally, Upstart collaborates with a network of lenders to connect candidates with the best loan terms for which they may be eligible.
Upstart performs a soft credit check, which has no impact on an applicant's credit ratings, to obtain these anticipated rates. A rigorous credit check is performed when a candidate chooses an offer and submits an application.
Upstart Auto Loans Pros and Cons
Pros

Offers pre-qualification with a soft credit check.

Works with a network of lenders to find the best offer.

Bases loan approval on a wider range of criteria.

Customer service is available 7 days a week.
Qualifying only requires a soft credit check so it won't impact your credit score. You can get the best offer as Upstart works with a network of lenders, improving your chances to get the best loan rates.
Cons

Not available in all states.

Maximum loan amount is lower than other lenders.
The only real drawback is that Upstart Auto Loans is not available in all states (not available in MD). You may also find that other lenders offer a higher maximum loan refinancing amount.
What Do Upstart Auto Loans Offer?
Upstart Auto Loans offers car loans for new and used vehicles, offering loans between $9,000 and $60,000. If you have bad credit, Upstart Auto Loans can help you obtain a loan with a starting interest rate between 6% and 9%.
Upstart Auto Loans has partnered with PNC Bank to offer financing for up to 100% of the car's value. This means that if the dealer says your car is worth $8k but they only have a loan offer for $5k on your car (a common scenario), Upstart will pay the difference.
Upstart Auto Loans also offers longer-term loans than many other providers; most lenders offer 3-year financing or less, but Upstart offers 7 years at no additional cost as long as your monthly payment stays under 20% of your gross income.
So, if you make $100k per year then even though 20% of that would be an insane amount ($20k), at this rate you could still qualify for their longer-term options.
Loan Requirements
To apply for auto refinancing with Upstart, you must:
Have a FICO credit score of 510
Have a minimum annual salary of $12,000
Have a minimum vehicle age of 10 years
Have a minimum vehicle mileage of 140,000
No bankruptcies or public records on y our credit report within the past 3 years
No accounts currently in collections or delinquent
The personal information needed to apply for an Upstart auto loan includes your Social Security number or ITIN, address, phone, email, employment status, insurance details, source of income, and more.
you may also need to provide a copy of your vehicle registration card, proof of insurance, a co-owner consent form (if applicable), and proof of open claim or second lien resolution.
All these documents will appear in your Upstart dashboard.
Pre-qualification is available and Upstart provides a best-match offer, with various rates to choose from. Offers are valid for 14 days.
Loan Restrictions
There are some restrictions when it comes to auto refinancing:
Maximum vehicle age: 10 years
Maximum vehicle mileage: 140,000 miles
Minimum loan amount: $9,000
Maximum loan amount: $60,000
Refinancing time restrictions: As soon as 30 days after the initial loan
How to Apply for an Upstart Loan
Step 1
Fill out an online form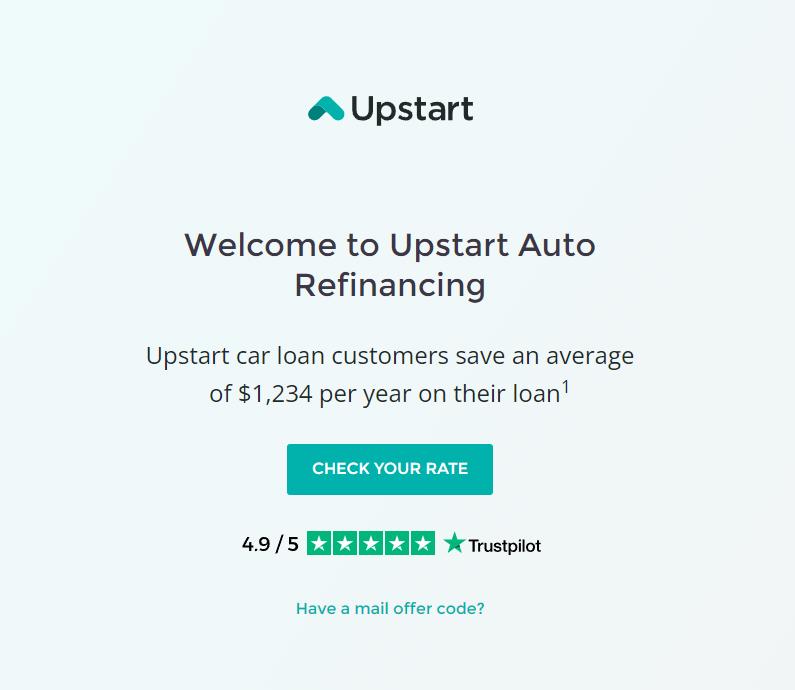 Start by filling out our online form. Provide details about yourself, accept your new terms, and verify your information.
Step 2
Upstart processes your information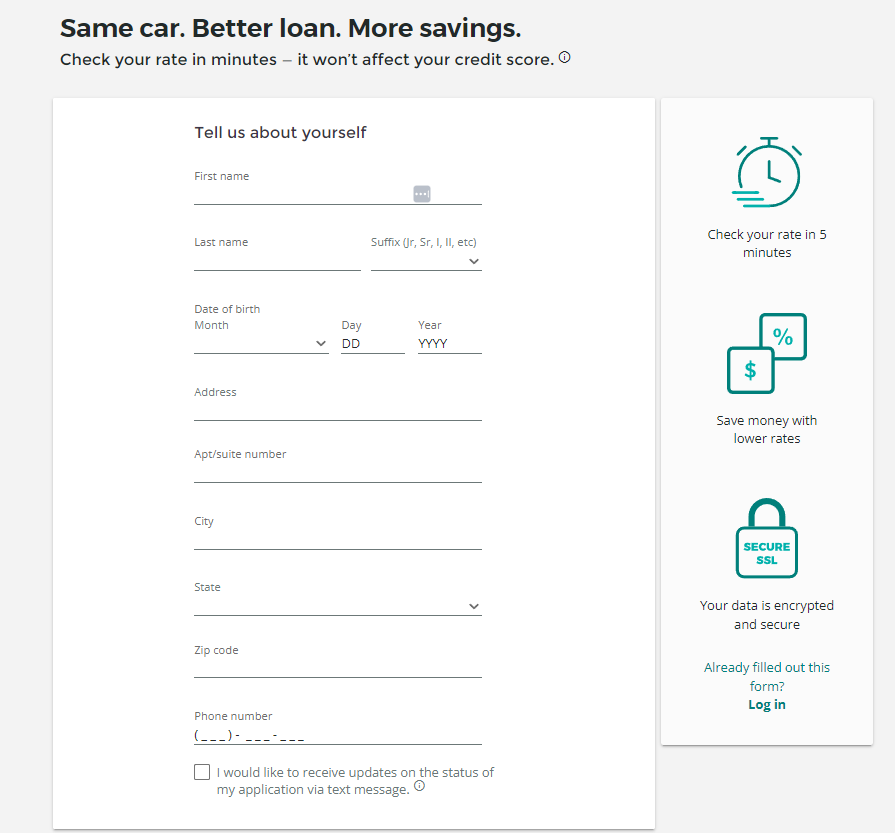 They handle the rest such as verifying your registration details, checking insurance coverage, and ensuring your previous loan is successfully paid off. They may ask for documents to help verify your details and rate. This takes 1-2 weeks.
Step 3
You're done!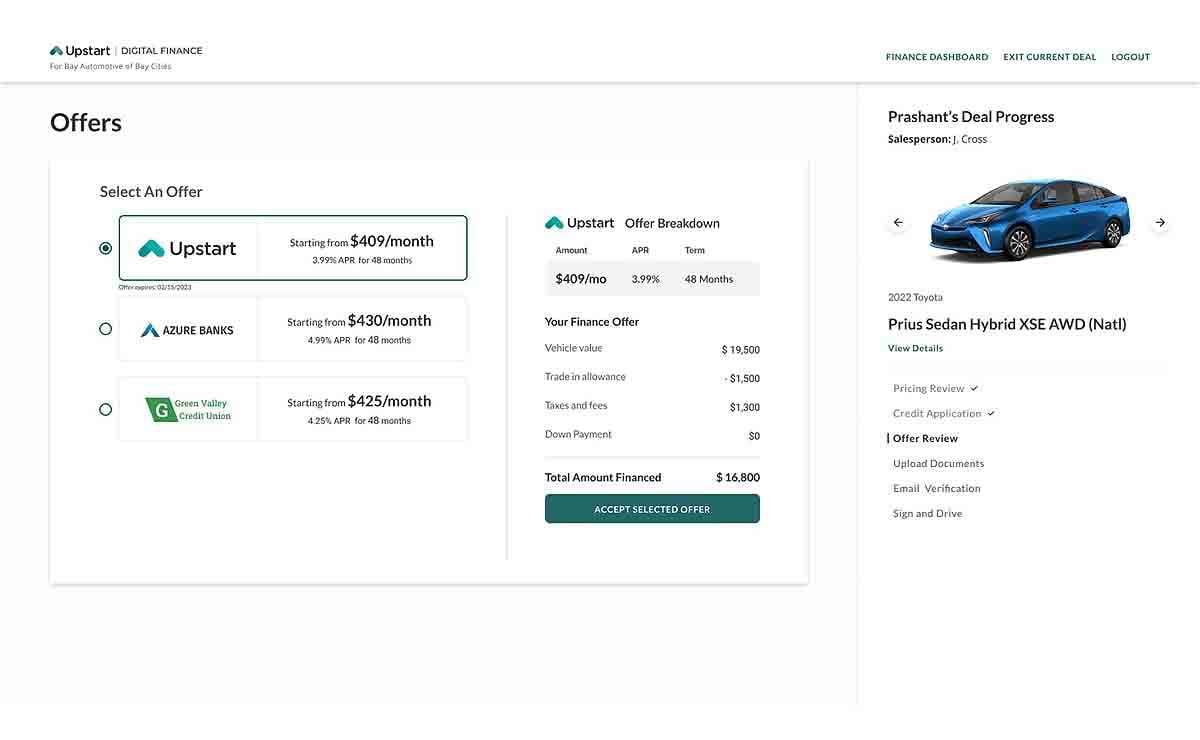 After 1-2 weeks, you are done! The Upstart team will handle the title administration process with no action from you. Typically this process takes between 30-60 days.
Repayment Terms
Upstart Auto Loans offer repayment terms between 24 and 84 months.
You can pay more than the minimum by setting up automatic payments. The surplus is automatically applied to the interest and then directly to the principal.
Late payment fees are charged at $15 or 5%, whichever is greater.
If you are in financial hardship, Upstart may be able to offer alternative payment arrangements to avoid any additional fees or penalties.
Rates and Fees
Upstart Auto Loans interest rates are highly competitive. The APR ranges from 6.96% to 29.99%, depending on the credit profile of your loan applicant. This is much better than what other lenders offer, which can be over 30%.
Upstart Auto Loans fees are low and transparent. You'll get an upfront look at all of the charges associated with borrowing money through Upstart Auto Loans before you ever commit to anything, so there won't be any surprises once your application has been processed and approved.
Upstart Auto Loans offers a multi-year loan term instead of just one or two years, which means that if you're having trouble making payments on time now but expect things will improve in future years (or vice versa), this lender may still be able to help you out.
Who Should Use Upstart Auto Loans?
Upstart Auto Loans is a good option for many borrowers because they offer a good mix of rates and terms, their online platform is very user-friendly, they require a low minimum credit score, they have a good reputation, and their application process is simple.
Credit scores are complicated. If you're not sure what your credit score is or how it works, Upstart Auto Loans has a handy tool that will help you understand the ins and outs of your score. They'll also give you tips on how to improve it if needed!
How Financer.com Rates Upstart Auto Loans
Upstart was founded by former Google employees with the mission of making credit more accessible for people who may not have a long history of credit.
They offer auto loans for new and used vehicles up to 10 years old with terms from 24-84 months and their unique way of assessing applications often means they can offer better terms for refinancing auto loans.
The application process is simple and can be completed online in just minutes, but the online application won't tell you whether you're approved or not.
Customer Service
Upstart's customer services is available via phone and email seven days a week. They also have a comprehensive help center and provide borrowers with support throughout the life of their loans.
Read more Upstart Auto Loan reviews below.
Upstart FAQs
Can I have a co-borrower on my loan?
The Upstart platform doesn't currently allow co-borrowers on refinanced car loans. However, if you have a co-borrower on your current car loan, you may apply to refinance the loan in your name only to remove the co-borrower from the loan.
Can I apply for a car refinance loan with a low credit score?
Yes. Upstart considers more than just your credit score. They look at other aspects like your education and employment. You can start by checking your rate without impacting your credit score. 
Does Upstart allow co-owners on a loan?
If you co-own your car, you can include your co-owner on your loan as long as they sign a consent form and provide identification details within 5 days of submitting your application.

Your co-owner will not be responsible for your new loan repayment. Further, Upstart will consider only the information they provide in our credit decision.
Will refinancing my car loan affect my credit score?
When you check your rate, Upstart makes a soft credit inquiry that won't affect your credit score.

If you go ahead with your application after checking your rate and decide to accept a loan, you will be subject to a hard credit inquiry to verify the accuracy of your application. The hard inquiry may impact your credit score.
What is a car refinance loan?
A car refinance loan is a new car loan that replaces your current car loan under a different term and rate. Car loan refinancing can help you save money by lowering your annual percentage rate (APR) or reducing your monthly payments.
Upstart Auto Loans Alternatives
Here's a list of alternatives to Upstart and how they compare:
| Lender | Reviews | Loan Amount | APR | Max. Loan Term | Bad Credit? |
| --- | --- | --- | --- | --- | --- |
| 5KFunds | View | $500 – $35,000 | 5.99-35.99% | Up to 5 years | Yes |
| Caribou | View | $500 – $5,000 | From 1.49% | Up to 5 years | No |
| CashUSA.com | View | $500 – $10,000 | 5.99-35.99% | Up to 6 years | Yes |
| Fast5KLoans | View | $500 – $35,000 | 5.99-35.99% | Up to 5 years | Yes |
More Upstart Auto Loans Reviews
What Users On the Web Are Saying
Upstart gets 4.9 out of 5 stars on Trustpilot, with more than 41,000 reviews: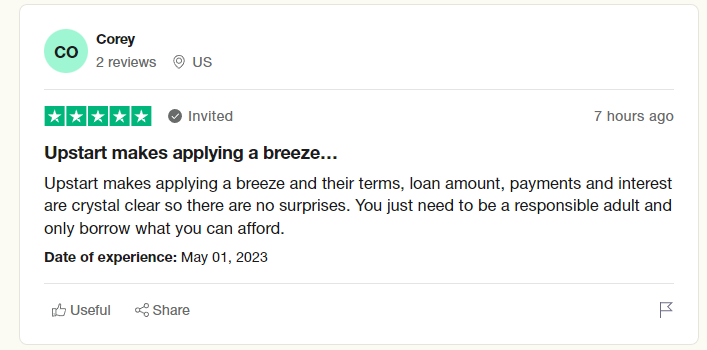 More User Reviews – Add Your Rating
Read more reviews on Financer.com from verified users below.
Have you used Upstart before? Leave your review now.