Our Commitment to Transparency
Buy Ethereum
At Financer.com, you can easily find where to buy Ethereum and the best cryptocurrency exchanges for buying Ethereum. You can also use our Ethereum Profit Calculator to calculate and track the performance of your investment.
---
Where To Buy Ethereum
There are hundreds of crypto exchanges and platforms where you can buy Ethereum. To save you the stress and time of finding the ones that work best for you, we have trimmed down the list based on a number of factors. Here are our top picks:
Coinbase 
Binance US
Gemini
Cryptocurrencies available
200+
100+
100+
Number verified users 
108 million 
120 million
13.6 million
Minimum trade
2 USD
10 USD
0.00001 BTC
Crypto fees
$0.99 to $2.99 flat fee depending on the size of the trade; percentage-based fee for trades above $200; 0.50% spread
0.1% flat fee for most trading activities. 
0.5% – 3.49%
Advantages
Fast and easy; Low trading fees; Top notch security; multiple trading pairs
Low fees; multiple trading pairs
Beginner friendly 
Regulatory complaint
Solid security infrastructure 
Disadvantages
Relatively high transaction fees; Slow customer service 
Regulatory issues; not available in all states
High fees 
Long verification process
Who is it best for?
Beginner traders 
For intermediate and advanced traders.
Beginner, intermediate, and advanced traders
Learn more
Open an account
Open an account
Open an account
Best Platforms to Buy Ethereum
Coinbase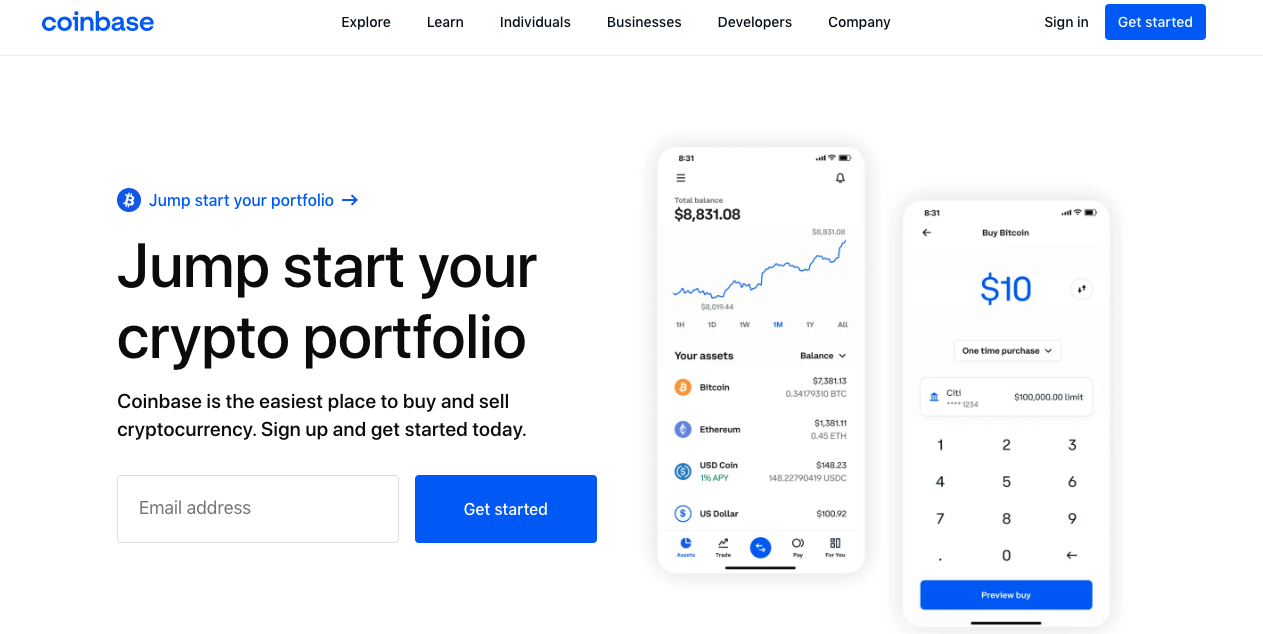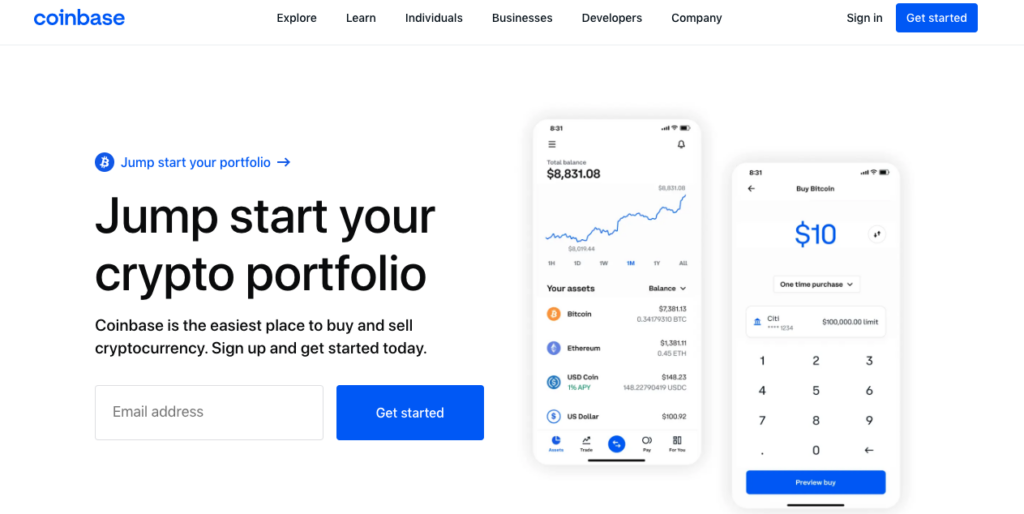 Coinbase is an American publicly traded company that operates a cryptocurrency exchange platform that is the largest crypto exchange in the US. 
It was founded in 2012 by Brain Armstrong, an ex-AirBnB employee driven by a vision of a global, open financial system that drives innovation and freedom. 
Who Is Coinbase Most Suitable For?
Coinbase is most suitable for those getting started with cryptocurrencies. Its clean and user-friendly interface is great for beginner traders.
Its clean interface and well-thought-out features make the platform easy to navigate for beginners.
Why We Chose Coinbase
Coinbase's user-friendly platform and intuitive interface are great for new entrants in the crypto world.
What's more, the platform offers a wide range of cryptocurrencies to choose from as well as advanced security features. 
Coinbase Fees 
Coinbase has a variable fee structure that depends on the size of the trade. Trades less than $200 attract a flat fee while trades above $200 are charged based on a percentage.
In addition to fixed charges, there's also a spread-based fee of 0.50%.
| | |
| --- | --- |
| Size of Trade  | Fee  |
| $10 or lower  | $0.99 |
| $10 to $25 | $1.49 |
| $25 to $50 | $1.99 |
| $50 to $200  | $2.99 |
| Above $200 | Percentage-based fee |
Coinbase Fees
Pros

Fast and easy 

Low trading fees

Top-notch security 

Advanced trading options

Two-factor authentication

Over 100 cryptocurrencies are supported
Cons

Relatively high transaction fees

Slow customer service
Binance US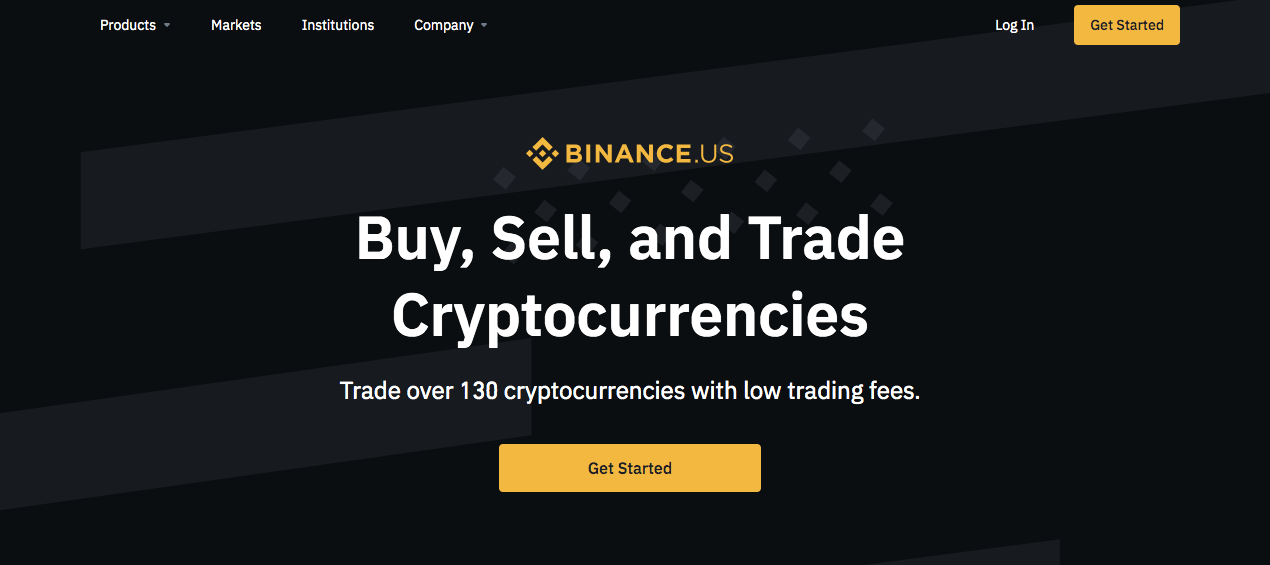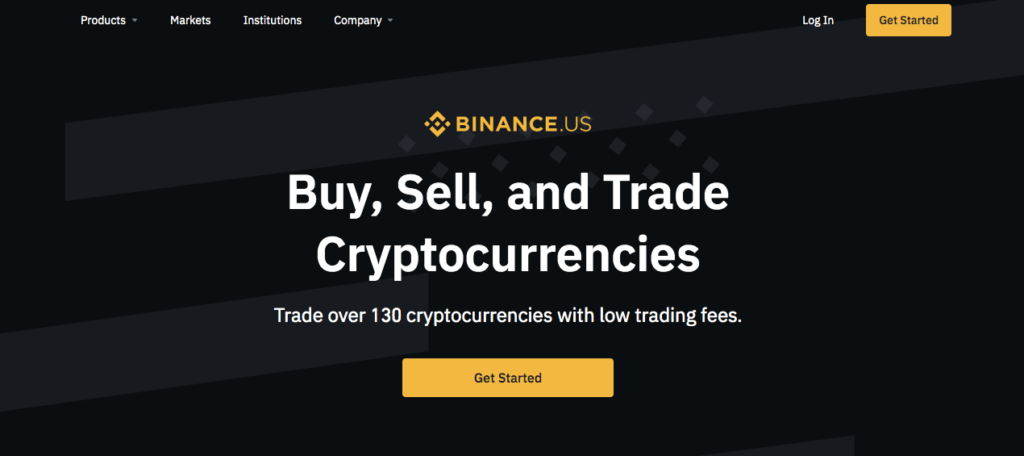 Binance is the largest crypto exchange in the world by trading volume. The crypto exchange was founded in 2017 by Changpeng Zhao and is registered in the Cayman Islands. 
Binance operates Binance.com as well as Binance US – a trimmed-down version of the Binance site to comply with US regulations. Although Binance owns Binance.US, the U.S. company is managed independently. 
Who is Binance Most Suitable For?
With legion features and a sophisticated platform, Binance is most suitable for intermediate and advanced traders.
Its competitive fees, advanced charts, and multiple order types make Binance a solid platform for experienced traders. 
Why We Chose Binance US
Binance US has a wide array of trading pairs, competitive fees, and advanced trading features.
What's more, it is the largest crypto trading platform in the world by trading volume and has a diverse ecosystem. 
Binance Fees 
Binance has an attractive fee structure. The platform offers a flat 0.1% for most trading activities. 
Pros

Low fees: Binance's 0.1% trading fees are lower than many other US exchanges. 

Trading pairs: Although Binance US doesn't offer as many trading pairs as the main site, it has over a hundred cryptocurrencies which outpace many other US exchanges. 
Cons

Accessibility: The US site is not available in all 50 states. 

Regulatory Issues: The main site has run into several issues with regulators in some countries. 
Gemini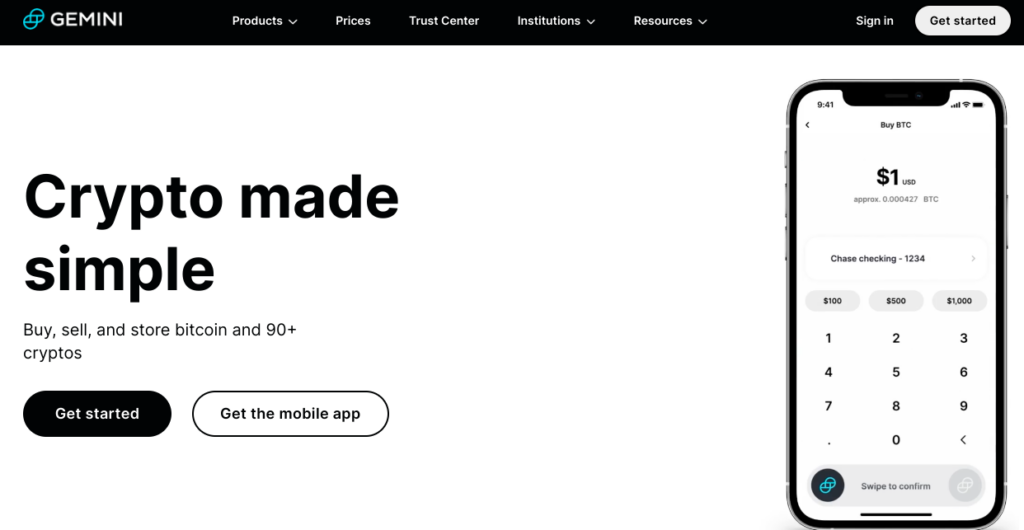 Gemini was founded in 2015 by the famous Winklevoss twins: Tyler and Cameron Winklevoss. The crypto exchange is based in New York and has a reputation for security and regulatory compliance.
The exchange is run by the Gemini Trust Company, LLC – a New York Trust Company.
In addition to a crypto exchange, Gemini also runs a wallet service, a custodial service (for institutional investors), and an advanced trading platform.
The exchange is also the issuer of Gemini Dollar (GUSD) – a dollar-collateralized stablecoin as well as a yield-earning service (Gemini Earn).
Who Is Gemini Most Suitable For?
Gemini has a user-friendly platform and an advanced trading interface that makes it suitable for beginner, intermediate, and pro traders. 
Its solid security infrastructure also makes it an attractive option for institutional investors and asset managers looking to invest in crypto.
Why We Chose Gemini
Gemini has built a strong reputation for security and regulatory compliance that makes it one of the most secure exchanges in the crypto space.
The company goes above and beyond to be regulatory compliant and keep funds under its custody secure. A testament to this is the fact that the platform has never been hacked.
Gemini Fees
Gemini offers relatively higher fees compared to the competition. Gemini's fee structure is based on user activity like transfers and withdrawals.
The exchange also charges convenience fees (for using the web or mobile app). There's also a Gemini earn fee – which is a fee charged for the Gemini Earn service.
Here's a summary of the different fees:
| Activity/Service  | Fee |
| --- | --- |
| Transfer (deposits and withdrawals) | Wire transfer deposits: FreeDeposit via debit card: 3.49%Withdrawal Fee: Variable (depends on the coin) |
| Gemini Earn | Variable |
| Transactions | Flat fee for trades up to $200 1.49% fee for trades over $200 |
| Convenience  | 0.50% spread in the price of the crypto asset you are trading |
Gemini Fees
Pros

Beginner friendly 

Regulatory complaint

Solid security infrastructure 

Advanced trading interface 

Wide range of products
Cons

High fees 

Long verification process 

Only 100+ cryptocurrencies available
How To Buy Ethereum
Steps
Step 1
Find a good Platform
There are multiple exchanges where you can buy Ethereum. To save you the stress of finding the best platforms, we have explored multiple platforms and trimmed down the list to three: Binance, Coinbase, and Gemini.
Step 2
Buy some Ether
Once you have signed up or signed into your account (whichever the case may be), head over to the buy crypto tab. The tab would look different for different exchanges but it will be described in a way that implies that you can use the button to buy crypto. 
Regardless of the crypto exchange you use, you will find multiple payment methods for buying Ethereum. Choose the option that's most suitable for you. 
Step 3
Store your coins securely
While crypto exchanges provide a wallet for storing your funds, it's not a good idea to leave money on an exchange if you are not actively trading. Instead, store your funds in decentralized wallets like Trezor and Ledger Nano X. 
Should you buy Ethereum now?
Ethereum has been trading in the $1200 to $2000 range since January 2023. At the moment, it is trading slightly below $1800, about 60% lower than its all-time high.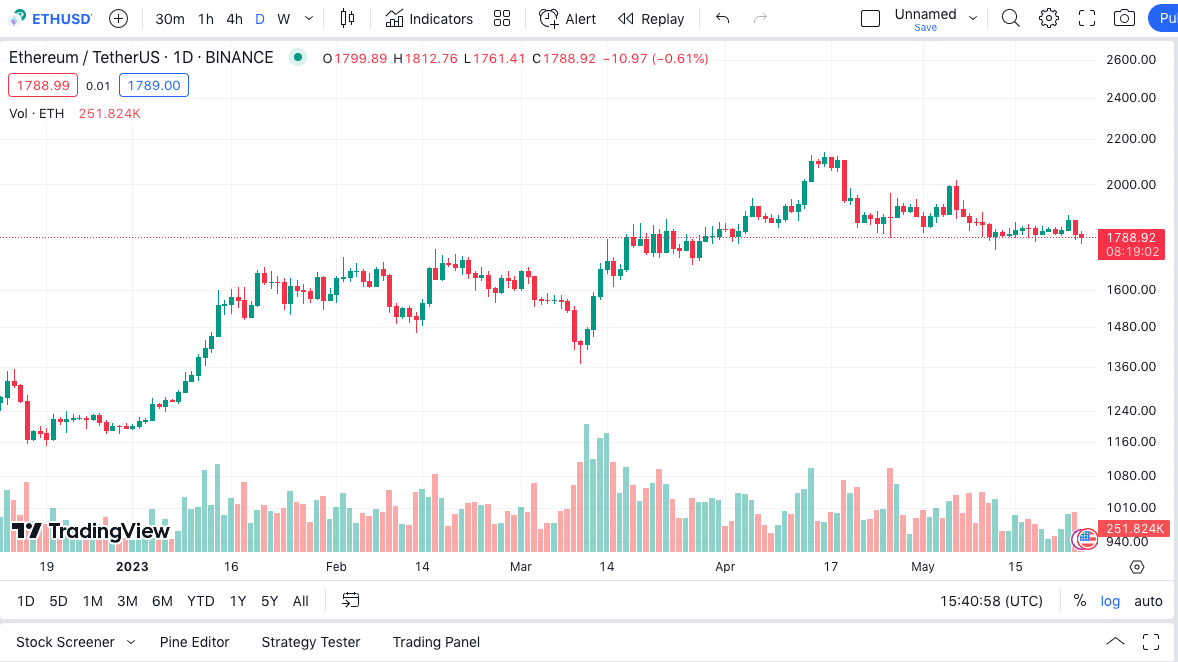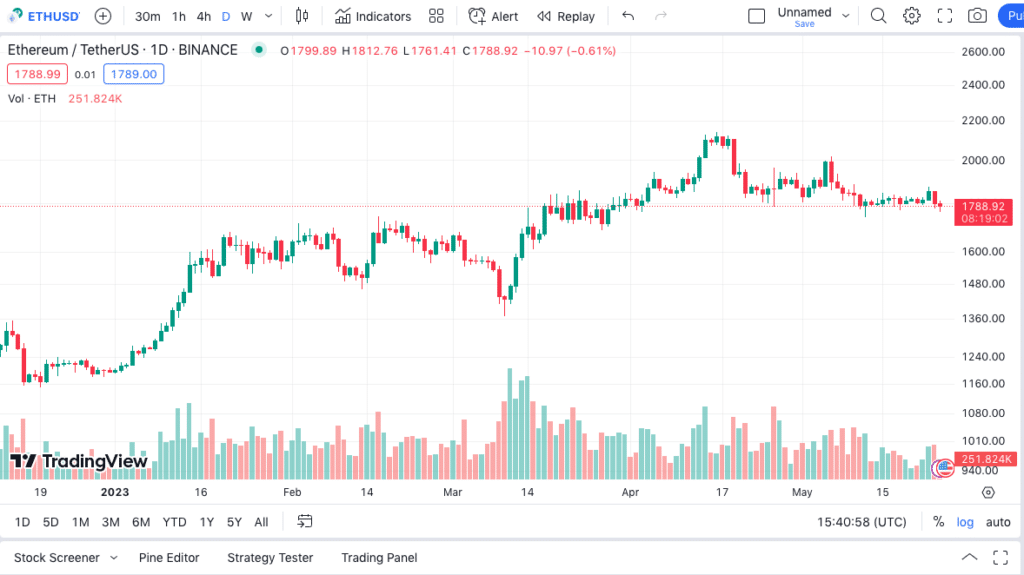 At the time of this writing, Ethereum is up 50% this year. Here are some reasons why this may be a good time to buy Ethereum: 
Bright future prospects: Despite its flaws, Ethereum is the preeminent smart-contract blockchain and the most popular platform for building and deploying decentralized applications. This is likely to continue into the near future. 
It's currently trading 60% lower than its ATH: At the time of this writing, Ethereum is currently trading slightly below $1800 – which is about 60% lower than its all-time high price of $4356.
Major upgrades lined up for the future: In September 2022, Ethereum implemented a major upgrade that switched the network from a proof-of-work to a proof-of-stake consensus mechanism. Planned network upgrades include The Surge and The Scourge – major changes that are expected to improve Ethereum's scalability and speed.
What are some indicators that suggest that Ethereum might revisit its ATH price? Our analysts at Financer.com believe that the following factors might influence the price of Ethereum in the months and years ahead. 
Bitcoin's next halving: Traditionally, Bitcoin's halving has triggered a price rally in the wider crypto market. With the next halving scheduled for early 2024, the crypto market might experience another major rally. A major rally that cuts across the crypto market is likely to benefit Ethereum. 
Ethereum's long-term prospects: At the moment, Ethereum is the pre-eminent blockchain platform for deploying smart contracts and decentralized applications. What's more, it has a large community, a robust ecosystem of innovative applications, and thriving layer 2 blockchains. With a clear road map, Ethereum is likely to continue to gain traction and increase its dominance in the crypto ecosystem. 
Is Ethereum a Good Investment?
With a robust ecosystem, large community, thriving applications, and innovative layer 2 solutions, we consider Ethereum a good investment.
Investing in cryptocurrencies is risky and we recommend you talk to your financial advisor first. 
Strategies For Investing In Ethereum
If you are considering investing in Ethereum, here are some tips to help you get started:
Dollar-cost averaging: Dollar cost averaging is one of the most common ways of investing in crypto assets due to the volatile nature of the markets. The logic behind it is simple: invest in small increments of overtime but instead of investing randomly, you buy when the price of the assets dips. Dollar Cost Averaging allows you to take advantage of market downturns. By buying dips and selling at the top, you can take advantage of the volatility in the market. 
Buy and hold: Another common approach to crypto investing is the buy and hold (or hold like is common to say in crypto circles). As the name suggests, you buy and hold for the long run (or hold on for dear life).
A hybrid approach: A more profitable approach to crypto investing is a hybrid of the two strategies. You buy (with the intention of holding the asset for the long run) but you invest in small increments over time (buying each time the asset dips in price). The end goal is to sell at the top. 
To make sense of this strategy (knowing where to buy and sell), a knowledge of technical analysis is required.
What Is the Future of Ethereum?
Scalability Solutions
Ethereum has grown to be the go-to platform for deploying smart contracts and running decentralized applications but it continues to struggle with scalability issues.
While a number of innovative solutions have emerged in the form of Layer 2s dedicated to solving this issue, it is one of the core priorities of the main chain.
In a tweet, outlining the roadmap of Ethereum, co-founder Vitalik Buterin outlined stages of development that the network is expected to go through in the not-too-distant future. He referred to upgrades relating to scalability as The Surge.
| Upgrade | Overview | Goal | Status |
| --- | --- | --- | --- |
| The Merge | Switching from proof-of-work to proof-of-stake | Upgrade the network from proof of work to proof of stake  | Done (September 15, 2022) |
| The Surge | Scalability (by rollups and data sharding) upgrades  | 100,000 transactions per second  | Pending |
| The Scourge | Censorship resistance, decentralization, and protocol risks from MEV upgrades | Reliable and credibly neutral transaction inclusion  | Pending |
| The Verge | Upgrades related to verifying blocks more easily | Super easy to verify blocks  | Pending |
| The Purge | Reducing the computational costs of running nodes and simplifying the protocol | Simplify the protocol, eliminate technical debt, and limit costs of participating in the network  | Pending |
| The Splurge | Other upgrades  | Fix everything else | Pending |
Ethereum Roadmap
Expanding Use Cases
The advent of Ethereum has seen the emergence of new paradigms like decentralized finance (DeFi), Decentralized Autonomous Organizations (DAOs), and Non-Fungible Tokens (NFTs).
As we advance into the future, more applications of these paradigms or even newer paradigms will emerge.
Potential applications include blockchain solutions for supply chain management and decentralized governance.
Where To Store Ethereum After I Buy It?
Just like you need a bank account to save your money, you need the equivalent of a bank account to store your crypto assets. A digital wallet is the equivalent of a bank account in crypto.
There are two types of wallets: 
Software wallets: Software wallets are applications that allow you to store crypto securely. Like a bank account, they have a number that you can use to send and receive crypto (known as the wallet address). They also have a password (known as a private key) that allows you to authenticate transactions. Examples of software wallets include MetaMast and TrustWallet. 
Hardware wallets: Hardware wallets do the same thing as software wallets except that they have a more secure layer and they come in a physical form. Examples of hardware wallets include Trezor and Ledger X. 
While most crypto exchanges offer a wallet for storing your coins, you should not leave your funds on an exchange if you are not actively trading.
The reasons for this aren't farfetched; you can be locked out of your account, the exchange can be hacked or someone can steal your phone and get past your two-factor authentication.
To store your Ethereum securely, use hardware wallets like the ones mentioned above. 
FAQs
What is Ethereum?
Ethereum is a blockchain with smart contract capabilities. A smart contract is a self-executable code that is activated when certain conditions are met. Smart contracts allow people to create self-enforceable agreements. 
The Ethereum platform also enables developers to build and deploy decentralized applications (i.e. applications that run without a central authority). 
Ether, the native cryptocurrency of the platform is the fuel that powers it. It is used to facilitate transactions and activate smart contracts. 
What makes the Ethereum network unique?
There are two key innovations central to Ethereum: smart contracts and decentralized applications. While there are now other smart-contract blockchains, Ethereum was the first.

Ethereum is also the preeminent platform for deploying smart contracts and decentralized applications. 
How is the Ethereum platform secured?
The Ethereum network is powered by blockchain technology: a decentralized ledger that is tamper-proof and censorship-resistant. Central to the Ethereum platform are two key innovations: Smart contracts and Decentralized applications (dApps). 
Other aspects of Ethereum's security include a decentralized network of nodes distributed worldwide, a consensus mechanism, and cryptographic mechanisms. 
Is ETH worth buying now?
Yes, this is a good time to buy Ethereum. It has strong utility, expanding use cases, and a clear development roadmap. 
Who is behind Ethereum?
Ethereum was first proposed by Russian-Canadian programmer Vitalik Buterin. Prior to the launch of Ethereum, Buterin had been active in the Bitcoin community, working as a writer for Bitcoin Weekly and co-founding Bitcoin magazine.