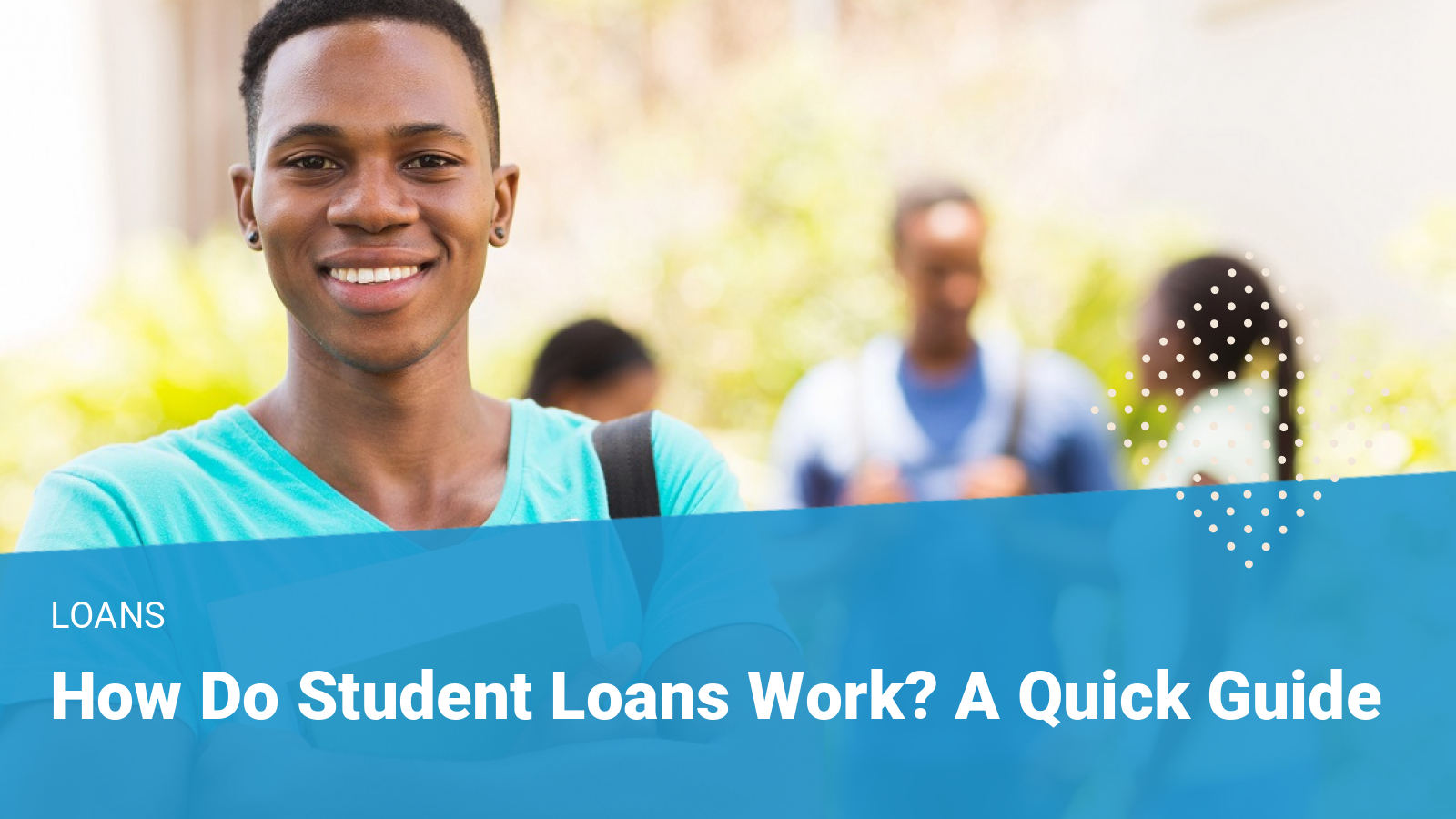 There are three types of student loans: private loans, federal loans, and refinancing loans after you graduate from school.
This guide will help you understand your college student loan options.
Here's what we'll cover in this quick guide on student loans:
Types of Student Loans
There are many options to consider when it comes to student loans and depending on your needs, you may need a combination of private and federal student loans.
Federal Student Loans
Direct Federal student loans are the main way the government is helping students finance their education. However, choosing the right type of federal loan is crucial as it can impact your financial future.
How Do Federal Student Loans Work?
Federal loans are available to almost all students with a high school diploma, and they don't require co-signers or good credit. To apply, fill out the Free Application for Federal Student Aid (also known as the FAFSA).
> Read more: How to pay for college
Did you know that there are more than 42.8 million borrowers with federal student loan debt? The average student loan debt is more than $37,000.
Let's take a look at the different types of federal student loans:
Direct Subsidized Loans
Two types of federal direct loans are available: unsubsidized and subsidized. Undergraduates who have financial needs may be eligible for subsidized loans. These loans are paid back by the government while you're still in school.
You'll have a six-month grace period before the loan starts incurring interest, that you'll have to pay along with the principal.
You may qualify for forbearance or deferment of your direct subsidized student loan, depending on your financial situation. 
Direct Unsubsidized Loans
Unsubsidized loans are available to both undergraduate and graduate students. You don't have to prove financial need. Unsubsidized loans start accruing interest immediately. You'll have to pay all interest throughout the loan's life.
You may choose to start paying back the loan while you're in school, to potentially save you thousands of dollars after you graduate.
Your school will determine the number of loans you may take out a year.
Perkins Loans
These were only available to graduates and undergraduates with high financial needs until September 2017. Students borrowed money from their school and paid it back. 
Perkins loan forgiveness may be available to those with outstanding Perkins loans working in public service.
PLUS Loans
Federal PLUS loans for graduate students are available to parents and students. These loans have higher origination fees and interest rates than federal loans. They also require a credit check.
Borrowers with "adverse financial history" may have difficulty qualifying but can still apply with an endorser (also known as a cosigner).
The maximum amount you can get for a PLUS loan is the cost of attendance minus any financial aid you've received.
PLUS loans also have a fixed interest rate, which is a great advantage over other types of student loan funding.
Private Student Loans
if you need additional funding for your studies you may need to consider taking out a private loan for your education. Many banks offer loans to graduate and undergraduate students, while parents can also take out a loan directly for their child, or co-sign for one.
Keep in mind that private lenders may require the co-signer to meet the institution's lending requirements.
How Do Private Student Loans Work?
Private loans are available to those who have good credit scores. The lender will need proof that you can repay the loan. You can qualify for a loan by having a co-signer. If you are unable to repay the loan, that person will take responsibility.
Private student loans are available to cover all costs associated with college. They can be originated by a bank or credit union, as well as an online lender.
Private student loans are less flexible for borrowers so make sure you exhaust all federal loans.
Bad Credit Student Loans
Federal student loans are not subject to credit checks, so they may be your best choice. Private lenders may offer loans for those with poor credit.
You will be assessed on other factors, such as your earning potential.
Student Loans with No Co-Signer
Private loans are often available to undergraduates who need a cosigner. However, lenders may require a co-signer if you do not have one.
Lenders will evaluate your ability to repay the loan based on factors other than credit history. This makes it more likely that you will be approved.
Graduate Student Loans
Both the federal government as well as private lenders offer graduate student loans. Before you apply for federal PLUS loans or private student loans, take advantage of the federal unsubsidized student loans.
International Student Loans
Students who aren't U.S. citizens won't be eligible for federal student loans unless they are eligible noncitizens. To grant student loans to international students, private lenders often require co-signers who are U.S. citizens.
State and Non-Profit Loans
Although many states have their own loan programs they are more similar to private loans than federal loans.
Credit Union Loans
Private loans are also available through community banks and credit unions. You may be able to get better terms and lower interest rates if you already have a relationship with one of these banks.
Bankruptcy Private Student Loans
Prior to 1976, borrowers had the ability to discharge federal and private student loans in a bankruptcy. However, this changed with the introduction of the U.S. Bankruptcy Code in 1978.
To discharge a private student loan in bankruptcy, you first need to file for Chapter 7 or Chapter 13 bankruptcy.
During your bankruptcy application, you'll need to show that you meet the requirements for the undue hardship provision if you want to try and get your private student loan discharged through bankruptcy.
If you have a student loan in the collection, you could get it discharged through a Chapter 7 bankruptcy. It's best to work with an attorney if you want to go this route.
Income Share Arrangements
An income share agreement (or ISA) provides funding for college. You repay it based on your future earnings. If you are looking to enter a highly-paid profession, an ISA is a better option than high-interest loans such as federal PLUS loans and private student loans.
The best repayment terms are likely to be offered.
Loans for Medical School
For medical students with excellent credit, private student loans might offer lower interest rates than federal loans. They don't offer forgiveness options if the student works for a non-profit hospital after graduation.
This would allow you to be eligible for federal Public Service loan forgiveness.
Institutional Loans
This type of loan is offered by colleges directly. Institutional loans don't have standard features like interest rates, terms, and repayment options. Before you accept it, make sure to consider all aspects of the loan.
Bootcamp Loans
Personal loans are better than credit cards and high-interest personal loans if you need to borrow money to pay for your coding BootCamp.
Bootcamp loans can have lower interest rates and offer more flexible repayment terms for students.
Bar Exam Loans
These loans can be used to cover costs that traditional student loans don't, such as prep classes, living expenses, and exam application fees.
This is while law students or graduates are studying for the bar exam. Bar loans typically have higher interest rates than federal or private student loans.
Student Loan Refinancing
Refinancing student loans may be possible after you have graduated and shown responsible payment records.
This is when a private lender will pay off your student loans and give you a new repayment plan and a lower interest rate. Refinances require a minimum credit score of 690.
Federal loan protections will be lost if federal loans are included in the package.
Refinance your student loans to save money. You can replace your existing loan with one from an independent lender at a lower interest rate. Make sure you are making the right decision before refinancing student loans.
Refinance Loans for Parents
Refinance PLUS loans are often a good option for parents. The interest rates on PLUS loans are higher than usual, but parents with strong credit and long credit histories will likely get a lower rate.
Refinance Loans for Medical School Students: During residency
Lenders may offer student loan refinancing programs for medical residents. This could lower your monthly payments or interest rate. Refinance again after residency to receive a lower interest rate.
Refinance Loans for Medical School Students: After Residency
You're a great candidate for refinancing as an attending doctor with a strong income and excellent credit rating. If you are planning to use federal loan programs such as income-driven repayment and forgiveness, be careful.
Conclusion
When it comes to paying for your tuition you need to make the right decision as it may impact your financial future. Getting out of student loan debt is one of the first steps to start investing in your future.
That's why you should always compare your loan options carefully and choose the funding option that works best for you.
Can you refinance federal student loans?
No. You can only refinance student loans with a private lender. You can consolidate federal student loans, though, but it won't lower your interest rate.
Do student loans affect credit score?
Student loans could affect your credit score positively or negatively. Student loans are a type of installment loan so when you skip a payment, it could hurt your credit. However, federal student loan servicers typically wait at least 90 days before reporting late payments to the major credit bureaus, but you may be charged a late fee.
Can private student loans be forgiven?
Student loans aren't typically forgiven and forgiveness opportunities are only available to federal student loans. Unfortunately, there isn't much relief for private student loan borrowers. 
However, if you have a private student loan you can consider these relief options:
Loan payment assistance programs: many states have these programs and eligibility requirements can vary by profession. 
Refinance: Borrowers with a good credit history could get a lower interest rate by refinancing their student loans. 
Settlement: Some private student loan providers may accept settlements from borrowers who have defaulted on their payments.
Disability or death: loans can be canceled due to permanent disability, depending on the lender. It may also be canceled if the primary borrower dies, although some lenders may still hold the co-signer responsible.