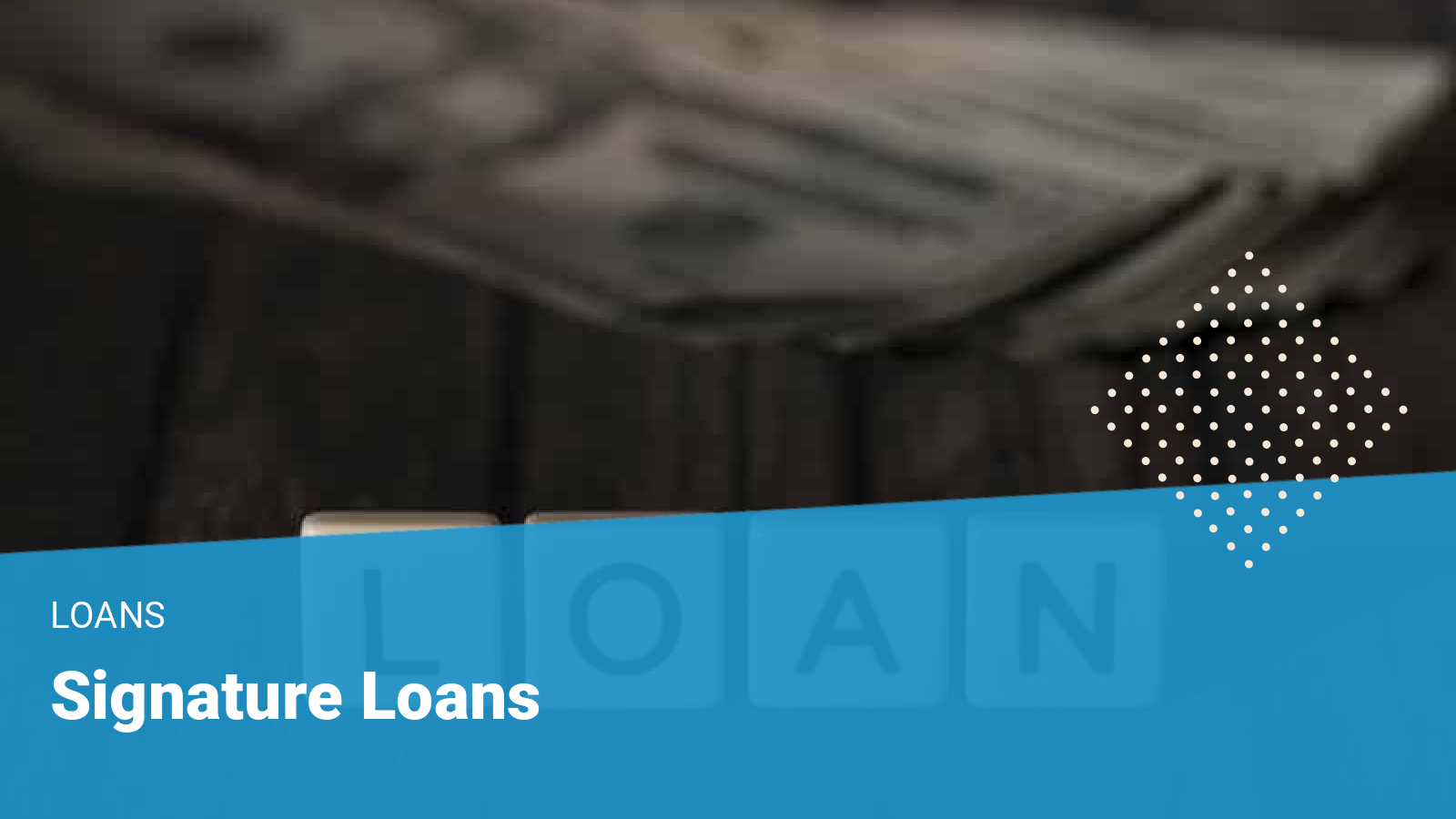 When you're in need of a loan, you have many options available to you depending on the use of the funds. These include mortgages, auto loans, and cash advances. However, when none of these fits your needs, signature loans are another option to consider.
Signature loans are exactly what they sound like: just by signing your name on the dotted line (or clicking "sign here" on an electronic signature form), you can get a loan without putting up any collateral or having to apply for a specific purpose.
With household debt exceeding $16.1 trillion in the second quarter of 2022, borrowers are increasingly looking at loan options, which is why signature loans have become so popular.
But what does it take to get approved for one of these types of loans? How do they work? And how can you find out if you're eligible?
In this review of signature loans, we'll look at all that and more—and answer some frequently asked questions about these loans.
What is a Signature Loan?
A signature loan is an unsecured loan, meaning that it doesn't require you to use any collateral as a guarantee of repayment.
Signature loans are available to anyone with a good credit history and steady income.
Signature loans have some advantages over other financial products: First, they can help you get money when you need it fast.
In addition, because there's no collateral involved —unlike car title loans or payday advances—you are essentially giving the lender your signature as assurance that you will repay the loan.
Signature loans can help those who want to consolidate debt to a lower monthly payment over time by taking out one larger sum instead of several smaller ones spread out over months or years (and paying off each of those smaller debts).
Signature loans are widely available to those with great credit histories. Borrowers with lower credit scores can expect to see very high APRs if they even qualify for a signature loan.
Why are signature loans so hard to get? Because they are completely unsecured.
The only thing keeping the borrower from paying it is the potential damage to their credit report. If the borrower defaults, the bank has no real recourse or collateral to seize. The lender may attempt to sue, but this is generally unsuccessful and expensive.
How Do Signature Loans Work?
Signature loans are also known as cash advance loans. They're unsecured, meaning you don't need to put up collateral with the lender to borrow money.
This makes them easier to get than other types of loans, like mortgages and car loans.
Signature loans are not always credit-based loans; they may not require credit checks or approval from a bank or other financial institution before you can apply for one.
They can be approved within 24 hours and have very little paperwork involved with the process—many people receive their approval within hours after submitting an application online or over the phone.
Typically, you'll repay signature loans in fixed monthly installments over a set period of time which can be several months to several years.
Who are Signature Loans for?
Because signature loans aren't secured, lenders will rely more heavily on your creditworthiness, weighing your credit score and debt-to-income ratio rather than your collateral.
This makes signature loans best for those with good credit scores and low debt-to-income ratios. Having a good credit score can also give you the best chance at qualifying for a lender's lowest APR rates.
💡 Struggling to qualify for a signature loan? Here are eight ways to improve your credit score.
What is the Best Way to Use a Signature Loan?
Signature loans can be used like any other personal loan, but are often used in emergency situations. If you need money quickly and don't have time to wait for a traditional loan to go through, then a signature loan can be an excellent option.
While they are not as easy to obtain as other types of loans, they offer flexibility that can help you get out of trouble when you're caught off-guard financially.
Signature loans are also an option for those who already have an emergency fund and want another source of cash in case they run into an unexpected expense or need more money than their emergency fund will cover.
Keep in mind that this is only an option if you have a good credit score or a guarantor who can back you up!
The Pros and Cons of Signature Loans
While signature loans are similar to other loans, there are a few key benefits to them. Here are a few benefits of a signature loan:
Pros

Quick access to funds

No collateral needed

Can be used for anything

Can get signature loans online or in banks
Like any other loan, there are a few cons to getting a signature loan:
Cons

May lead to unnecessary spending

Loan amounts are generally smaller

Strict credit requirements

Shorter repayment terms
Signature Loans vs. Personal Loans
In the broad scope, these are one and the same, as signature loans are forms of personal loans. Here are the key differences:
A personal loan may require collateral
Personal loans may have restrictions on what you can use them for
Signature Loans vs Revolving Credit
Applications for regular credit and revolving credit loans usually trigger a funding delay while your bank or lender reviews your credit history and checks your personal qualifications.
By contrast, the loan proceeds are deposited into the borrower's bank account sooner, allowing them to allocate the funds to their financial needs sooner.
Once a signature loan is paid back, the account is closed and the borrower must reapply for another loan if they need additional funds.
A revolving credit account allows the debtor to pay back the loan and maintain the credit line until he or she wants to stop using the card or line of credit.
Can I Get a Signature Loan with Bad Credit?
You can potentially get a signature loan with bad credit. However, the best way to be approved is by improving your credit score.
The score is based on the factors in your credit report. It's important to be aware of what goes into this calculation so you can keep your score high.
>> Compare loans for bad credit here
The main factors that go into determining a person's credit score are:
The amount owed on each account (credit utilization)
How long the accounts have been open (older accounts with higher balances will weigh more heavily)
How many new accounts have been opened recently (too many recent openings can negatively affect your score)
Who Offers Signature Loans Online?
You may wonder, 'who offers signature loans near me?' without having to go to a traditional bank. There are a variety of options for borrowers looking for signature loans online. Here are some of the best:
Payday Loan Lenders
These lenders often offer funded payday loans with as little as $100 in your account, but they can charge high fees and interest rates.
Credit Unions
Some credit unions offer signature loans to their members. The interest rates are usually lower than those offered by other lenders.
For example, according to the National Credit Union Administration, the national average rate for a three-year unsecured personal loan was 8.84% on June 2022.
By comparison, the national average rate at a bank was 10%. To get a signature loan, you need to be a member or apply to become a member.
Direct Lenders
These are direct-to-consumer financial services providers that specialize in offering loans to consumers who may not have access to traditional financing processes because of their credit history or other factors.
Some direct lenders offer installment loans online, while others offer signature loans online without requiring you to go through a traditional lender or bank first.
Lenders that offer installment loans or signature loans with bad credit may require you to undergo a credit check before they approve you for a loan.
You'll need good enough credit history to qualify for these types of financing options; those who don't meet this requirement can check out sites like LendKey and PersonalLoans.com which offer both payday and installment loans.
They can offer more information about alternatives tailored specifically toward borrowers with poor credit scores.
Signature Loans for Federal Employees
Federal employees looking for signature loans can consider approaching the Federal Employee Education & Assistance Fund (FEEA).
Eligible federal employees can get no-interest loans to help them through financial hardships.
You can also approach lenders such as CashUSA.com, PersonalLoans.com, and BadCreditLoans.com to apply for a loan if you have bad credit.
How to Get a Signature Loan
As with virtually all loans, you can always go the old-fashioned route and go to the bank to apply for a signature loan – especially if you want to speak to someone in person who can explain all the terms to you.
Alternatively, you can apply for a signature loan online, making it much easier and more convenient.
The benefits of getting an online signature loan include applying in your PJs, the ability to shop multiple loan sites from the comfort of your own home, and not having a commission-hungry banker breathing down your neck while you check if your budget can handle the payment.
💡 Compare the best signature loans for November 2022.
Here's a quick guide on how to apply for signature loans:
Step 1
Step 2
Prequalify to check your estimated APR
Prequalify to check your estimated APR. Not all lenders offer prequalification, but those that do allow you to see the types of loan terms you may qualify for with a soft credit check.
Step 3
Provide documentation
Provide documentation such as recent pay stubs, tax documents and/or bank statements. Lenders may ask you to provide documents, like a driver's license or passport, to verify your identity.
Step 4
Formally apply for the loan
Formally apply for the loan. At this point, the lender will conduct a hard credit check. Lenders will use your financial information to determine how much money they will lend you, your interest rate, and what fees they may charge you for the loan.
Step 5
Receive your loan funds
Receive your loan funds, which may be disbursed as quickly as on the same day your application is approved, depending on the lender.
Conclusion
As we stated earlier, signature loans come with a lot of risks, so it's best to apply with your credit in tip-top shape to get one.
By now, you should have a better understanding of how signature loans work, who offers them, and more importantly whether this type of financing is right for you.
Of course, if you're still not sure if this loan product is the best option for your needs or want more information about other types of installment loans available today—like peer-to-peer lending or hard money loans—we'd be happy to review your options with you!