Shakeup in the Mortgage Space as Zillow Group Launches Home Loan Arm
April 16, 2019
2 min read
88 reads
Just over 11 years ago, Zillow began connecting prospective homebuyers with lenders via their mortgage lead generation business model. By 2018 Zillow Group successfully reached $1.33 Billion in revenue with plans to double this up over the next few years.
Now Zillow Home Loans, the latest venture of Zillow Group, will be offering you another option when it comes to your mortgage: utilize their end-to-end process to shop for a home, get a loan, and even get an offer on your current home — all within the Zillow ecosystem.
Will Zillow be a Disruptive Force in the Mortgage and Real Estate Industries?
Reactions from mortgage lenders and realtors have been mixed ever since Zillow Group acquired Mortgage Lenders of America last year. Their concerns might be unfounded however:
Zillow received 25+ million requests from borrowers asking to be paired with lenders in 2018. If conversion rates for these leads are as low as 2%, that's 500,000 loans.
Mortgage Lenders of America (now Zillow Home Loans) originated just 4,000 loans in 2018.
According to their Q4 earnings report Zillow group is targeting a goal of 36,000 loans per year over the next three to five years.
The bulk of Zillow's revenue is generated by providing leads to the mortgage and real estate industries, and they are aiming to expand this stream significantly.
Evidence suggests that Zillow is large enough and controls enough of the market to be able to continue providing leads to other lenders and real estate agents as well.
Even if Zillow Home Loans achieves its goal of 36,000 loans per year, their marketshare would be less than 1%, based on an average loan size in the U.S. of approximately $200,000.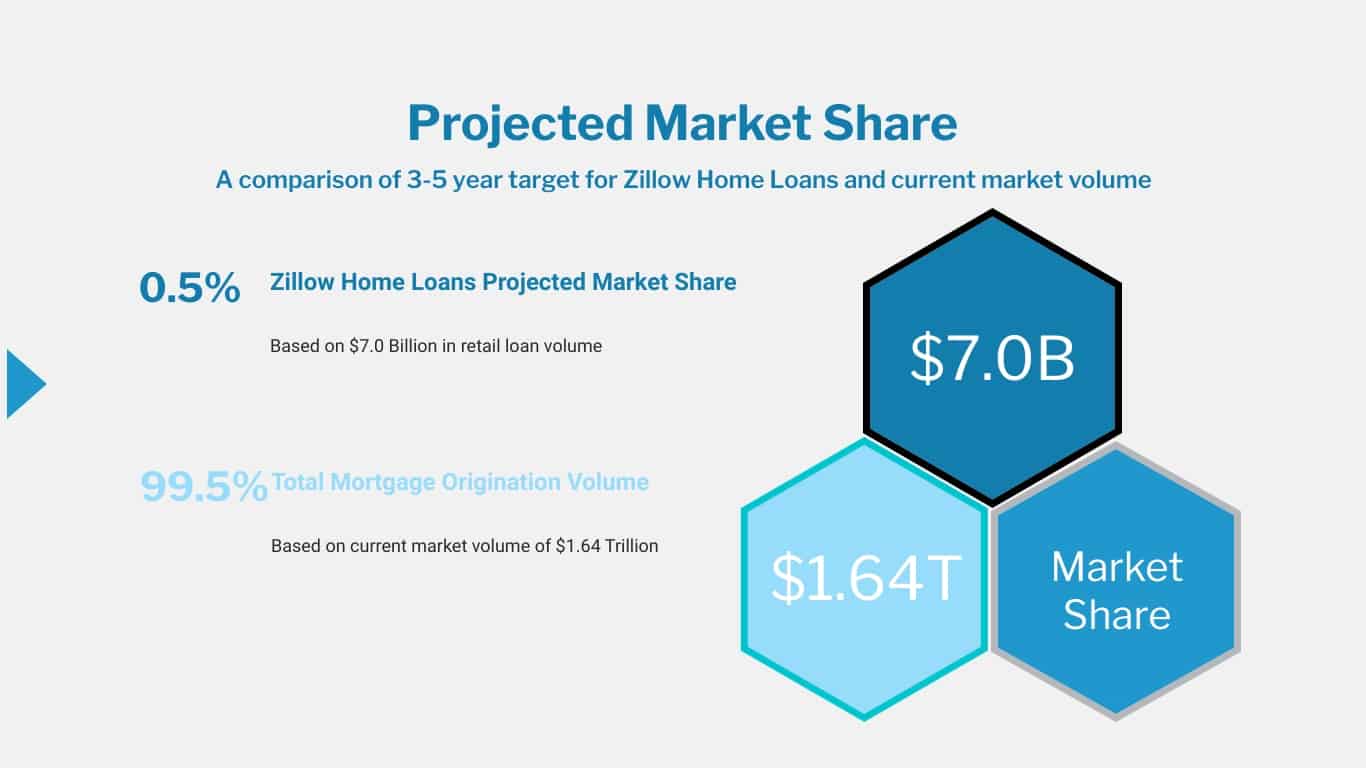 Why is Zillow Entering the Mortgage Business?
According to Erin Lantz, Vice President and General Manager of mortgages for Zillow Group, their move into the home mortgage space is geared towards fixing "the hardest, most complicated part of buying a home." Co-founder and recently appointed CEO Richard Barton announced "We created Zillow Group in 2005 to make the real estate shopping and purchase process easier. Much of our original dream is just now becoming possible."
At least over the next three to five years, their intentions appear to be to continue the rapid expansion of their lead generation services for both lenders and real estate agents alike, including a recently launched feature that would allow agents to pay for leads after the transaction closes, instead of upfront.
How is Zillow Changing the Mortgage and Real Estate Landscape?
By offering an end-to-end experience, Zillow now has the ability to offer you a product or service at every stage of homeownership. From viewing property listings, hiring a real estate agent, and getting a home loan to making an offer to purchase your current home via Zillow Offers, their goal is to cover it all.
Currently, Zillow Offers is driving lead generation towards real estate agents and lenders connected to the Zillow platform. By offering an alternative option — either to purchase potential seller's homes directly and re-sell, or to finance their home directly through Zillow Home Loans, Zillow is positioning themselves to compete with some of their current business parters.
This "friendly competition" dynamic has become commonplace in other industries undergoing significant changes, and now, mortgages and real estate are ripe for disruption as well. Zillow is prepared to change the landscape of these industries once again.