Review of eToro
Summary

Over 17 million users in over 200 countries.

eToro USA residents can trade cryptocurrencies.

User-friendly trading platform.

eToro takes the spread and no commissions are charged.

Users can follow the trades of profitable traders.
What Is eToro?
eToro was founded in 2007 in Tel Aviv, Israel by brothers Yoni and Ronen Assia and David Ring. Since then, eToro has experienced huge growth worldwide, and today they have over 17 million users in over 200 countries.
eToro is seen as a true pioneer in social trading and allows investors to copy the trades of pros. It currently only offers cryptocurrency trading.
eToro is registered in Cyprus, has a license to operate in European countries, and is a regulated Financial Conduct Authority in the U.K. These credentials may be comforting to eToro USA users since eToro is not currently licensed by the U.S. Securities and Exchange Commission.
Keep in mind that cryptocurrency brokerages are not insured by the Securities Investor Protection Corporation (SIPC).
eToro is authorized by the Australian Securities & Exchange Commission (ASIC) and the Financial Conduct Authority (FCA)
eToro has plans to go public and has raised around $650 million from investors such as Softbank Vision Fund II, Fidenlity Management & Research, and Third Point LLC. eToro has been valuated at $10,4 billion.
eToro is available in 43 states and although all U.S. residents can sign up for an account, cryptocurrency trading is unavailable for residents in these states: Delaware, Hawaii, Minnesota, Nevada, New Hampshire, New York, and Tennessee.
The security features of eToro include:
Biometric access for mobile apps
No excess SIPC insurance (once stock trading is enabled in the U.S.)
Registered in Cyprus
Products Offered
eToro offers the following:
Crypto trading
CFD trading
Investing
How eToro Works
With eToro you can start trading with as little as $50 and eToro fees start at 0.75%. With its innovative trading platform, investors can mirror successful traders.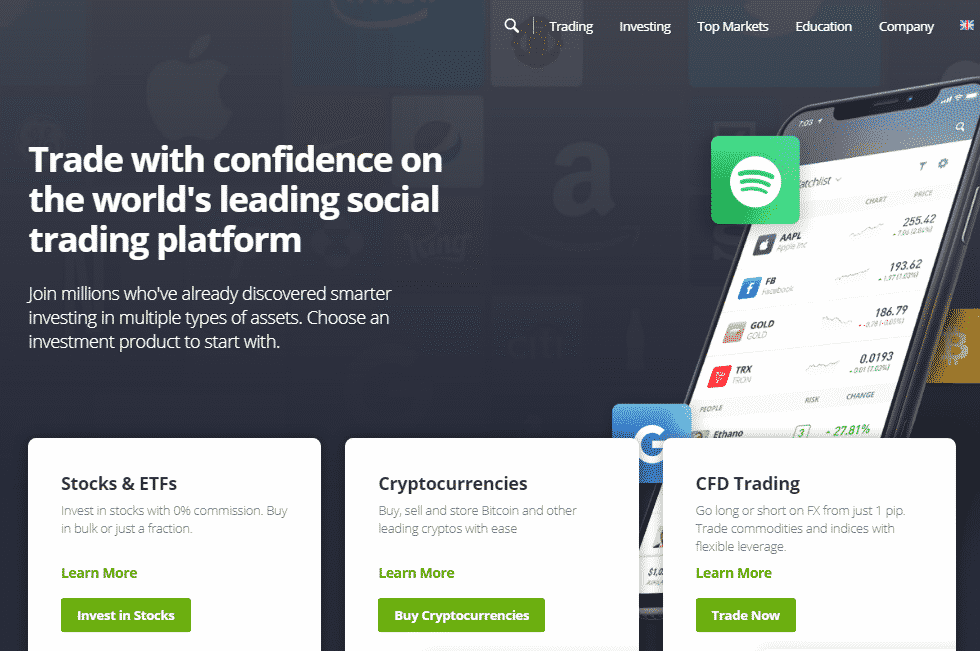 Social Trading
With eToro's CopyTrader you can copy and automatically trade based on the moves of other top traders. Simply choose the investor you want to copy from, and start mimicking their positions with a click of a button.
You have the option of a stop-loss level to reduce possible losses.
You'll need a minimum of $200 to copy a user and the maximum is $500,000. You have the option to copy up to 100 traders automatically and even without CopyTrader users can still view portfolios and scores of millions of traders.
Cryptocurrencies
eToro currently offers a total of 17 cryptocurrencies for customers in the U.S. to trade. Compared to other exchanges such as Coinbase and Binance.US, eToro offers fewer cryptocurrencies – yet more than brokerages such as Robinhood.
eToro clients can currently trade in these cryptocurrencies: Bitcoin, Ethereum, Bitcoin Cash, Ethereum Classic, XRP, Litecoin, Dash, Stellar Lumens, NEO, EOS, Cardano, IOTA, Zcash, TRON, Tezos, Dogecoin, Uniswap, and Chainlink.
Digital Wallet
eToro offers a free digital wallet to users to store cryptocurrency and it is available for iOS and Android.
To convert crypto into fiat currency and vice versa costs 5% and this may be a bit costly for some users. The minimum and maximum transactions are $125 and $10,000 respectively.
Rates & Fees
The minimum trade is $25 and the account minimum is $50. If you want to use eToro CopyTrader the account minimum is $200.
When it comes to eToro fees, they charge round-turn fees, meaning one fee for both buying and selling. Spreads are typically between 1.0% and 2.9% (check eToro's website for current pricing).
In comparison, SoFi charges a markup on crypto transactions of 1.25% and TradeStation charges 1% for balances up to $100,000. Robinhood charges no fees for trades.
eToro fees depend on your location and the type of asset you trade:
Users in the U.S. pay 0.75%-5.0% for cryptocurrency trades.
When trading stocks, non-U.S. users pay no commission for opening or closing a long position.
When buying assets other than their home currency, non-U.S. users pay a currency conversion fee.
Accounts with no activity for 12 months will incur a $10 inactivity fee.
There are no fees for withdrawals of funds for users in the U.S. although the minimum withdrawal is $30.
Users outside of the U.S. pay a $5 withdrawal fee.
There is a fee for transferring cryptocurrency out of eToro into your own wallet.
eToro's fees are based entirely on the spread – this refers to the difference between what you pay for the eToro crypto and what it is selling for.
This spread differs depending on the type of coin and may fluctuate based on market conditions. With eToro you'll only be charged once for each of your assets, when you buy.
| | | | | |
| --- | --- | --- | --- | --- |
| Bitcoin (BTC) | Ethereum (ETH) | Litecoin (LTC) | Dash (DASH) | Bitcoin Cash (BCH) |
| 0.75% | 1.90% | 1.90% | 2.90% | 1.90% |
Some of the current spread fees for eToro
How to Open an eToro Account
Step 1
Sign up online
Visit eToro's website to sign up for an account. 
Step 2
Submit your documentation
Submit the required information to have your identity verified.
Step 3
Pay the minimum deposit
The minimum deposit for residents in the U.S and Australia is $50. Residents from all other countries require a $1,000 minimum to open an account (accordint to eToro's website this is a temporary increase from the previous $200 minimum).  
Step 4
Start trading
Once your identiy has been verified and your account is approved, you can start trading right away.
Our eToro Review
Pros

Easy account opening

Easy to use trading platform

17 cryptocurrencies avaialble

Social trading experience

Free ETF and stock trading

Two highly-rated apps for iOS and Android.
Cons

High non-trading fees

Only one account base currency

Not available in all U.S. states
Is eToro legit? Yes, and we recommend eToro. The easy-to-use eToro crypto trading platform is a great benefit and it is registered in two tier-1 jurisdictions.
It is excellent for social copy trading as well as cryptocurrency trading and is a favorite in both categories.
eToro is slightly pricier than their top competitors although they recently introduced zero-dollar commissions on U.S. stock trading.
Want to read more on eToro, visit the eToro website here.
FAQs
Is eToro right for me?
eToro is ideal for cryptocurrency investors who want to follow the trades of sucessful crypto traders with eToro's social trading platform. 
Is eToro legit?
Yes. eToro started in 2018 in the U.S. Outside of the U.S., investors started using eToro in 2007.
Can I trade from anywhere in the U.S.?
Anyone in the U.S. can open an account but crypto trading is limited to only 43 states.