Review of Cash Store
Summary

A reputable short-term cash lender

No credit history needed.

Cash advances and installment loans up to $5,000, title loans up to $25,000.

Available in Idaho,  Utah, Texas, Illinois, Michigan, Wisconsin, and New Mexico.
What Is Cash Store?
The Cash Store has been offering emergency lending since 1996. They are a cash loan lender offering cash advances, installment, and title loans.
They have three different loan options: Cash Advance, Installment, and Title Loans. The loan terms and availability differ by state.
Cash Store is available in seven states: Idaho, Utah, Texas, Illinois, Michigan, Wisconsin, & New Mexico. They have over 340 locations.
>> Don't live in these states? Find a loan in your state here.
Because of the different loan types, the loan amounts vary. Cash advance and installment loans can be up to $5,000. Title loans can be up to $25,000.
Product Offered
Cash Store offers the following:
Cash advance
Installment loans
Title loans
How Cash Store Works
Cash Store is unique in that they have both an online presence and brick-and-mortar store locations in specific states.
Cash Store applicants do not need a credit history to apply for a loan.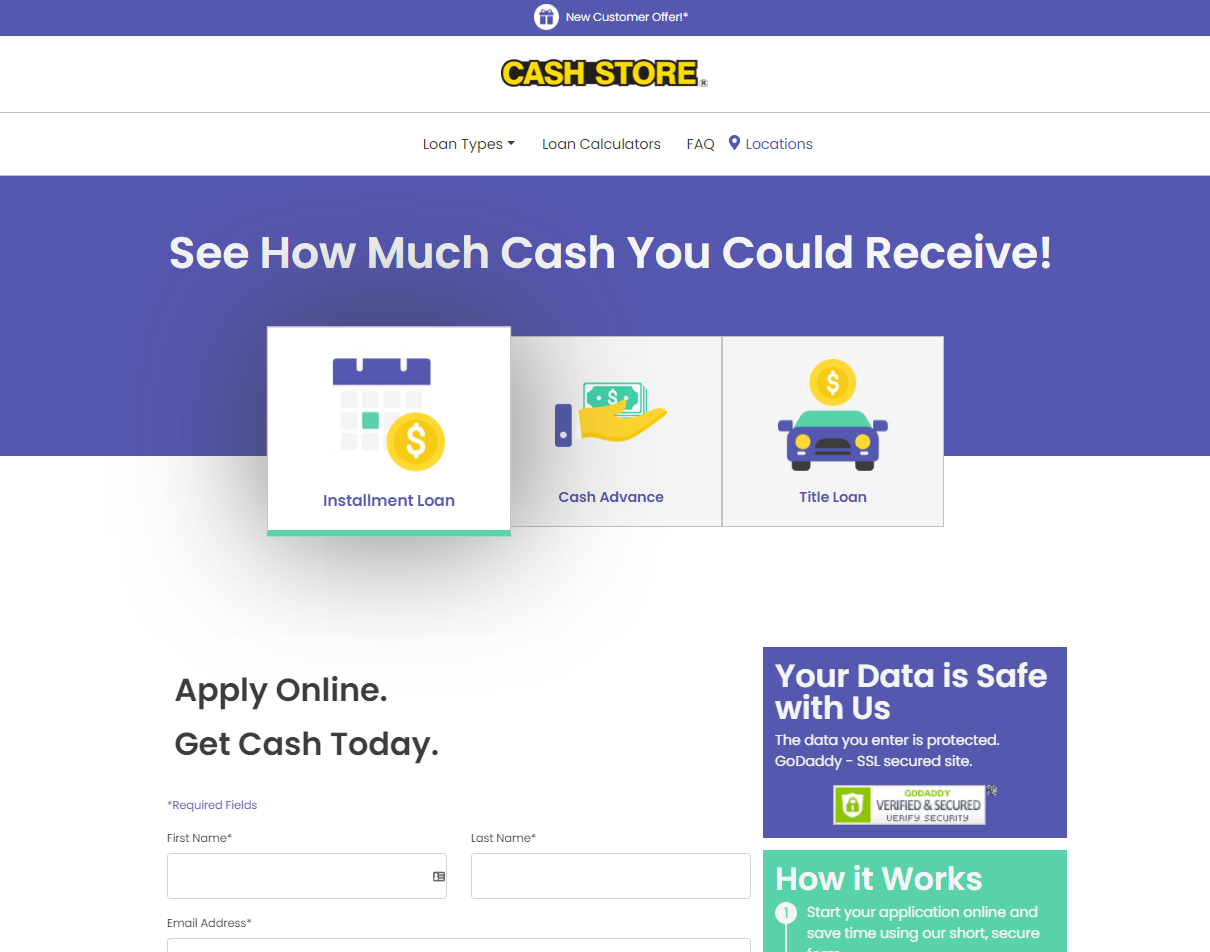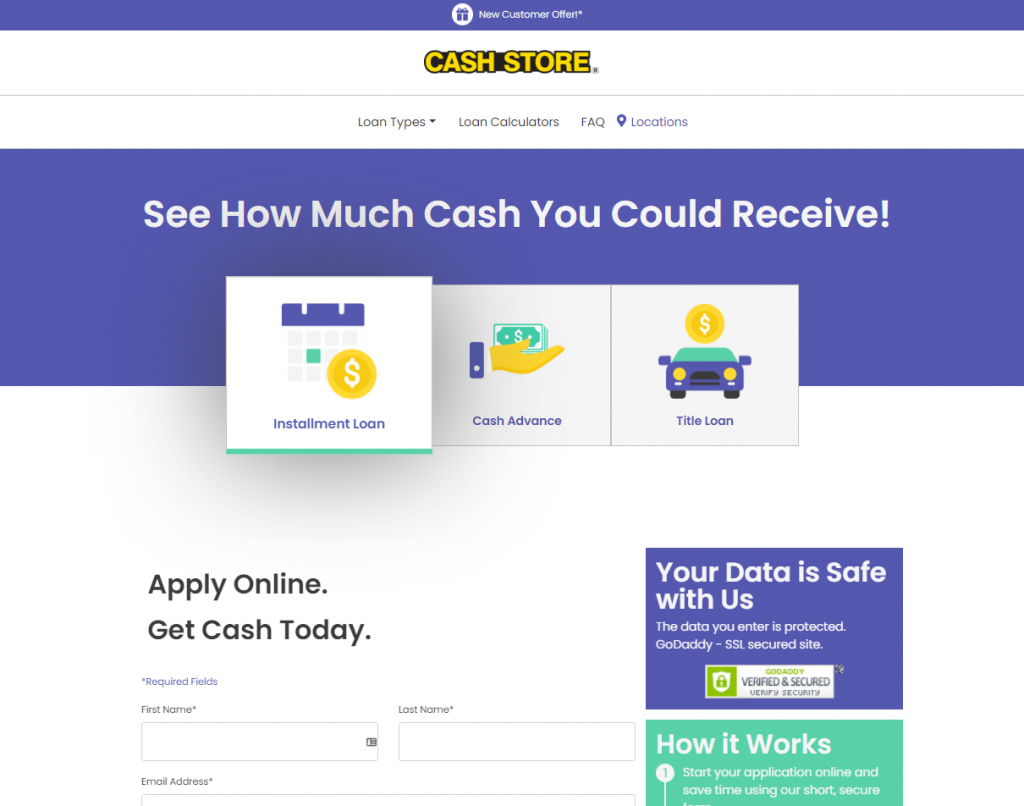 Because Cash Store does not require a credit check, they require some documentation of income to ensure a customer is a viable option.
Documentation can be a pay stub, social security check, or other proof of income. Cash Store loans are available in these states:
Idaho
Illinois
Michigan
New Mexico
Texas
Wisonsin

Borrowers do all necessary paperwork online and then visit a physical Cash Store near them to get cash in hand within 20 minutes.
Loan Requirements
Here are the loan requirements when applying for a Cash Store loan:
Age 18 or older (depending on state requirements)
Live in a state serviced by Cash Store
Regular source of income
A state-issued ID or driver's license
Active checking account

The Cash Store website is where you initially apply for your loan. Once you have entered your information, the site will inform you of the amount you can borrow.
The Cash Store website is simple to use. It offers an informative FAQ section and has a straightforward layout.
If you have exhausted all other alternatives and need Cash on the spot for an emergency, they will offer this service.
However, if you have time to shop around and have a good credit score, then looking for a cheaper lender may be advisable.
Rates & Fees
The Annual Percentage Rate (APR) for installment loans can be as high as 780%.
Example: The APR for a $500.00 217-day installment loan with automatic debit authorization is 388.55%. The loan consists of 6 payments of $190.94 and a final payment of $190.88 due at maturity. 
Payment Terms
Payment terms depend on the type of loan you take out. Installment loans are offered with monthly repayments, whereas cash advances are paid back in one single payment on your next pay date.
Title loans are based on the value of your car and are repaid on a monthly basis. Title loans are available for up to $25,000.
How To Apply
Cash Store works in a unique way compared to most lenders. Their process of getting a loan is divided into two portions: the online application and paperwork, and the physical location for cash pickup.
Step 1
Visit the Website
Head over to Cash Store's website here.
Step 2
Apply
Complete and save the application form online.
Step 3
Submit Your Documents
Gather your required documents and head to the closest physical Cash Store near you.
Step 4
Get Approved
Complete the process and receive your money the same day.
Cash Store should be considered if you have bad credit and have exhausted all cheaper lending options.
The site does not offer a login service to view your loan payments or apply for any changes you require.
Find A Lender In Your State
Our CashStore.com Review
Pros

Fast Cash (within minutes)

Easy 2 step application

Both online and store locations available
Cons

Only available in 7 states

High APRs

Cash must be picked up in-store

No login service to view payments
At Financer.com, we recommend borrowing money cautiously. Only borrow what you need and try to find the lowest APRs possible.
Cash Store is a reputable lender that provides quick cash on the spot. With this in mind, you are paying a premium for this kind of service. Again, if you have a good credit rating and time to shop around, do so.
There may be some seasons in life that there are no cheaper alternatives, and you need a cash injection instantly.
Cash Store Frequently Asked Questions
What states does Cash Store cover?
Idaho, Utah, Texas, Illinois, Michigan, Wisconsin, & New Mexico
How fast can I be approved?
Same day approval, even as little as 20 minutes, but be advised a premium is paid for this service.
Would there be any reason I couldn't get a Cash Store loan?
Criteria are listed above. These are essential to securing a Cash Store loan. Another possible reason could be that you are out of state.