Review of LendKey
Summary

Pre-qualify without a hard credit check.

Forbearance of 18 months for 15-year and 20-year loans.

Low loan rates.

Exceptional customer service.
What is LendKey?
LendKey was founded in 2009 as a lending service platform. The company simplifies the borrowing process by connecting borrowers with multiple banks and credit unions through a straightforward platform.
LendKey prides itself on offering a seamless online lending service.
LendKey values privacy and does not share personal information with third parties. With over 99,000 customers and counting, LendKey has serviced more than $2 billion in loans to date.
The main LendKey offerings are new and refinanced private student loans and home improvement loans.
Products Offered
LendKey offers the following:
Private student loans
Student loan refinancing
Home improvement loans
Private Student Loans
With private student loans from LendKey, you may be able to borrow up to 100% of your school-certified cost of attendance. You don't need a cosigner although you may get better rates when adding a cosigner to your loan.
Refinancing Student Loans
Refinancing student loans from LendKey offers rates as low as 1.90% variable APR with AutoPay. Loan rates are available from five to 20 years.
Home Improvement Loans
How LendKey Works
LendKey partners with hundreds of banks and non-profit credit unions to help borrowers achieve their dreams. Loans are funded by these partners and this helps to keep interest rates lower.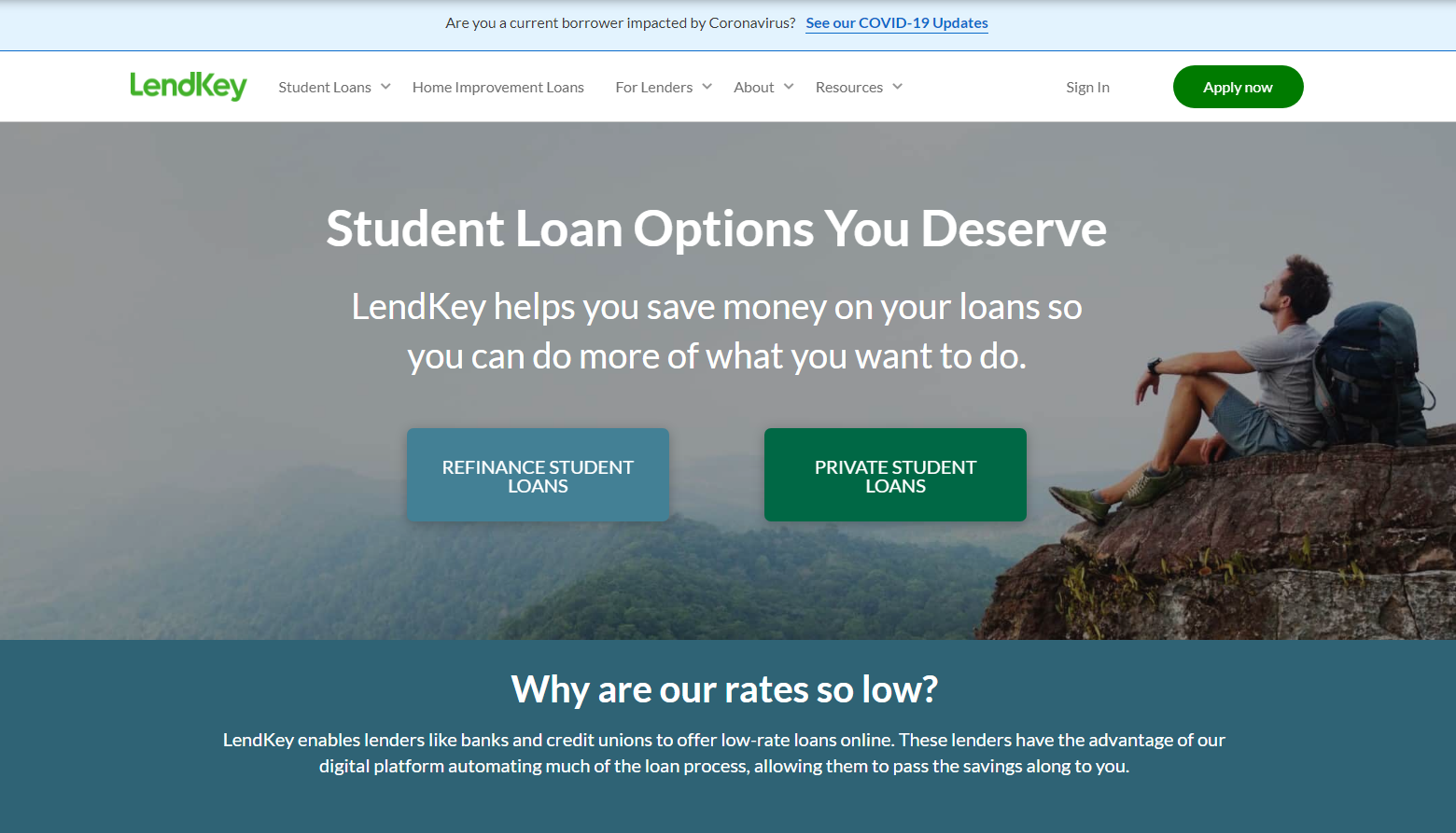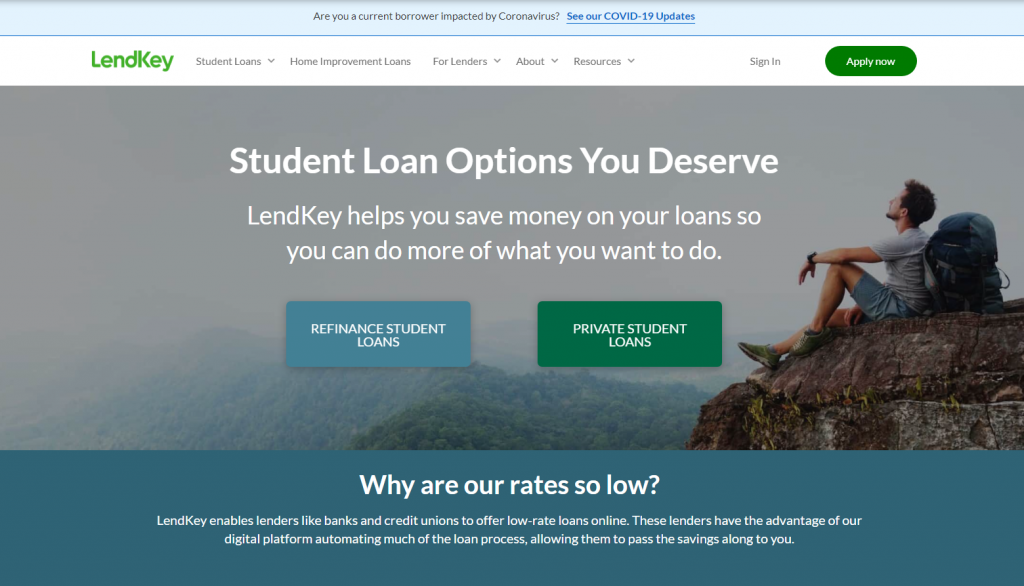 Loan Requirements
When applying for a LendKey student loan, borrowers need to provide information on the school they are attending, the loan amount required, the academic period they are applying for, and their Social Security number.
To qualify for student loan refinancing, you need to be a U.S. citizen or permanent resident and already graduated with an associate degree or higher from an eligible institution. You may also need to provide your credit history and income.
Rates & Fees
Your credit score determines your APR; therefore, if you are young and do not have a great credit score yet, you may pay a higher interest rate. They do offer a consigning option, which will reduce your interest rate.
These student loans are credit-based so your APR will be determined by your credit history. Please note that some lenders may charge late fees.
Payment Terms
No academic or military deferment.
Payments can be postponed on 5, 7- and 10-year loans for up to four months at a time but no longer than 12 months in total. For 15- and 20-year loans, payments can be postponed for up to six months at a time, but no longer than 18 months in total.
Co-signers can be released after 12 months providing all payments have been made on time.
Loan agreements do not guarantee death or disability discharge.
Our LendKey Review
Pros

APRs from 2.99% variable or 5.35% fixed.

No application fees.

Cosigner option to reduce rates.

No early payment penalties.
Cons

Applicants need a credit history and a steady income or a cosigner to be considered for approval.

Loan acceptance can take up to 30 days.
Reputation
LendKey is a trusted online lending platform. They have over 99,000 customers and hundreds of bank and credit union partners.
With low rates and a smooth, straightforward process, LendKey has built a strong, trustworthy reputation. LendKey focuses on private student loans and home improvement loans.
Website
The LendKey website is streamlined. They have created a simple process that connects borrowers to hundreds of community banks and credit unions. Because of their automated online lending system, they can offer lower loan rates.
LendKey offers a simple application process through its website. Once accepted, you can access your LendKey account information through the online login.
Customer Service
Although they are an online company LendKey offers customer service support calls between 9 am – 8 pm EST Monday to Friday. They are also contactable through email at customer.care@lendkey.com.
Does Financer.com Recommend LendKey?
Yes. LendKey is a proven, trusted lending service that connects borrows with banks and credit unions.
If you have exhausted all of your college funds, scholarship options, and federal student aid, then LendKey is an optimal lending platform to consider.
Read more LendKey reviews below or add your own.
LendKey FAQs
How much can I borrow?
You can borrow up to 100% of your attendance cost. This may include textbooks, room and board, tuition, and other related expenses.
Do I need a cosigner?
Not necessarily. However, it may improve your chances of getting approved. Private student loans are credit-based so if you have poor credit or no credit history at all, you can apply with a cosigner to meet the loan requirements. Applying with a cosigner may also help you qualify for better loan terms. 
When should I apply?
It is recommended that you apply for a student loan at least one month before your fees are due. It generally takes less than 30 days for a loan teo be approved but in some cases it can take a few weeks.