Review of MoneyKey
Summary:

Lines of credit range from $200 to $3,500.

No additional fees for early settlement.

Same business day funding.

Loan repayment between 36 and 60 months
What Is MoneyKey?
MoneyKey is a direct lender founded in 2011. In Texas, MoneyKey arranges and services loans as a Credit Access Business.
MoneyKey is available in 10 states across the USA and offers loan products with a focus on underserved consumers.
Over time, it has proven to be one of the most popular lenders in the states where they do business.
Their main offices are located in Wilmington Delaware, but their services are available online in multiple other states across the nation.
Loans from $200 to $3,500
Same business day funding
Service 24/7
No early repayment penalty fees
Products Offered
MoneyKey offers the following:
Installment loans
Lines of credit
MoneyKey Installment Loan
MoneyKey offers or arranges installment loans, which have a broad borrowing range. Depending on the state you live in, you can borrow between $200 and $3,500 with easy repayment terms.
Repayment on Money Key loans usually starts on your next pay date and the remaining installment loan payments are set to line up with your pay frequency.
You can choose to pay off an installment loan through MoneyKey early without being charged extra fees.
MoneyKey Line of Credit
A line of credit is an open-ended loan that gives you all the benefits of a traditional loan; however, you have control over your cash flow and payment options.
With MoneyKey you can apply for a line of credit 24 hours a day. There are two types of credit lines offered:
The MoneyKey Line of Credit in Tenessee and Kansas
The CC Flow Line of Credit (a division of Capital Community Bank) in Alaska, Arizona, Arkansas, Hawaii, Louisiana, Minnesota, Montana, Oklahoma, Oregon, and Wyoming.

Once approved, you can withdraw funds as needed up to your credit limit. For MoneyKey, the credit limit ranges from $200 to $2,000, depending on your state and certain qualification criteria.
You'll have to make your minimum monthly payment and you only pay interest on the amount of credit you use.
How MoneyKey Works
MoneyKey is a direct online lender in most states. In Texas, MoneyKey arranges and services loans as a Credit Access Business.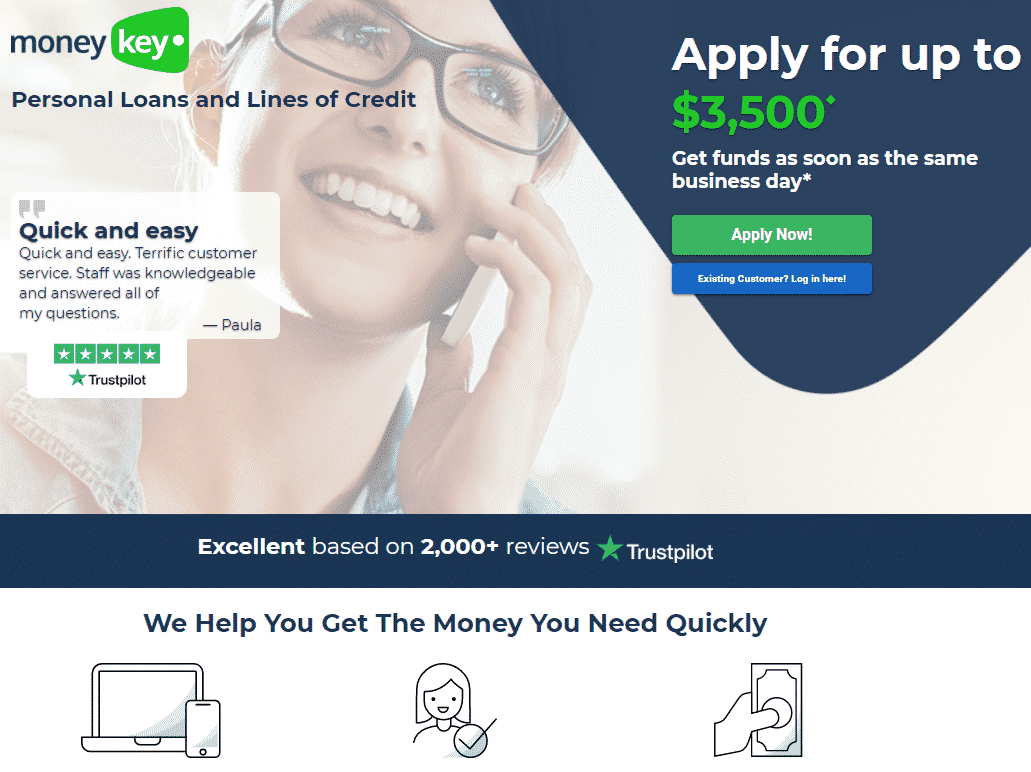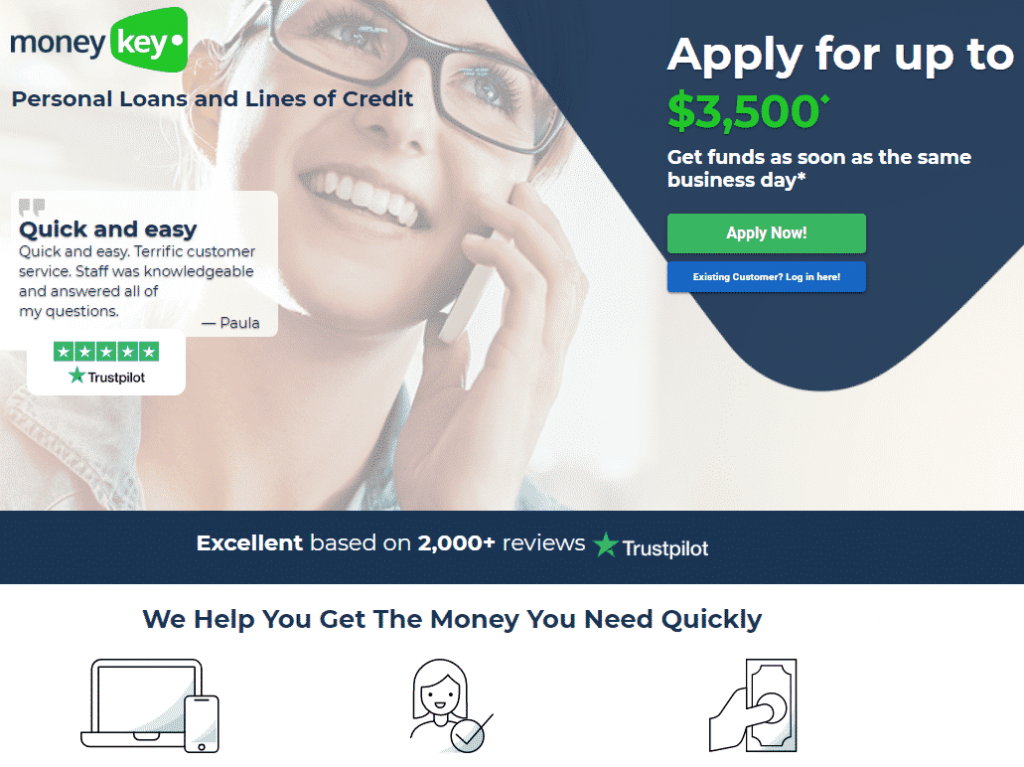 Installment loans and lines of credit through MoneyKey are offered to consumers who are typically underserved at traditional financial institutions.
Applying for MoneyKey loans is easy and convenient, as it can be done 24 hours a day from the comfort of your home. MoneyKey also has a Customer Care team that can help you with your application when you need cash fast.
Loan Requirements
Be of legal age to contract in your state of residence
Be a U.S. citizen or a Permanent Resident
Have an active bank account
Have a regular source of income
Have a valid contact number and an active email address
MoneyKey loans are available in these states:
Delaware
Idaho
Kansas
Mississippi
Missouri
New Mexico
Tennessee
Texas
Utah
Wisconsin
Rates and Terms
MoneyKey offers APRs based on your state but in general, this can range between 174% and 298%.
Note: Borrowers in Idaho may see APRs as high as 505%.
Payment Terms
Repayment terms between six months and 36 months are available for short-term loans. MoneyKey does not charge an origination fee.
MoneyKey also does not charge a late fee if you miss one of the payments and there is no charge for early prepayments.
Note: Borrowers in Idaho get up to 10 months to repay and can choose between weekly, bi-monthly, and semimonthly payments.
How To Apply for a MoneyKey Loan
Step 1
Apply online
Submit an online application form on the MoneyKey website or call to apply over the phone.
Step 2
Review and sign
Once completed, review and sign your loan agreement.
Step 3
Get approved
If approved, you will receive your funds as early as the same business day.
There's no need to subject yourself to a lengthy, in-person experience as getting a loan from MoneyKey is hassle-free and convenient.
As an online lender, MoneyKey makes borrowing money fast and easy.
Loans from $200 to $3,500
Same business day funding
Service 24/7
No early repayment penalty fees
Our MoneyKey Review
Pros

Broad Loan Range: Money Key loans range from $150 to $3,500. Borrowing is fast and easy, the amount depends on your state of residence.

Same Business Day Funding: Funds are deposited in your bank account as soon as the same business day, depending on the time of the request.

Early Repayment Option: Pay off your loan early without being charged extra.

Hassle-Free Cancellation: No fee for canceling your loan within 3 days

Transparent Fees: All fees are made clear during borrowing, no surprise future fees.

Easy Repayment: Payment schedules that are in line with your pay frequency, varies by state.
Cons

APRs can be as high as 298%.

Loans for Idaho borrowers attract higher APRs
MoneyKey is a leading online lender, having built its reputation over the years on outstanding customer service and transparency.
MoneyKey makes all of its loan fees clear during the borrowing process and does not add additional fees for late payments.
You can contact MoneyKey's Customer Care team to find out more about fees and the types of loans available in your state. Your situation may call for a line of credit or installment loan.
Responsible Lending
MoneyKey does not want to see you sink deeper into debt and therefore encourages responsible lending.
As with any loan, there are financial risks involved in taking out Money Key loans. They should only be used when you're temporarily short on cash, not as a long-term financial solution.
MoneyKey encourages you to read its loan terms and conditions carefully to ensure the loan is right for you.
It's also important to ensure you:
Read the privacy policy. MoneyKey safeguards your personal information and has a privacy policy in line with industry standards.
Are able to repay the money within the loan term.
Are not taking out a loan to pay off another loan.
Understand applicable fees and interest. Remember that extending the term of a loan may result in additional fees/interest.
Support
We have had a good experience with MoneyKeys customer support. They can be reached via their online chat feature, or on their toll-free helpline and they're well trained and friendly when assisting their customers.
We opened up the live chat (during their posted hours) and got connected to a representative immediately who helped us with general questions.
MoneyKey's email response times have been impressive with same-day communication.
Website
We love simplicity, both in functionality and design, and the MoneyKey site delivers on each of these fronts. It's easy to understand their website, and the loan application was very smooth.
It took us less than 10 minutes to fill out the application from beginning to end. They do a particularly good job of making every step clear and straightforward.
Customers can use the MoneyKey login directly from their home page via email and password. The website is straightforward and easy to navigate.
Does Financer.com recommend MoneyKey?
Yes, we do. This is one of the most popular lenders we have reviewed.
Their site and application process are streamlined and simple and provide reliable customer support.
As with any installment loan, make sure you understand the interest rates and fees so that you can comfortably afford the repayments.
FAQs
How much can I borrow with MoneyKey?
Loan amounts will vary by state, but you can borrow between $200 and $3,500.
What are the rates?
Rates and fees will vary by state and you can see the different rates here. For example, in Arizona there is a mandatory principal contribution that can vary from 2% of your balance at the end of the cycle (or $20, whichever is greater) up to 4% of your balance at the end of the cycle (or $40, whichever is greater).
Can I cancel my loan?
You cna cancel your loan with MoneyKey within three business days of the effective date on your loan agreement, without penalty. You can cancel by calling or emailing the Customer Care team. 
How can I qualify for a loan?
You can read the loan requirements here. 
Can I verify my bank statements electronically?
Yes, you can verify your bank statements electronically during the application process. You can also manage your account using the MoneyKey login.