Review of OppLoans
Summary

Personal loans from $500 to $4,000

APRs between 59% – 99%

Personal loans, bad credit loans, and no credit check loans

Loans are funded in 1-2 days
What Is OppLoans?
OppLoans provides personal loans as an alternative to payday loans. They offer short-term installment loans from Opportunity Financial (OppFi).
OppLoans started offering loans in 2012 to borrowers who experienced financial difficulty offer the 2008 financial crisis.
Fast funding
No credit checks
Refinancing options available
Small loans paid on time can help increase credit score
Products Offered
OppLoans offer short-term loans with no credit check requirements.
Their loan offers include:
Bad credit loans
No credit check loans
Installment loans
Debt consolidation loans
How OppLoans Work
OppLoans is different from payday loans because OppLoans offers longer terms, lower APRs, and higher loan amounts.
Additionally, OppLoans specializes in providing a personalized loan service. These personal loans are designed to help consumers who want to build or rebuild their credit.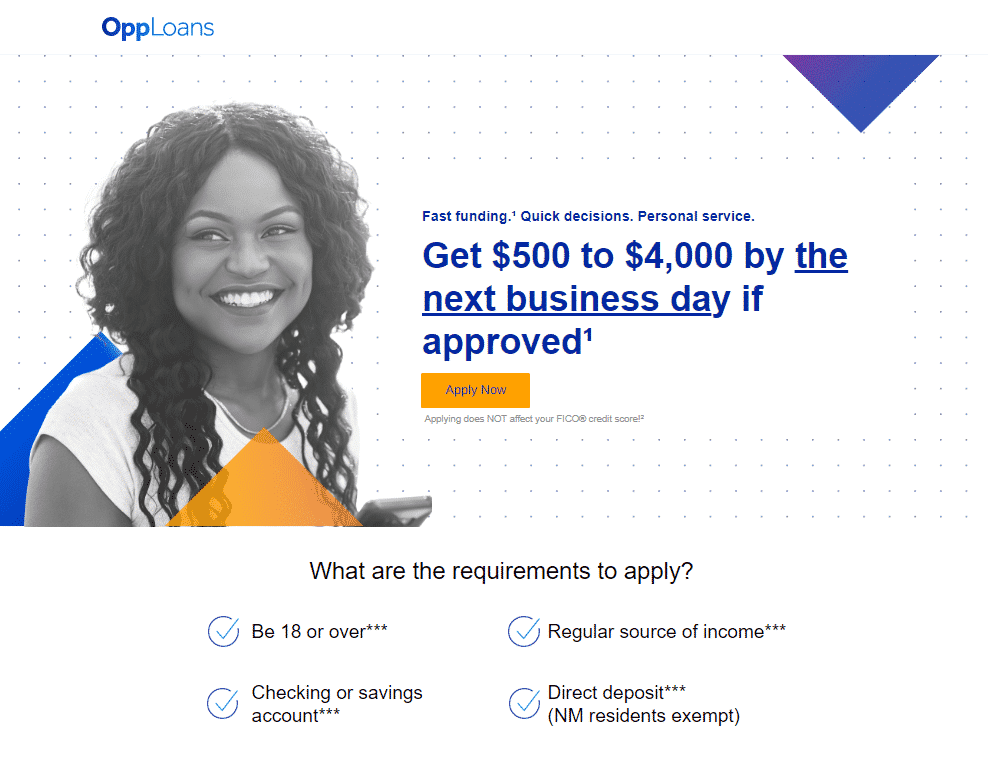 Funds from approved loans can be deposited in the borrower's account in as little as one business day. Borrowers do not undergo a credit check although APRs can be as high as 160%.
Instead of paying back a loan in one lump sum, which is usually the case with payday loans or cash advances, OppLoans offers personal installment loans.
This means that loans are repaid in regular monthly payments.
Loan Requirements
Here are the loan requirements when applying for an OppLoans loan:
Be at least 18 years old.
Be a U.S. citizen.
Have an active bank account that accepts direct deposits.
Have a regular stream of income.
Have a valid contact number and an active email address.
No minimum credit score is required.
Rates & Fees
The maximum APR from OppLoans is 160% and loan amounts range from $500 to $4,000. As an example, a borrower with a credit score of 550 and earning less than $45,000 a year, takes out a loan of $1,400 with an APR of 140%.
The repayment term of nine months would carry a monthly payment of $259, interest of $943, and a total amount due of $2,335.
Payment Terms
The repayment term for OppLoans is up to two years. Although borrowers may not choose their payment due date, they may be able to change the date.
How To Apply for a Loan with OppLoans
Step 1
Visit the Website
All applications are handled online. Applying for a loan with OppLoans will not negatively affect your credit score. 
Step 2
Enter Your Information
In order to apply for a loan, consumers will need to enter information about themselves, their work, and their finances. They will also have to provide proof of their bank account.
Step 3
Get Approval
The online application can be completed in just a few minutes, with applicants typically receiving a loan response quickly. Once approved, you can log into your account through the OppLoans login feature.
Fast funding
No credit checks
Refinancing options available
Small loans paid on time can help increase credit score
Our OppLoans Review
In our opinion, OppLoans should be used only in the case of an emergency when other alternatives have been exhausted.
OppLoans offer short-term installment loans to their customers. This is often conducted without a credit check.
Their installment loans come with a very high APR limit of 199%. This can make it very difficult to pay back any money borrowed.
If you are in desperate need of immediate funds try our online lending tool. It allows you to compare alternative options before making a final decision.
Read more OppLoans reviews from customers below.
Compare personal loan rates here
OppLoans has more than 500,000 customers. Based in Chicago, OppLoans offers fast payment installment loans in the following states:
Alabama
California
Delaware
District of Columbia
Georgia
Hawaii
Idaho
Illinois
Mississippi
Missouri
New Mexico
North Dakota
Ohio
South Carolina
South Dakota
Texas
Utah
Washington
Wisconsin

In addition, OppLoans offers a line of credit product in Kansas, Maryland, Tennessee, and Virginia, and has an A+ rating with the Better Business Bureau.
Reputation
Although OppLoans has an A+ rating with the Better Business Bureau they have very mixed reviews online. Some of this will be associated with high APRs ranging between 59% and 199%.
One area they do thrive in is their customer service team.
Their opening hours are from 7 am – 11:30 pm on Mondays to Fridays, making it easy to speak with a representative.
They do not offer an early settlement reduction fee with their loans.
That means if you have the money to pay off your loan earlier than your term suggests you will still owe the full amount of interest.
Website and Functionality
Based on our experience and the customer feedback we have received the OppLoans website is somewhat clear and direct within the first few pages.
It is however very busy and makes it hard to dig through a lot of information to find out clearly how it all works and what a customer really needs to apply.
Does Financer.com Recommend OppLoans?
Most people at some point are going to need financing.
OppLoans are a high-interest short-term lending company, that could be considered as a last resort borrowing option.
They are legitimate and have had thousands of people use them over and over again.
Financer.com would recommend researching alternative lending options before committing to borrow.
Compare loan rates here.
By reading OppLoans reviews, consumers will gain a better idea as to what to expect from loans originated by OppLoans in order to determine if this particular lending solution is right for their needs.