Overview of CreditFresh
Summary

Trusted lender

Easy online application

Personal lines of credit between $500 – $3,500

Fast funding

Flexible access to credit

Submitting a request will not affect your credit score

Toll free help line
What Is CreditFresh?
The Credit Fresh range of credit products is offered by the well-established CBW Bank founded in 1892 in Weir, KS.
More recently, it has embarked on a modernization initiative including launching online lending options for lines of credit through CreditFresh.
Their recipe for success is to offer high-quality loan products and focus on making the process simple, quick, and completely transparent, with clear repayment terms and no hidden charges.
While CreditFresh is located in Newark, Delaware, CBW Bank's main offices are still located in the small town of Weir, Kansas but their services are available online in multiple other states across the nation.
Line of Credit Up To $3,500
Only Pay Charges On What You Use
No cash advance fees, late fees, early payment fees
Next Day Fund Deposit
Products Offered
CreditFresh offers a straightforward line of credit to borrowers in the U.S. and is backed by a reputable bank. The maximum loan amount is $35,000 and it's a great way to build your credit score with timely payments.

Apply For a Credit Fresh Loan Now
Why Choose Credit Fresh
Choosing a personal line of credit through Credit Fresh has many benefits:
Reporting to credit bureaus. You can build your credit history as your payments will be reported to TransUnion.
A transparent service. Navigating credit products can be challenging and frustrating, especially when hidden fees and terms. A line of credit through CreditFresh offers a fully transparent experience.
Improve your financial knowledge. Credit Fresh helps Americans with credit when they need it as well as educational resources to improve their financial literacy.
How CreditFresh Works
A CreditFresh line of credit allows you to draw from your balance, repay, and redraw as needed. This is different from a traditional installment loan where you get a lump sum of money that you need to repay over a fixed loan term.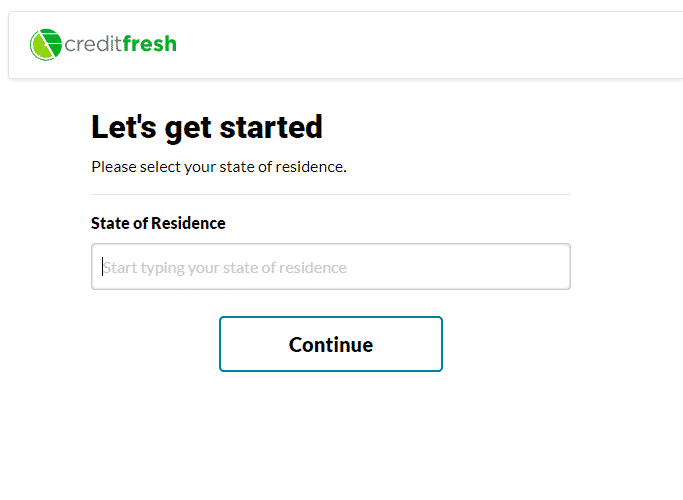 With a line of credit through CreditFresh you only pay fees on the amount you borrow. You can withdraw money at any time, as long as you have available credit and an account that is in good standing.
An outstanding balance has to be paid with regular payments and your payment dates will typically align with your pay frequency.
The applicational process is quick and simple, with clear repayment terms and no hidden charges.
The CreditFresh line of credit is currently offered in:
Alabama
Florida
Illinois
Indiana
Kentucky
Kansas
Michigan
Nebraska
Ohio
South Carolina
Texas
Washington
Note: A line of credit is a flexible way to borrow to ensure you have a safety net for any unexpected expenses.
Loan Requirements
Here are the requirements when applying for a Credit Fresh line of credit:
Be at least 18 years old.
Be a U.S. citizen or permanent resident.
Have an active bank account.
Have a regular stream of income.
Have a valid contact number and email address.
No minimum credit score required.
Rates & Fees
Credit Fresh's APR ranges from 117% to 203% APR. There are no annual fees and CreditFresh does not charge any late fees. There is a billing cycle charge that ranges between $5 and $350 and this is based on the amount of money you borrow (not your credit limit).
If you have an amount outstanding on your principal balance, you'll need to pay a mandatory principal contribution in addition to the billing cycle charge with every minimum payment you make.
You will only start incurring charges once you've received your funds.
Repayment Terms
You will receive a statement prior to your due date, detailing the activity on your account and the minimum payment due. The minimum payment includes the billing cycle charge and mandatory principal contribution. You can pay just the minimum balance, or pay more to reduce the total outstanding balance.
Reducing your principal balance will also increase the amount of credit available to you.
How To Apply for a CreditFresh Line of Credit
Step 1
Visit the Website
Visit the CreditFresh website here.
Step 2
Submit Your Request
Submitting a request only takes a few minutes.
Step 3
Provide Your Details
Simply request a credit limit, securely verify your details, and review and sign your agreement.
Step 4
Get Approved
Once approved, you can request a withdrawal to your bank account. This can be the same business day.
Line of Credit Up To $3,500
Only Pay Charges On What You Use
No cash advance fees, late fees, early payment fees
Next Day Fund Deposit
Our CreditFresh Review
Our general opinion of CBW Bank is a positive one. Having operated as a banking institution for over 127 years, there were surprisingly few people with negative comments and reviews online.
Whenever an issue was brought to their attention, either through CreditFresh or CBW bank directly, it was addressed quickly and responded to with a proposed solution to the problem.
Support
Our experience with their customer service team was a good one.
They can be reached via email, or on their toll-free helpline and they're well trained and friendly when assisting their customers.
No matter how you reach out to their team, they are quick to respond and eager to help answer questions and solve any issues.
Website
We love simplicity, both in functionality and design, and the CreditFresh site delivers on each of these fronts. It's easy to understand their website, and the loan application was very smooth.
It took us less than 10 minutes to fill out the application from beginning to end. They do a particularly good job of making every step clear and straightforward.
The CreditFresh login is found on the front page of the website.
Does Financer.com Recommend CreditFresh?
Yes, we do. This is one of the more popular lenders we have reviewed, and it's easy to see why their following is growing.
Their site and application process are streamlined and simple, they offer reasonable interest rates, and they provide high-quality and reliable support.
CreditFresh only charges fees on what portion of your credit limit is used.
CreditFresh is a good option when you need a loan.
Why Customers Choose CreditFresh
The CreditFresh Line of Credit by CBW Bank offers flexible access to credit when you need it. Below we have listed just a few of the many advantages of choosing CreditFresh for your borrowing needs:
A Range To Suit Your Needs: A personal line of credit between $500 – $2,500
Request is Not Detrimental To Your Credit: Submitting a request will not affect your credit score*
Flexible Access: Once approved, access your available credit when you need it
Quick Funding: Request a draw and the funds will be in your account as soon as the next business day**!
Transparent Pricing: Easy to understand pricing, with one simple charge for each billing cycle, with clear repayment terms
*Submitting a request does not result in a hard inquiry to your credit report.
**The date and time any requested funds are made available to you by your bank are subject to your bank's policies.
Read more about their loan products here.