Review of PersonalLoans.com
Summary

Personal loans from $1,000 to $35,000

Get funding fast, directly to your account

Competitive APRs from 5.99%

Fast online loan application process

Loan repayment terms up to 72 months
What is PersonalLoans.com?
PersonalLoans.com provides personal loans of up to $35,000. The company has a large network of lenders and offers loans to borrowers throughout the U.S.
The repayment periods for PersonalLoans.com loans typically vary between six months and 72 months, based on the terms offered by each lender.
Lenders do their own due diligence to determine eligibility and loan rates. Borrowers can find the terms and requirements by visiting PersonalLoans.com or reading our detailed review below.
Note: PersonalLoans.com is not a lender! PersonalLoans.com is a service that allows you to access a network of hundreds of lenders with one easy online loan request.
Loans from $1,000 – $35,000
Repayment terms from 6 – 72 months
Access to hundreds of lenders
APRs from 5.99%
Products Offered
PersonalLoans.com offers loans that range from R1,000 to $35,000. These loan types are generally available from lenders:
Peer-to-peer loans
Personal installment loans
Bank personal loans

The application process is very fast and loan offers are available within minutes. PersonalLoans.com works with a large network of lenders to provide a range of personalized loan offers for every borrower.
How PersonalLoans.com Works
Getting loan offers from PersonalLoans.com is easy and straightforward. It takes only a few minutes to receive personalized loan offers online.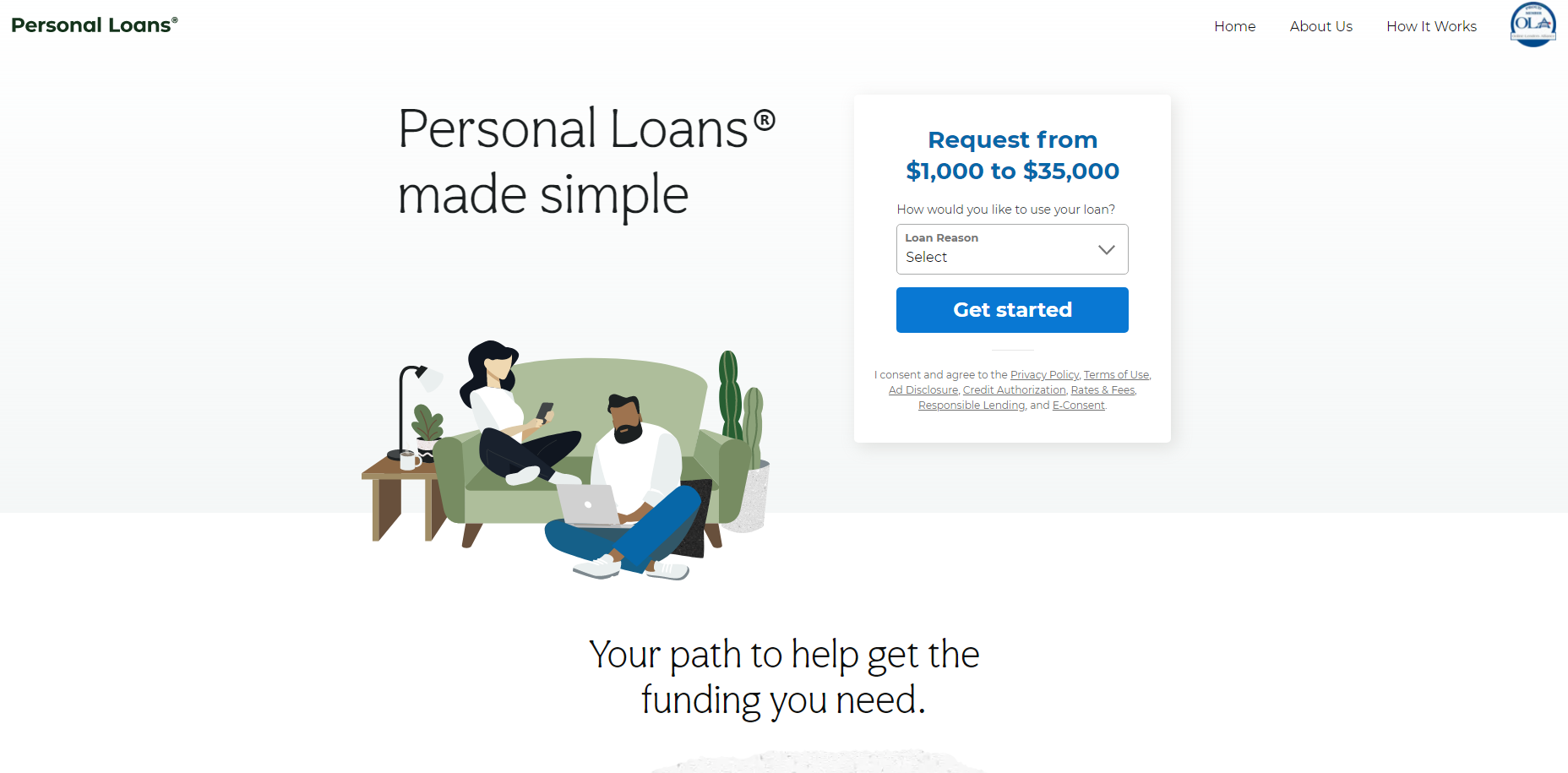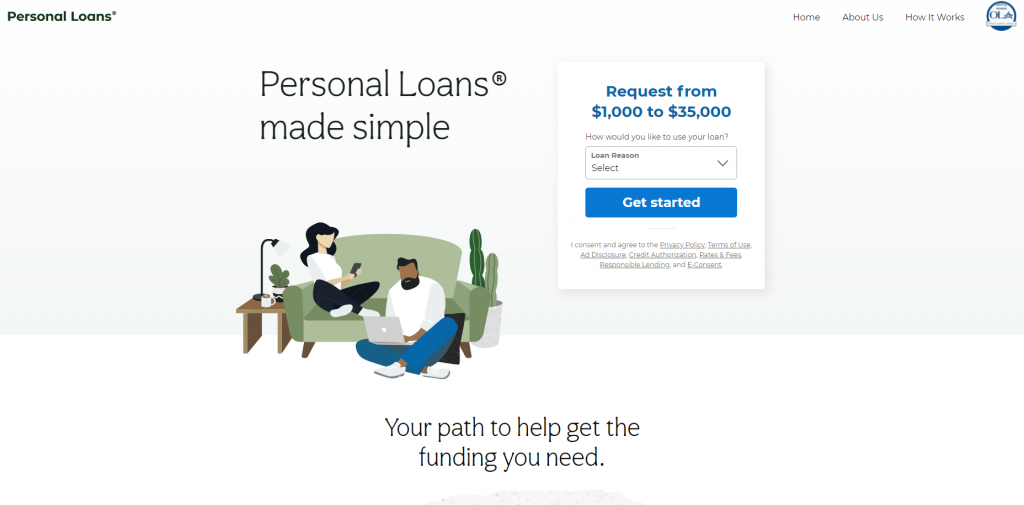 The company uses proprietary technology to evaluate loan requests while also searching for potential lenders. Applicants can benefit from a simple three-step loan request to find out if they qualify.
Once a loan offer is located, PersonalLoans.com redirects applicants to the lender's page, which contains the specific details of the loan.
Loan Requirements
Loan requirements vary between lenders, however, PersonalLoans.com matches you with suitable loan offers based on your unique needs.
It's important to review loan offers and their terms, to ensure that you have the best possible chance of being approved. Loan requirements vary between lenders, but these are the typical qualifying criteria:
Be at least 18 years or older
Be a U.S. citizen
Have a credit score of at least 600
Have a steady income
Rates & Fees
APRs range from 5.99% to 35.99%. There is no cost to submitting a loan request with PersonalLoans.com.
The actual loan rate depends on the loan amount requested, as well as the borrower's credit score, usage, and history. Keep in mind that some lenders may charge an origination fee as well as a late fee for overdue payments.
Representative example: A personal loan of $8,500 over a 24-month period with an APR of 6.99% will have monthly payments of $380.53 for a total loan amount of $9,132.68.
Payment Terms
PersonalLoans.com offers repayment terms from three months up to 72 months.
Specific loan terms will depend on the lender as well as the borrower's credit profile and payment history.
How to Apply for a Loan at PersonalLoans.com
Step 1
Step 2
Fill in the form
Complete a simple loan request form including the amount you want to borrow, the reason, and your credit type. You will be required to provide some personal, income, and banking information. 
Step 3
Receive loan offers
Within minutes you'll receive suitable loan offers from various lenders, along with an invitation to complete a loan application on their website if you choose to take up an offer.
Our PersonalLoans.com Review
Pros

Large network of lenders

Personalized loan offers

Fast online application process

Loans available up to $35,000

Low APRs starting at 5.99%
PersonalLoans.com works to connect applicants with suitable lenders that offer loan products that meet the needs of applicants, and not directly as a lender.
With a wide network of lenders, PersonalLoans.com is able to provide personalized loan offers to each borrower within minutes.
The loan application process is fast and the website offers transparency about loan rates, terms, and requirements.
Customer Service
PersonalLoans.com offers customer service via telephone and email from Mondays to Fridays, 6 am to 7 pm PST.
They also have FAQs available, as well as clear terms and requirements.
Their website is straightforward and easy to navigate, with contact information and service terms clearly available.
Add your own PersonalLoans.com review below.
PersonalLoans.com FAQs
How much can I borrow?
PersonalLoans.com works with a network of lenders that offer loans up to $35,000. Loan amouns may vary from one lender to the next and will depend on each borrower's credit profile.
What are the loan rates?
This varies between lenders but APRs are typically between 5.99% and 35.99%.
What happens if I miss a payment?
If you think you won't be able to pay your loan on time, you should get in touch with your lender as soon as possible to find out what your options are. You may qualify for a new payment arrangement but be aware that some lenders may charge late fees for missed payments.
Is PersonalLoans.com a direct lender?
No. PersonalLoans.com works with a network of lenders and connects you with suitable loan offers from specific lenders. 
Is PersonalLoans.com legit?
Yes. PersonalLoans.com is a reputable online lending platform that connects borrowers with a network of lenders for personalized loan offers.