Overview of SoFi
Summary

Loans from $5,000 – $100,000

Offers co-sign loan options.

4.99% – 19.63% APR

Interest-rate discount with automatic payments
What is SoFi?
SoFi is a finance company that offers personal loans, mortgages, mortgage refinancing, and more. Personal loans are available up to $100,000 with loan rates starting at 4.99% APR.
SoFi – or Social Finance, Inc. – started in 2011 by offering student loan refinancing for Stanford alumni. SoFi is a new kind of finance company, helping members to reach their career goals, buy a home, save money on student loans, or invest in their future.
SoFi At a Glance
Affordability
– Consistent APRs for borrowers with good credit
– No hidden fees
– Autopayments attract rate discounts
Transparency
– Soft credit check with prequalification
– Payments are reported to three credit bureaus
– Website discloses rates and terms
– Comprehensive FAQ section
Loan Flexibility
– Loans can be funded within three business days
– Offers loans with direct creditor payments
– Loans not available in Vermont
Customer Experience
– Support available seven days a week
– Mobile app to manage loans
– Members get exclusive perks and financial education

SoFi loans are ideal for people who have excellent credit (a FICO score of 690 or higher) and who are looking for a loan of at least $5,000.
Products Offered
SoFi offers the following:
Personal loans
Student loans
Mortgages
Auto loan refinancing
Credit cards
Investing
Small business funding
Fixed 4.99% to 19.63% APR (with AutoPay)
Federal and private student loan consolidations
No charge for the first $10,000 invested
A social finance company
How SoFi Works
SoFi's personal loans offer a lot of features and this is why SoFi is one of the top lenders. They offer zero fees, a wide variety of loan amounts, and flexible repayment terms.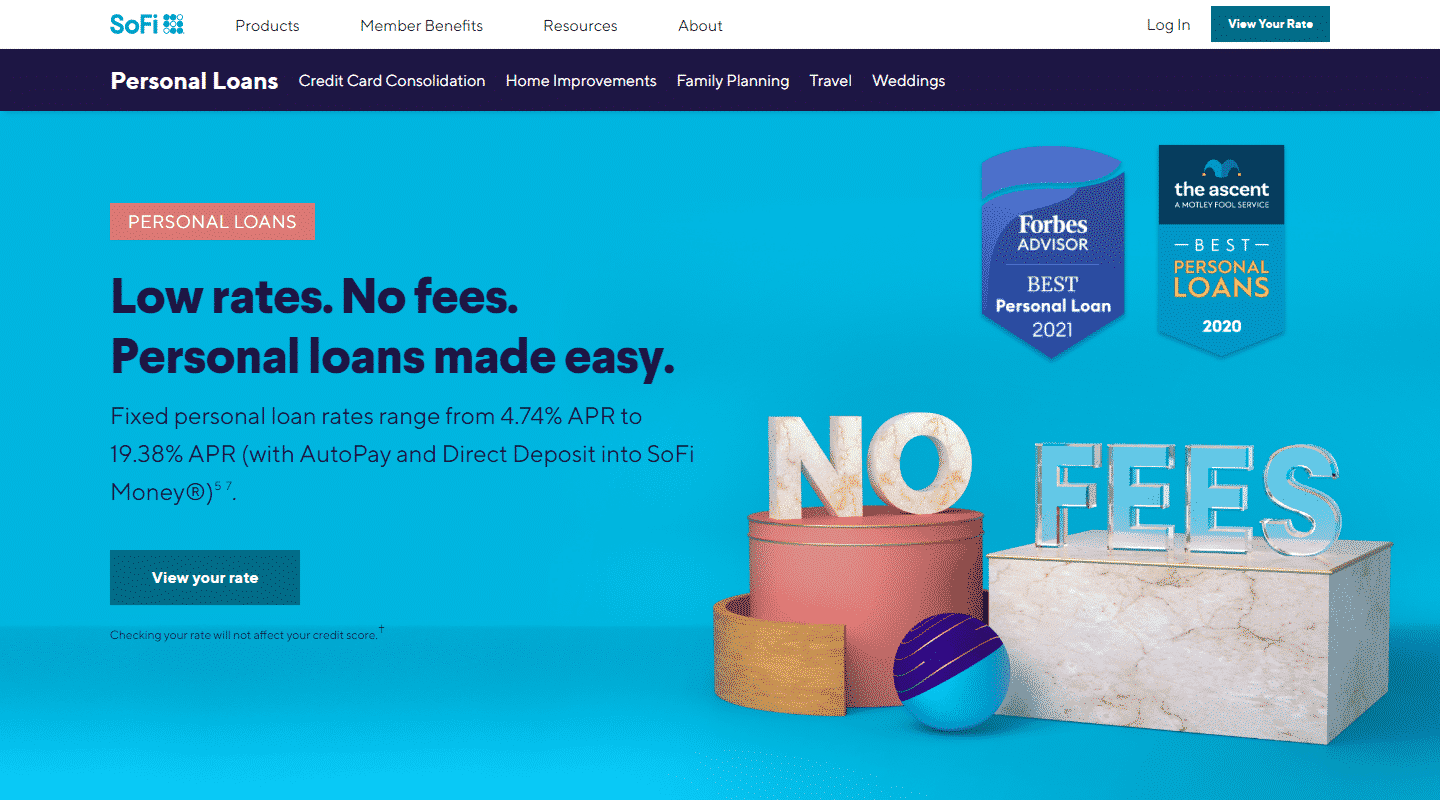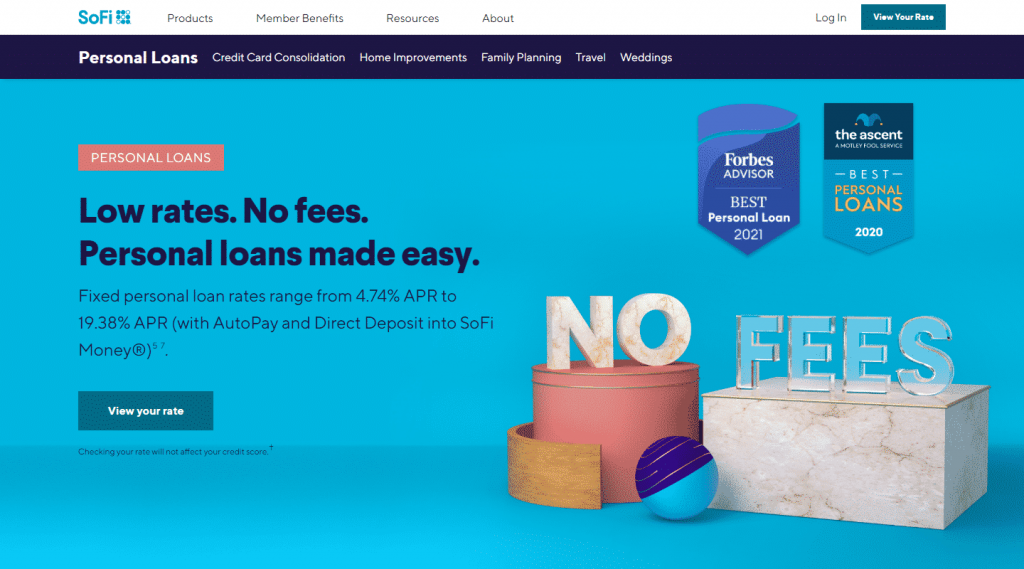 But SoFi stands out from the rest in more than one way. SoFi members have access to free career and financial advising, networking events, referral bonuses, and even complimentary estate planning, among others.
SoFi's APRs are consistent with lenders offering credit to borrowers with a great credit history. They also offer rate discounts for autopayments and all SoFi personal loan rates and terms are disclosed on their website.
To pre-qualify with SoFi only requires a soft credit check and they report on-time payments to three credit bureaus. SoFi loans are funded within 2-3 business days and are available in all states except Mississippi.
Note that residents in Michigan can only have one SoFi personal loan at a time.
Loan Requirements
Here are the loan requirements when applying for a SoFi loan:
Be at least 118 years old
Be a U.S. citizen, permanent resident, or visa holder
Live in an eligible state
Have a credit score of at least 680
Must be employed, have sufficient income, or an offer of employment
Rates & Fees
SoFi doesn't charge origination fees, late fees, or prepayment fees. Among online lenders, true zero-fee loans are rare. APRs vary between 4.99% – 19.63%.
Example: A $30,000 SoFi loan with a five-year repayment period and an 11.8% APR would result in monthly payments of $664. You will pay a total of $9,840 in interest.
Members may qualify for lower APRs with AutoPay and Direct Deposit into SoFi Money. Payments that are late or not made in full may lead to a default under your Loan Agreement with SoFi.
Payment Terms
SoFi offers repayment terms between two and seven years and loans between $5,000 and $100,000. If you are looking for a large loan amount and you have an excellent credit history, SoFi may be the ideal lender.
Member Perks
SoFi members enjoy a whole lot of benefits.  As shown in SoFi reviews, members enjoy a 0.125% rate discount on an additional SoFi loan.
Career advisory; shows tips for finding the right career path. You also get to know how to spruce up your resume.
Community events; members get to meet and interact.  From dinners to happy hours, the opportunities to network are endless.
Unemployment protection; SoFi understands that unseen occurrences do happen. In case of loss of a job, your payments are temporarily paused until you get back on your feet.
How to Apply for a SoFi Loan
Step 1
Get Pre-Qualified
You can apply for a SoFi loan online or through its iOS or Android mobile app. Pre-qualification takes only a few minutes and won't harm your credit score.
Step 2
Submit Your Information
To speed up the loan application process, make sure you have the required information available – including your Social Security number, proof of address, proof of income, employer contact details, address and phone number, and details on your monthly debt. 
Step 3
Review Your Rates
Once the soft credit inquiry is complete you'll get an idea of the rates you qualify for. If you decide to go ahead with the loan, a hard inquiry on your credit history will be done and once approved, SoFi will send over a loan agreement.
Step 4
Accept the Offer
Once you sign the agreement and accept the offer, you should receive your funds within a few days.
Fixed 4.99% to 19.63% APR (with AutoPay)
Federal and private student loan consolidations
No charge for the first $10,000 invested
A social finance company
Our SoFi Review
Pros

Members-only perks like career coaching and events

Unemployment protection

Competitive APRs and no prepayment fees

Interest-rate discount with automatic payments
Cons

People with less-than-fair credit may have a tough time qualifying

$5,000 minimum loan amount (may be higher in some states)
SoFi personal loans are aimed at borrowers who have a good financial history and a strong cash flow. It is the ideal lender for borrowers looking for a larger loan as many lenders cap personal loans at around $40,000 or less.
SoFi offers competitive interest rates, especially if you have strong credit. You'll also be eligible for a 0.25% rate discount when you set up AutoPay. Although that's a great benefit, other lenders offer similar features.
Customer Service
SoFi offers solid customer support with live chat, phone support, and email support. You can also reach customer support via Twitter. They have offices in three locations – San Fransisco, Healdsburg, and New York City.
You can read SoFi reviews from customers below.
FAQs
Is SoFi a reliable lender?
Yes. SoFi started in 2011 and has refinanced more than $18 billion in loans. They have three office locations throughout the U.S. and has overwhelmingly positive reviews.
What types of loans does SoFI offer?
SoFi offers personal loans, student loans, mortgages, credit cards, investing, and more.
How much can I borrow with SoFi?
SoFi offers personal loans of up to $100,000 depending on your state.