Review of Upgrade
Summary

Personal loans from $1,000 to $50,000

Loan offers are available in most U.S. states

Offers personal loans, credit cards, and credit monitoring services

APRs of 5.94%-35.97%
What is Upgrade?
This well-established company has received over 8 million loan applications in the last two years. Upgrade delivers a fast online banking system that makes borrowing a breeze.
Upgrade personal loans range from $1,000 to $50,000 in all states except Colorado, Iowa, Maryland, Vermont, and West Virginia.
Their customer-focused systems make Upgrade an easy option when you're in need of a personal loan.
Personal loans are not their only offering. Upgrade also offers credit monitoring which allows you to keep track of your credit score.
They are well-known for their credit consolidation card which allows you to transfer balances from other high-interest cards onto their lower interest rate credit card.
Products Offered
Upgrade offers the following:
Personal loans
Lines of credit
Auto refinance
Upgrade credit card

An Upgrade personal loan can be used for debt consolidation, refinance credit cards, or pay for home improvements.
Upgrade also offers a range of cards:
| Card | Annual Fee | APR | Features |
| --- | --- | --- | --- |
| | $0 | 8.99-29.99% | Unlimited 1.5% cashback on payments |
| | $0 | 8.99-29.99% | Unlimited 3% cashback on payments for purchases in Home, Auto, and Health categories |
| | $0 | 8.99-29.99% | Unlimited 1.5% back in bitcoin on payments |
| | $0 | 8.99-29.99% | Get the credit you need with no fees |
The Upgrade Rewards Checking account offers 2% cashback on everyday expenses and 1% cashback on everything else. Customers also receive up to 20% lower rates on Upgrade loans and cards.
With Upgrade, you can monitor your credit score for free by using their Credit Health Tools. It helps you understand your credit score, get weekly updates on your credit score, email alerts, and more.
How Upgrade Works
Upgrade opened its doors in 2017 and has been helping Americans gain control over their finances easily. An Upgrade loan is ideal for borrowers with fair or bad credit (a FICO score of 689 or lower) or those wanting to rebuild their credit.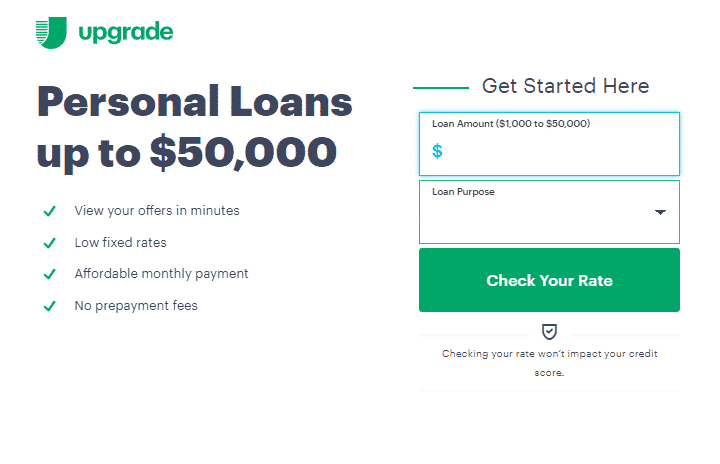 Loan Requirements
Here are the loan requirements when applying for an Upgrade loan:
A minimum credit score of 560.
A minimum of two accounts on credit history.
A maximum debt-to-income ratio of 75% or less.

Example: A loan of $10,000 with a 36-month repayment period and an APR of 23.4% would cost $389 per month. The total interest would be $4,004.
Rates & Fees
Upgrade's origination fees range from 2.9% to 8% per loan. If you have excellent credit, you may want to work with a lender that doesn't charge origination fees.
Upgrade deducts the fee from the loan amount. For example, if you take out a $10,000 loan with a 4% origination fee, you'll receive $9,600 in your bank account.
The estimated APR on Upgrade loans is between 5.94% and 35.47% and loan amounts range from $1,000 to $50,000.
Payment Terms
The repayment terms for a personal loan are up to 72 months.
Fees are charged for late or returned payments. For returned checks or electronic payments, a $10 fee is charged, and if you don't make your full payment within 15 days of the due date, a late payment fee of up to $10 will be charged.
How to Apply for an Upgrade Loan
Step 1
Check Your Rate
Visit the Upgrade website and apply online in minutes. See your rate with no obligation or impact to your credit score.
Step 2
Choose your loan
Review multiple loan options and decide which offer is best to help you achieve your financial goals.
Step 3
Get funded
Accept an offer and you should receive your money in your bank account within a day of clearing necessary verifications.
Our Upgrade Review
Pros

Personal loans up to $50,000

Allows for joint and secured loans.

Offers a wide range of repayment terms.

Checking account customers get a significant rate discount

You can borrow with a credit score as low as 620
Cons

High initial sign up fee – 1.5% and 6.0% of your total loan amount

They don't yet offer mobile banking
Our opinion of Upgrade is positive. They are easy to contact and quick to respond. They have streamlined their application process and have made online borrowing easier than ever.
The Upgrade product offerings are lower in interest than some of their competitors. However, they are definitely not the cheapest lender around. Their terms are explained well and are simple to understand.
With over $2 billion already extended in credit to their borrowers, they are without a doubt worth considering next time you need a personal loan.
Compare Upgrade with other lenders to find the best loan offering available to you. You can also read Upgrade loan reviews below.

Compare personal loan rates here
Reputation
With over 8 million applications under their belt Upgrade has perfected the fast application process. They are known to be reliable and easy to contact.
Borrower reviews have found Upgrade to respond promptly via email, text, or call.
Although they are an online-based lender their customer service is easy to contact if you need to speak to a real person.
What sets them apart from other lenders is that they want to provide a service that not only reduces the amount of interest and fees you pay throughout your loan period but helps you increase your credit score for future investments.
Website and Functionality
Based on our experience and the customer feedback we have received Upgrade's website is simple and easy to navigate.
The simplicity allows you to find the offering you are looking for easily without having to scroll through a lot of junk to find it.
Upgrade has taken a no-nonsense approach to their site. The Upgrade three-step online application process takes less than 10 minutes to complete and you get loan options right away.
Their login facilities are easy to use, clear and concise. They have managed to keep their appearance honest, reliable, and easy to follow.
Customer Support
Their customer support from what we have experienced is good. They don't offer an online chat but they do respond to email quickly.
One other positive is they answer their phone which is a big bonus for an online lender.
Their customer service representatives are informed and able to answer any questions regarding the application process or loan terms.
They can take a few working days to reply but their response time is largely timely.
Does Financer.com recommend Upgrade?
Yes. Based on our experience they offer a great service for those who don't have their finances in order.
They also offer several good resources that help you consolidate debt such as their Upgrade card as well as a credit health service that helps customers actionably improve their credit score.
Upgrade's straightforward and honest approach ensures that their borrows know all the terms of their loan agreement and can make an informed decision quickly regarding using their services.
You can read more Upgrade reviews below.
FAQs
Is Upgrade loans legit?
Yes, although they have only been around since 2017, they are legit. The company might be new to the game, but they are not.
Their co-founders pioneered fintech over a decade ago. They have over 200 staff and 4 offices. They are members of the BBS and Equal Housing Lending.
Does Upgrade check credit?
Yes, they do an initial 'soft check' on your credit score when you apply. However, this does not affect your credit score.
Once the application is processed, they will do a full credit check which will have an impact on your credit score.
Can I get a loan over the phone?
No, applications are done via their website upgrade.com
Where is Upgrade located?
Upgrade has four offices San Francisco – Headquarters, Montreal – Engineering Center, Phoenix – Operations Center, and Chicago – Engineering Center.
Where can I read Upgrade reviews?
Read customer reviews about Upgrade at the bottom of this page.