5 Things You Must Know About the IKEA Visa Credit Card
December 2, 2022
7 min read
28163 reads
Many people are very interested in having a solid IKEA credit card review, so here it is! A list of everything you should know about an IKEA credit card – see how it stacks up against competitors like Lowes or The Home Depot's credit cards.
Note: Visa processes more than 140 billion transactions per year with more than $4.68 trillion transacted in the U.S. during 2020. 
1. Rewards are Easy to Get
Known for its customer service, IKEA has also tried to infuse hospitality in its credit card by creating something that is fairly easy to earn points with.
Cardholders will earn lucrative perks such as 5% back in rewards per dollar spent on all purchases at IKEA, Taemand, and TaskRabbit.
The benefits don't end just there. You can also earn 3% back in rewards per dollar spent on dining, grocery, and even utility purchases- something we generally end up just taking for granted anyways.
The final bucket is a standard 1% back on all other purchases made with this card. Thus giving you quite the opportunity to earn points that can help the interior designer of your home to save some money.
There are currently sign-up bonuses also offered. Like a bonus of $25 off your first purchase, subject to credit approval.
And an additional $25 bonus reward is a certificate for IKEA.
2. Only Redeemable on IKEA
The ability to earn points if you are a shopper at IKEA is pretty intriguing, however, it's crucial to note that the points you earn can only be redeemed at IKEA.
The way the system works is you have the option to access your points called "Reward Dollars" online, like you would any other charge card, or can have certificates mailed to you.
IKEA certificates are mailed to you in $15 increments at a time.
The only downside is these certificates expire 45 days after the day they are issued and the Reward Dollars you accumulate also expire 36 months after they are posted to your account.
Meaning that you do have a bit of sales pressure to make a purchase or you do risk losing the reward certificates.
3. IKEA Visa Credit Card vs IKEA Projekt Credit Card
There is one major difference between the IKEA Projekt credit card and the IKEA Visa card.
Financing.
Why most people would choose an IKEA Projekt Credit Card is the special financing they have available to new cardmembers.
Usually, the first thing someone does upon purchasing their first home, apartment, or condo, is to refurbish the property.
With the IKEA Projekt credit card, there are three buckets you can be placed into to receive 0% interest for 6, 12, or 24 months depending on the size of your purchase. After the initial 0%, APR period has ended, the purchase APR will increase up to 21.99%.
If you bought a purchase of $500 or more, you have six months no interest. If you buy a product for $1,500 or more you have 12 months to pay back the balance with no interest.
Finally, if you make a purchase of $5,000 or more you have a total of 24 months to make your payment back on your IKEA Projekt credit card without any interest. The drawback is the IKEA Projekt card can only be used at IKEA.
The IKEA Visa Credit Card does NOT offer any special IKEA financing, making it lack some luster compared to its counterpart.
Both will also be automatically enrolled in the free IKEA Family program that can give offers for 15% off to members.
In a nutshell, with no annual fee, this makes the IKEA Projekt Credit Card card a pretty convenient solution for IKEA purchases you'd otherwise be expected to pay all upfront at once.
Here is a quick summary of the IKEA Family and Project cards
| IKEA Visa Credit Card | IKEA Projekt Credit Card |
| --- | --- |
| For everyday rewards | For larger purchases |
| No special IKEA financing | Pay off a single purchase over time |
| Enrollment into the IKEA Family Program | Enrollment into the IKEA Family Program |
| No 0% interest option | 0% interest up to 24 months |
| Up to 5% back in rewards | No rewards option |
4. Ikea Credit Card Approval Odds
The IKEA Visa is a credit card many reports needing a 670 credit score or higher for best approval chance.
Many standard features apply to this card like a balance transfer fee of $10 or 5% of the transaction (whatever is higher), late IKEA credit card payment fees of up to $37, and an APR as high as 23.99%.
You can easily find your credit score for free and without affecting it by heading over to Experian.com or CreditKarma.com
5. No Annual Fee with Fair Average Yearly Rewards Value
At the bottom of it all, if you are the type that might spend a few thousand on furniture one year, this card is fair for the rewards it delivers.
However, by comparison, the IKEA Projekt Card is probably a much better choice as it's virtually identical for the intended use of this Visa, except with promotional APR.
The IKEA Visa credit card fees are as follows:
Purchase APR: 21.99%
Balance Transfer APR: 26.99%
Balance Transfer Fee: $10 or 5%, whichever is greater
Annual Fee: $0
Final Thoughts
The IKEA Visa Card is priced fairly and valuable if you're the type that doesn't particularly like having a revolving balance and want IKEA furniture.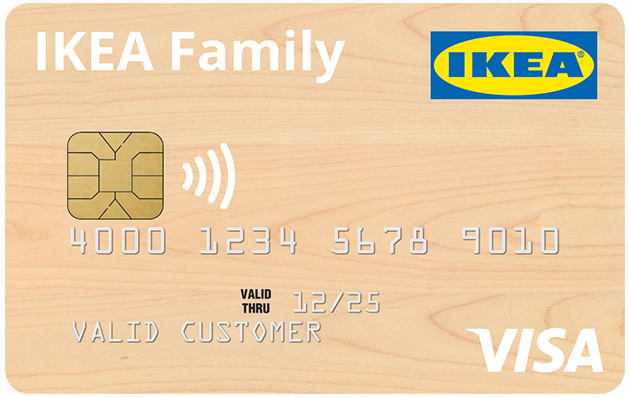 IKEA® Visa® Credit Card
$0 annual fee
5% back in rewards on IKEA® purchases
3% back in rewards on dining, grocery stores and utility purchases
Earn $25 Bonus IKEA Reward Dollars when you spend $500 or more outside of IKEA
IKEA® Visa® Credit Card
The most value for your card can really come from an IKEA Projekt card if you're more comfortable with a balance because the promotional APR of up to 24 months of 0% interest is so enticing.
It's easy to manage your IKEA credit card online. Simply use the IKEA credit card login to pay bills, view statements, and more.
By comparison, a lot of cash-back cards may be a much better option overall.
IKEA Credit Card FAQ
Is the IKEA Family card a credit card?
the IKEA Family card should be used with the IKEA rewards program and it is not a credit card. If you have an IKEA credit card you will automatically be enrolled in the IKEA Family Membership which comes with a bunch of perks.
What bank issues IKEA's cards?
Where can I use my IKEA Visa card?
You can use your IKEA Visa card anywhere Visa is accepted.
Is IKEA credit card a Visa?
Yes, IKEA credit card is a Visa card.
What credit do you need for IKEA credit card?
You need good to excellent credit to qualify for IKEA Visa credit card.
Can I use my IKEA Visa card anywhere?
You can use your IKEA Visa card anywhere Visa is accepted.
Does IKEA credit card give a discount?
Yes. You earn a 5% cash back in rewards for every dollar spent on all purchases at IKEA, Taemand, and TaskRabbit. You also earn 3% back in rewards for every dollar spent on dining, grocery, and even utility purchases.