Cyprus Beach Cleanup 2019 – Team Activity
30 September, 2019
7 min read
2403 reads
Why we commit to fight plastic pollution
Plastic pollution is a real threat to all living species. Millions of humans and animals die each year as direct and indirect effect of man-made  pollution.
We feel that it's our obligation to do our part and support our fragile ecosystem. Part of our green strategy is to participate in cleanups as a team, but also sponsor eco-friendly initiatives, such as the ones organized by Ocean Mimic project.
One of our most recent team activities was to organize beach cleanup at Toxeftra beach, one of the two official turtle nesting beaches of the Akamas National Park in Cyprus.
The manager team of Financer.com united efforts with locals and tourists to collect the trash that's polluting the protected beach.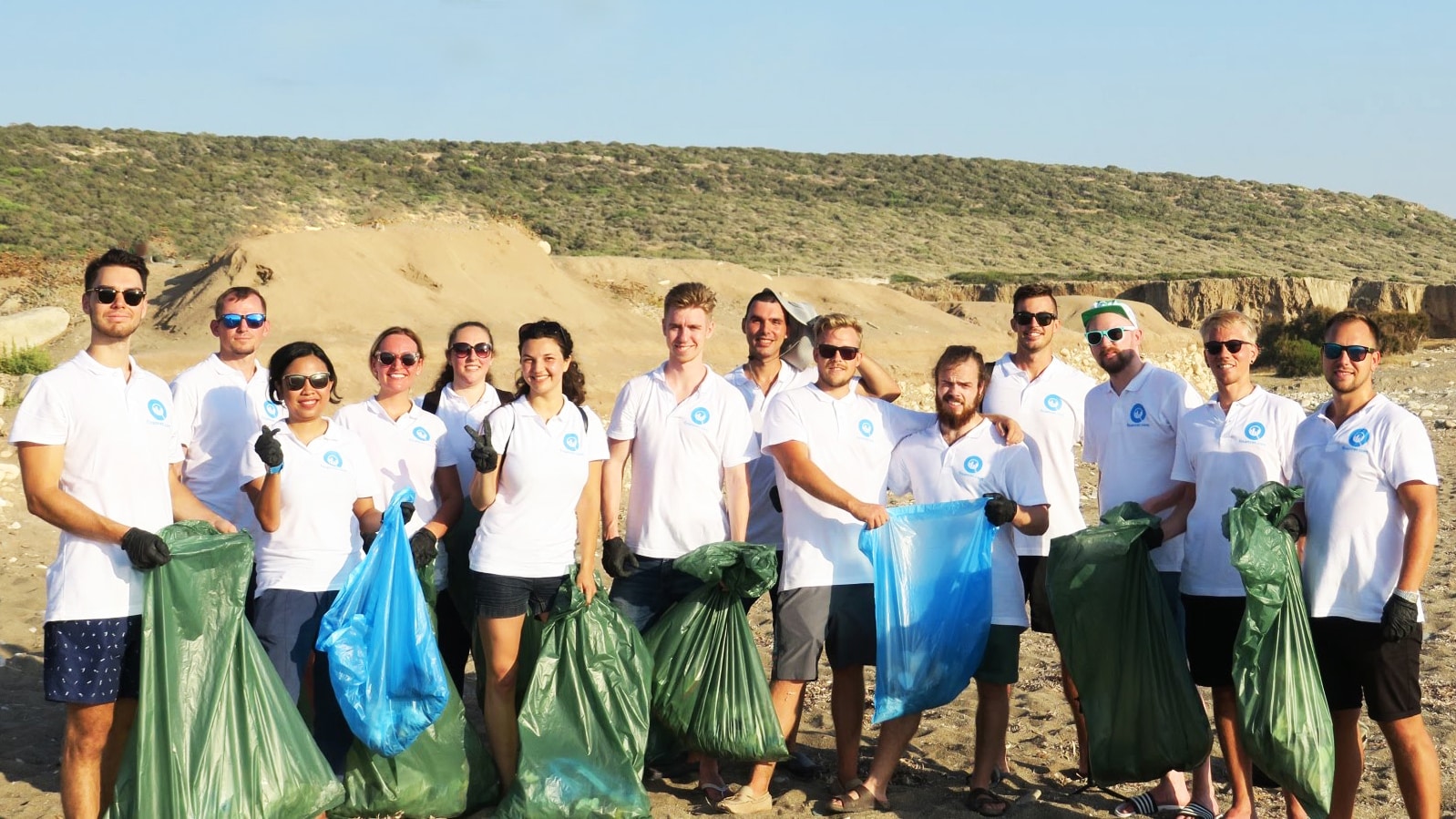 How did we contribute?
It was an unanimous choice by all of our country managers who were enjoying their work retreat in Cyprus, to conduct a symbolic cleanup at Toxeftra turtle beach.
Toxeftra beach is located at the Southern entrance of the Akamas Peninsula National Park. Akamas is the most diverse and rich biotope in Cyprus one of only 22 areas of endemism in Europe according to the European Environment Agency.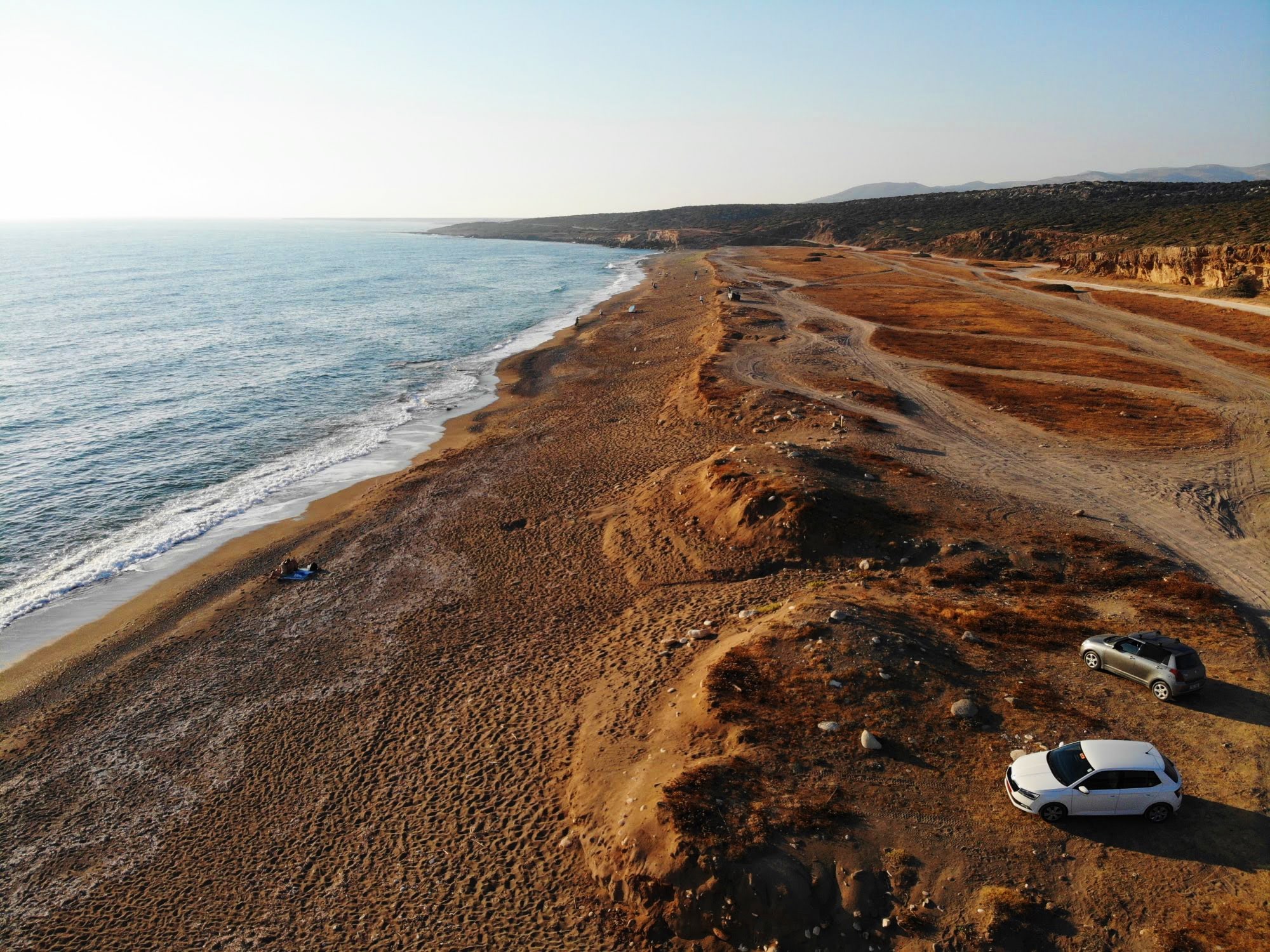 The beach is particularly important as it's one of the few beaches in the Mediterranean Sea that are used as a nesting site for two rare species of turtles, the "Loggerhead" (Caretta caretta) and the "Green Turtle" (Chelonia mydas).
Both the Loggerhead and the Green turtle are classified as an endangered species by the International Union for Conservation of Nature.
Their eggs are easy prey for predatory animals living near the beach. Beaches that are frequently polluted attract such animals who come to scavenge for food leftovers.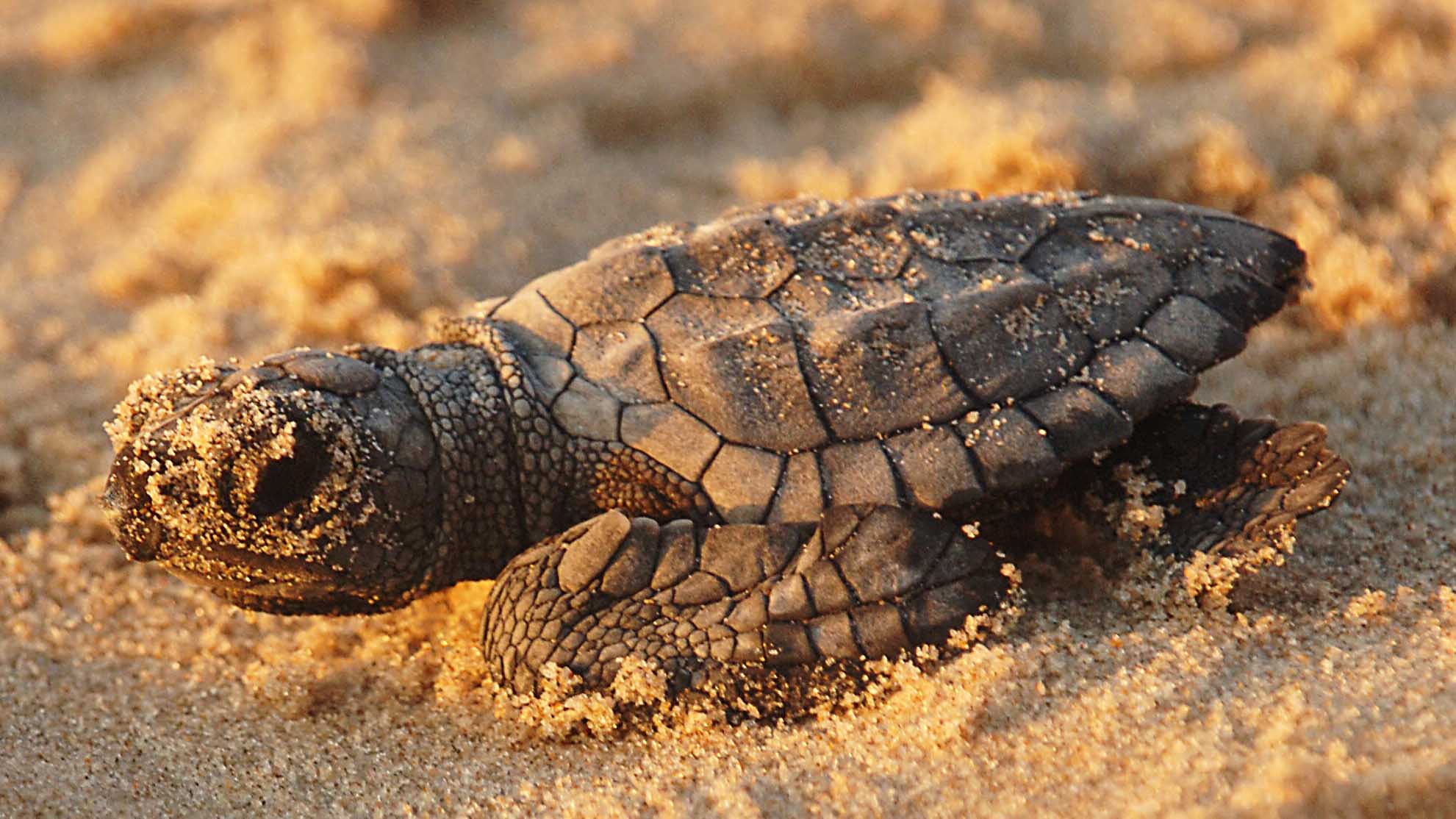 When the turtles reach adulthood, they have limited predators, which is mostly large sharks. However, there is an even more formidable killer for all species of turtles: plastic.
Turtle numbers have been drastically diminishing in this region from tens of thousands to less than 4,000, as heavy pollution, over-fishing and general human interference are to blame. That is why, as a team we add our own small contribution to a large environmental and ethical issue.
We carefully picked up all visible trash across the 1.5 km of the Toxeftra beach coastline. The team was split into two groups; the first group focused on the protected turtle nesting grounds while the other focused on the surrounding areas which consisted of small hills leading to the beach.
We used biodegradable gloves and bags for the collection process. We then separated each of the trash to the three main recycling categories in Cyprus: PMD (Plastic bottles, Metal packaging and Drink cartons), paper and glass. We then discarded each category of trash to their corresponding recycle points of collection.
Moreover, our team decided to become a donor to the Ocean Mimic project, an exceptional initiative that is empowering individuals to protect our seas.
Ocean Mimic is collecting plastic from our beaches and transforming it into fashionable swimsuits. They additionally, educate local populations on how to reduce their dependence on plastic and how to follow a more sustainable lifestyle.
80 kg of hidden trash in 1 week
In total we gathered 80 Kg of trash, in a beach the seemingly looked clean at first glance. What was surprising was that this amount of trash was collected, after a previous cleanup took place just one week prior by another group.
That was a confirmation that even in remote and protected beaches, trash pollution can be a frequently re-occurring phenomenon.
Trash of all sorts were found, including water bottles and caps, plastic bags, diving equipment, cigarettes, containers etc. Much of the trash seemed that it had been discarded quite recently, as evident by the bright colors, and the limited wear and tear on the packaging.
How plastic becomes a killer?
Plastics can be fatal to turtles and marine life in general, in several ways, as reported by WWF:
Ingesting plastic causes blockages in their digestive systems such as their intestines, causing internal bleeding. In other cases, it occupies large spaces within the turtle's stomach, making it unable to seek or digest food thus leading to death by starvation.
Plastic can also cause blockage to the respiratory system which results in asphyxiation. Turtles often get entangled in plastic debris, which weigh them down and render them unable to rise to the surface to breath which they need to do every few hours in order to survive.
WWF
Moreover, new research published by Duke university suggests that fibropapillomas, a disease which is one of the prominent causes of death for sea turtles may be directly linked to ocean pollution.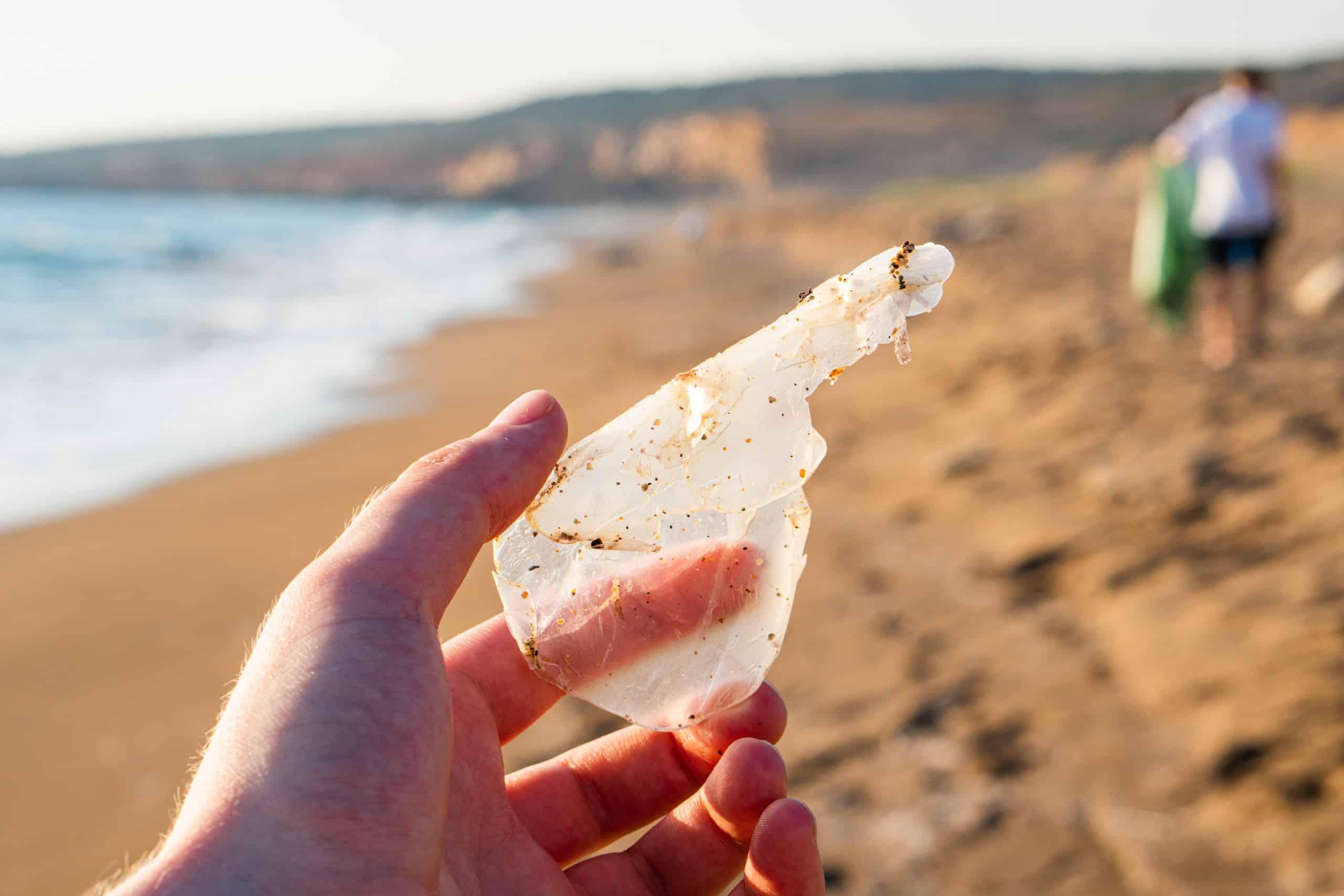 Countless other studies confirm the detrimental effects of plastic in the lives of turtles, and all other marine animals:
A thorough research conducted by CSIRO and USC on a sample of 1000 dead turtles, have concluded that turtles that ate just a single piece of plastic had a 22% chance to die from it. In fact, they have found in their sample that more than 52% of all turtles have consumed at least one piece of plastic. In cases where the turtles consumed 14 pieces of plastic or more, the mortality rates increased to 50%.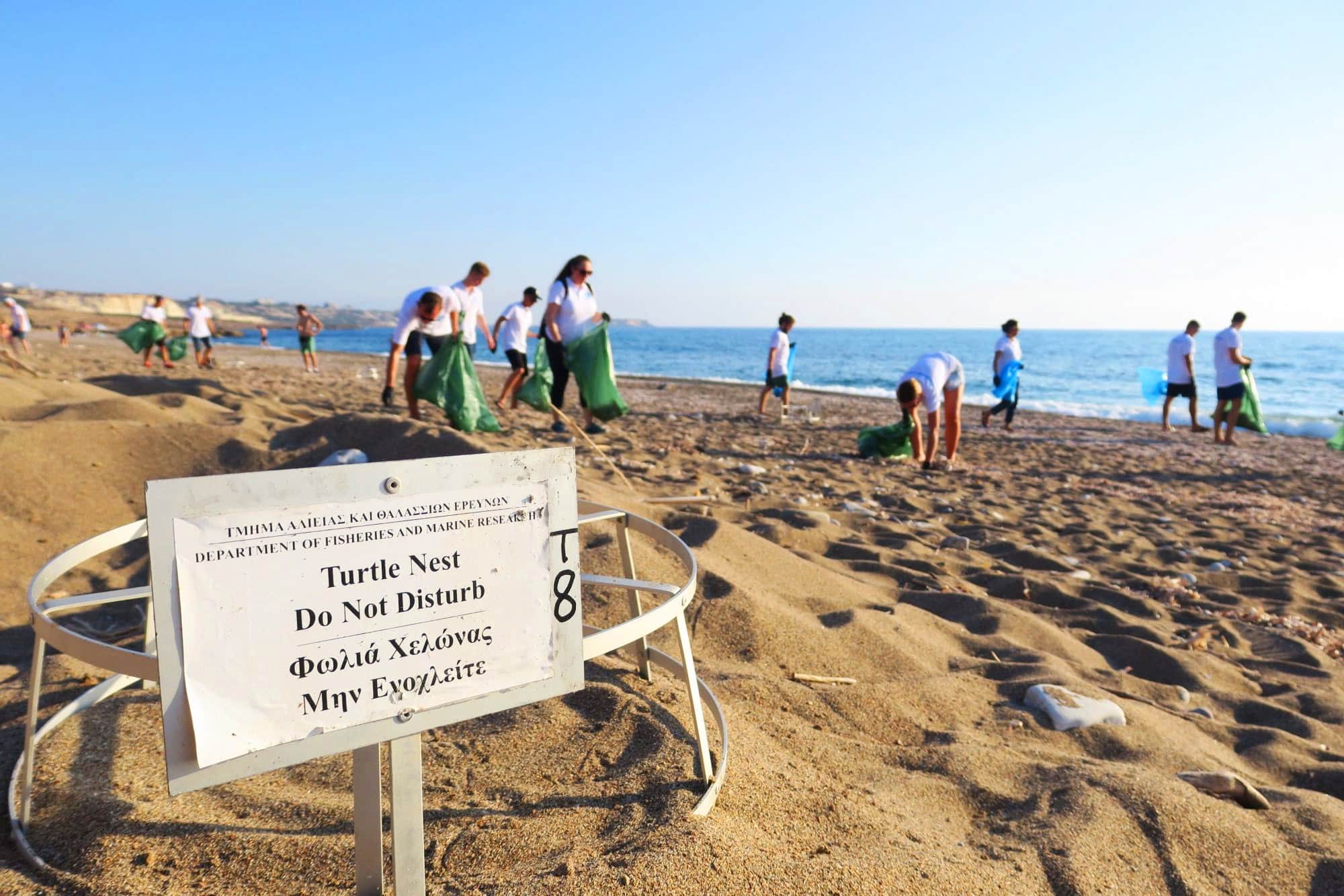 Is the situation critical today?
Today, all turtles within the Mediterranean Sea are dangerously close to extinction. In those nesting grounds, breeding populations have decreased drastically to merely 2500-3000 loggerheads and 350-500 green turtles.
This is especially worrisome considering the few decades ago the same waters used to host tens of thousands of those species.
Not just turtles die from plastic related pollution: Up to 1 Million people die per year from plastic pollution, according to Tearfund's report, and up to 4.6 Million people die per year from air pollution according to Science Daily studies.
How can you help?
The abundance of trash that accumulated within such a short period of time is one more proof why as a society we should work harder on developing an environmental conscience that stops the problem at its source, rather than constantly dealing with its consequences.
Each one of us has numerous options to fight trash pollution. Here are a few suggestions as mentioned by members of our team:
Buy only products with biodegradable containers
Buy organic and local produce when possible
Recycle your trash at all times
Collect the trash of others setting up a good example
Use less chemicals for your household and personal needs
Use public transport or carpool when possible
Speak out against issues such as global warming, offshore drilling
Inform people about the dangers of pollution and offer to help them engage in team activities against it
Conserve water and keep its sources unpolluted
Use reusable bags, boxes & containers
Shop second hand products and clothes
Cook at home more often and share with your neighbours
Follow environmental corporations such Ocean Mimic and support their cause
If you find this article useful, please it share it with your friends.