April $1000 Amazon Giveaway
30 March, 2023
5 min read
14626 reads
April $1000 Amazon Gift Card Giveaway
To celebrate our 5-year anniversary, Financer.com is providing our users the chance to win a total of $1000 of Amazon gift cards
Enter for free
5 winners x $200 each
International entries allowed
Period: April 1st – April 30th
Winners were announced on May 1st on our social media channels
More giveaways will be announced in 2023
The giveaway organizer
Financer.com is one of the world's leading personal finance websites. We provide our users with free loan comparisons of their local banks, money-saving tips, financial news, guides, and more!
Basic requirements to enter
There are 2 basic requirements to enter:
*Do not use duplicate / copied answers. Only unique comments will be counted for the giveaway winners
However, if you complete any of the additional tasks below, you can multiply your chances of winning. For example, someone who uses all 12 ways to enter will have 25+ times more chances to win the contest, so be sure to do your best!
There will be 5 lucky winners by the end of the month, so don't forget to share the contest with your friends (and gain more chances to win).
Enter by following the directions below
Enter here
$1000 Amazon Gift Card April Giveaway
Winners
The 5 winners of the giveaway will be announced here and on our social media channels on May 1st, 2021:
The winners are:
Holly C
Tonya A
Megan W
Halil I
Damien H
Make sure to follow us so you won't miss out on any future announcements! We plan to run regular giveaways, offering several prizes in amazon gift cards, free coupons, and more.
The prizes
This sweepstakes' total prize pool is $1000. It is comprised of 5 amazon gift cards, each of them having a value of $200.
Officially, Amazon stopped its sweepstakes program on October 10th, 2019. However, their gift card program is still running without any issues.
Among many options, we chose to give away Amazon gift cards because they give flexibility to the winners to choose from a vast collection of millions of products. However, certain terms apply when using or redeeming gift cards that you can read in detail on Amazon's site.
Claiming your prize
Once the giveaway is over, we will contact the winners via our social media channels and/or email. 
The winners need to claim their prizes by responding to us within 7 days and by providing us with the following information that will be publicly published on our website and social media channels: Full name, country of residence, city of residence, personal picture (can be their Facebook profile picture).
We will also require to verify the email address that the winner used to enter the giveaway, which will not be shared publicly.
Be sure to check in detail all the giveaway terms before you decide if you should participate or not. The detailed terms are displayed on this page by going to the "Enter here" section and then clicking on the Terms & Conditions link/button that is displayed on the bottom left side of the giveaway widget.
If you have any further questions about the terms or your entry, please contact us on our official social media channels, or comment below.
Past Giveaways
Last year, we created the $1000 New Year's giveaway. 52064 successful entries were collected, and 5 lucky winners were randomly chosen.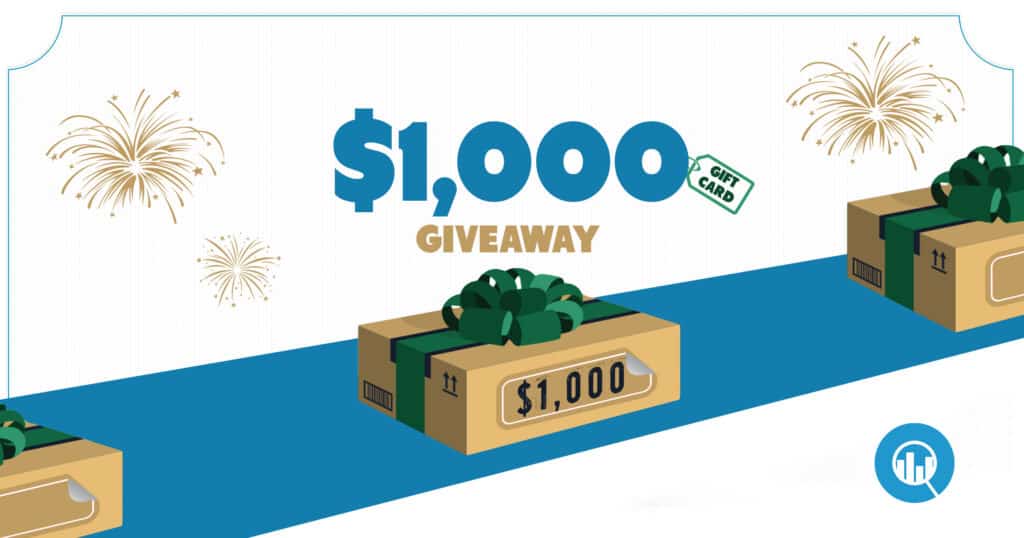 You can find our last year's winners on this Facebook post and the initial announcement here.
Also, make sure to follow our social media channels to get informed as soon as the new winners are announced!
Future Giveaways
The most recent giveaways will be announced here for your own convenience. If you have any doubts if we are running a new giveaway, you can visit this section and find out.
Thank you for your support. Good luck to everyone!