The Best Personal Finance Apps in 2023 To Make Your Life Easier
March 13, 2023
13 min read
16384 reads
Today it's more important than ever to have a good understanding of your finances. The best way to get a perspective of your finance is to download a finance app, and here's the list of the best 5 best personal finance apps.
Those people who keep up with their income, expenses, and budget usually have a better overview of their whole financial picture.
You used to have to keep a paper ledger or make yourself a spreadsheet.
Still, nowadays, new finance apps for creating and managing your budget, tracking your finances, and keeping tabs on your investments appear every week it seems.
Financer.com's Best Personal Finance Apps 2023

Personal Capital

Kubera

Mint

You Need A Budget

Spendee
Reviews – 5 Best Personal Finance Apps
With more and more apps are being aimed at helping with personal finance management and budgeting, we at Financer.com decided to do all the hard work for you and take several for a test drive.
We have made a list of the top personal finance apps, for both Apple and Android users.
Read our reviews of the top personal finance apps below and get inspired to take control and organize your financial world.
1. Personal Capital
Personal Capital is a user-friendly finance app for tracking and managing all your financial accounts in one convenient place.
You can easily integrate all your accounts — they're already connected with over 14,000 financial institutions, and the app retrieves data from all of your connected accounts automatically.
Personal Capital also utilizes a two-step remote authentication process and bank-level security to verify your identity and your device to keep your data safe.
Each individual transaction is reported by importing transaction files.
The transactions are automatically split into different categories, including cash, investment, credit card, and loan. You can also add set a date range and export your data if you wish to do so.
| PROS | Cons |
| --- | --- |
| Automatic integration with thousands of financial institutions. | Certain accounts may not be automatically integrated and require manual editing. |
| Interactive cash flow tools for creating and following a budget. | Username, password, and security questions for all accounts have to be updated manually. |
| Keep track of income, assets, expenses, and investments in separate categories. | Individual transactions cannot be edited. |
The Personal Capital finance app also supports a program called Personal Capital Cash, which is a high-yield savings-type account geared towards helping you earn more APY on your savings, typically at a rate higher than the national average.
It offers unlimited withdrawals, no fees, and no minimum balance. It's also FDIC insured.
2. Kubera
Kubera is a tool that helps you keep track of all of your assets – including traditional investments and crypto – side by side so that you can get a picture of your net worth in one location
Kubera's spreadsheet-like interface is easy to use for most users who need manual entry of data. It also offers cool graphs and tracking tools for user dashboards.
What's great is Kubera uses multiple backend connection tools so that you'll be able to connect to pretty much any online account – from your bank to API connections on your crypto wallet. (with API monitoring in place to ensure proper functionality)
Kubera lets you connect to popular crypto wallets, including Coinbase, Gemini, Ledger, Kraken, Binance, Binance.US, Polygon, Bittrex, and more. You can also connect investment accounts like Robinhood, Vanguard, Wealthfront, and more.
| PROS | Cons |
| --- | --- |
| Track many assets including sock, crypto, and retirement accounts. | Somewhat expensive compared to other platforms. |
| Connects to more than 20,000 financial institutions including major crypto wallets and banks. | No budgeting tools, portfolio analysis, or credit score monitoring. |
| Easily pass information to beneficiaries. | |
3. Mint
Mint is a free money management and financial tracker app that's designed to help you get ahead of your spending.
Basically, it's an easy-to-use budgeting app. It brings together your bank accounts, credit cards, bills, and investments in one place so you can see what you're spending and where you can save money.
Mint also offers something called MintSights, which are money-saving insights that the app makes based on your financial information.
Mint consistently tops the list for all-around best budgeting app because of its bill pay reminders and easy-to-use calendar features.
Users can avoid late fees and all of the hassles of forgetting to pay a bill on time.
| PROS | CONS |
| --- | --- |
| Bill pay reminders let you know what is due when, and how much you have in your accounts to put towards your balances. | While the app is free, ad space is present throughout. |
| Offers free credit score monitoring with fraud and identity alerts. | Ongoing updates to the user experience and interfaces have received mixed reviews in the past. |
| Mint is from Intuit INC. and easily integrates into its suite of financial tools. | Despite the bill pay reminders, there is no integrated bill pay tool. |
4. You Need A Budget
You Need A Budget 'YNAB' is more than a personal finance and budgeting app — it's aimed at changing your habits and helping you break the paycheck to paycheck cycle.
The app works to train your financial behaviors by adhering to 4 basic principles:
You Need A Budget's Four Principals

Give Every Dollar A Job | Be intentional about what you want your money to do before you spend it. By tracking your expenses, you will make better decisions.

Embrace Your True Expenses | More than just an expense tracker, YNAB can help you prepare for the future. Break up larger, less frequent expenses into smaller, more manageable amounts. By budgeting monthly for insurance premiums, holidays, or car repairs, your money is ready and waiting to do its job when the time comes.

Roll With The Punches | When life changes, so must your budget. Make adjustments and move along. Flexible budgets succeed because they're guilt-free, realistic, and sustainable. Good money management habits are ones you can stick with.

Age Your Money | As you repeat the first three rules, you'll increase the time between the moment you earn a dollar and the moment you need to spend it. When your money is at least a month old, you'll have finally broken the paycheck to paycheck cycle for good. Your personal finances will never feel the same again. In a good way.
YNAB offers budgeting tools and expense tracking and financial goal tracking to keep you motivated and working towards your financial goals, big and small.
After the 34 days free trial period, the app will cost you $11.99 month-to-month or $83.99 for an annual subscription.
| PROS | CONS |
| --- | --- |
| Ability to connect all accounts in one place and import transactions automatically. | After the 34-day trial, you must subscribe and pay for your membership. $11.99 per month or $84 per year. |
| You have the option to manually input and edit transactions. | The app supports a much more extensive desktop experience. You need to use both to get the full benefit of the app. |
| Offers a free 34-day trial before you need to subscribe. | Currently, there is no integrated bill payment feature. |
5. Spendee
Spendee is on our best financial apps list because it is a collaborative budgeting app that will allow you to track your money (both expenses and income) automatically.
The app allows you to invite others so you can manage your shared family or household budgets. It also allows you to track multiple currencies across all your accounts.
While the basics of the app are free, Spendee Plus upgrades your experience.
It gives you the ability to create multiple wallets and invite your family members and friends and share your wallets with them for $1.99 monthly or $14.99 annually through an auto-renewing subscription.
Spendee Premium for $2.99 monthly or $22.99 annually also allows you to synchronize Spendee with your bank accounts.
| PROS | CONS |
| --- | --- |
| Ability to connect all your accounts in one place and collaborate with others on a shared budget. | While the basic app is free, it does offer in-app purchases and ad space is present throughout. |
| You can create multiple, separate budgets for different categories. | You must upgrade to the paid version. Spendee Plus, to share and collaborate on accounts. |
| Offers a bill tracker feature so don't miss payments. | Despite the bill pay reminders, there is currently no integrated bill payment tool. |
The Best Personal Finance Apps – Summary
Every user has different expectations and needs when it comes to finding the best personal finance and budgeting apps.
That's why it is difficult to pick just one app to recommend — you may need to try more than one to find the features and functionality that matter most to you.
To make your selection a little easier, we have evaluated the apps based on five criteria.
Financer.com has put together a table where you can breakdown your app options: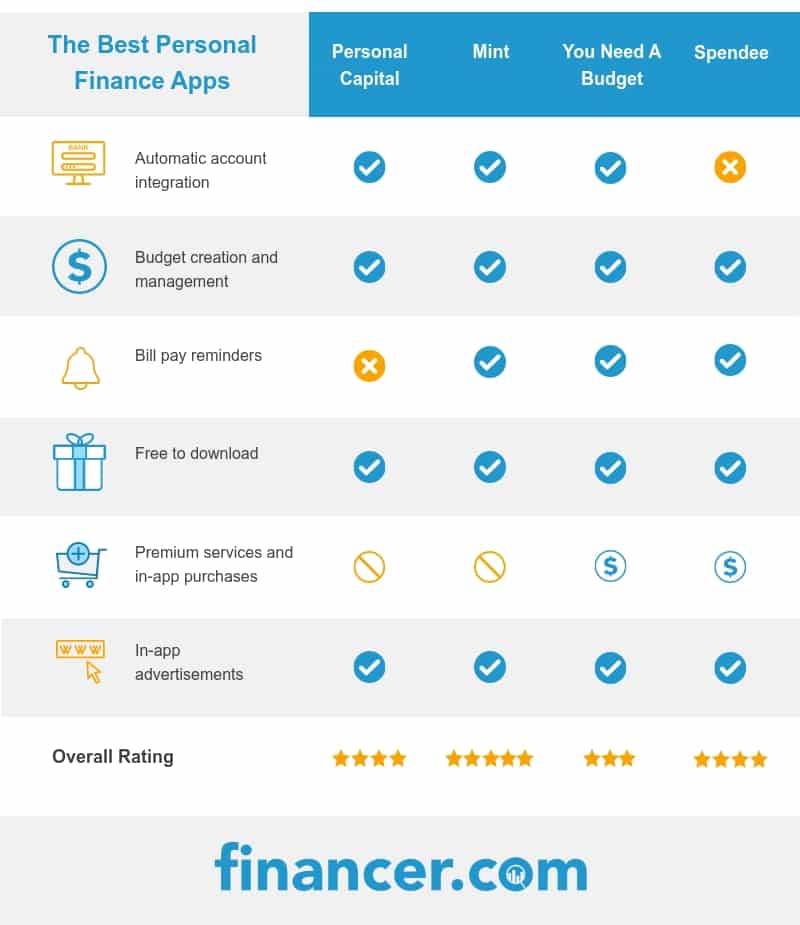 In this table, you can see which apps automatically integrate with your accounts and import financial data, which offer budgeting features and bill pay reminders, and whether the app has ad placement or offers premium services.
We also think the overall user experience is important. We evaluated the navigation and user-friendliness using a five-star system.
Other Finance Apps Worth Mentioning
Here are a few other great finance apps that we think are worth mentioning:
Kubera: A modern portfolio tracker to track all your assets in one place—traditional and crypto. Supports banks, brokerages, stocks, and currencies.
Prism: See all your bills and accounts in a single app. With more than 11,000 billers available, Prism tracks payments to help you avoid late payments.
EveryDollar: Uses the zero-based budget method by Dave Ramsey to give every dollar a purpose in your budget, hence the name.
Every app has advantages and disadvantages, so choose the application that suits you best.
We'll remain on the lookout for the latest and greatest finance app for you.
We hope that we've inspired you to take control of your finances, and you have been able to narrow down your options using our best personal finance apps list.