Review of Stilt
Summary

Loans for immigrants, visa holders, and underserved people

Competitive starting interest rates

Loans from $1,000 to $35,000

Doesn't require a Social Security number 

No cosigner required
What is Stilt?
Stilt is a financial services company focused on affordable and quality loans for immigrants, visa holders, and U.S. citizens.
Immigrants, visa holders (not citizens/green card holders), and the underserved in the U.S. often encounter many struggles while trying to build credit, apply for personal loans, and build their financial future.
Stilt's personal loan services allow them to take a step forward in their path to financial health. Loan amounts range from $1,000 to $35,000, with a maximum repayment period of 36 months.
There are no penalties for prepayment, so you can easily pay off your loan early without any extra fees.
Products Offered
Stilt is an online lender that offers loans to immigrants and underserved populations in the U.S. Borrowers with a bad or limited credit history should also consider taking out a loan from Stilt.
Stilt aims to provide a transparent, affordable way for visa holders, international students, DACA holders, and asylum and refugee applicants to borrow funds for various financial reasons.
Stilt also offers student loan refinancing to students on an F-1 visa, as well as student loans for students on F-1 and OPT visas who are working part-time.
If you're studying in the U.S. from abroad, Stilt limits student loan amounts to $5,000. It says common uses for the loan are expenses such as tuition, buying school supplies, and living expenses.
Even with no credit history or a Social Security number, you may still be considered for a Stilt personal loan, depending on a few other factors.
At a minimum, applicants need to have a U.S. bank account and a U.S. address.
How Stilt Works
Stilt doesn't require borrowers to have a green card or Social Security number to apply for a personal loan. No co-signer is required when taking out a Stilt loan and there are no prepayment fees.
Stilt offers personal loans to borrowers in these states: AZ, IL, FL, TX, PA, CA, MI, WA, UT, OH, GA, NY, NJ, MA, and VA.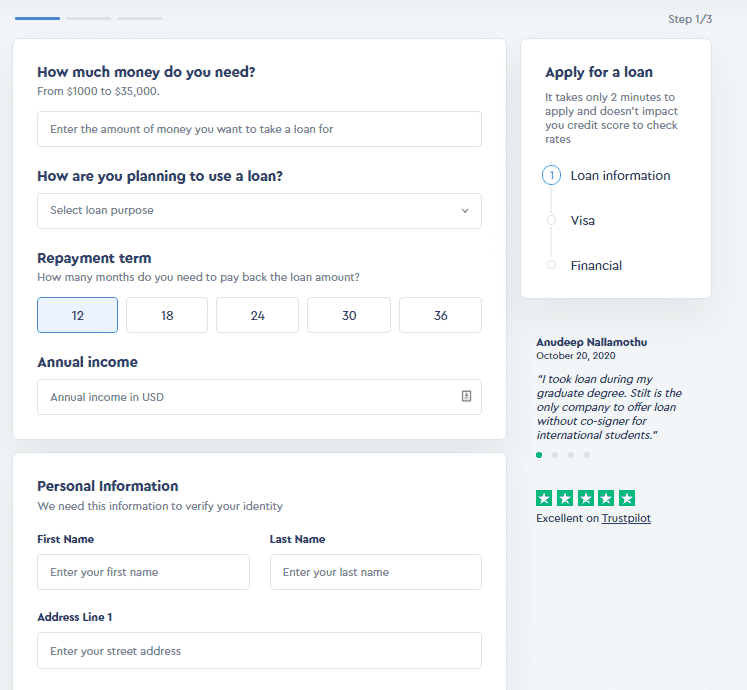 Stilt accepts loan applications from borrowers covered by Deferred Action for Childhood Arrivals (DACA), as well as these visa types:

Although most lenders rely on credit scores, Stilt does not require a minimum credit score when assessing personal loans for non-residents in the USA.
Stilt reviews applicants' educational background, including GPA and coursework, using a distinct data model to gauge the strength of an application.
Stilt has a unique approach by looking at applicants' bank account information, evaluating spending and saving habits, and looking at overdraft fees, insufficient funds fees, and more.
Applicants are also evaluated based on their employment status or future employability, as this points to their ability to repay a loan. An applicant with a strong work history or job offer could be a lower risk.
Tip: A presonal loan from Stilt can be helpful for borrowers with no credit or a credit history that is less-than-perfect.
Loan Requirements
Here are the loan requirements when applying for a Stilt loan:
Have a U.S bank account – joint accounts are accepted.
Have a phone number from a U.S. carrier.
Have a U.S. address in one of the listed states.
Have a valid visa for at least six months.
Many lenders look at your credit score to determine your creditworthiness when applying for a loan. Stilt doesn't have a minimum credit score requirement.
Instead, it says it looks at other factors your education, employment or employability, bankruptcies and collections. This may be helpful if you have no credit or less-than-perfect credit.
Seeing that you can't use a co-signer when applying for a Stilt loan, you need to qualify on your own. This may be an issue if you're unemployed or have a history of collections or bankruptcies. 
Rates & Fees
Stilt offers APRs from 7.99% to 35.99%. Although their interest rates are fair, getting the best interest rate will depend on your education, employment, and visa status — and other financial factors and any collection accounts you may have.
Stilt charges an origination fee but the exact amount is only disclosed once your loan is approved.
Payment Terms
Stilt loans have a repayment period of up to 36 months. Their personal loans come with monthly repayments and this can be done by bank transfer, check, or online. You can also set up autopay. With no prepayment penalties, Stilt makes it easy to pay your loan off early without any additional fees.
Step 1
Submit an application
Visit the Stilt website and submit your loan application. You'll receive an update within 24 hours and this may include a quick verification call.
Step 2
Receive an offer
After your documents have been verified, you'll receive a promissory note to sign. After signing, Stilt will initate the transfer, which typically takes 2-3 business days to reflect in your account.
Step 3
Start making payments
After you've received the loan, you can schedule payments through your account. You can easily set up autopay in just a few minutes. You may pay off the loan at any time without paying any penalties. 
Some of the key areas that Stilt will look at when assessing your loan application include your current employment status or your employability, as well as your financial behavior, and education. Sometimes this may include a soft credit check.
Our Stilt Loan Review
Pros

Provides loans to borrowers with no Social Security number.

Doesn't require a co-signer or collateral.

Approvals typically take 24 hours.

Only does a soft credit check.

Ideal for immigrants, international students, and borrowers with a limited credit history.

A good way to build your credit score.

You can pay early with no extra costs.
Cons

Relatively high APRs.

Loans are not available in all states.

A maximum loan amount of $35,000 might be too low for some.
Is Stilt legit?
Yes, Stilt is a San Francisco-based fintech company and a legitimate online lender. It has a secured website and an easily accessible privacy policy that explains how the information you submit is used and stored.
Stilt personal loans are aimed at non-U.S. citizens and new immigrants. Borrowers don't need a Social Security number or a green card to apply.
Rather, Stilt relies on your personal financial history as opposed to your credit rating when underwriting your loan.
Add your own Stilt loan review below.
Stilt Loans FAQs
Whare is the Stilt loan login?
You can find the Stilt loan login at https://www.stilt.com/login.
How much can I borrow?
You can borrow up to $35,000 with Stilt loans.
Sho can apply for a Stilt loan?
Stilt offers loans for immigrants, visa holders, and underserved people.
How soon can I get a loan?
After your loan is approved, it takes two to three business days for the funds to reflect in your account.