Coingate Review 2023
CoinGate is a company based in Lithuania that provides services for businesses and individuals worldwide. The company started as a Bitcoin exchange but soon expanded to offer other cryptocurrencies as well.
Since 2014, the company has offered Bitcoin and Ethereum payment solutions. More recently, the company launched a fiat gateway allowing customers to pay in Euros using local currencies.
Its goal isn't just to accept Bitcoin payments but to make them easy for everyone. Its goal is to make accepting cryptocurrencies as simple as possible for every online store and retailer.
How We Rate Coingate
At Financer.com, all crypto traders go through a thorough research and review process. Here's how we rate Coingate:
| Category | Rating |
| --- | --- |
| Interface | ⭐⭐⭐⭐ |
| Advanced trading features | ⭐⭐⭐⭐ |
| Fees | ⭐⭐⭐⭐ |
| Security | ⭐⭐⭐⭐⭐ |
| Transparency | ⭐⭐⭐⭐ |
| Customer support | ⭐⭐⭐ |
| Overall | ⭐⭐⭐⭐ |
Do We Recommend Coingate?
Yes, we recommend Coingate as a reliable platform. Skip to our full review below and see how we rate Coingate.
Coingate Overview
CoinGate provides cryptocurrency payment processing services for merchants of all sizes, from small businesses to large enterprises.
CoinGate has processed over 1.5 million transactions, completed over 1.4 million orders, and has a customer base of more than 350,000 users to date.
Read our full CoinGate review below to find out more about this popular cryptocurrency payments processor, how it works, and its fees.
Are you a customer? Leave your CoinGate review here on Financer.com.
Here's a quick summary of Coingate:
| Overview | Features |
| --- | --- |
| Number of cryptocurrencies: | 50+ |
| Minimum trade: | $1 |
| Transaction fees: | Trader fees: 3%, Merchant fees: 1% |
| Maximum limit: | Up to $20,000 per day and $50,000 per month |
| Product line: | Accept crypto payments, buy and sell cryptos, buy gift cards, merchant directory |
| Best known for: | Security and low fees |
Why Choose CoinGate?
CoinGate is an easy-to-use cryptocurrency exchange platform. Users can buy and sell Bitcoin, Ethereum, Litecoin, Ripple, Dash, Monero, ZCash, Dogecoin, Stellar Lumens, NEM, IOTA, Lisk, Qtum, OmiseGo, Waves, Binance Chain, EOS, Cardano, NEO, and many other cryptocurrencies.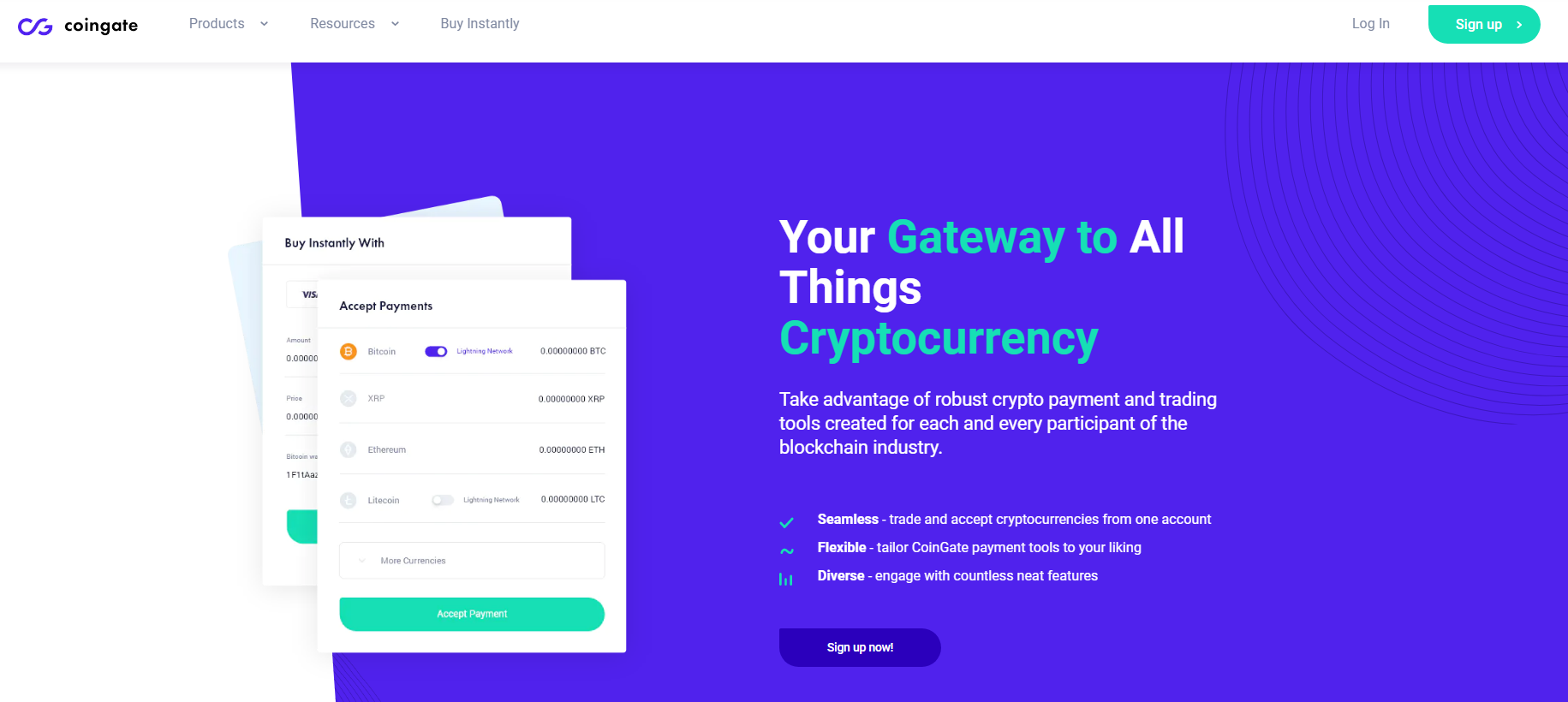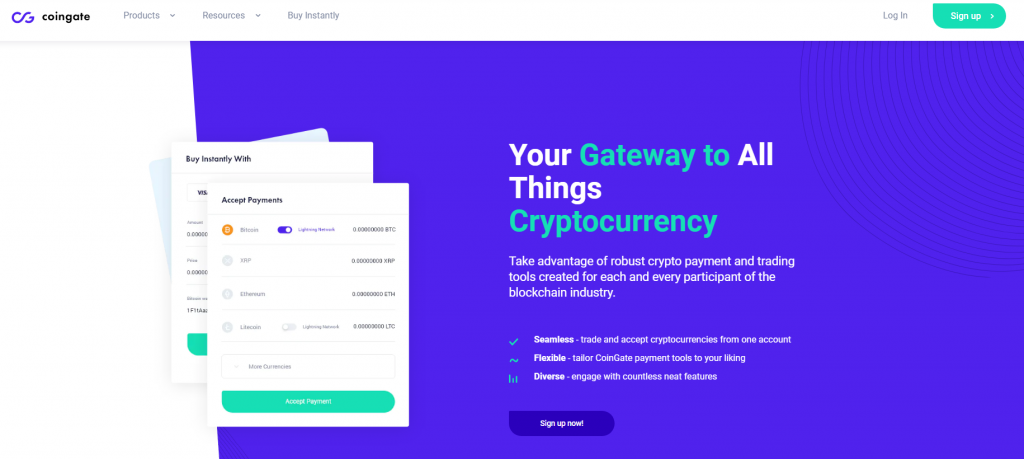 As a CoinGate user, you can also send money globally using bank transfers, credit card purchases, and wire transfers. Businesses can easily integrate the CoinGate API to accept crypto payments.
Some of the key features of CoinGate include:
User-friendly platform
A presence in more than 100 countries
Customer support is available 24/7
Allows businesses to accept payments in crypto
Offers gift cards as a way to spend crypto
Buying and selling crypto with fiat
Buy Gift Cards with Crypto
With CoinGate, users can spend their crypto on a range of crypto gift cards from popular retailers. It provides an easy way for users to spend their crypto without having to sell crypto for fiat currency.
There are over 1,500 gift cards available and they are instantly delivered via email. You can choose from brands like Amazon, Spotify, Steam, Google Play, Nintendo, Ikea, XBox, Roblox, Twitch, and more.
Shoppers can visit the CoinGate gift card shop to view the available gift cards.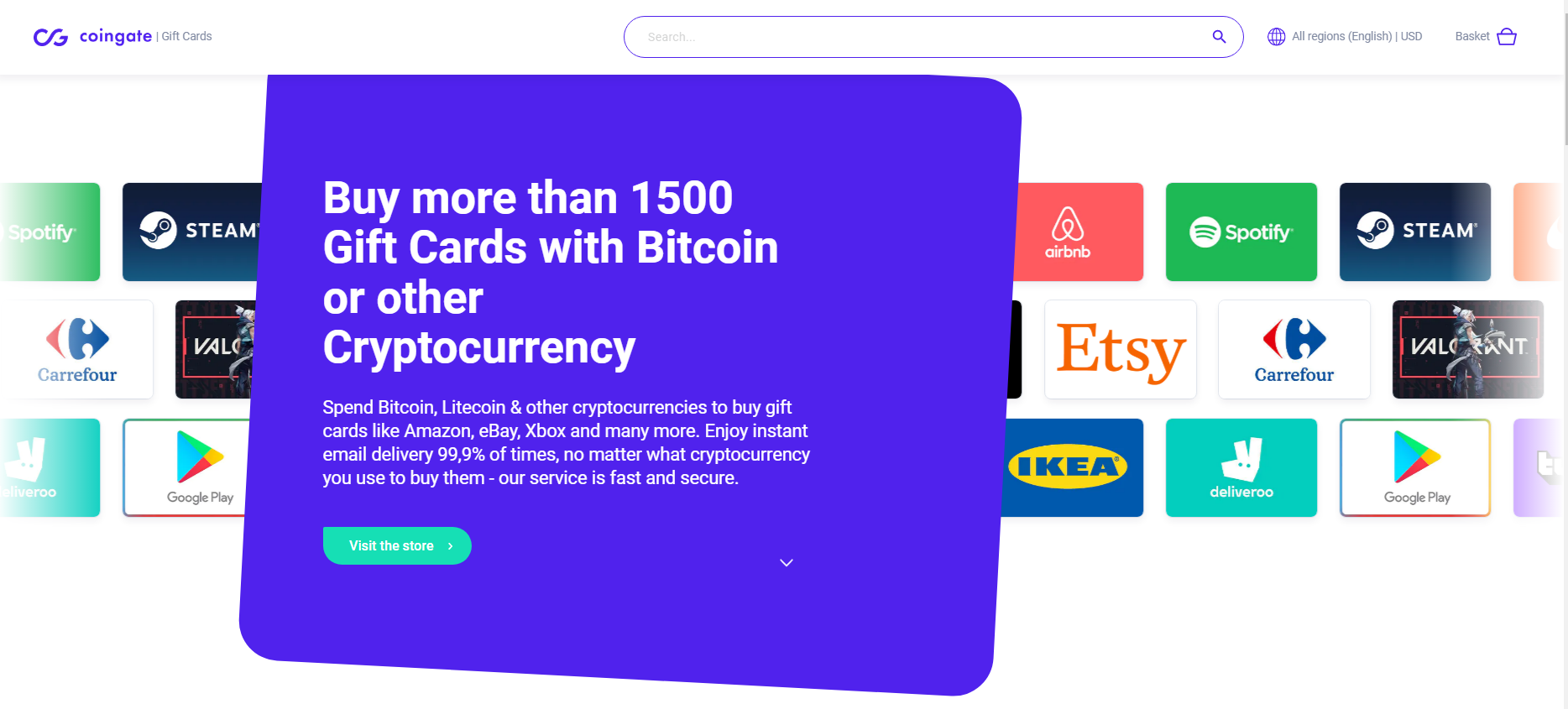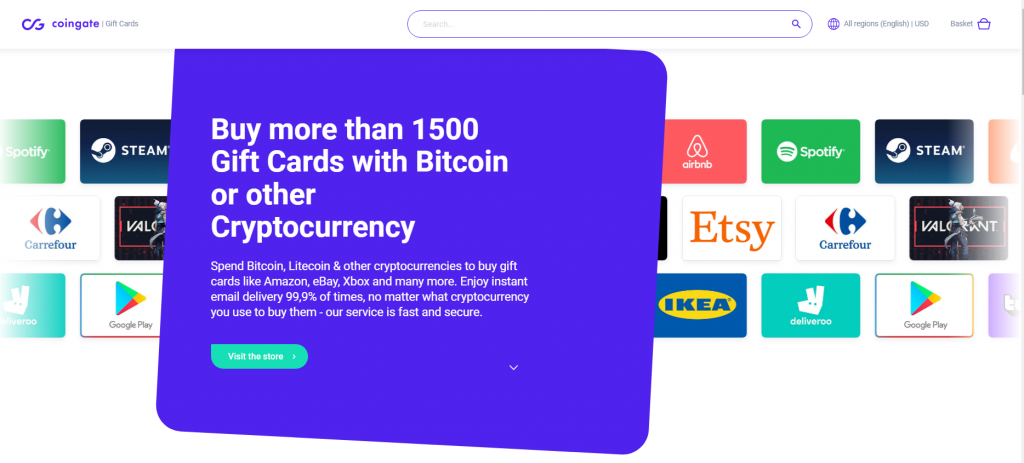 There are many benefits to buying gift cards with crypto and this includes:
Lower network fees. When buying gift cards with crypto at CoinGate, choose the Lightning Network option for Litecoin and Bitcoin transactions for lower network fees.
Eliminate regional subscriptions. Use gift cards to pay for subscriptions instead of your normal payment cards and use them without restriction.
Instant delivery. Gift cards are delivered by email instantly 99.9% of the time. CoinGate's service is fast and secure.
Gift cards are available in many categories including gaming, travel, entertainment, restaurants, and ecommerce. Customers can spend Bitcoin and other virtual currencies to buy e-gift cards for eBay, Amazon, Google Play, and more.
Instant purchases 
The Buy Instantly feature allows you to buy cryptocurrencies with a credit or debit card at an additional cost. You can choose from buying coins starting at $50 to $20k.
After selecting the amount you wish to buy, proceed to the payment page and enter your billing details. Once completed, you will receive your cryptocurrency within one hour.
If you are looking to create an account, you must first verify your identity. This is done through the standard KYC/AML procedure.
Businesses Can Accept Crypto Payments
Cryptocurrencies have become an accepted form of payment, not just in countries like Japan, South Korea, and China, but also in many other parts of the world including Europe, Canada, Australia, New Zealand, India, Brazil, Mexico, Argentina, Chile, Colombia, Peru, Venezuela, and others.
More than 18,000 companies worldwide accept crypto payments, and the number continues to grow every year.
As a business owner, you can accept crypto payments with the CoinGate platform and make it easy for users to pay for products and services using cryptocryptocurrency. 
Through CoinGate's integrated features, retailers will be able to accept cryptocurrency payments in Bitcoin (BTC), Ethereum (ETH), and Litecoin (LTC).
In addition to this, retailers can benefit from a platform with integrated cryptocurrency payment infrastructures to manage orders and crypto earnings, all in one user-friendly interface.
The fast process of registration allows customers to start using the service immediately while enjoying various tools and an easy user interface.
As a business owner, cryptocurrency payments offer many benefits over traditional fiat money transactions. These include low transaction costs, irreversible payments, micro-transactions, unsurpassed customer privacy, and more potential customers.
Almost any online or physical store accepts cryptocurrency payments using CoinGate's services.
This works as the store offers a product or service, the user buys it, and pays with cryptocurrency by selecting CoinGate from the checkout options.
How do cryptocurrency payments work?
Once users pick the CoinGate payment option, they're given a choice between several cryptocurrencies. The store creates an invoice for the cryptocurrency used to buy, and CoinGate creates an invoice for the seller.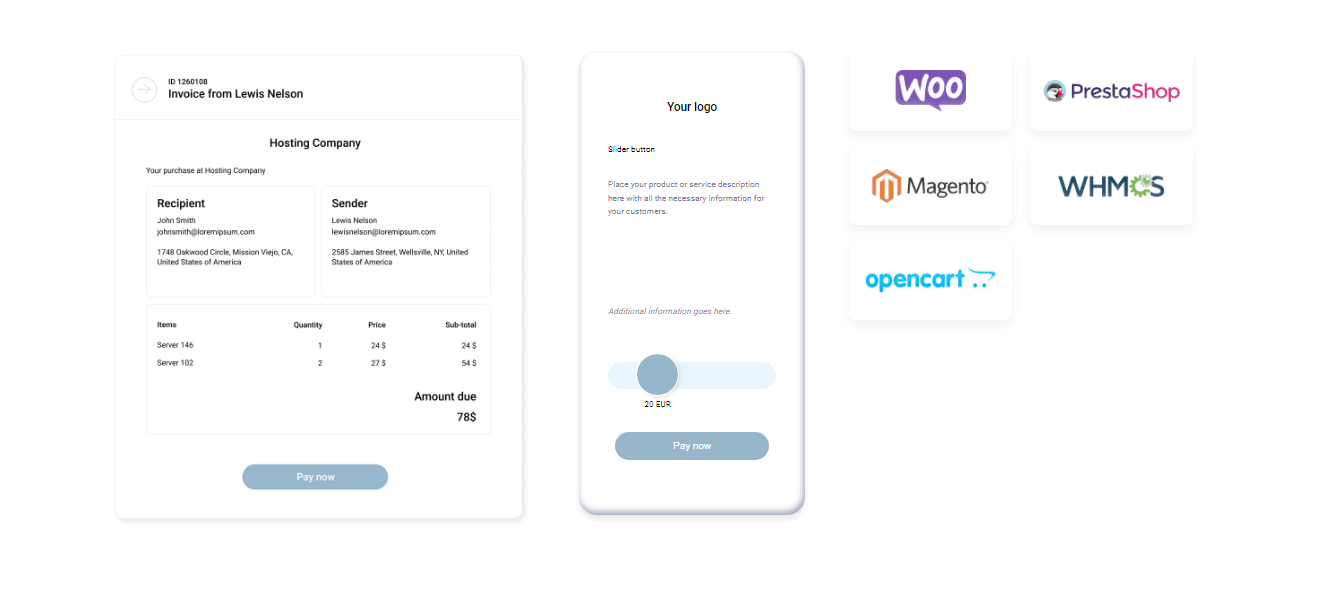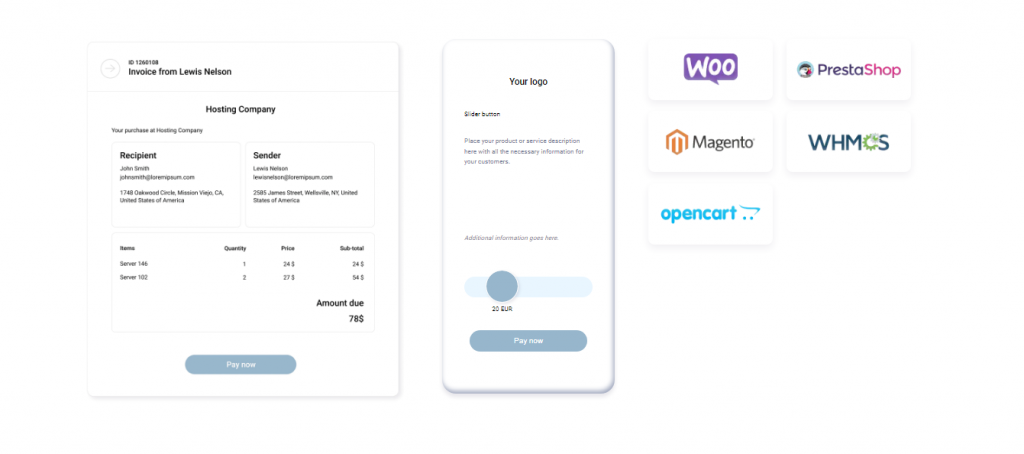 CoinGate then calculates a price in the buyer's currency choice and provides a payment window.
CoinGate will then collect the merchant's profits and send them back to them in Bitcoin, Euros, or any other supported currency.
The ability to accept cryptocurrencies as payment and trade as a company become available to everyone who creates an account.
Companies can also become full-service cryptocurrency processors.
Integration
There are many different ways to integrate CoinGate's payment gateways into your business payment solutions to better meet your customers' needs. We will go through all of them, including APIs, plugins, and point-of-sale integrations.
Our integrated payment solutions allow you to accept credit cards, debit cards, Apple Pay, Google Wallet, PayPal, Venmo, and more.
CoinGate plugin and modules
CoinGate's plugin module provides an easy way for merchants and business owners to accept payments in cryptocurrencies.
Merchants can choose from a list of supported currencies, including Bitcoin, Ethereum, Litecoin, Dash, Ripple, Stellar Lumens and many others. Consumers can also pay using any of these cryptocurrencies.
Payment buttons
You can start accepting a wide range of cryptocurrencies, including Bitcoin, Litecoin, Dogecoin, Dash, Ethereum, Ripple, Stellar Lumens, and more with CoinGate.
You can also accept credit cards, debit cards, gift cards, PayPal, Google Pay, Apple Pay, Venmo, Zelle, and others. You can even integrate your own custom payment system if you prefer.
Coingate API
CoinGate is an easy-to-use API platform designed specifically for online businesses and merchants looking to accept cryptocurrencies as a payment option. Using CoinGate, firms can easily integrate cryptocurrencies into their existing websites and mobile apps.
The platform allows them to offer consumers a seamless experience when purchasing goods or services using digital currencies.
Merchants can also benefit from increased customer retention rates while reducing transaction costs.
Buy and sell crypto
You can buy Bitcoin or any other cryptocurrency and buy and sell directly to your personal wallet without having to make any initial payments with an easy SEPA transfer from your own bank account.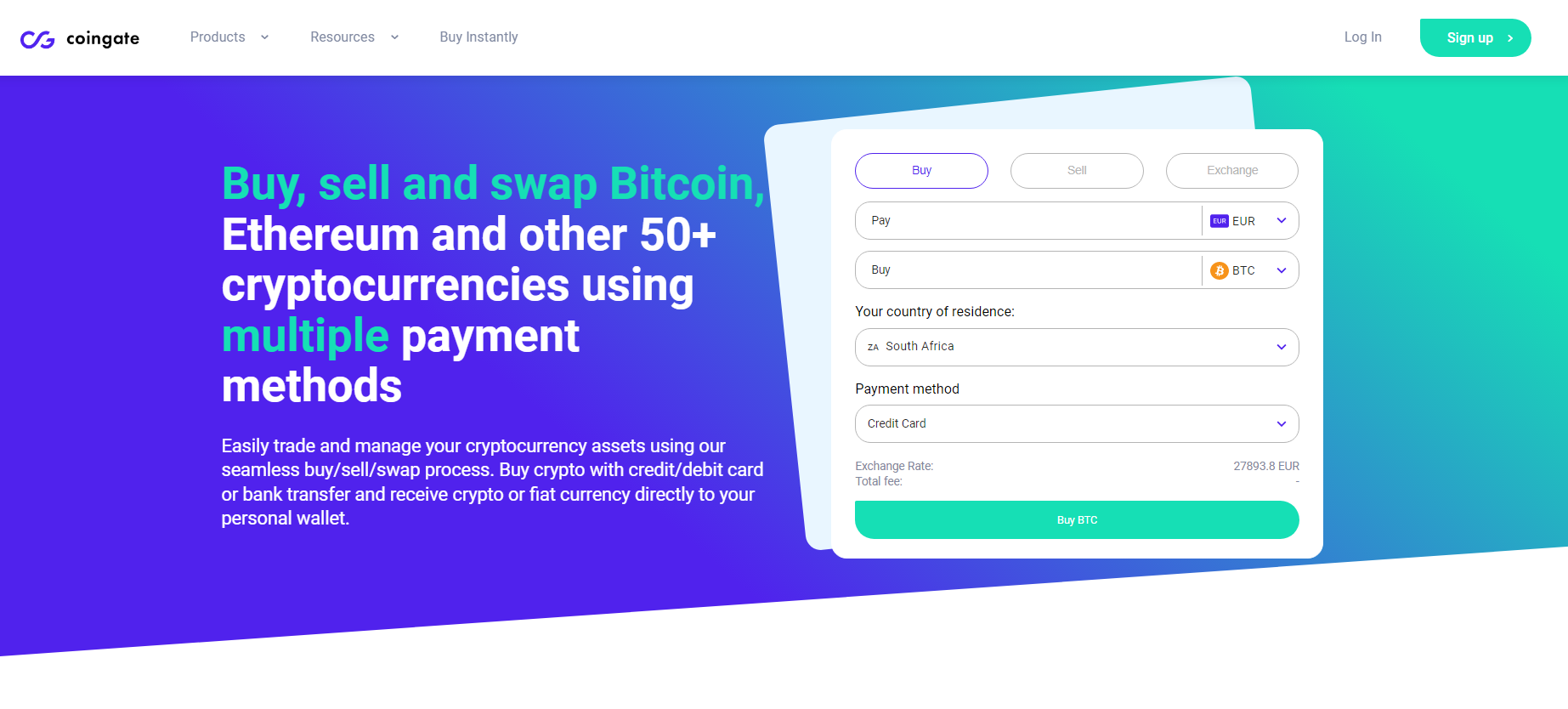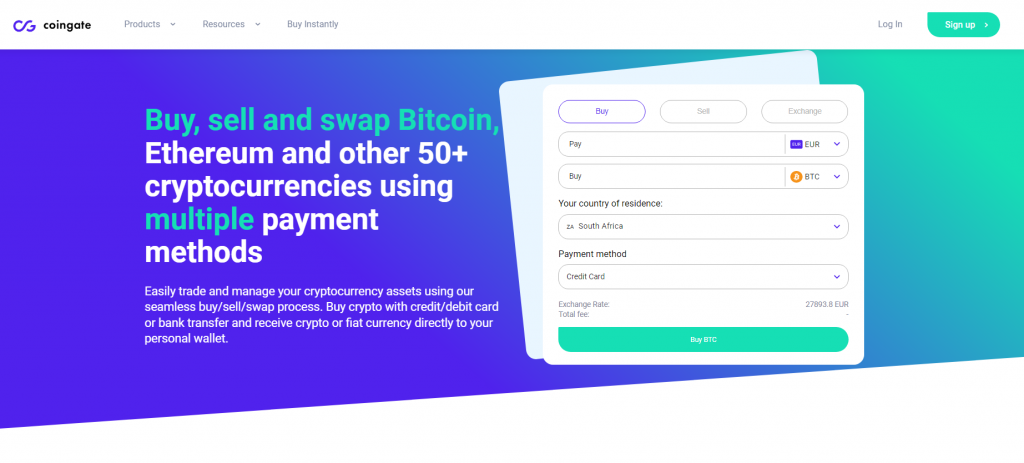 When buying cryptocurrencies, all transactions are delivered directly to the user's external wallet. However, when selling cryptocurrencies, all fiat is transferred to a designated SEPA account within 24 hours.
You can use Apple Pay to purchase Bitcoins and other cryptocurrencies, but the Apple Pay payment option isn't available when using an Android device.
CoinGate offers a wide variety of deposit options, including wire transfers, debit cards, and even Klarna (a Swedish payment intermediary service provider).
Orders
Users can access their trading order history through CoinGate's dashboard feature. Selecting "Trading" from the dropdown menu will allow them to view their orders.
For example, users might see their order/withdrawal status, order category, withdrawal amount, and date. You can narrow searches further by filtering them.
Withdrawals
Users may view all withdrawals by accessing the "Withdrawal" page accessible under "Trading's" dropdown menu
A user may check their account status, the amount, category, payment setting, and creation date
CoinGate doesn't allow users to deposit or withdrawal crypto or fiat money for trade. As a result, all purchases and sales are done directly from external wallets.
Verification process
Via your dashboard, you can read the information provided and click on 'Next' to proceed.
Make sure that the information on your identity document is clearly visible and click on 'Go to Verification". There are two levels of verification: Tier 1 and Tier 2.
For Tier 1 verification, you'll need your personal identification document photo and prepare it for upload. You may use your ID card, passport, or driving license.
You will also be prompted to provide a live image of your face and you can do this with your mobile phone. 
With Tier 1 verification, traders can buy and sell up to €1,000 worth of crypto per month, capped at €5,000. Once this limit is reached, a crypto user needs to complete Tier 2 verification. 
With Tier 2, unlimited CoinGate services are unlocked immediately.
External Wallets
If you're wondering what crypto wallet you should use, the answer is simple. It depends on your preferences. When comparing external wallets for crypto, you need to figure out what's best for you to use, and whether you need hot storage or cold storage.
An external wallet address can have many benefits, including easy user interfaces and great security. You can have multiple individual wallet addresses to make it even easier to store your crypto.
Merchant Directory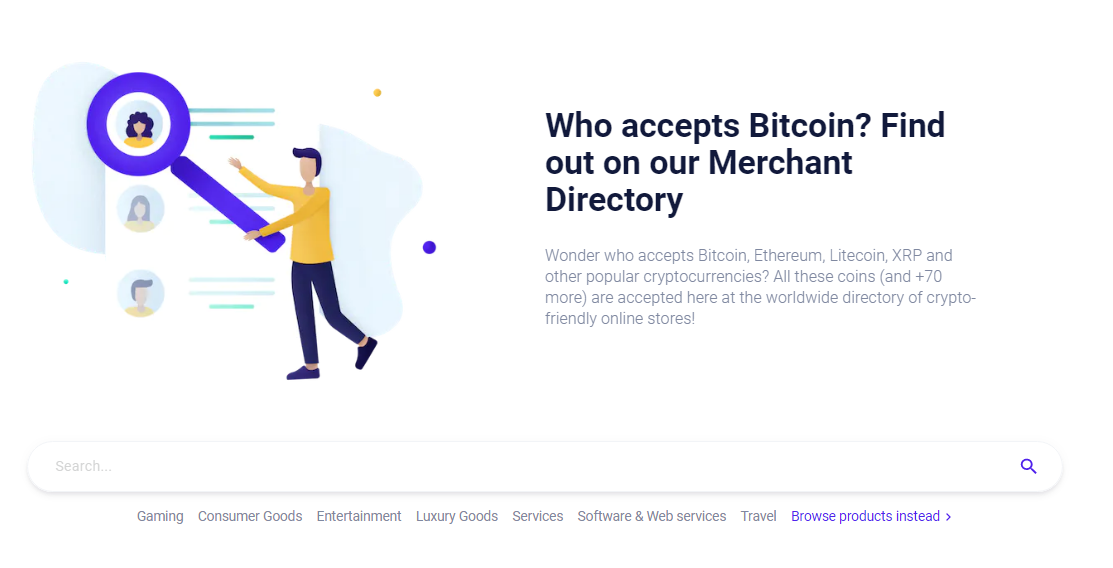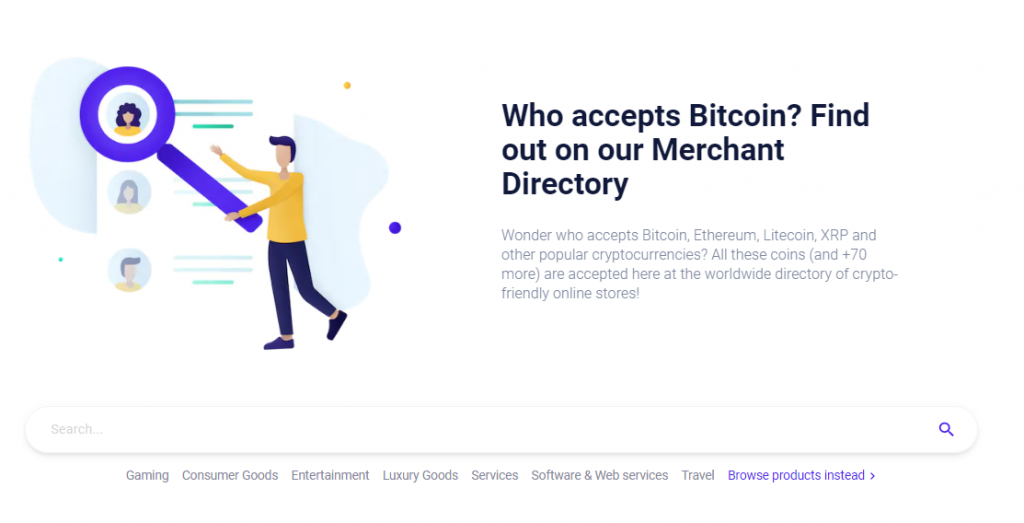 If you want to know who accepts Bitcoin, Litecoin, Ethereum and other popular categories, you can browse the CoinGate Merchant Directory.
It showcases a list of stores worldwide that accepts more than 70 coins as payment. You can browse by category and see user ratings for each store. 
Fees and Pricing
CoinGate charges a standard 3% fee for traders and 1% flat merchant fee for payment processing services. Additional services have different costs.
Trading Fees 
CoinGate doesn't charge any additional fees when you buy or sell cryptocurrencies. There is a 3% trader fee per trade, and then a 0.25% transaction fee. You also pay a 2.5% fee if you exchange fiat currency for cryptocurrency. If you use credit/debit cards to buy coins, you pay 8% per purchase.
This means that you will pay a total of 11.75% in fees when using your credit card. Additionally, CoinGate can increase the amount of money you can transfer at once, depending on your needs. 
Withdrawal Fees
SEPA transfers are free for all transactions within Europe with a minimum withdrawal amount of €50. You will pay 0.20% for SEPA international transfers.
An international bank transfer will attract a 1% withdrawal fee for EUR and 0.2% for USD. There is no minimum withdrawal amount required for EUR but there is a $250 minimum for USD. 
The minimum withdrawal amounts for other methods are as follows:
| Payout Method | Minimum Withdrawal Amount | Withdrawal Fee |
| --- | --- | --- |
| AdvCash | 0 | 1% |
| Bitcoin | 0.0012385 BTC | 0% |
| Litecoin | 0.3307 LTC | 0% |
| Ethereum | 0.018095 ETH | 0% |
| Bitcoin Cash | 0.0887 BCH | 0% |
| Ripple | 47.61 XRP | 0% |
| Dogecoin | 183.63 DOGE | 0% |
| USDT* | 58.465 USDT | 0% |
| Dai | 58.445 DAI | 0% |
| Travala.com | 18.33 AVA | 0% |
Coingate Pros and Cons
Pros

Coingate offers good security

24/7 customer support

Choose from more than 50 cryptocurrencies

CoinGate supports both cryptocurrency purchases and sales
CoinGate focuses on security and offers a high level of protection against hacks and phishing attacks.
Their customer service team is available 24/7 and will help you get started using the trading platform quickly and easily. They also provide extensive documentation and a comprehensive FAQ section.
Users can choose from 50 cryptocurrencies and convert them all directly to their local currency. You can also list your own coin and become an affiliate marketer.
CoinGate supports both cryptocurrency purchases and sales. It offers instant crypto purchases through its website and mobile apps. CoinGate provides services such as wallet management, exchange management, merchant tools, and an API.
Cons

No demo accounts

Can't deposit cryptocurrencies

Limited languages available

No wallet available
Coingate doesn't offer demo accounts and you also can't deposit cryptocurrencies. Another downside is that Coingate only supports English, Spanish, and Latvian at the moment.
How to Buy Gift Cards
Step 1
Go to the gift card store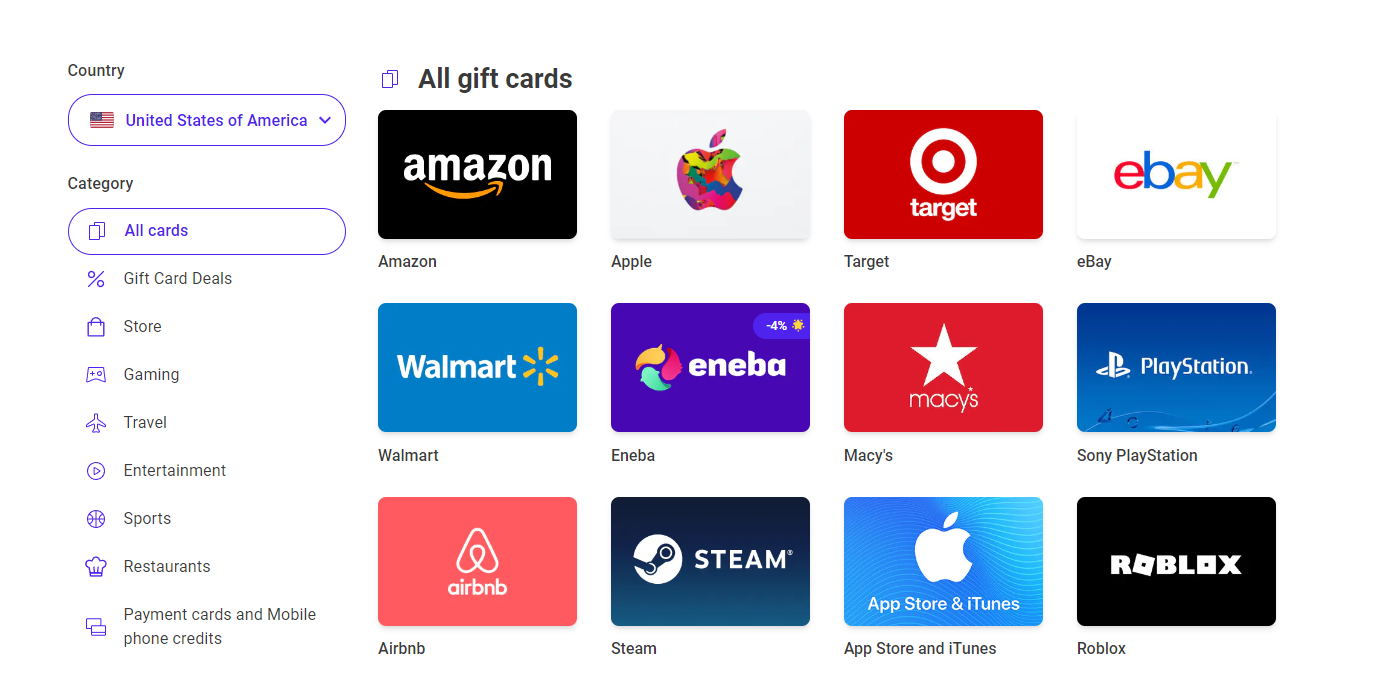 Go to the CoinBase gift card store and choose the gift card you want to buy.
Step 2
Choose your amount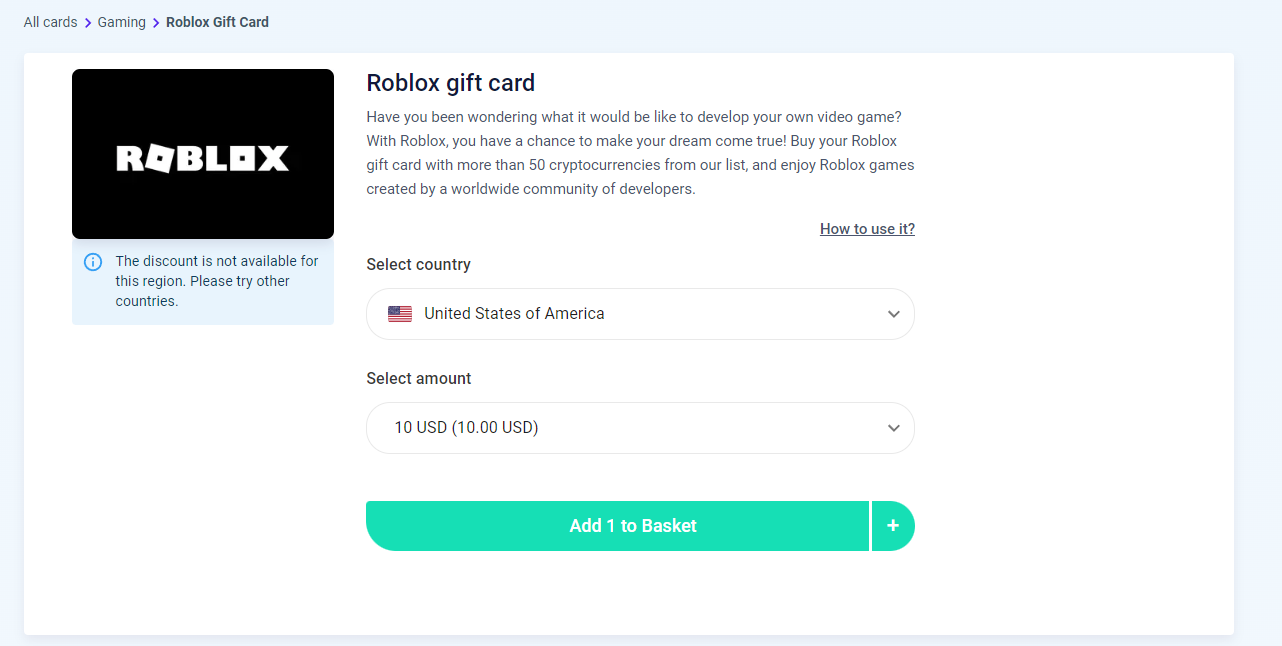 Choose the amount you want to buy the gift card for and go to checkout.
Step 3
Complete your purchase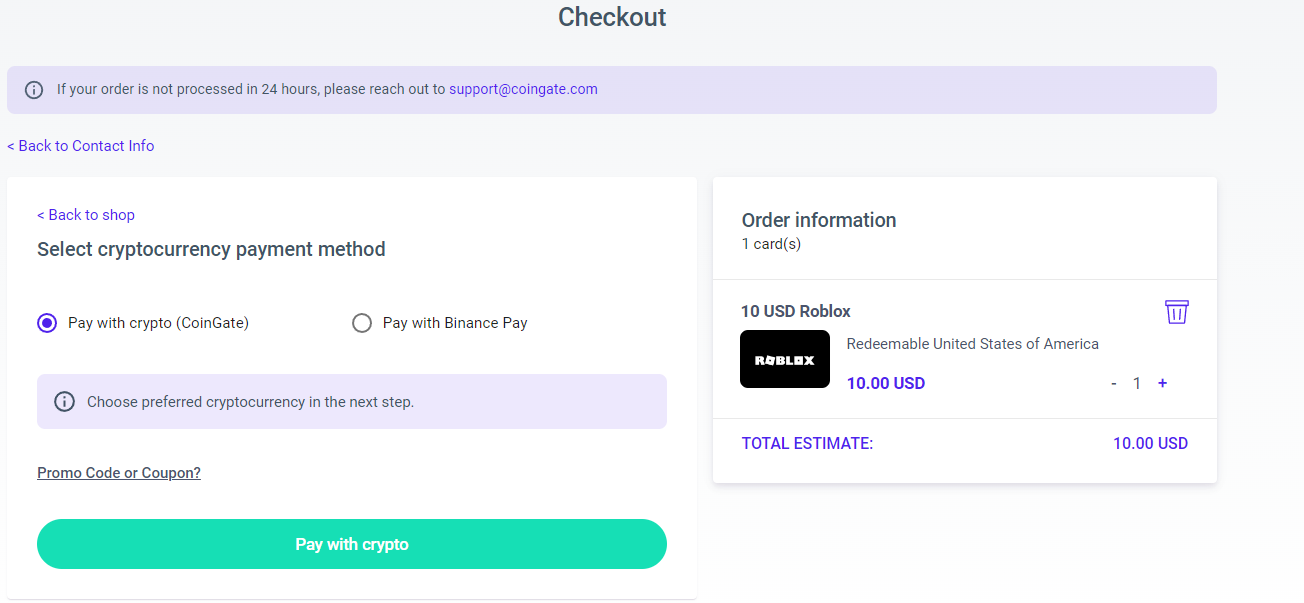 Complete your purchase by paying with crypto or Binance Pay.
Step 4
Choose your crypto payment method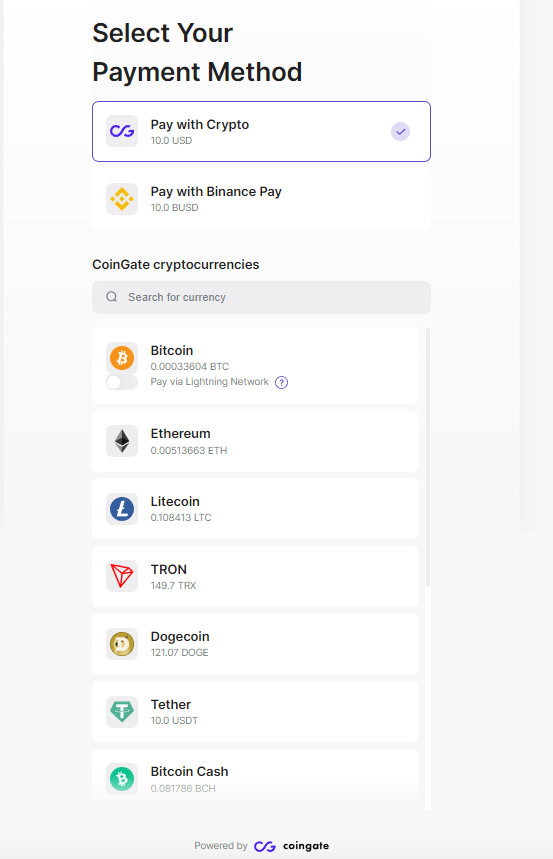 Choose the crypto you want to use as payment.
Step 5
Get your gift card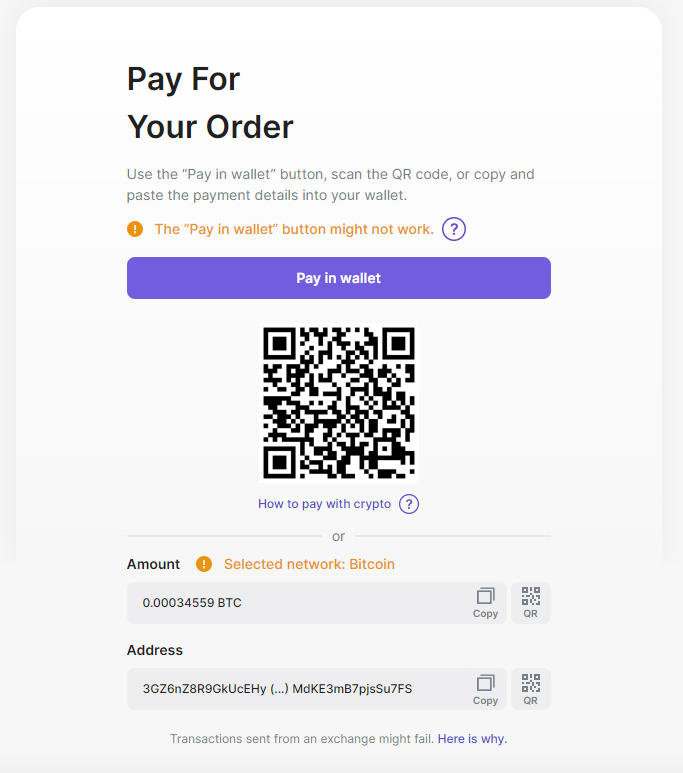 Complete your payment and receive your gift card via email.
How Financer.com Rates Coingate
Is CoinGate Safe? Yes. CoinGate is an innovative cryptocurrency exchange platform that offers all the features of a top-tier exchange, while also providing additional security measures to protect users' funds.
Their team consists of highly skilled professionals who possess extensive experience in the fields of finance and technology.
CoinGate has already established itself as a reliable and trustworthy platform, with zero hacking incidents and a high level of customer satisfaction.
Fees
Fees are quite in line with other crypto platforms and there are no set-up or recurring fees, making Coingate a good option.
Some payouts and withdrawals attract an additional fee which is not uncommon among other traders.
Customer Support
CoinGate offers customer support via email, phone, and live chat. Customers can email CoinGate support and their customer service team will respond to your queries within 24 hours. There is also a contact form available on their website.
Customers can also visit the CoinGate support FAQ section and CoinGate blog to keep updated with all the latest news and answer any doubt.
If they cannot resolve issues through this, there's a contact form that users can use to describe their issues on this page.
Privacy and Security
Congate places a high emphasis on security with two-factor authentication and enhanced security options for traders and investors.
Summary
Is CoinGate legit? Yes. CoinGate is a multi-product trading platform that offers multiple products and services. These products and services are designed to help businesses and individuals alike.
As a result, the company offers an array of tools that allow users to create and manage online stores, accept credit cards, and even offer gift cards.
The trading platform also provides a number of different ways for customers to buy cryptocurrencies.
For example, CoinGate merchants can choose to receive fiat currency directly to their bank accounts, while others can purchase digital assets like Bitcoin, Ether, and Litecoin.
Finally, the company also offers a web point-of-sale system that allows businesses to accept payments in dozens of cryptocurrencies.
CoinGate FAQs
Am I required to verify my identity to buy and sell crypto on CoinGate?
Yes. You need to have a verified trader or merchant account to use all the payment methods. You can verify your identity with just a name, address, phone number, email address, and date of birth. There is no verification required for a credit card payment.
Does CoinGate have its own wallet?
No. Customers need to have their own external wallets (hot or cold storage) for sales and purchases.
How do I buy a CoinGate gift card for someone else?
You can choose to give your friends and family a special gift that will arrive via email. Choose the "E-Gift?" option when you check out, and we'll create an e-card just for them. You can even add a personal message to the greeting if you'd like.
Where is CoinGate based?
CoinGate is based in Lithuania.
Is CoinGate available in the USA?
Yes. CoinGate is available to customers in the United States.
Can I use Bitcoin to buy an e-gift card?
Yes. You can use Bitcoin and other cryptocurrencies to buy gift cards for Amazon, eBay, and 1,500+ brands. You choose the gift card you want, the currency you want to pay with, and the value of the gift card, before checking out. The gift card will be delivered via email instantly.
What gift cards can I buy with crypto?
You can choose from more than 1,500 brands including Amazon, Walmart, Steam, Target, Roblox, Airbnb, PlayStation, Apple, Ikea, Netflix, Uber, Starbucks, and many more. 
Coingate Alternatives
Here's a list of alternatives to Coingate and how they compare:
| Exchange | Reviews | Key Feature | Fees |
| --- | --- | --- | --- |
| Binance US | View | Low trading fees | A flat 0.1% for most trading activities. |
| Coinbase | View | Beginner friendly  | $0.99 to $2.99 flat fee depending on the size of the trade; percentage-based fee for trades above $200 |
| Etoro  | View | The world's leading social trading platform | A fee of 1% is added to the spread when buying or selling crypto assets  |
| Gemini | View | Known for security and compliance | Transaction fee of 1.49% and a flat rate for trades up to $200 |
Should You Create an Account with Coingate?
If you want an easy way to pay for gift cards that can be used anywhere in the world, then we recommend opening an account with Coingate.
Their signup process is very straightforward and you can choose from different cryptos as payments. Gift cards are instantly created.
More Coingate Reviews
What Users On the Web Are Saying
Coingate is rated 4.2 out of 5 stars on Trustpilot. Users seem to be impressed with the fast delivery times and good customer service.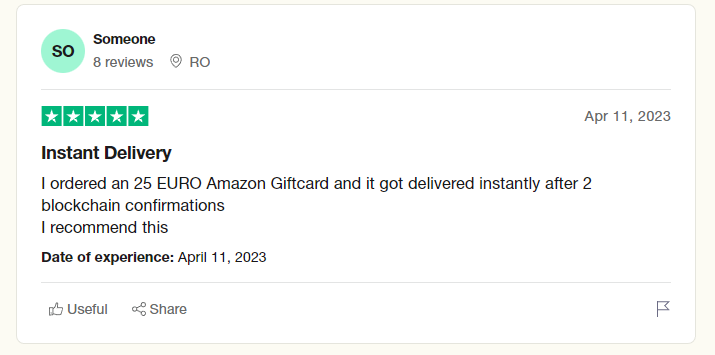 More User Reviews – Add Your Rating
Read more reviews on Financer.com from verified users below.
Have you used Coingate before? Leave your review now.