Destiny® Mastercard®
Pre-qualify without impacting your credit score
No security deposit needed
Enjoy easy online account access 24/7
Monthly reporting to 3 major credit bureaus
Information
Interest-free period
25 days
ATM fee
1% of each transaction in USD
Review of Destiny® Mastercard®
The Destiny Mastercard® is an unsecured credit card for consumers with a bad credit history or an imperfect credit score.
The Destiny credit card can help you rebuild your credit score and get access to a small line of credit with an initial credit limit of $300. The annual fee is $59 to $99 and it is issued by First Electronic Bank.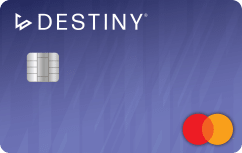 Destiny credit cards offer numerous benefits, including:
$0 fraud liability for unauthorized use.
Pre-qualification without any impact on your credit score.
A range of Destiny credit card designs.
Reporting to all three major credit bureus.

The benefits of the Mastercard include identity theft protection and zero liability protection. The Destiny card does not offer a reward program and there is no introductory bonus when applying for a Destiny Mastercard®.
Requirements
The Destiny credit card is ideal for anyone who wants to rebuild their credit. To be pre-qualified or approved, you must:
Be at least 18 years old (19 in AL).
Have a valid Social Security number.
Have a physical address and a US IP address.
Not have had a Destiny Card that was charged off due to delinquency.
Meet additional credit qualification criteria, including a review of your income and your debt, and identity verification requirements.
Fees
The fees for the Destiny Mastercard® include the following:
Penalty APR: 24.90%
Annual Fee: $59-$99
Late Fee: Up to $40
Returned Payment Fee: Up to $40
Additional Cards Annual Fee: N/A
Foreign Transaction Fee: 1%
Cash Advance APR: 29.9%
Cash Advance Fee: $0 during the first year; then $5 or 5% per transaction.
Intro Balance Transfer APR: N/A
Regular Balance Transfer APR: N/A
Balance Transfer Fee: See terms
As the Destiny Mastercard® is an unsecured credit card for bad credit, it doesn't require any security deposit. The card can be used anywhere Mastercard is accepted online, in-app, and in-store.
Payments are reported to all three major credit bureaus and pre-qualification won't impact your credit score.
Here's how the Destiny Mastercard® compares to other credit cards:
Contacting Customer Service
You can contact Destiny Customer Services at:
Genesis FS Card Services
PO Box 4477
Beaverton, OR
97076-4477
Toll-free customer service number: 1-844-222-5695
Read more Destiny credit card reviews below.
Frequently Asked Questions
How do I pre-qualify for the Destiny® Mastercard®?
Pre-qualification is easy; simply submit the quick pre-qualification form online and get results within minutes.
Can I apply with bad credit?
The Destiny® Mastercard® is a perfect card for those with imperfect credit. All credit histories will be considered, even with a prior bankruptcy.
Can I apply over the phone?
There is not a phone application option available.
When will I receive my card?
In most cases, you'll receive your card within 14 days of approval. 
Do I get fraud protection?
Yes. If your card is lost or stolen, call 1-888-260-4532 right away. If your card is lost or stolen and used without your permission, you may not be responsible for those charges.
What is the Destiny credit card login?