New BPme Rewards Visa Credit Card: Here's How It Works
July 12, 2022
4 min read
322 reads
With gas prices reaching record highs, you may be looking for ways to save money at the pump and the new BP rewards card does just this.
Although there are a number of popular credit cards for gas purchases, BP has launched a new rewards credit card that you can use at thousands of gas stations throughout the U.S.
The new BPme Rewards Visa Credit Card can help you save on your summer road trips this year with discounts on gas.
BPme Rewards Visa Credit Card Benefits and Perks
Issued by First National Bank of Omaha, this BP rewards card can be issued as a Visa Signature Card or a Platinum Edition Visa Card, depending on your credit limit and your creditworthiness when you apply.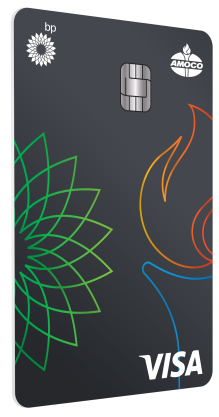 As a cardholder, you can enjoy perks like free access to your FICO credit score, roadside dispatch through Visa, and zero liability for fraud.
Cardmembers can earn rewards points when they shop online, pay bills, transfer money, apply for a loan, or even just log into their account.
Members also receive exclusive offers, including special discounts on car rentals, hotel stays, and airline tickets.
There are no limits to the rewards you can earn and there is no annual fee for the card. There is a 3% foreign transaction fee so it might not be the best card to use while traveling abroad.
You can download the BPme Rewards Visa app for Android and iOS.
Discount on Fuel Purchases
💡 One of the best perks of the BPme Rewards Visa is an automatic discount of 15 cents per gallon on all BP and Amoco fuel purchases made in the U.S.
This is a built-in feature and is automatically applied to the price at the pump.
New cardholders will get an even higher discount.
Sign up for the BPme Rewards Visa here.
Sign-Up Bonus
As an introductory offer, new BPme Visa cardholders will receive 30 cents off every gallon of fuel purchased at BP and Amoco gas stations during the first 60 days after opening an account.
This is double the normal discount cardholders get.
With this BP rewards program, the exact amount you'll save depends on how much fuel you purchase and how often; if you purchase 100 gallons of fuel, for example, your welcome bonus would be worth $30.
After the introductory period is over, the standard discount of 15 cents per gallon will apply across all BP and Amoco gas stations in the U.S.
You can find a list of locations here.
Example: As of July 11, 2022, the AAA put the average price of a gallon of regular, unleaded gas at $4,678. With the sign-up bonus, this means you'll effectively earn 6.4% back on your purchases for 60 days, and then 3.2% after that.
Everyday Rewards
Apart from saving on your gas purchases, the BP Rewards card offers other everyday benefits as well, and these include:
5% cash back on non-fuel purchases at BP and Amoco
3% cash back on grocery purchases
3% cash back on dining purchases – restaurants, takeout, and food delivery
1% cash back on all other qualifying purchases
These are great perks for those interested in solid cash-back rewards.
Keep in mind that you don't earn rewards on your fuel purchases at BP and Amoco as you are already getting the discount benefit.
Rewards can be redeemed as a cash back (in 2,500 point increments equaling $25), as a statement credit, in the form of gift cards or certificates, merchandise, travel (airline, hotel, and car rentals), and other goods or services.
Conclusion
The BPme Rewards Visa may not offer the highest rewards when it comes to groceries and dining, but it leads the way in terms of fuel rewards.
Earning 15 cents for every gallon of gas can really add up and this benefit is doubled for the first 60 days.
Image credit: BP United States
Sources
BP

accessed on July 12, 2022