Review of MoneyLion
Summary

Loans of up to $1,000

Credit Builder Plus costs $19.99/month

No overdraft or hidden fees

No mimimim balance
What is MoneyLion?
Founded in 2013, MoneyLion is a mobile banking platform that offers credit builder loans up to $1,000, interest-free cash advances, banking with early paycheck deposit and no minimum balance, managed investing, cashback rewards, and financial tracking and education.
MoneyLion breaks down traditional barriers to financial health and provides financial access to hardworking Americans, helping them take control of their money and reach their goals.
By leveraging artificial intelligence, superior analytics, and machine learning technologies, MoneyLion can gain a 360-degree view of its customers' personal finances and deliver uniquely personalized advice and underwriting.
MoneyLion is headquartered in New York City and has more than 6 million users.
They have achieved various awards of recognition, including the 2020 Forbes Fintech 50, Finovate Award for Best Digital Bank 2019, Benzinga Fintech Awards winner for Innovation in Personal Finance 2019, and the Webby Awards 2019 People's Voice Award.
Personal loans up to $500
$0 account fees for ATM's and Overdrafts
Premium investment accounts with no minimum deposit required
Up to 12% cash back on purchases
Products Offered
MoneyLion offers the following products:
RoarMoney
Investment Account
Credit Builder Plus
Instacash Advance
MoneyLion Crypto

MoneyLion is a financial services provider that offers membership programs. Their services include online banking, credit-builder loans, and cashback rewards.
How MoneyLion Works
MoneyLion Account
In order to use MoneyLion's services, a user must have a MoneyLion account.
MoneyLion allows for the creation of a free account, and you may choose to add other free services (such as Instacash advances) or paid services (such as Credit Builder Plus).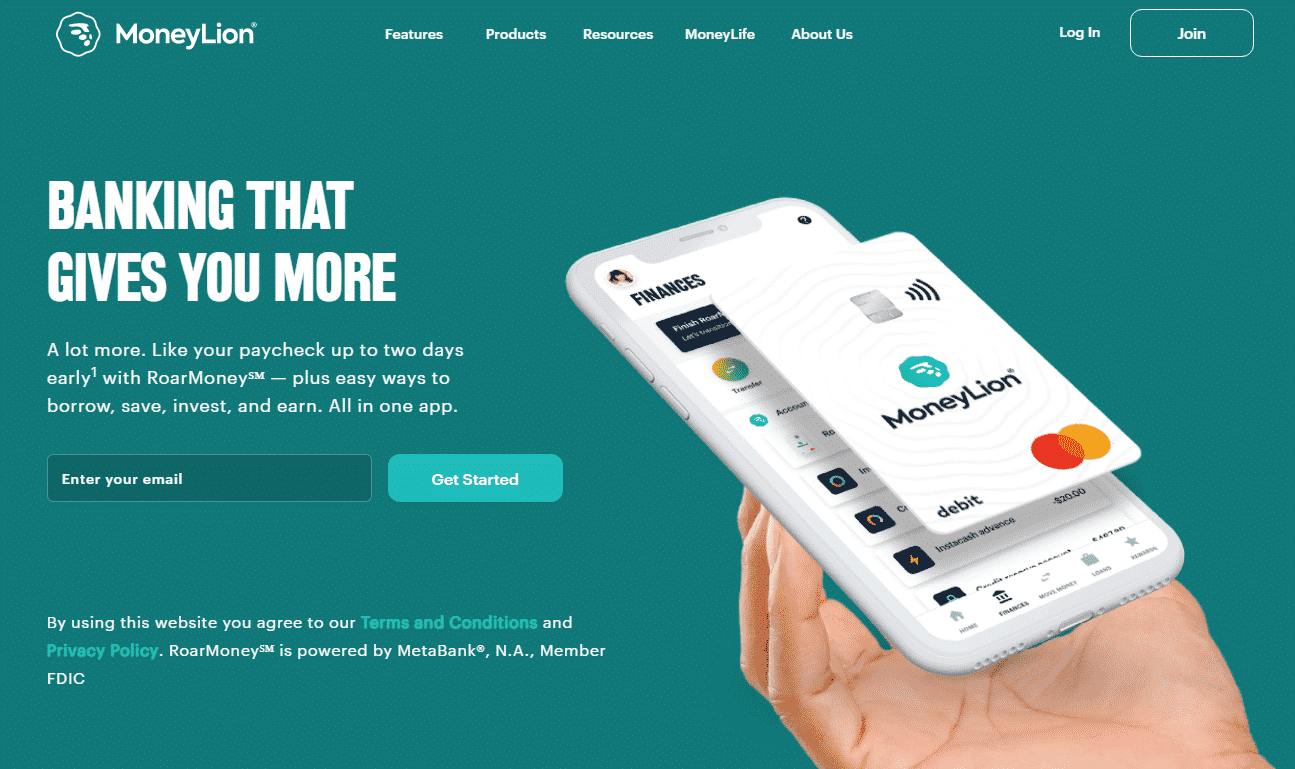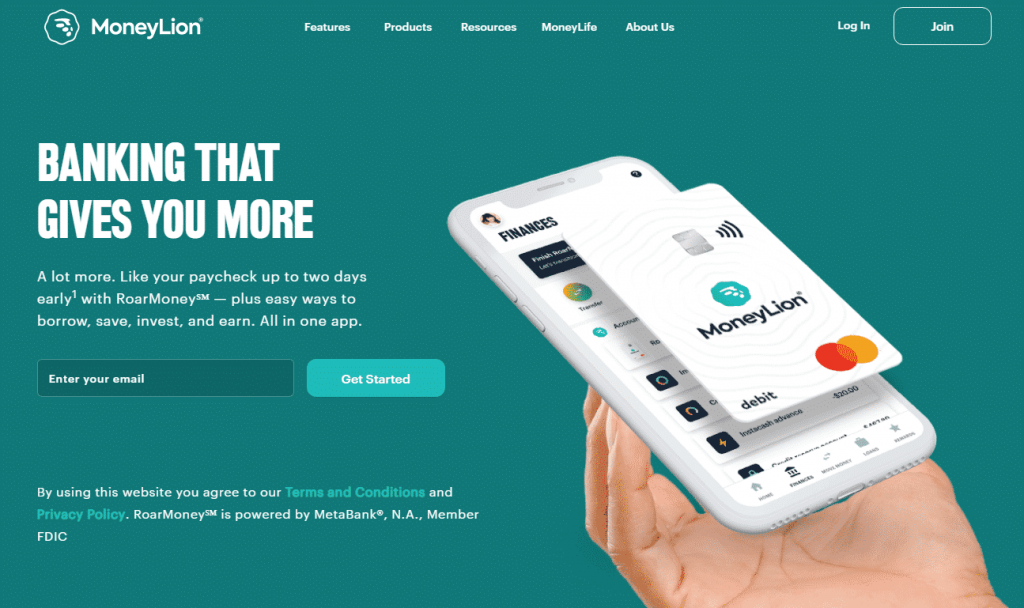 Credit Builder Plus costs $19.99 per month and includes a credit builder loan, credit monitoring, and access to other services. The fees for MoneyLion products are low and transparent and disclosed on their website.
A user must be 18 years old and have a bank account in order to register for a MoneyLion account. Once an account has been created, users can go to the MoneyLion login and get access to MoneyLion's services.
Credit Builder Plus
The Credit Builder Plus membership is a proven credit-building plan. It costs $19.99 per month and includes:
Credit Builder Plus Membership

Loans up to $1,000 with competitive rates

Payment reporting to all three credit bureaus to help build your credit score

Credit monitoring and tracking 24/7 in the app so you can stay on top of progress and view your score anytime.

Access to 0% APR Instacash cash advances.

Exclusive cashback rewards called Lion's Share, allowing you to get back up to $19.99 per month
Personalized Financial Tracking & Education
One of MoneyLion's prime features is their Financial Heartbeat, a fitness tracker for your finances.
MoneyLion's Financial Heartbeat combines a simple yet dynamic framework for monitoring financial health and empowers members to improve daily.
By simply opening the MoneyLion mobile app and checking your Financial Heartbeat — a beautifully designed visual representation of a beating heart that changes colors to reflect progress on a scale from 1-10 — members can quickly evaluate where they are on their financial health journey.
The MoneyLion Financial Heartbeat encapsulates five key financial pillars: Save, Spend, Shield, Score, and Strive, and surfaces daily insights to help members increase their scores.
Smart Mobile Banking
RoarMoney is MoneyLion's banking offering in partnership with MetaBank and Mastercard. It offers:
RoarMoney Offers

Direct deposits received up to two days early.

0% APR Instacash SM advances up to $250.

No balance minimums and no fees at 55,000 ATMs.

Contactless MoneyLion Debit Mastercard® with Price Protection 3 and Zero Liability 4.

RoarMoney virtual card as soon as you open your account.

Weekly spend reports by category.

Transparent pricing and no hidden fees.
Cash Back Rewards Program
With RoarMoney, customers can earn cash back on every purchase, every day. And it's not your basic cashback program.
This is cashback that grows when it is invested into the customers' fully managed investment portfolio, where they can grab it or let it grow.
Managed Investing
MoneyLion makes it easy to invest and reach your goals faster with fully managed portfolios and auto investing — all with no management fees or minimums.
MoneyLion simply asks you a few questions in the app and then recommends one of 7 core portfolios based.
You can personalize it by changing it to be more or less aggressive or by adding investment themes such as Future Innovations.
MoneyLion makes it even easier to fund and build your account with simple auto investing options.
There is one low fee of $1 per month for full investment management services, including trading and rebalancing.
If you are a Credit Builder Plus member, the $1 per month administrative fee will be reimbursed.
How to Apply for a MoneyLion Account
Step 1
Apply Online
You can apply for a MoneyLion account via their website or mobile app. The first step is to create an account by signing up with your full name and email address. 
Step 2
Apply for a Credit Builder Plus Membership
After signing up you can apply for a Credit Builder Plus membership and request a credit builder loan. You'll need your full name and address, social security number, address, phone number, and bank account. 
Personal loans up to $500
$0 account fees for ATM's and Overdrafts
Premium investment accounts with no minimum deposit required
Up to 12% cash back on purchases
Our MoneyLion Review
Reputation
Our general opinion of MoneyLion is a positive one. Having searched the internet for feedback and reviews, there were many positive comments from people who've benefited from the company's products and services.
Whenever an issue was brought to MoneyLion's attention, they addressed it quickly and responded with a proposed solution to the problem.
Support
The MoneyLion customer service options are impressive. MoneyLion offers live chat support through their app along with a chatbot feature for simple questions.
Customers can also contact them through phone support or their website.
Website
We love simplicity, both in functionality and design, and the MoneyLion site delivers on both of these while staying true to their stated mission: "Rewire the American banking system so that we can positively change the financial path for every hard-working American."
It's easy to understand and use their website, and the Credit Builder Plus loan application was very smooth.
It took us less than 10 minutes to fill out the application from beginning to end.
They do a particularly good job of highlighting all the products and services they offer members.
Does Financer.com Recommend MoneyLion?
Yes, we do. This is one of the most popular lenders we have reviewed, and it's definitely no surprise.
Their site and application process are streamlined and simple, they offer reasonable interest rates, and they provide high-quality and reliable support.
Financer.com can gladly say that MoneyLion is an excellent option when you're in need of a loan or other financial services.
Why Customers Choose MoneyLion
MoneyLion offers credit-builder loans up to $1,000 as part of its Credit Builder Plus membership. They also offer 0% APR Instacash advances up to $250, smart mobile banking, managed investing, and rewards.
Below we have listed just a few of the many advantages of choosing MoneyLion for your borrowing needs:
Competitive APR: The APR for MoneyLion's Credit Builder Plus loan starts at 5.99%. The APR for its Instacash cash advances is 0% APR.
 No hard credit check: The loans are suitable for all credit types. Customers apply in the MoneyLion app by linking a checking account and can get approved in minutes.
Cost: The Credit Builder Plus membership costs $19.99 a month, which gives you access to the credit builder loan, monthly credit reporting to all three credit bureaus, as well as access to Instacash, MoneyLions' 0% APR cash advance product, and other valuable features. You also have the opportunity to earn back the membership fee with their Lion's Share rewards program.
Quick funding: One great feature of MoneyLion's Credit Builder loan is they give you a portion of the loan amount upfront. You can receive those funds instantly or within 48 hours (depending on your funding method chosen). The rest of the loan is held in a Credit Reserve Account in your name, and you'll receive this money after you pay off your full loan amount.
Easy repayment: Installments are fixed, so payments won't fluctuate over time.
Early repayment option: There is no penalty for early payoff with Money Lion. Pay off your loan at any time without being charged any additional fees.
Transparent Fees: Any fees are made clear during borrowing, no surprises.
Access to premium services: The administrative fee for banking and investing is reimbursed for Credit Builder Plus members, and they can earn exclusive Lion's Share cashback.