6 Best Crypto Wallets for 2022
June 21, 2022
14 min read
564 reads
With cryptocurrency becoming more mainstream and integrating with the global economy, sooner or later you're going to need a safe place to store yours.
Unlike a stock brokerage, you can withdraw your cryptocurrency from a crypto exchange and store it safely in an offline or online crypto wallet. The best bitcoin wallets make it very easy for users to manage and store their portfolios. If you want to calculate your bitcoin investment then use this Bitcoin calculator.
Here is a summary of the best crypto wallet apps for 2022:
| | Type of Wallet | Fees | # of Coins | Purchase Cost |
| --- | --- | --- | --- | --- |
| | Hot storage | 0% to 0.50% per trade | 250+ | Free |
| | Hot storage | $0.25 to $8.00 per trade | 1 | Free |
| | Hot storage | Only miner fees | 145+ | Free |
| | Cold storage | Miner, wallet fees | 1,800+ | $119 |
| | Hot storage | 0.2 mBTC | 1 | Free |
| | Hot storage | 0.75%-5.0% per trade | 17 | Free |
What Is a Crypto Wallet?
A crypto wallet app can take many forms, including physical hardware or software installed on your mobile phone, computer, or in the cloud.
Many well-known platforms like Venmo and Robinhood allow you to buy cryptocurrency very quickly and with minimal technical know-how.
Most online services are custodial, which means you are trusting the company to hold your cryptocurrency. The best place to store your cryptocurrency is not in an exchange account, but in an offline wallet.
Non-custodial software or wallet apps give you more control over your digital assets, which is why we look at the best crypto wallets for 2022.
Another thing to consider is whether you want a hot wallet that stores your crypto online or a cold wallet that is disconnected from the internet, offering more insulation from hackers.
"Cold wallets may require a few more steps than hot wallets when you want to make a transaction, so it's important to choose between security or accessibility when comparing digital crypto wallet apps," says Nikolov, CEO of Trading Pedia.
Our best crypto wallet apps:

Best for Beginners: Coinbase Pro

Best for Mobile: Mycelium

Best for Desktop: Exodus

Best Hardware Wallet: Ledger Nano X

Best for Bitcoin: Electrum

Best for Security: eToro
Coinbase Pro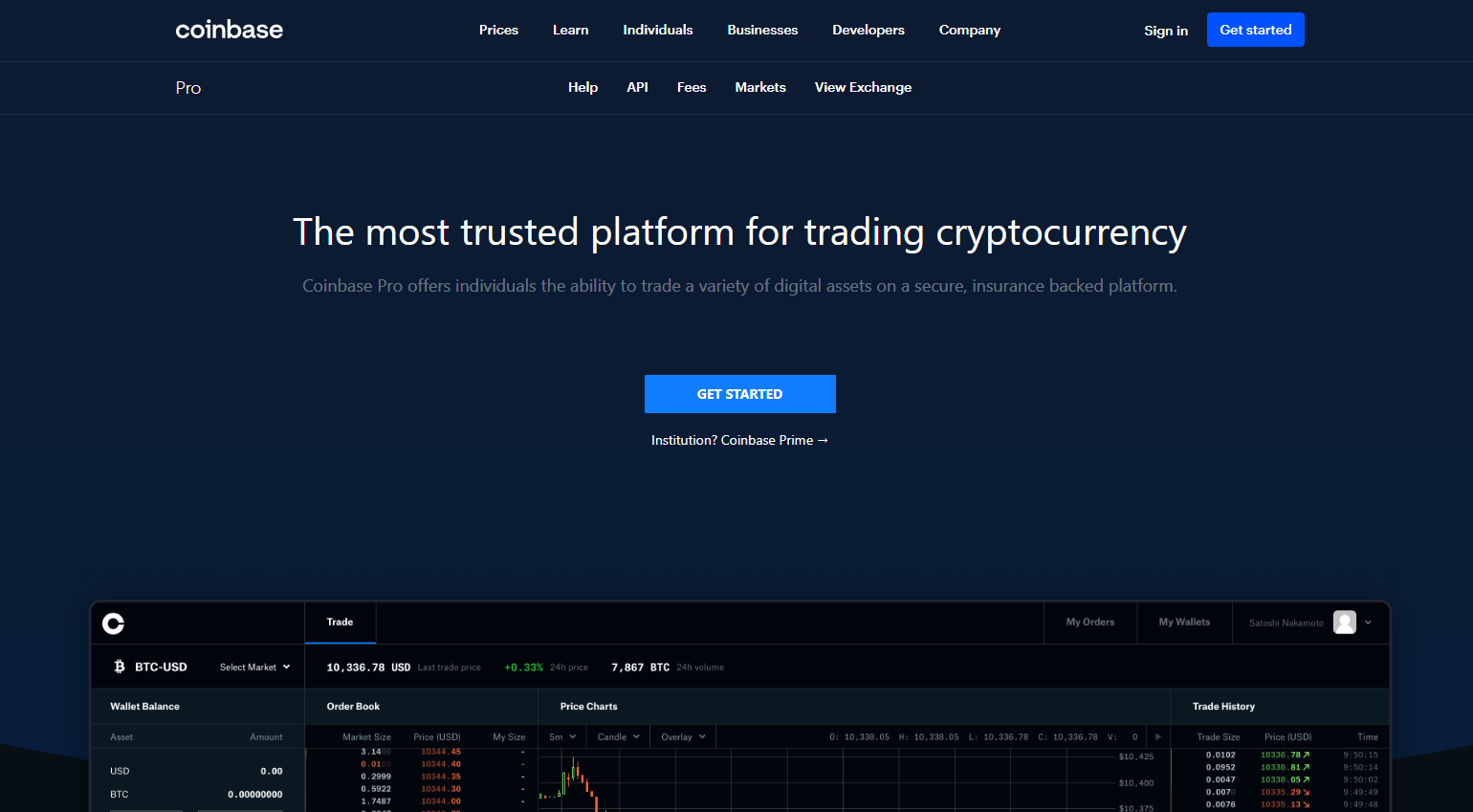 Pros:
User-friendly interface
Backed by a reputable exchange
More than 500 cryptocurrency assets
Cons:
Some weak points as with other hot storage alternatives
Only available on mobile and an extension for Chrome
Summary
Coinbase is one of the more popular crypto wallets in the U.S. and it makes trading well-known cryptocurrencies like Dogecoin and Bitcoin very easy.
Coinbase Pro has an intuitive interface and fully integrates with the Coinbase exchange, making it easy to purchase tokens and coins. This cryptocurrency wallet is non-custodial, meaning that only you have access to your wallet's private key, generated when you sign up.
In addition to low fees and a user-friendly interface, Coinbase also has a Visa-backed debit card that integrates with Google and Apple play.
Coinbase and Coinbase Pro are owned by Coinbase Global Inc. Whereas beginner investors can benefit from the simplicity of Coinbase, seasoned traders can enjoy the advanced features of Coinbase Pro.
Fees:
0% to 0.50% per trade.
Security:
Two-step verification, biometric fingerprint login, AES-256 encryption for digital wallets, FDIC-insured USD balances.
Transaction Types:
Buy, sell, trade, deposit, withdraw, stop order, limit order.
Number of Cryptocurrencies:
250+
Mycelium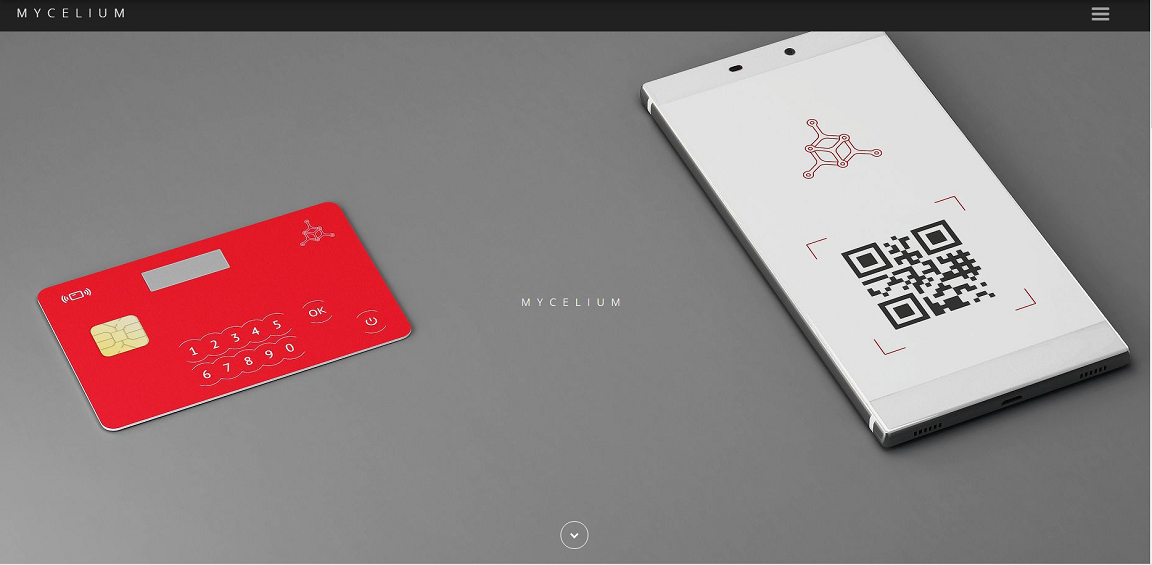 Pros:
Crypto hardware wallet available
Opensource software
Customizable transaction fees
Compatible with popular cold storage solutions
Cons:
Only available for mobile
Somewhat complicated for new users
Summary
Mycelium is a mobile-only, open-source crypto wallet that only supports Bitcoin. It's one of the best wallets for mobile and integrates with a crypto hardware wallet that gives you the ability to control transaction fees.
Founded in 2008, Mycelium offers a built-in exchange and a refreshed user interface, although it only supports ETH, Bitcoin, and ERC-20 tokens.
Some other interesting features of Mycelium include holding your Bitcoin in a hardware wallet while still using the Mycelium interface.
Fees:
$0.25 USD to $8.00 per transaction.
Security:
Interface protection with pin and private keys.
Transaction Types:
Buy and sell.
Number of Cryptocurrencies:
1
Exodus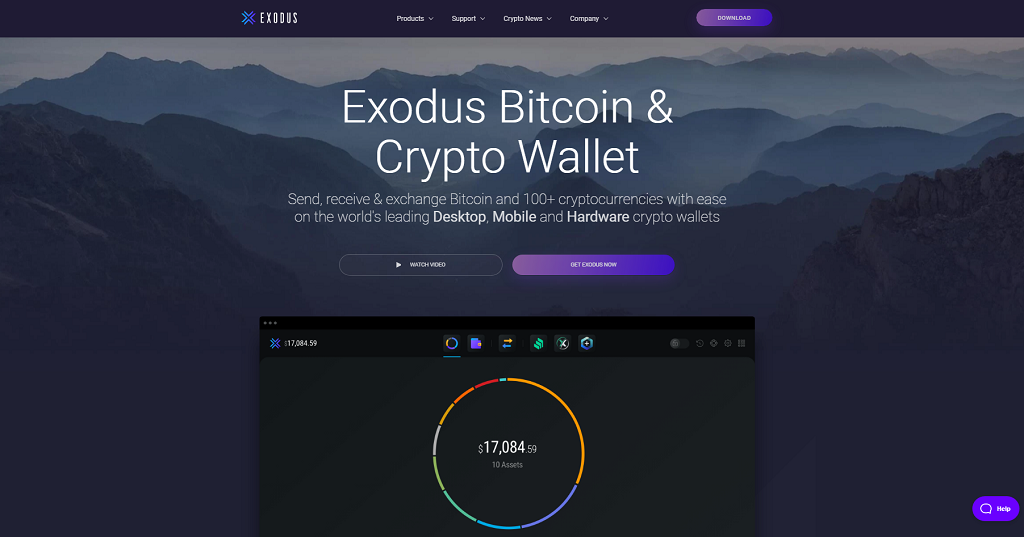 Pros:
Support a huge number of cryptocurrencies
Great customer support
Built-in exchange
Buy Bitcoin with Apply Pay
Cons:
Transaction fees are on the higher side
Lack of two-factor authentication
Summary
"Exodus is one of the best crypto wallets for desktop users as it offers fast transaction speeds, a lot of functionality, and ease of use," notes Jonathan Svensson, Co-Founder of Almvest.
It has a visually appealing interface and also offers mobile apps for Android and iOS. Exodus is also compatible with the popular crypto hardware wallet Trezor.
One of the best features of Exodus is the number of cryptocurrencies it supports. It supports more than 145 crypto assets, including altcoins like Ether, Dash, Tether, and Litecoin, and meme coins like Dogecoin.
You can expect speedy transactions is it runs on a light client with simple payment verification (SPV) that doesn't download complete blockchains.
Fees:
Only miner fees. None for receiving crypto.
Security:
Secure 12-word passphrase.
Transaction Types:
Buy and sell.
Number of Cryptocurrencies:
145+
Ledger Nano X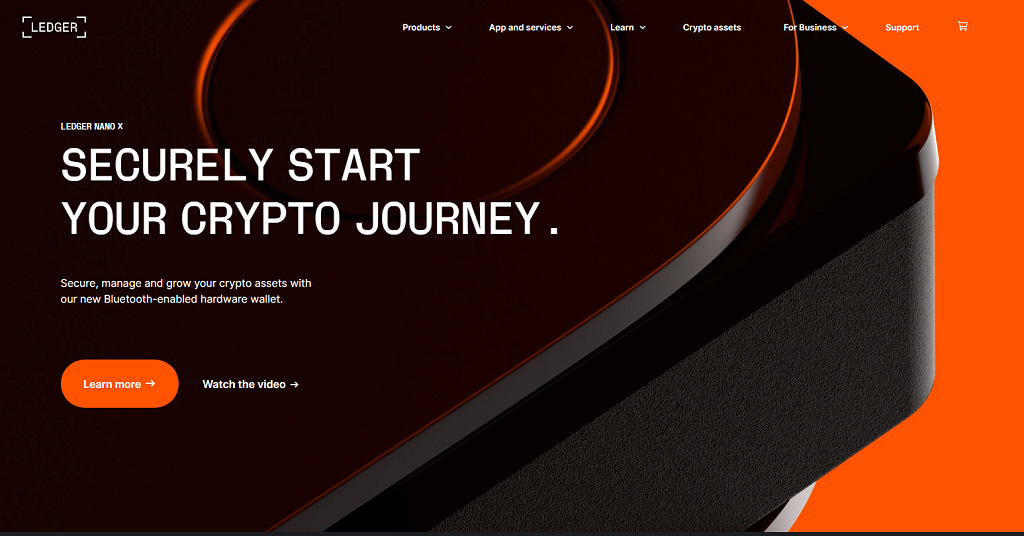 Pros:
Supports a wide range of crypto currencies
Special hardware to protect your private keys
Trading on mobile app
Battery built-in with eight hours of battery life
Cons:
More expensive than other cold wallets
Uses Bluetooth technology that might cause a privacy concern
Summary
Ledger Nano X is our recommendation for the best crypto hardware wallet. Launched in 2014, Ledger was one of the first companies to offer a crypto hardware wallet, namely the Ledger Nano S.
The Nano X is similar to a USB drive and the device connects via Bluetooth or USB. Connect it to your Android or iOS device without the need for a computer.
With support for more than 1,800 cryptocurrencies, Ledger Nano X is growing every year as users request support for more popular cryptos.
The device is categorized as a cold wallet and the Ledger Live software offers an easy-to-use interface. You can also manage your portfolio by easily adding new wallets for additional cryptocurrencies.
The device comes with a USB-A to USB-C cable so that you can connect it to either a mobile phone or a desktop computer.
Fees:
$119 for the device; miner, wallet, and exchange fees
Security:
Secure Element (SE) on the device, 24-word recovery phrase, PIN code, BOLOS operating system.
Transaction Types:
Buy, sell, trade.
Number of Cryptocurrencies:
1,800+
Electrum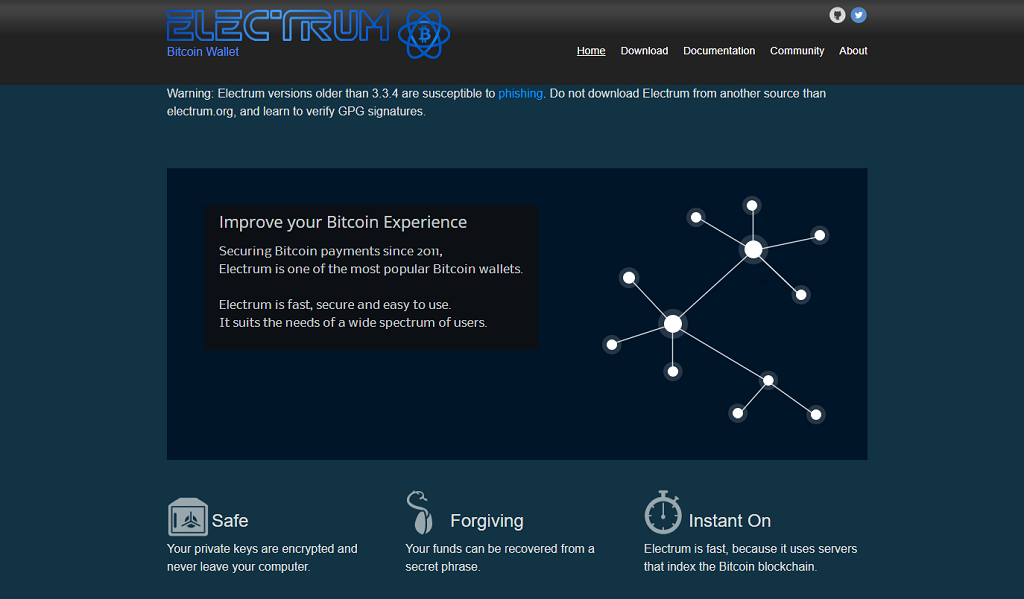 Pros:
Two-factor authentication with multi-signature support
Custom transaction fees that users can adjust
Better security than many other hot wallets
Fast and easy to set up
Cons:
Only supports Bitcoin
Interface may not be ideal for beginners
No customer support via phone, email, or chat
Summary
Electrum is one of the best digital crypto wallets for Bitcoin. Founded in 2011, Electrum has extensive security features and is very customizable.
It is also known as one of the oldest and most well-known crypto wallets today, and one of the very few that deals only in Bitcoin. Electrum is a lightweight client that can be set up in just a few minutes and takes up very little space.
One of the best features of the Electrum Bitcoin wallet is its custom transaction fees. Users can adjust their fees depending on how long they are willing to wait for a transaction. The longer they wait, the cheaper the transaction will be.
Fees:
0.2 mBTC per transaction.
Security:
2FA with multi-signature support, private keys, backups with see phrases.
Transaction Types:
Buy and sell.
Number of Cryptocurrencies:
1
eToro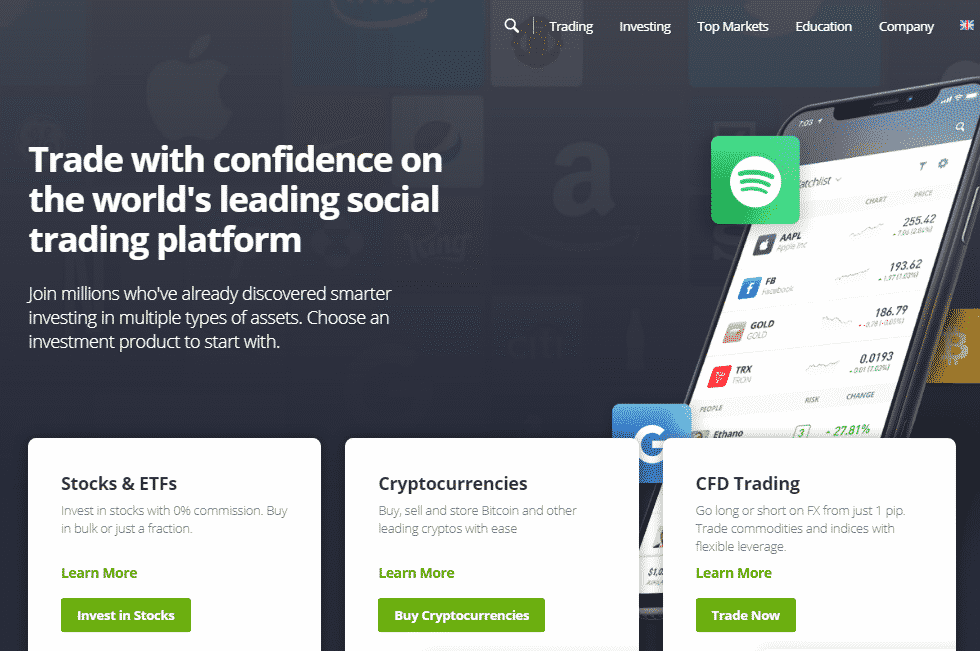 Pros:
Supports 17 cryptocurrencies
No commissions charged, eToro takes the spread
Users can copy the moves of profitable traders
More than 17 million users
Cons:
U.S. eToro customers are limited to crypto trades
Only available in 43 U.S. states
Summary
eToro was founded in 2007 and is currently available in 43 U.S. states. eToro is the world's leading social trading platform and our best pick for security, especially among mobile crypto wallets.
With low fees, eToro takes the spread and doesn't charge any commissions. Another great benefit of the eToro crypto wallet is that users can copy the moves of profitable traders, complete with a user-friendly interface.
The eToro wallet app is perfect for beginners and casual traders, and it offers a range of research materials and tools.
Fees:
0.75%-5.0% per trade.
Security:
Biometric access, authorized by ASIC and the FCA.
Transaction Types:
Buy, sell, trade.
Number of Cryptocurrencies:
17
Summary
With such a variety of Bitcoin wallets to choose from it's important to choose one based on your individual needs. We've looked at multiple crypto wallets and based them on security, cost, and functionality.
There are cold and hot varieties of crypto wallets that should be taken into account when you look at cost and functionality. The wallets in our list performed well in the following categories:
Features – This refers to the general functionality of the wallet. Wallets with more capabilities, charts, and tradable assets scored higher.
Cost – This largely depends on the type of wallet. We favored cold wallets that are reasonably priced over hot wallets with exchanges that have lower transaction fees.
Safety – This is a top concern when comparing crypto wallets. We favored wallets with two-factor authentication, open-source code, biometrics, and strong security protocols when processing transactions.
FAQs
How much money do I need to open a crypto wallet?
This depends; hardware wallets typically cost around $100 to $200, whereas many software-based wallets are available free of charge. 
Which cryptocurrency wallet is best for beginners?
If you are completely new to cryptocurrency, we'd recommend Coinbase. It's a well-known U.S. crypto exchange that is easy to use and reliable.
Which cryptocurrency wallet is best for advanced traders?
Most modern cold storage wallets can quickly and easily connect to the internet so these are great options. We'd recommend wallets like Trezor and Ledger. 
What crypto wallets have the lowest fees?
eToro is among the best crypto wallets with the lowest fees, while Coinbase offers a hosted wallet service free of charge.
How do I cash out my Bitcoin wallet?
Although you can't simply convert Bitcoin to cash, you can sell it anonymously for the currency you desire (e.g. USD). This transaction is handled by a crypto exchange and every wallet has different rules for exchanging your Bitcoin tor the currency value you need.