Binance US vs Coinbase: How do they compare in 2023?
September 5, 2023
11 min read
146 reads
Our Commitment to Transparency
Binance or Coinbase? This is a question that every potential cryptocurrency investor has asked themselves at least once.
These two platforms are among the most well-known cryptocurrency trading platforms, but they differ significantly in their offerings to users.
Binance US is best for serious crypto enthusiasts, offering cost-effective trading solutions, access to over 100 cryptocurrencies, and professional analysis tools. 
Coinbase is best for beginners and is intuitively organized. It may have higher fees but offers easy management and security, making it a good option for those new to cryptocurrency trading.
In this comprehensive review, we will assist you in comparing Binance US and Coinbase based on key features. We provide a clear and transparent assessment of their fee structures, features, cryptocurrency offerings, and security measures.
Additionally, we consider factors such as customer service quality, mobile application functionality, and overall user-friendliness.
Continue reading to make an informed decision today.
Overall Comparison
We have structured the most important aspects of each exchange in the table below:
| | Binance US | Coinbase |
| --- | --- | --- |
| Founded | 2019 | 2012 |
| Users | 0.67 million | 110+ million |
| Available cryptocurrencies | 100+ | 145+ |
| Trading fees | 0.1% to 0.6% | $0.99 to $2.99 flat fee depending on the size of the trade; percentage-based fee for trades above $200; 0.50% spread |
| Types of trading | Spot trading, advanced spot trading, and P2P trading | Buy, sell, exchange, receive |
| Deposit methods | Bank transfer | Bank transfer |
| Languages | English, Spanish, French, German, Chinese and more | English, Spanish, Portuguese, French, Italian, Dutch, German |
| Security | 2FA, device authorization, whitelisting, cold storage, SAFU (Secure Asset Fund for Users) | 2FA, device authorization, cold storage, asset protection insurance |
| Mobile App | Yes. App Store rating – 4.8. Google Play Store rating – 4.7. | Yes. App Store rating – 4.7. Google Play Store rating – 4.0. |
| Recommended for | Low fees, 100+ cryptocurrencies, advanced trading platform | Intuitive to manage, better support, simplified operations, suitable for beginners |
| Financer.com review | Binance.us Review | Coinbase Review |
If you've established clear goals and expectations for a crypto exchange, the table has probably provided you with a comprehensive overview of each platform.
With Binance, you'll get more cost-effective trading and more tools. With Coinbase, you'll find it easier to make your first investment.
Know which one you prefer? Get started right away with the buttons below.
Features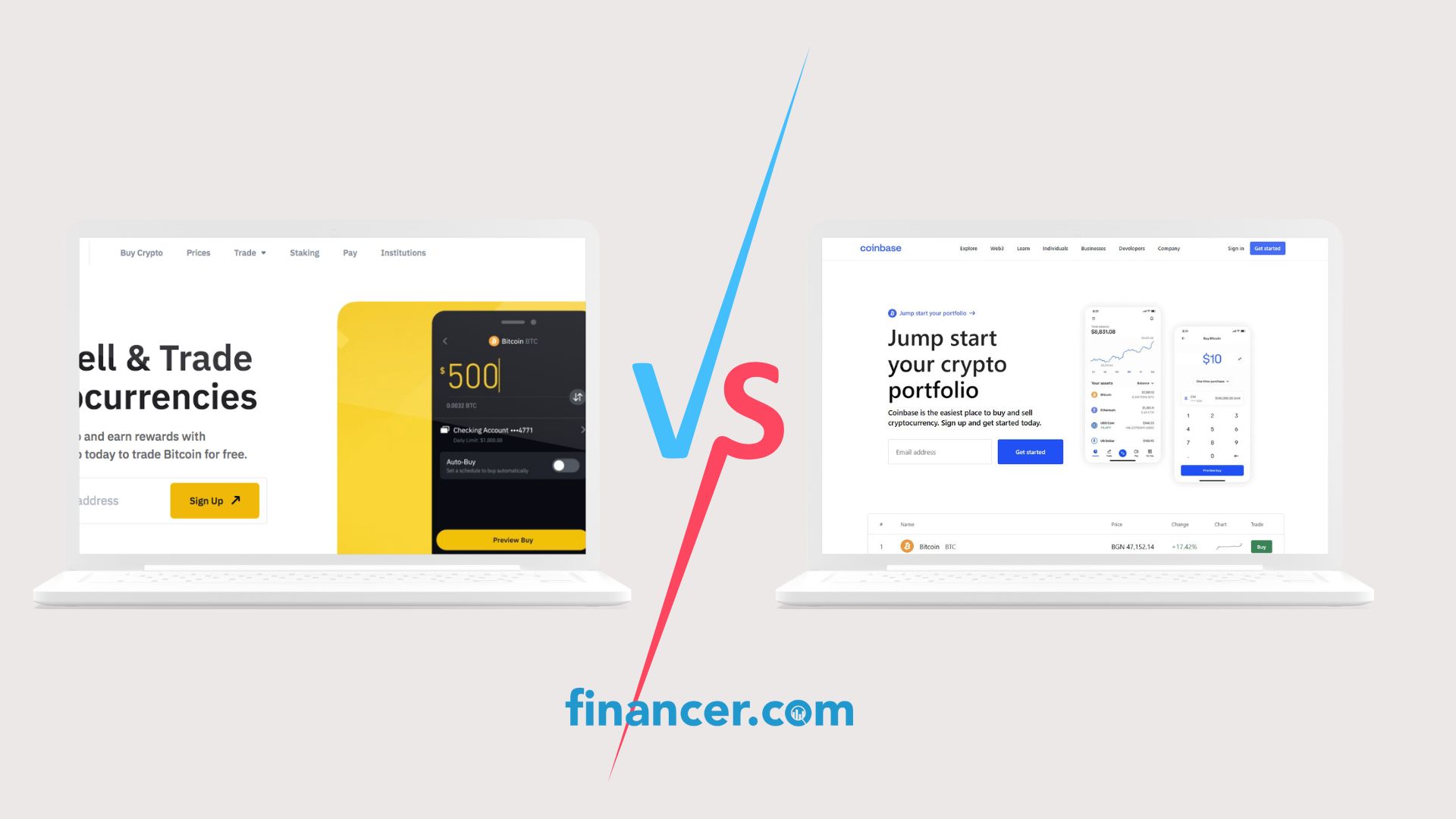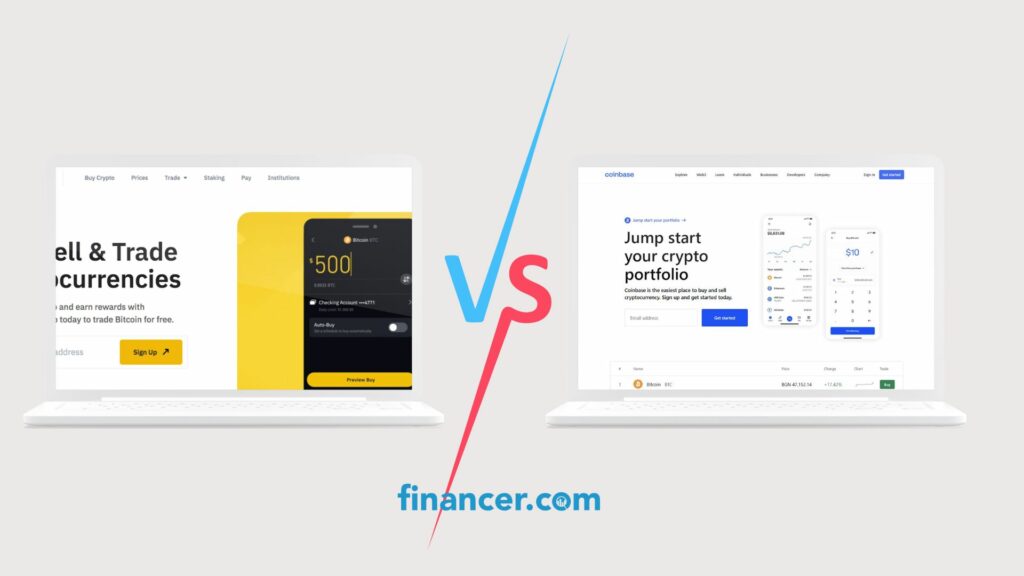 Both Binance US and Coinbase provide the capability to buy and sell cryptocurrencies, but their methods differ significantly.
With Coinbase, buying and selling crypto assets is easy and straightforward without any additional complexities.
With Binance US, you can buy and sell cryptocurrencies with minimal trading fees and benefit from advanced charting tools.
Let's dig deeper into each platform:
Binance US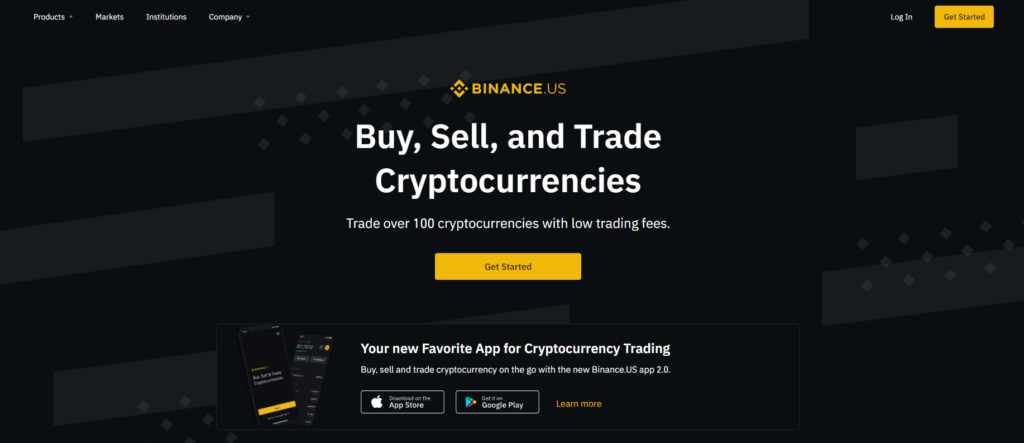 Binance US offers a 5% waiver in trading fees for trades involving its native token BNB.
Binance also has a crypto academy with numerous articles, guides, and a crypto glossary, as well as free courses for beginners. After completing each course, you receive an NFT certificate, and the platform regularly announces promotional training.
With them, you learn and earn rewards in the form of free cryptocurrencies, typically worth around $15-20 USD.
Binance also offers various trading tools, including advanced charts with hundreds of indicators and settings.
Coinbase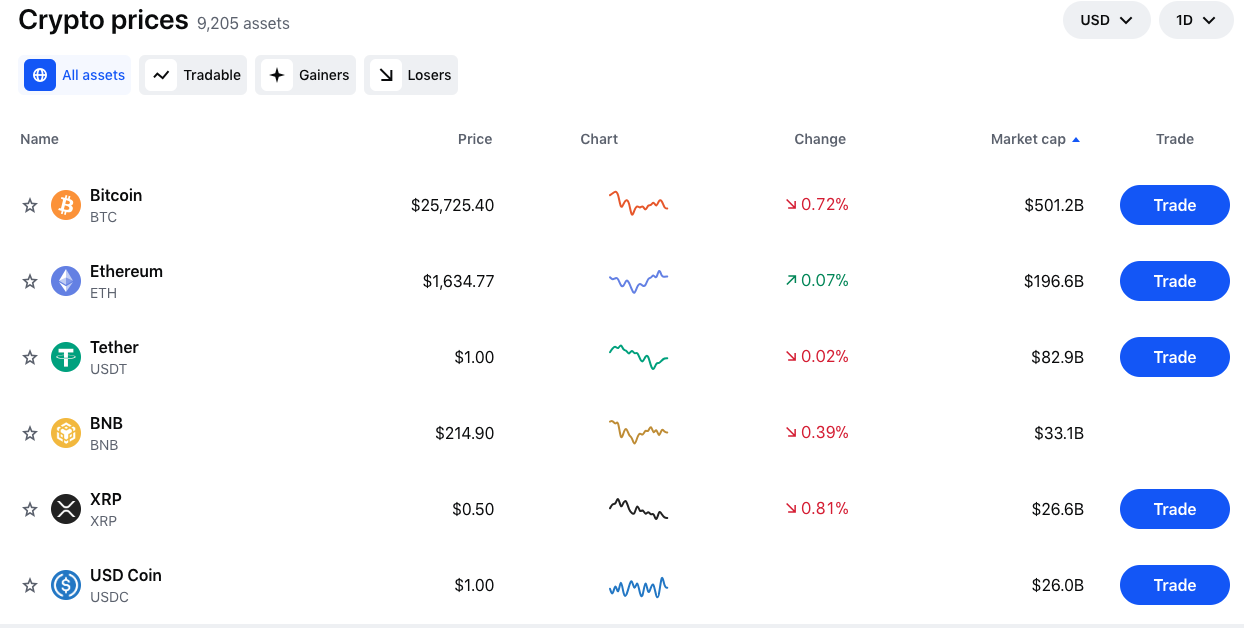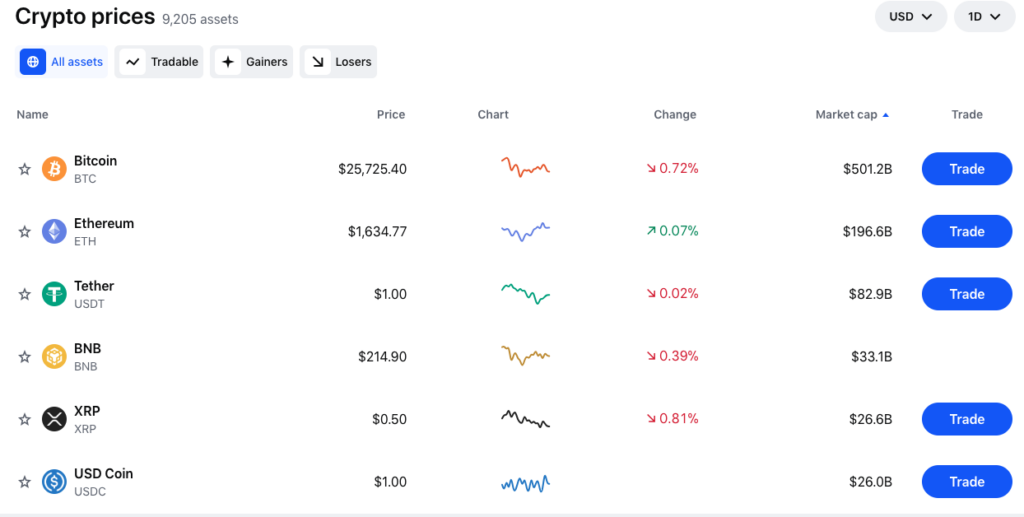 Similar to Binance, Coinbase also has its own academy with educational materials. Here too you have the opportunity to earn rewards while learning.
Since 2018, Coinbase claims to have distributed over $100 million in crypto rewards through this program.
With Coinbase, you can also earn rewards by buying and holding stablecoins pegged to the US Dollar. Examples of such stablecoins are Dai and USDC, with interest rates ranging from 0.15% to 2% APY.
Additionally, you can lend your cryptocurrencies on both CeFi and DeFi applications and receive corresponding interest.
Coinbase also offers an NFT marketplace, a news feed from the crypto market, and notifications of price changes in cryptocurrencies on your watchlist.
Coinbase also caters to more experienced crypto investors with its specialized platform, Advanced Trade, formerly known as Coinbase Pro. This platform offers several benefits, including reduced fees and access to advanced analytical tools.
Coinbase vs Binance US Fees
Your biggest expense when buying/selling cryptocurrencies will be trading fees. If you plan to trade regularly, you should pay special attention to them.
When it comes to fees, Binance is the more cost-effective option. Here's a comparison of some of their fees:
| Fee Type | Binance | Coinbase |
| --- | --- | --- |
| Transaction Fees | 0.1% to 0.6% | $0.99 to $2.99 flat fee depending on the size of the trade; percentage-based fee for trades above $200; 0.50% spread |
| Cryptocurrency Conversion | None | Ranges from 0.5% to 2%, depending on the currency |
| Other fees | none | Coinbase fee, and purchasing method fee amongst others. |
Keep in mind that Coinbase is known for its unclear fees. Its fee structure remains confusing for most people.
For example, Coinbase has a transaction fee, Coinbase fee, and purchasing method fee amongst others.
In this regard, Binance is much more transparent and user-friendly, making it the winner in this part of the Binance vs. Coinbase comparison.
Wallets
As you probably know, it's not a good idea to hold your crypto assets on an exchange if you are not actively trading.
It is recommended to use cryptocurrency wallets that store your cryptocurrencies offline, away from the network.
Since this article is about Binance and Coinbase, let's look at the options they offer:
| | Binance US | Coinbase |
| --- | --- | --- |
| Wallet Name | Trust Wallet | Coinbase Wallet |
| Wallet Type | Hot Wallet | Hot Wallet |
| Number of Users | 25 million | N/A |
| Number of Supported Cryptocurrencies | 1M+ | 100,000+ |
| Number of Supported Blockchains | 65 | 17+ |
| NFTs | Yes | Yes |
| DApp browser | Yes | Yes |
| Fees | Asset transfer fees. 1% fee for crypto purchases in the app | Asset transfer fees. No fee for receiving. Trading and swap fees as on the platform |
| Earnings (staking/rewards) | Yes | Yes |
| Hardware Compatibility | No | No |
| Security | PIN, Biometrics, Encrypted Key, 12-word recovery phrase | Password, biometric access, encrypted 12-word recovery phrase |
| Mobile App | iOS/Android | iOS/Android |
Trust Wallet vs Coinbase Wallet
Like the platforms themselves, Coinbase's wallet is more intuitive and user-friendly, while Trust Wallet offers lower fees.
Security
Both platforms are considered secure, but Coinbase generally has a better reputation.
This is partly because Coinbase has never had any major security breaches, while Binance experienced a significant incident in 2019. During the breach, 7000 Bitcoins were stolen, but the platform managed to fully compensate affected users.
Since the incident, Binance has tightened its security measures and worked diligently to regain public trust.
Both platforms are protected with 2FA identification through Google Authenticator, SMS, or email. They also require photo verification for identity confirmation.
Interface and Navigation
Coinbase is like the Apple of crypto platforms in terms of technology. It is elegant, clean, and intuitive. As you know, this comes with a higher price.
It's worth mentioning something else as well.
When it comes to basic operations on Binance, such as buying, selling, and exchanging cryptocurrencies, it is extremely easy. Unlike Coinbase, Binance's variety of menus and options may confuse novice traders.
Customer Service
Which platform has more accessible and reliable customer support? Binance or Coinbase?
The truth is that both have room for improvement.
With Coinbase, customer service can be reached via chat on the website or mobile app in English.
Coinbase is online 24/7, and connecting with a human agent is almost instant. However, getting a response can take time.
For Binance, you can send your query through the chat icon on the website, also available 24/7 in English. Initially, you will connect with their bot, and if you don't find an answer to your question, you can request to be transferred to an agent.
Once you connect with an agent, you send your query, but you are unlikely to receive an answer instantly.
Binance advises even leaving the chat and waiting for a response from the agent via email.
In terms of customer service, Coinbase wins in the Binance US vs Coinbase comparison.
Binance US vs. Coinbase – Who is the Winner?
From the perspective of trading costs, Binance US is the winner. The platform also leads in terms of asset diversity and trading options.
On the other hand, when it comes to more sophisticated aspects like ease of management and customer support, Coinbase is the better choice.
Ultimately, which platform is right for you depends on your personal priorities.
To summarize:
Coinbase is ideal for beginners in the crypto world because it is more intuitive and easier to manage.
Binance is the choice for serious crypto traders looking for a cost-effective solution and advanced trading tools.
Which one would you choose?
FAQs
Binance fees vs Coinbase – which platform is more cost-effective?
According to our analysis and user feedback online, Binance is the more cost-effective platform. Coinbase Advanced Trade manages to compete with Binance's trading fees to some extent, but considering overall expenses, Binance comes out on top.
Binance or Coinbase – which one should I choose?
Binance has the lowest fees and is more advanced, while Coinbase is best for beginners. That said, the answer to this question is strictly individual. To make the best judgment for yourself, read our dedicated comparison.
Which platform do users prefer?
Cryptocurrency investors use both platforms, but there is more interest observed towards Binance.