Review of PenFed Credit Union
Summary

0% promotional rate for 12 months on balance transfers made between now and September 30, 2022

Low minimum deposit to open checking and savings accounts

High-yield checking account with easy-to-waive monthly fees

Online savings account with a competitive dividend rate

Get the PenFed credit card with $0 annual fees
What is PenFed Credit Union?
PenFed Credit Union was founded in 1935. With headquarters in McLean, VA, it was originally known as the Pentagon Federal Credit Union and membership was limited to those in the federal government or military.
Today, anyone can join as this credit union has an open charter.
With more than two million members, PenFed Credit Union manages more than $25 billion in assets. Members can use one of its 50+ branches throughout the U.S. which includes military bases in Japan, Guam, and Puerto Rico.
Who is PenFed Credit Union Best For?
PenFed Credit Union is best for consumers who need high-yield accounts with low fees and low minimum deposit requirements.
PenFed can be a good fit if you:
Prefer to bank online
Want to earn a high yield on savings and checking accounts
Want to easily waive monthly fees
Want a credit card with no annual fees
Want an account with a low monthly minimum deposit requirement
What PenFed Credit Union Offers
PenFed Credit Union offers a range of loans, deposit accounts, and services to meet your needs. Let's look at some of their products.
PenFed offers personal loans of up to $50,000 with terms up to 60 months and loan rates as low as 4.99% APR. There are no early repayment penalties and no origination fees for PenFed loans.
You can pre-qualify for a loan online without hurting your credit score. Select from multiple pre-approved orders and receive money in one to two business days after verification.
Home Equity Lines of Credit
With a PenFed HELOC, members can enjoy a line of credit based on the equity they have in their homes. Access funds any time to pay off student loans, do home renovations or fund large unexpected purchases.
A PenFed HELOC is ideal for those with a credit score of 600 or above, a least a year of W2s. Some additional verification requirements may include two years of tax returns for self-employed individuals and a low debt-to-income ratio.
Money Market Certificates
Money market certificates, often referred to as certificates of deposit (CDs) are often issued by credit unions. PenFed's money market certificates range from six months to seven years and require a minimum deposit of $1,000.
Money market certificates are also available for IRAs (individual retirement accounts) and Coverdell education savings accounts for college.
The minimum deposit required for a Coverdell account is $500.
Money market certificates will automatically renew at maturity unless you selected the non-renewal option. When this happens the funds will be automatically deposited into a regular savings account.
Here are the rates for PenFed money market certificates:
| Term | Money Market Certificates APY | IRA Certificates APY | Coverdell Education Savings Certificates APY |
| --- | --- | --- | --- |
| 6 Months | 0.45% | N/A | N/A |
| 12 Months | 0.85% | 0.55% | 0.55% |
| 15 Months | 1.00% | N/A | N/A |
| 18 Months | 1.15% | N/A | N/A |
| 24 Months | 1.25% | N/A | 0.60% |
| 36 Months | 1.00% | 0.95% | 0.95% |
| 48 Months | 0.95% | 0.70% | 0.70% |
| 60 Months | 1.30% | 1.20% | 1.20% |
| 84 Months | 1.50% | 1.45% | 1.45% |
Rates as of February 2, 2022
Withdrawals from money market accounts prior to maturity will attract a penalty based on the term selected. Penalties for these early withdrawals seem to be higher than what other banks charge.
Here are the early termination penalties for PenFed money market certificates:
| Term | Penalty |
| --- | --- |
| 6 Months | Loss of the most recent dividend earned in the last 90 days. |
| 6 Months+ | During the first year, all dividends are forfeited. After the first year, the penalty is 30% of what the earnings would have been if held to maturity. |
Credit Cards
PenFed offers four credit cards for members of which three offer no annual fee. Only the PenFed Pathfinder Rewards card has an annual fee of $95. Members can select from a low APR, rewards, or cash back, depending on their needs.
Members can also enjoy a 0% PROMO APR‡ on balance transfers for 12 months from now until September 30, 2022
The four PenFed credit cards include:
Platinum Rewards Visa Signature® Card
Power Cash Rewards Visa Signature® Card
Gold Visa® Card
PenFed Pathfinder® Rewards Visa Signature® Card

All the credit cards from PenFed Credit Union offer a Xero Liability Policy*, a digital wallet, and a tap to pay feature.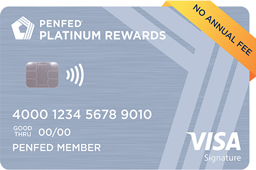 PenFed Platinum Rewards Visa Signature® Card
Purchase Variable APR: 14.49% to 17.99%
0% promotional rate for 12 months on balance transfers made between now and September 30, 2022
Points on gas paid at the pump and EV charging stations
Annual Fee: $0
PenFed Platinum Rewards Visa Signature® Card
Personal Line of Credit
PenFed offers a personal line of credit that gives you available funds when you need them – anytime, for anything you want.
Payments are based on what you use and not on the amount of credit you have available. Features of the credit line include:
Fixed rates as low as 5.99% APR
Credit lines available up to $25,000
Free checks to access you line
Fast review process
With a credit line from PenFed Credit Union you can get a decision as soon as the next day. Their fast review process makes this a great option to have.
💡 Read more about how a personal line of credit works.
Auto Loans
PenFed Credit Union offers various auto loans, including new auto loans, used auto loans, refinance loans, and a car buying service.
With a PenFed auto loan, members can earn a $150 bonus with Auto Refi and get refinance rates as low as 1.79% APR**.
With a PenFed auto loan, new auto loans are available with terms up to 84 months and loan amounts up to $150,000. Members can use an easy online application to see if they qualify.
Although members can save with low PenFed auto loan rates your actual APR will be determined at the time of disbursement and will be based on your loan application and credit information.
Here is a breakdown of PenFed auto loan rates:
| Loan Type | 36 Mths | 48 Mths | 60 Mths | 72 Mths | 84 Mths |
| --- | --- | --- | --- | --- | --- |
| New Car Buying Service | 0.99% | 1.49% | 1.49% | 2.14% | – |
| New Auto Purchase | 1.79% | 1.99% | 1.99% | 2.39% | 3.99% |
| Used Car Buying Service | 1.99% | 1.99% | 1.99% | 3.14% | – |
| Used AUto Purchase | 2.39% | 2.59% | 2.59% | 3.39% | – |
Rates as of February 2022
PenFed Credit Union's loans for used cars offer amounts up to $150,000 and up to 125% financing with quick approvals.
Refinancing auto loans from PenFed gives members the ability to pre-qualify online in minutes and get APR rates as low as 1.79%, as mentioned above.
Mortgages
PenFed Credit Union offers a range of mortgage products to suit your needs. Here are the options for PenFed mortgage loans:
Option
Benefits
Best For
Power Buyer
– Reduce complexity and red tape
– Enjoy a secured PenFed mortgage rate
– Start your search with a pre-approval available
– Buyers who want to compete with a cash offer
– Buyers who want to know upfront what they can afford
– Facilitating competitive offersVA Loans- No or low down payment
– No monthly Private Mortgage Insurance (PMI)
– No prepayment penalty
– Better interest rates
– Currently enlisted military members
– Veterans
– Reservists or National Guard
– Surving spouses
VA Streamline (IRRRL)
– No closing costs
– Lower interest rates
– No appraisals required
– No monthly Private Mortgage Insurance (PMI)
– Surviving spouses
– Active-duty service members and veterans looking for mortgage refinancing
Conventional Fixed
– No Private Mortgage Insurance (PMI) needed if you have 20% equity
– Low down payments- Those with good credit
– Borrowers wanting a low downpayment
– Those who want a locked-in rate
Refinancing
– Lower interest rates
– Might have a shorter mortgage term
– Get cash to pay off loans or consolidate debt
– Interest rates that have dropped
– You need cash from the equity
Jumbo Loan
– Allows you to obtain a larger loan for your home
– Perfect for high-cost areas that require a non-conforming loan
– Those needing a loan that exceeds conforming guidelines
– Borrowers with good credit and high income Home Equity Lines of Credit (HELOC)- Leverage the equity in your home to consolidate debt
– Take out cash for home improvements
– Use home equity for other real estate investments- Those who have built up substantial equity in their home
– Someone who is not planning on moving soon
Adjustable-Rate Mortgage (ARM)
– Lower initial interest rates
– Rates may fluctuate over time
– Those who need a lower initial payment
– Someone who may move of pay off a home loan in the next few years
First-time home buyers should know what they can afford, and what type of home loan they are looking for. PenFed mortgage rates are not only reasonable but they offer great support in finding the best home loan for your needs.
You can get accurate PenFed mortgage rates by getting a quote online.
Checking Accounts
PenFed Credit Union offers a number of checking accounts to members. Their free checking account comes with a debit card, no monthly fees, and fee-free ATM withdrawals from their network of 85,000+ ATMs.
The Access America checking account from PenFed allows you to earn up to 11x the national average and avoid monthly fees***.
PenFed also offers the Access America checking account that has a minimum opening deposit of $25 and a monthly fee of $10.
Savings Accounts
Some of the other products that PenFed offers include:
Personal lines of credit
Student loan refinancing
Financial advisors
How PenFed Works
Banking with PenFed Credit Union is easy and becoming a member is simple. Now that it has an open charter, membership is available to any American or permanent U.S. resident nationwide.
You can open an account online or at one of the PenFed Credit Union branches available throughout the U.S. Note that the online-only savings account can only be opened online.
PenFed offers a free checking account with no monthly fees and no minimum balance requirements. It's a good way to get started with a checking account.
Our PenFed Review
Pros

High-yield checking account. The Access America Checking account offers no monthly fees on a monthly direct deposit of $500 or more.

Competitive rates on savings accounts. The Premium Online Savings account has a competitive dividend rate and no monthly fees. It only requires a deposit of $5 to open.

Cash back offers. The Power Cash Rewards Visa Signature card offers a 1.5% cash back on all purchases and a $100 bonus statement credit when you spend $1,500 in the first 90 days.
Cons

Limited number of U.S. branches. PenFed only has 50 branches throughout the U.S. which is a problem for people who want to visit a physical branch close to them.

Penalties for early withdrawals from money market certificates. Members who make withdrawals on their money market certificates before they mature could face penalties.
PenFed is one of the largest credit unions in the U.S. and it offers a range of savings accounts, checking accounts, auto loans, mortgages, personal loans, and more.
Memberships are available for all U.S. citizens and they have an A+ BBB rating. Member discounts are also available for partner businesses such as TurboTax, Chubb, and Travelers.
Read more PenFed Credit Union reviews below or add your own.
Customer Service
PenFed customer service is available via phone at 1-800-247-5626 from 7 am to 11 pm from Mondays to Fridays. On weekends live customer support is available from 8 am to 11 pm on Saturday, and 9 am to 5:30 pm on Sunday.
Customer support is also available via secure messaging online and via the mobile app 24 hours a day. The PenFed Credit Union app is available to download for Apple and Android.
Deposits are insured by the National Credit Union Association (NCUA) instead of the Federal Deposit Insurance Corporation (FDIC) as PenFed is a credit union.
* Visa Zero Liability Policy covers U.S.–issued cards only and does not apply to ATM transactions, PIN transactions not processed by Visa, or certain commercial card transactions. Cardholder must notify issuer promptly of any unauthorized use. Consult issuer for additional details or visit www.visa.com/security.
** $150 Bonus Offer Disclosure: The auto refinance rebate of $150 is eligible on loan amounts of $10,000 and greater and must be refinanced from another institution. Applies to refinance loan applications funded between 02/12/2022 and 4/15/2022. PenFed internal refinances and loans originated from 3rd party partners are not eligible for this promotion. The $150 rebate will be deposited to the membership share savings account within 90 days of the loan disbursal date. At time of rebate posting, the loan must be currently active and have at least 1 payment posted in order to qualify. PenFed may discontinue or change the promotion at any time. Other restrictions may apply.
***Up to 11x the national average of 0.03% APY is based on the national average of checking account rates published in FDIC Weekly National Rates and Rate Caps accurate as of February 1, 2022.
‡If you take advantage of this balance transfer, you will immediately be charged interest on all purchases made with your credit card unless you pay the entire account balance, including balance transfers, in full each month by the payment due date.