Review of Crypto.com
More than 200 cryptocurrencies available

Spend with the Crypto.com Visa Card and get up to 8% back

Receive rewards of up to 14.5% on your crypto assets

Buy and sell crypto at true cost

Crypto.com users can invest in NFTs
What is Crypto.com?
Crypto.com was founded in 2016 with the aim of allowing everyone the ability to control their money, data, and identity.
Users can buy, sell, and trade a list of cryptocurrencies while also enjoying low fees and cryptocurrency credit cards. Crypto.com offers an NFT marketplace, a decentralized exchange, and a standalone crypto wallet.
Users can trade 80+ market pairs and 30+ major cryptocurrencies including but not limited to Bitcoin(BTC), Ethereum(ETH), XRP, Litecoin(LTC), USDT, USDC, CRO with a very competitive pricing and fee model.
With more than 10 million users, Crypto.com is the first to obtain the highest security and compliance standard in the industry: Cryptocurrency Security Standard (CCSS), ISO 27001:2013, ISO/IEC 27701:2019, and PCI:DSS 3.2.1 (Level 1).
The combination of low pricing and an extensive list of cryptocurrencies makes Crypto.com ideal for beginner and advanced cryptocurrency traders.
Overall, the Crypto.com Exchange is best for traders that want to do more with their cryptos and active traders who want to use their crypto.
Important: Investing in cryptocurrency is a high risk as the market is volitile and often subject to price changes due to government actions. 
Products Offered
Crypto.com offers the following products:
Buy, sell, and trade crypto
Metal Visa cards
Crypto.com NFT
Crypto.com Pay
Crypto Loans
Crypto.com app
Pay for Business
The Crypto.com App
Buy 200+ cryptocurrencies, including Bitcoin, with 20+ fiat currencies on the Crypto.com app available on Google Play and the App Store.
You can also access, spend, and manage your funds anytime with the Crypto.com Visa Card.
When transacting on the app, you can pay the lowest Crypto.com fees when you purchase via bank transfer or a credit or debit card.
In addition to this, you can earn up to 8.5% per year on your crypto and up to 14% per year for stablecoins.
The app makes it easy to track all cryptos in one place, with Price Movement Alerts and Price Alerts that are easy to set up.
The Crypto.com app allows you to send crypto to other app users instantly with no fees. Or withdraw your crypto to an external address for a small fixed fee.
Crypto.com Loans
You can get a loan with Crypto.com simply by depositing crypto and taking out a loan of up to 50% of your assets.
Crypto.com loans require no credit check and offer fast payouts.
Cryptocurrencies that can be deposited as collateral for a loan include CRO, BTC, ETH, LTC, DOT, LINK, and VET. The list is continually updated.
Loan repayment terms are available for up to 12 months.
How Crypto.com Works
Crypto.com supports over 200 currencies for users who are interested in spot trading, while you can buy and sell a wide variety of currencies on the app.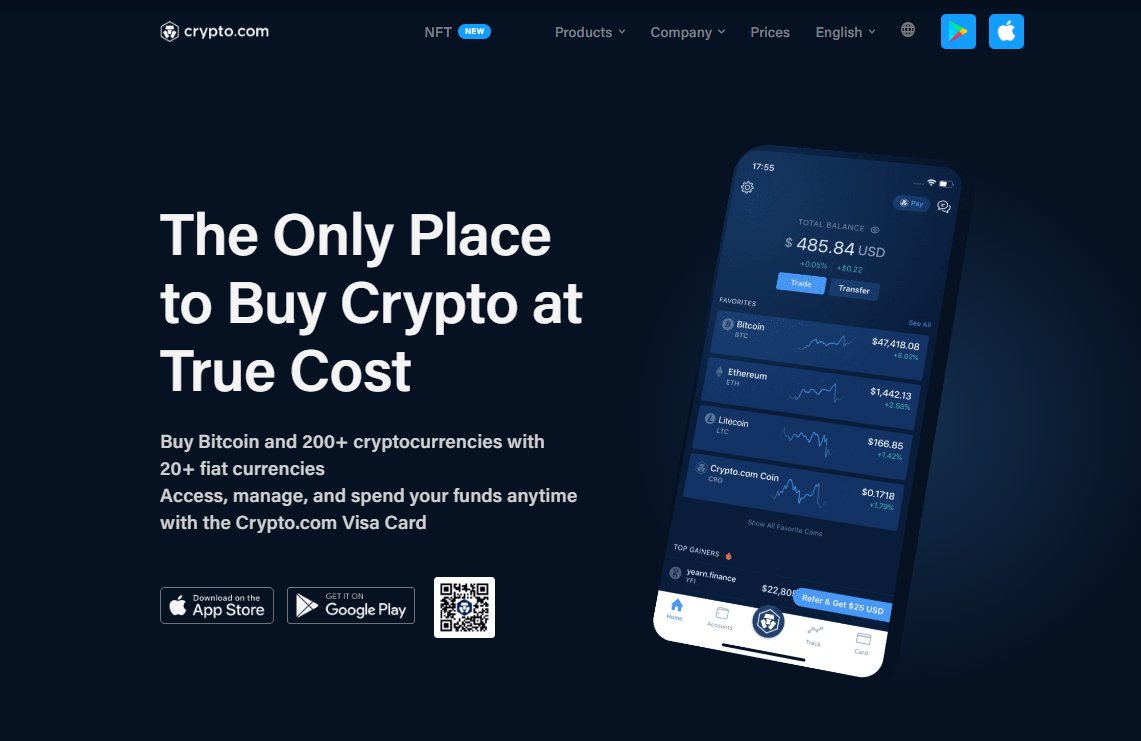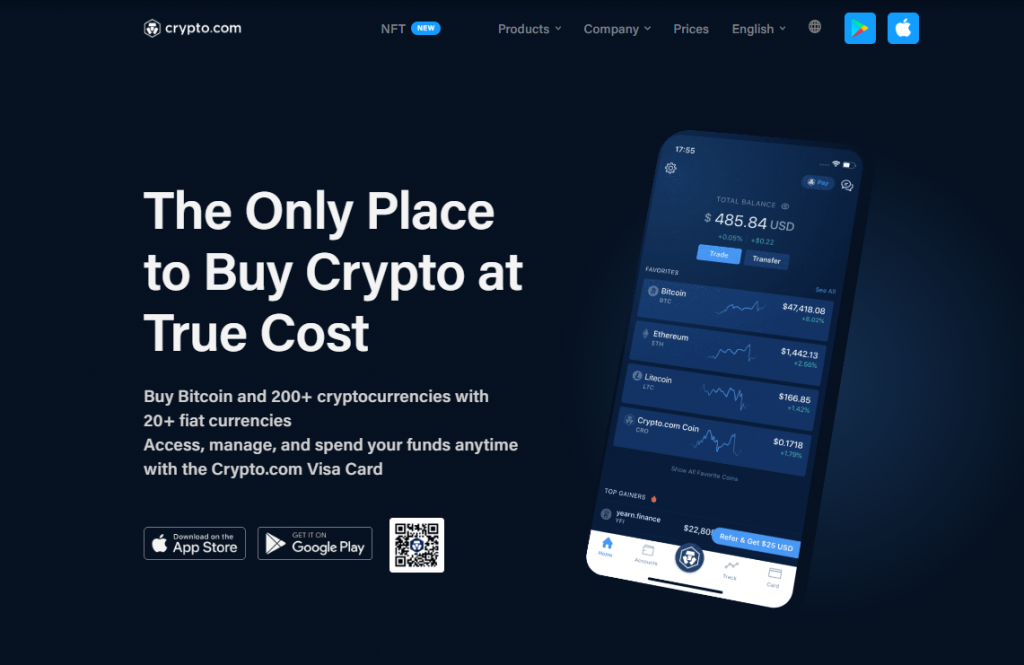 These are some of the popular crypto assets available on Crypto.com:
Bitcoin (BTC)
Ethereum (ETH)
Polkadot (DOT)
Cardano (ADA)
Dogecoin (DOGE)
Cronos (CRO)
Crypto.com Exchange also offers its own coin, Cronos (CRO).
Cronos is the native token of the Cronos Chain and Crypto.org Chain, the first Ethereum-compatible blockchain network built on Cosmos SDK technology.
An open-source and permission-less Layer 1 chain, Cronos aims to massively scale the DeFi, GameFi, and overall Web3 user community by providing builders with the ability to instantly port apps and crypto assets from other chains while benefiting from low transaction fees, high throughput, and fast finality.
If you hold CRO you benefit from lower trading fees and higher credit card rewards. Users who hold a stake in CRO can:
Trade without any fee and even earn up to 0.01% for taker fee you paid.
Participate in discount token sales events from The Syndicate and buy crypto with up to 50% OFF discount.
Participate in Supercharger: a simple, flexible and secure liquidity mining platform for the most popular DeFi projects.
Rates & Fees
Users can enjoy transparent Crypto.com fees and fees are typically lower than other large industry competitors.
New Crypto.com users without any CRO staking will pay 0.4% on trades with a total volume of under $25,000 per month.
High-volume traders qualify for fees as low as 0.1% as a taker or 0.04% as a maker without CRO staking. These fees are available to users who have a minimum of 5,000 CRO in their Crypto.com wallet.
There are no additional fees per trade, making Crypto.com very competitive. There is also no fee to deposit crypto in the Crypto.com app.
Note: You can find a list of fees and withdrawal limits here.
How To Use Crypto.com
Step 1
Get the app
Download the Crypto.com app from the Google Play store or the App Store. Enter your details and verify your personal information.
Step 2
Add a payment method
Next, you can link a payment method, like a debit card or bank account. If you enter a bank account from the U.S. you need to provide your Know Your Customer (KYC) details to verify your identity. 
Step 3
Deposit funds
Once your details are verified you can make your first deposit.
Our Crypto.com Review
Pros

More than 200 cryptocurrencies

Loans can be taken out against crypto collateral

Fees are low and very competitive

Get a Crypto.com VISA Card with rewards
Cons

Higher fees for users who don't hold CRO

Customer support response times may be slow at times
Being one of the most popular crypto exchanges in the world, the Crypto.com Exchange offers transparent fees and a comprehensive list of cryptocurrencies.
Setting up a new account on the Crypto.com app takes less than 10 minutes and verified users can start making deposits immediately.
Crypto.com supports more than 200 cryptocurrencies and offers a host of other benefits such as their own Visa card and crypto loans.
Is Crypto.com Safe?
Yes. Crypto.com is a reputable cryptocurrency exchange and also one of the largest in the world. It has top-notch security and more than 10 million users.
Crypto.com vs Coinbase
Both Crypto.com and Coinbase are popular crypto exchanges that allow users to buy, sell, and trade cryptocurrency.
Both exchanges offer native coins and digital crypto wallets.
The USDC coin from Coinbase is dollar-stable, which means 1 USDC is the same as $1. On the other hand, the Cronos coin (CRO) from Crypto.com rewards users with benefits based on the stakes they hold.
Although both crypto platforms offer low fees, Crypto.com fees are lower. It also rewards users with high trading volumes, whereas Coinbase has higher maker taker fees. Crypto.com also offers generous rewards.
However, Coinbase takes the lead over Crypto.com in terms of educational opportunities and ease of use. It is ideal for beginner crypto traders.
Crypto.com is geared towards experienced investors and offers a list of additional products like Visa cards and crypto pay at checkout.
Customer Service
Crypto.com offers great customer service with support available via a help page, live chat, and email. However, there is no phone support available.
App users can view and manage their crypto assets easily and also manage their bank accounts, make trades, review transfers, and track balances.
Read more Crypto.com reviews below or add your own.
Crypto.com FAQs
Where is Crypto.com based?
The Crypto.com headquarters are located in Hong Kong.
How do I withdraw money from Crypto.com to my bank account?
To withdraw crypto to your bank account you need to set up a bank account and use it at least once for a deposit. Navigate to Transfer > Withdraw > Crypto > Bank Account and enter the amount you want to withdraw. Choose the bank account you want to withdraw to, review the details, and choose Withdraw Now. It typically takes 2 – 5 working days for the funds to reflect in your bank account.
How do I deposit money into my Crypto.com account?
You can deposit money to your Crypto.com App from these fiat currencies: AUD, CAD, EUR, GBP USD, USDC, BRL. Simply choose the deposit option from the app and choose your payment method, and amount. A wire transfer from your bank takes 1-2 business days. The minimum transfer from USD to your account is $5,000 for wire transfers, and $20 for ACH. 
How do I withdraw crypto from my Crypto.com wallet?
You must be at the Starter level or higher to withdraw cryptocurrency from your wallet. Visit crypto.com/exchange and log in. Navigate to Wallets and then Spot Wallet. Find the currency you want and choose Withdraw. You can withdraw to an external wallet address or to your Crypto.com app. Enter the amount you want to withdraw and choose Review Withdrawal. Choose Confirm Withdrawal. Note that withdrawals to the app are instant. 
Where is Crypto.com available in the US?
The Crypto.com App is currently available to users in 49 US states. You can see a full list here.