Our Commitment to Transparency
Buy Cardano
At Financer.com, you can easily find where to buy Cardano and the best cryptocurrency exchanges for buying Cardano. You can also use our Cardano Profit Calculator to calculate and track the performance of your investment.
---
Where to buy Cardano
There are hundreds of crypto exchanges and platforms where you can buy Cardano. To save you the stress and time of finding the ones that work best for you, we have trimmed down the list based on a number of factors. Here are our top picks:
Coinbase 
Binance US
Gemini
Cryptocurrencies available
200+
100+
100+
Number verified users 
108 million 
120 million
13.6 million
Minimum trade
2 USD
10 USD
0.00001 BTC
Crypto fees
$0.99 to $2.99 flat fee depending on the size of the trade; percentage-based fee for trades above $200; 0.50% spread
0.1% flat fee for most trading activities. 
0.5% – 3.49%
Advantages
Fast and easy; Low trading fees; Top notch security; multiple trading pairs
Low fees; multiple trading pairs
Beginner friendly 
Regulatory complaint
Solid security infrastructure 
Disadvantages
Relatively high transaction fees; Slow customer service 
Regulatory issues; not available in all states
High fees 
Long verification process
Who is it best for?
Beginner traders 
For intermediate and advanced traders.
Beginner, intermediate, and advanced traders
Learn more
Open an account
Open an account
Open an account
Best Platforms to Buy Cardano
Coinbase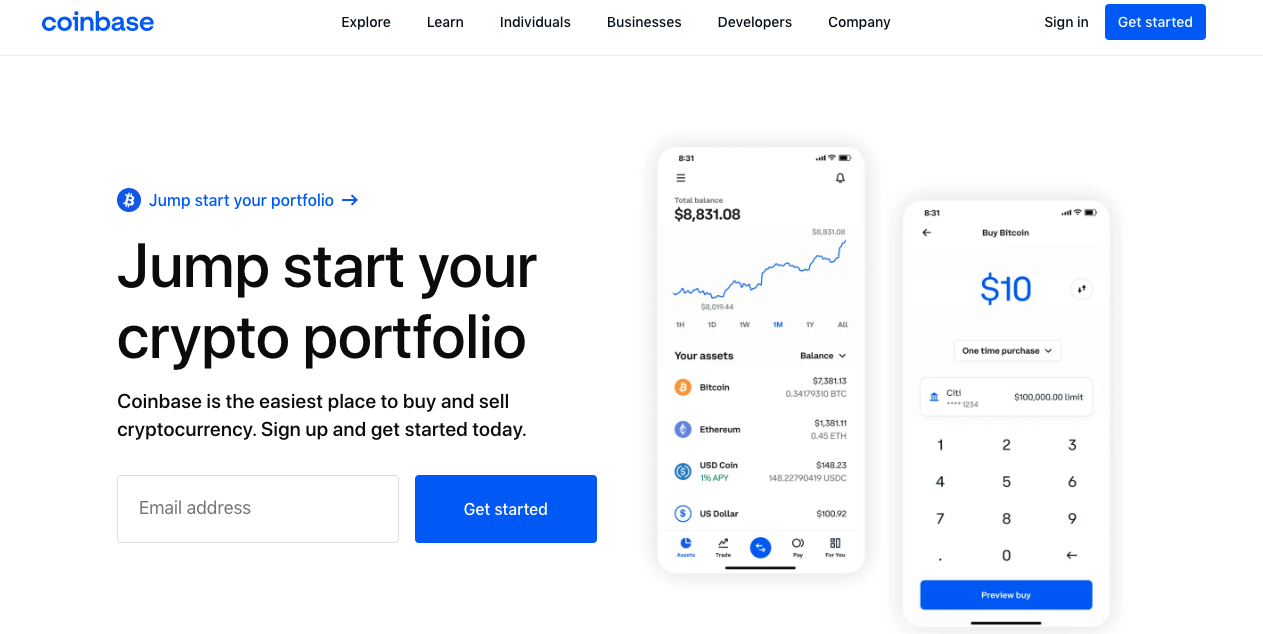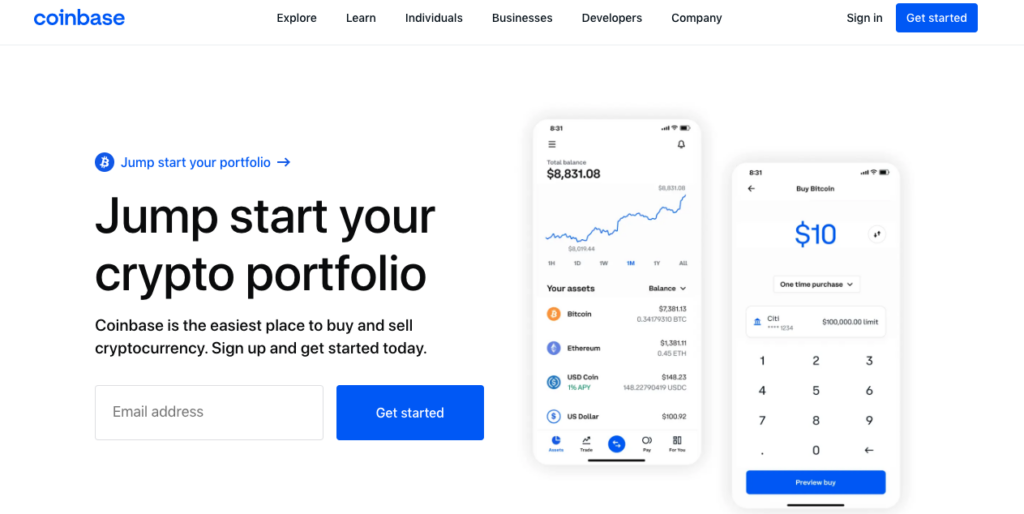 Coinbase is an American publicly traded company that operates a cryptocurrency exchange platform that is the largest crypto exchange in the US. 
It was founded in 2012 by Brain Armstrong, an ex-AirBnB employee driven by a vision of a global, open financial system that drives innovation and freedom. 
Who is Coinbase most suitable for?
Coinbase is most suitable for those getting started with cryptocurrencies. Its clean and user-friendly interface is great for beginner traders.
Its clean interface and well-thought-out features make the platform easy to navigate for beginners.
Why we chose Coinbase
Coinbase's user-friendly platform and intuitive interface are great for new entrants in the crypto world.
What's more, the platform offers a wide range of cryptocurrencies to choose from as well as advanced security features. 
Coinbase Fees 
Coinbase has a variable fee structure that depends on the size of the trade. Trades less than $200 attract a flat fee while trades above $200 are charged based on a percentage.
In addition to fixed charges, there's also a spread-based fee of 0.50%.
| | |
| --- | --- |
| Size of Trade  | Fee  |
| $10 or lower  | $0.99 |
| $10 to $25 | $1.49 |
| $25 to $50 | $1.99 |
| $50 to $200  | $2.99 |
| Above $200 | Percentage-based fee |
Coinbase Fees
Pros

Fast and easy 

Low trading fees

Top-notch security 

Advanced trading options

Two-factor authentication

Over 100 cryptocurrencies are supported
Cons

Relatively high transaction fees

Slow customer service
Binance US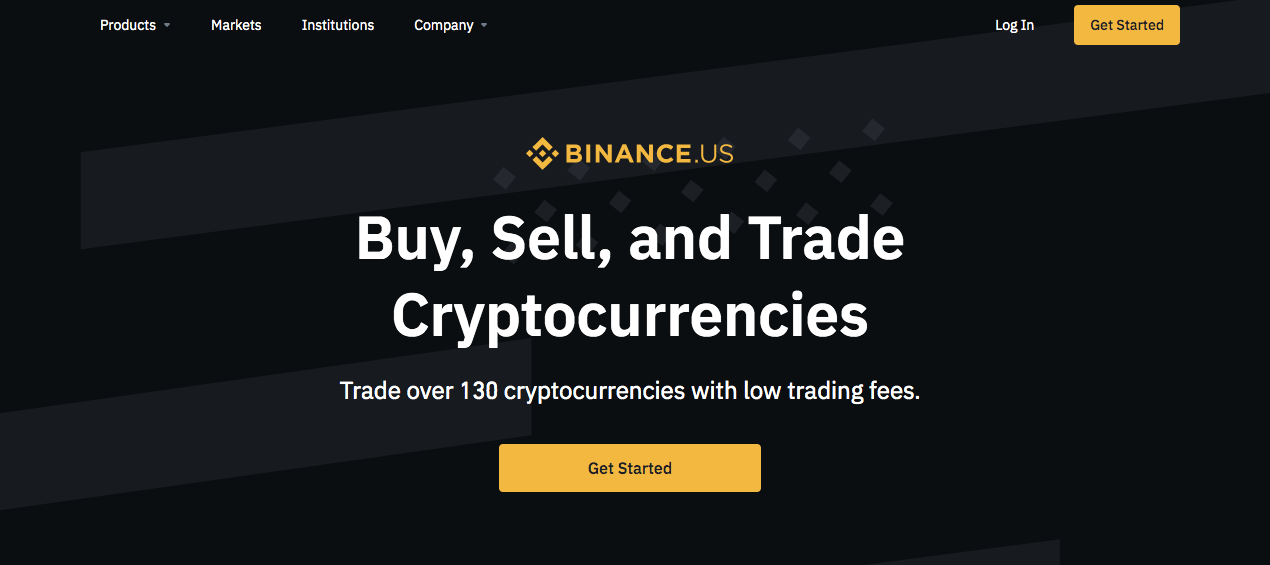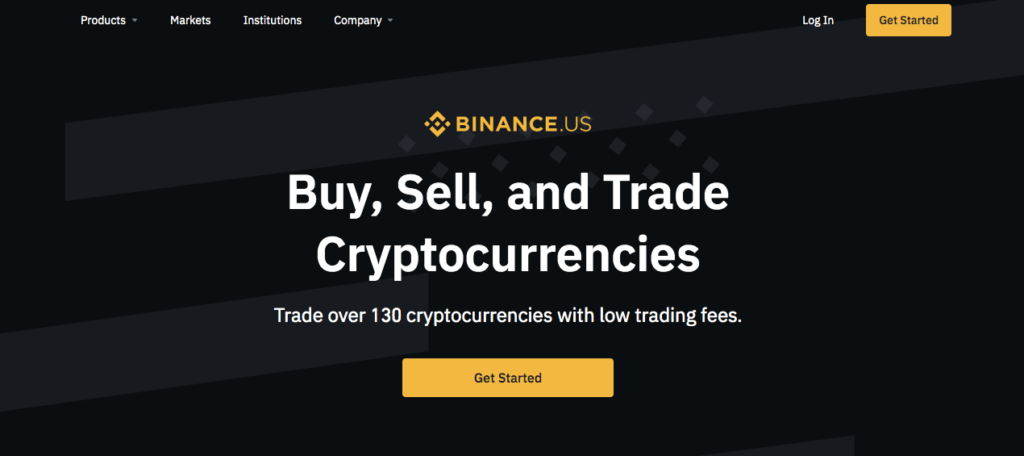 Binance is the largest crypto exchange in the world by trading volume. The crypto exchange was founded in 2017 by Changpeng Zhao and is registered in the Cayman Islands. 
Binance operates Binance.com as well as Binance US – a trimmed-down version of the Binance site to comply with US regulations. Although Binance owns Binance.US, the U.S. company is managed independently. 
Who is Binance most suitable for?
With legion features and a sophisticated platform, Binance is most suitable for intermediate and advanced traders.
Its competitive fees, advanced charts, and multiple order types make Binance a solid platform for experienced traders. 
Why we chose Binance US
Binance US has a wide array of trading pairs, competitive fees, and advanced trading features.
What's more, it is the largest crypto trading platform in the world by trading volume and has a diverse ecosystem. 
Binance fees 
Binance has an attractive fee structure. The platform offers a flat 0.1% for most trading activities. 
Pros

Low fees: Binance's 0.1% trading fees are lower than many other US exchanges. 

Trading pairs: Although Binance US doesn't offer as many trading pairs as the main site, it has over a hundred cryptocurrencies which outpace many other US exchanges. 
Cons

Accessibility: The US site is not available in all 50 states. 

Regulatory Issues: The main site has run into several issues with regulators in some countries. 
Gemini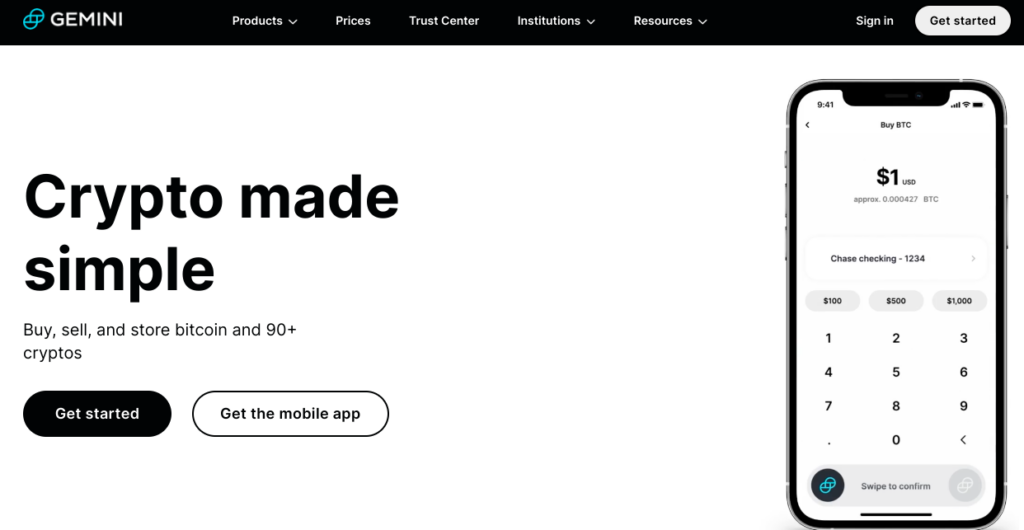 Gemini was founded in 2015 by the famous Winklevoss twins: Tyler and Cameron Winklevoss. The crypto exchange is based in New York and has a reputation for security and regulatory compliance.
The exchange is run by the Gemini Trust Company, LLC – a New York Trust Company.
In addition to a crypto exchange, Gemini also runs a wallet service, a custodial service (for institutional investors), and an advanced trading platform.
The exchange is also the issuer of Gemini Dollar (GUSD) – a dollar-collateralized stablecoin as well as a yield-earning service (Gemini Earn).
Who is Gemini most suitable for?
Gemini has a user-friendly platform and an advanced trading interface that makes it suitable for beginner, intermediate, and pro traders. 
Its solid security infrastructure also makes it an attractive option for institutional investors and asset managers looking to invest in crypto.
Why we chose Gemini
Gemini has built a strong reputation for security and regulatory compliance that makes it one of the most secure exchanges in the crypto space.
The company goes above and beyond to be regulatory compliant and keep funds under its custody secure. A testament to this is the fact that the platform has never been hacked.
Gemini fees
Gemini offers relatively higher fees compared to the competition. Gemini's fee structure is based on user activity like transfers and withdrawals.
The exchange also charges convenience fees (for using the web or mobile app). There's also a Gemini earn fee – which is a fee charged for the Gemini Earn service.
Here's a summary of the different fees:
| Activity/Service  | Fee |
| --- | --- |
| Transfer (deposits and withdrawals) | Wire transfer deposits: FreeDeposit via debit card: 3.49%Withdrawal Fee: Variable (depends on the coin) |
| Gemini Earn | Variable |
| Transactions | Flat fee for trades up to $200 1.49% fee for trades over $200 |
| Convenience  | 0.50% spread in the price of the crypto asset you are trading |
Gemini Fees
Pros

Beginner friendly 

Regulatory complaint

Solid security infrastructure 

Advanced trading interface 

Wide range of products
Cons

High fees 

Long verification process 

Only 100+ cryptocurrencies available
How to buy Cardano
Steps
Step 1
Find a good platform
There are hundreds of crypto exchanges where you can buy ADA. To save you the stress of finding a platform that suits your preferences, we've trimmed down the list to three: Binance, Coinbase, and Gemini. Once you have decided which platform to go with, you would need to create an account (if you don't already have one) and verify your profile.
Step 2
Buy some ADA
Once you have signed up or signed into your account (whichever the case may be), head over to the buy crypto tab. The tab would look different for different exchanges but it will be described in a way that implies that you can use the button to buy crypto. 
Regardless of the crypto exchange you use, you will find multiple payment methods for buying Cardano. Choose the option that's most suitable for you. 
Step 3
Store your coins securely
While crypto exchanges provide a wallet for storing your funds, it's not a good idea to leave money on an exchange if you are not actively trading. Instead, store your funds in decentralized wallets like Trezor and Ledger Nano X. 
Should you buy Cardano now?
Cardano reached its all-time high price in September 2021 at $3.10. While some investors anticipate a rally that will surpass that peak, It is unlikely that it will hit that price any time soon.
That said, Cardano is currently trading at $0.3 (as of July 2023), which is more than 90% down from its all-time high price. Although it's unlikely that it will make significant moves in the near future, it does appear to have bottomed out making a good time to buy.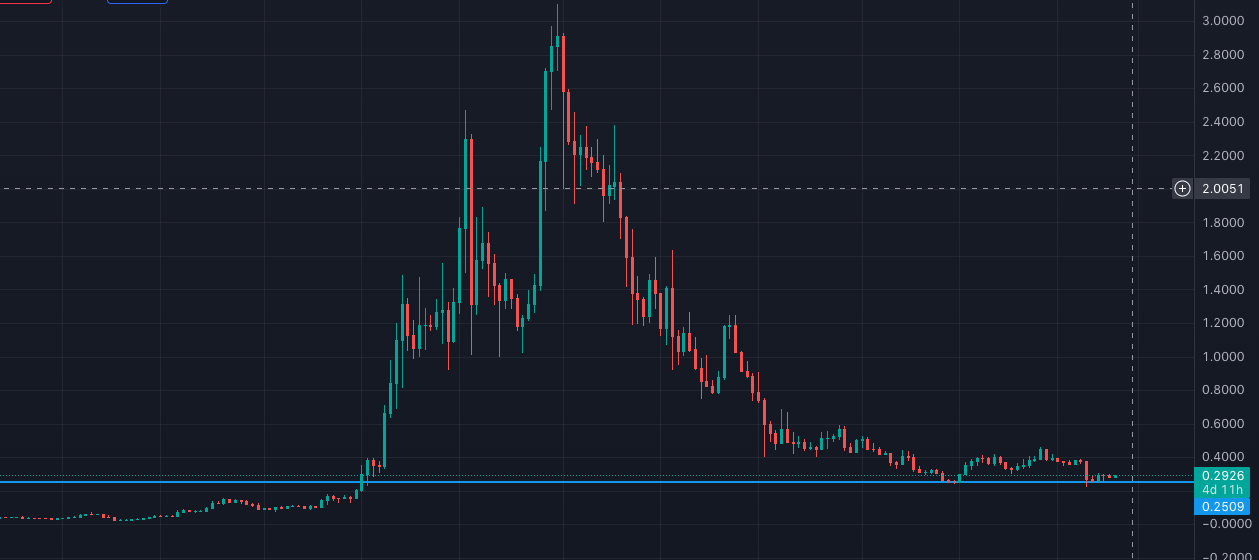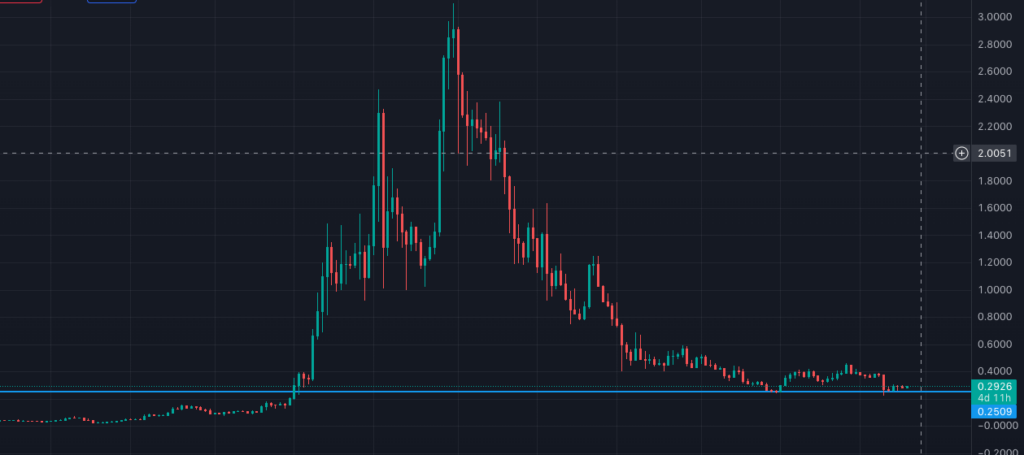 Always check with your financial advisor before investing in risky assets like Cardano. 
Is investing in Cardano a good idea?
Investing in cryptocurrencies, including Cardano, is highly speculative and accompanied by significant risks. 
It is essential to understand the technology and underlying principles of blockchain and smart contracts before investing. Learn about the basics of Cardano here.
While the potential for profits exists, the crypto market is highly volatile and there are uncertainties regarding regulation. So keep this in mind.
Pros

Innovative technology: Cardano is based on a scalable third-generation blockchain that offers efficient solutions to real-world problems.

Reliable development team: Cardano has a strong team led by Ethereum co-founder Charles Hoskinson, with a well-defined roadmap.

Active community: The growing community contributes to the project's development.

Adoption and partnerships: Cardano has already been adopted by various organizations and has partnerships, such as with the Ministry of Education in Ethiopia.

Transparency and security: Cardano aims to be a transparent and secure platform for fast and secure transactions without intermediaries.

Possibility of earning passive income: Cardano allows users to earn passive income through staking, contributing to transaction validation and network security.
Cons

High risk: Cryptocurrency investments, including Cardano, are associated with high risk due to market volatility.

Strong competition: The cryptocurrency market is highly competitive, and Cardano must compete with other blockchain projects.

Regulatory risks: Regulatory changes can impact the value and legality of cryptocurrencies.
What is the future of Cardano?
Cardano follows a structured approach to its development, divided into five phases named after famous poets:
Byron: Byron represents the market launch of Cardano with basic functionality in September 2017. It introduced the ADA cryptocurrency transaction, named after Augusta Ada King (Countess of Lovelace, 1815-1852), who is recognized as the world's first computer programmer.
Shelley: The goal of the Shelley phase is to fully decentralize the network, which was achieved in July 2020. Additionally, the concept of ADA staking was introduced during this phase. ADA holders can store their coins on the Cardano platform and earn annual interest of up to 5% per year.
Goguen: Named after Joseph Amadee Goguen (1941 – 2006), an American computer scientist and Harvard professor, the Goguen phase was launched in September 2021. It allows users to create and execute smart contracts on the Cardano network, which are self-executing contracts with predefined conditions.
Basho: This phase focuses on optimizing and improving scalability and interoperability within the Cardano ecosystem, enhancing its core performance and supporting high transaction volumes.
Voltaire: The Voltaire phase represents the final stage of the project. It aims to make the Cardano ecosystem self-sufficient, enabling ADA holders to utilize their ownership and voting rights to influence the network's future development.
How to Stake Cardano
Staking Cardano (ADA) allows you to actively participate in the network and earn rewards. Here's a guide to staking ADA: 
Purchase Cardano from a reputable exchange: If you don't hold ADA then you will need to buy some tokens from a trusted cryptocurrency exchange. Ensure that the exchange supports Cardano and offers ADA for purchase.
Choose a Cardano wallet compatible with staking: Select a wallet that supports ADA staking. Popular options include Yoroi or Daedalus. These wallets provide staking functionalities and allow you to delegate your ADA holdings to stake pools.
Select a stake pool: Research and choose a suitable stake pool to delegate your ADA coins. Stake pools are run by operators who handle the technical aspects of maintaining the network.
Delegate your ADA coins: Follow the instructions provided by your chosen wallet to delegate your ADA holdings to the selected stake pool. This process typically involves providing the stake pool's identifier or ticker symbol within your wallet's delegation interface. Delegating your ADA ensures that you participate in the consensus protocol and contribute to securing the network.
Start earning staking rewards: Once you have delegated your ADA, you can begin earning staking rewards. Staking rewards are a portion of the transaction fees generated by the network and are distributed among stakeholders who delegate their ADA to active stake pools. Staking rewards can range up to approximately 5% per year.
FAQs
Why is ADA going down?
The decline in ADA's price can be attributed to several factors, including market-wide trends, profit-taking by traders, changes in investor sentiment, regulatory concerns, or negative news related to Cardano or the broader cryptocurrency industry.
Understanding the dynamics of the market and conducting thorough research can provide insights into the reasons behind ADA's downward movement.
Should I invest in Cardano?
Investing in cryptocurrencies, including Cardano, is highly speculative and accompanied by significant risks. 
While the potential for profits exists, the crypto market is highly volatile and there are uncertainties regarding regulation. So keep this in mind.