The Best Investment Apps for Small-Dollar Investing
March 22, 2018
2 min read
1161 reads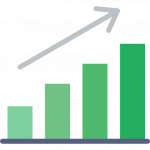 The saying "there's an app for that" has never been truer than it is right now, as the world of the mobile app has expanded into nearly every corner of our lives. Even personal finance and investing apps are popping up now. Though the latter is one of the newer ventures for smartphone apps, we found the two best investment apps that you can download, set and forget as they seamlessly save and make money for you.
The Best Investment Apps
While there's not a pile of them out there, there are two that really struck my fancy and I use regularly: Stash and Acorns.
Stash Investment App
Stash was the first investing app I ever downloaded, and I was instantly hooked. I grew up in the days of E*TRADE et al, and none of them really kept my interest. I would dabble a bit and get bored by all the numbers and symbols. But Stash keeps your interest and makes things super simple with its categorical investing.
Instead of forcing you to choose a few individual stocks to invest in, Stash lets you choose from portfolios. And these are no boring portfolios that mean almost nothing to the average person, these are obvious and entertaining categories, like corporate cannabis, clean and green, robots rising, etc. Recently, Stash added individual stocks, but I haven't dabbled in those yet.
How stash works is you simply set it up to take a regular withdrawal from your bank – as little as $5 a month is OK – regularly. You can choose to have money withdrawn every week, every two weeks or every month. When it takes this cash, you can either set it to automatically invest in select areas or you can manually invest it.
From there, you just watch your account grow and collect the compound interest.
Stash isn't all sunshine, though, as there are a few things I am not too fond of. First, the prediction interface is clunky and shows weird bars instead of a clean graph. Also, its available investment options are not the easiest to leaf through.
Acorns Investment App
Acorns is a touch more, shall I say, invasive than Stash, but I still think it is a great saving and investing app.
How Acorns works is it monitors transactions on any connected bank account and rounds each transaction up to the next dollar. That rounded-up amount is then transferred to your Acorns account, and when it hits $5, it gets invested.
What makes Acorns great is the rounding-up feature, as I once had a Bank of America account that offered a similar service that I loved. Instead of investing it, though, BOA would stuff it in savings account.
Why Acorns isn't quite as good as Stash is that you cannot really choose your investments. Instead, Acorns checks your goals and invests to help meet them. While you'll still see gains here, the fun is taken out of it by missing out on choosing what to invest in. I am also not too fond of the fact that even amounts get rounded to the next dollar too – if I spend $24, then it gets rounded up to $25.
Then again, the rounding up feature is almost like surprise money after a few months. For example, I just logged on to my account for the first time in a few weeks and I had $130 in there that I had no clue about. Also, Acorns has a prediction interface that shows you what small changes to your account will do to your retirement savings.